Blog: Abel to Yzerman By Paul
02/16/20 at 03:05 PM ET | Comments (4)
Wings lose 5-1 to the Penguins. The team should be embarrassed starting with the GM, coach and players.
In times of trouble I seek help and again turn to Ted Kulfan tweets.
(Howard was pulled after giving up 4 goals on 16 shots)
Wonder what is going through Jimmy Howard's mind right now. The team in front of him is awful, but he hasn't been able to rise above it even a bit this season. He's going to be 2-22-2 after today

It's going to be 5-1 here after 2 periods...terrible game for #RedWings thus far
Detroit goal and team stats below.
Detroit fans expected a down year, but not this!
Next game is at home against the Canadiens.
Filed in: | Abel to Yzerman | Permalink

02/16/20 at 01:35 PM ET | Comments (1)
from Chris Johnston of Sportsnet,
- Eight teams have turned to a different voice behind the bench this season after the Minnesota Wild replaced Bruce Boudreau with Dean Evason on Friday.

There's no reason to forecast a quiet off-season, either.

Not only are decisions pending on four interim head coaches — Evason, Rick Bowness (Dallas), Geoff Ward (Calgary) and Alain Nasreddine (New Jersey) — but there's also the usual performance-related changes to anticipate.

Add in a crop of free-agent replacements that includes Boudreau, Peter Laviolette and Mike Babcock, and, well, here's guessing there's much more to come.

- By the end of next season, the NHL will have staged 32 outdoor games — enough for each team to have hosted one.

Of course, there are still plenty of clubs clamouring for their chance, which is what made Saturday's announcement of a 2020-21 Stadium Series game at Carter-Finley Stadium in Raleigh, N.C., stand out.

The Carolina Hurricanes were chosen as hosts for three main reasons: Tom Dundon has been persistent in his pursuit of one since becoming owner; the tremendous reaction to the team locally in the last year-plus, particularly during last spring's playoff run; and the overriding belief that it's time to reward different markets coming off the success of the Winter Classic at the Cotton Bowl in Dallas.
more topics including the cap room the Leafs have and the comments from Evander Kane...
Filed in: NHL Teams, NHL Talk, | KK Hockey | Permalink

02/16/20 at 12:37 PM ET | Comments (0)
from Shawn P. Roarke of NHL.com,
To celebrate Hockey Day in America on Sunday and the start of Hockey Week in America, 12 U.S.-based staffers were asked to rank their top 12 forwards, six defenseman and two goalies. Forwards were given 12 points for a first-place vote, 11 for a second-place vote and so on down to 1; defenseman got six points for first place, five for second, down to one; goalies got two points for first place and one point for second.

Kane finished first among forwards with 142 points and 10 of the 12 first-place votes. That was nine more points than Matthews, who received the two remaining first-place votes.

Kane is tied for eighth in the NHL this season with 72 points (26 goals, 46 assists) in 58 games, one season after the 31-year-old finished third in the League with an NHL career-best 110 points (44 goals, 66 assists). Matthews has 71 points in 59 games and is tied for the NHL lead in goals with 42. The 22-year-old has scored 153 goals in his first 271 NHL games.

John Carlson of Washington Capitals, who leads all NHL defensemen with 69 points (15 goals, 54 assists) was a unanimous choice as the best United States-born defenseman, earning 72 voting points and all 12 first-place nominations.
read on, includes many more players...
Filed in: NHL Teams, | KK Hockey | Permalink

Blog: Abel to Yzerman By Kate from PA now in SC-made in Detroit
02/16/20 at 12:15 PM ET | Comments (55)
The Wings are becoming completely unwatchable. If you think yesterday's game was bad, just wait a few minutes. If you check out early, or, don't participate today, don't feel bad. That's exactly the way the Wings have been playing.......
It's a Live Blog!
Filed in: | Abel to Yzerman | Permalink

Blog: Abel to Yzerman By Paul
02/16/20 at 11:04 AM ET | Comments (0)
Puck drop is at 12:30pm ET and on NBC.
Filed in: | Abel to Yzerman | Permalink

Blog: Abel to Yzerman By Paul
02/16/20 at 06:13 AM ET | Comments (6)
from Helene St. James of the Detroit Free Press,
Yzerman has been an unusually visible presence on this trip since joining the team Thursday at New Jersey. On Friday, he attended an intense practice meant to send a message after the team quit in the third period against the New Jersey Devils....

This deadline lacks obvious candidates. The established players with the most value — Bertuzzi, Dylan Larkin, Anthony Mantha and Filip Hronek — are core pieces in the rebuild.

Here is a look at players Yzerman might move in the next nine days.

F Andreas Athanasiou

Why: Athanasiou is a top-six caliber center/winger with explosive speed and soft hands. He is in the last year of his deal and will be a restricted free agent this summer. His numbers this season are disappointing — eight goals, 14 assists, an NHL-worst minus-45 in 43 games, but he scored 30 goals last season and has undeniable talent. A team eyeing a playoff run would be getting a fast forward with upside.

G Jonathan Bernier

Why: Has played very well since mid-December, consistently giving his teammates a chance to win. Bernier is under contract through next season. The problem is Jimmy Howard has struggled, as has third-stringer Calvin Pickard in his NHL experiences, and the Wings need Pickard in Grand Rapids where he provides stability for the Griffins. There's no goalie prospect in the Wings' system remotely ready for the NHL. Plus, trade Bernier now and the Wings would have to sign two NHL veterans this summer, as Howard is in the last year of his contract.
more names...
Filed in: | Abel to Yzerman | Permalink

02/16/20 at 05:43 AM ET | Comments (0)
THREE HARD LAPS

* Tyler Toffoli became the first player in NHL history to score a hat trick outdoors as the Kings triumphed over the host Avalanche at the 2020 Navy Federal Credit Union NHL Stadium Series.

* The Bruins and Lightning extended a multitude of team and player streaks as the latter continues its unrelenting pursuit of the former in the NHL standings.

* Happy Hockey Day in America! Sunday's nine-game slate is highlighted by a doubleheader on NBC as well as the Predators and Blues squaring off on NBCSN.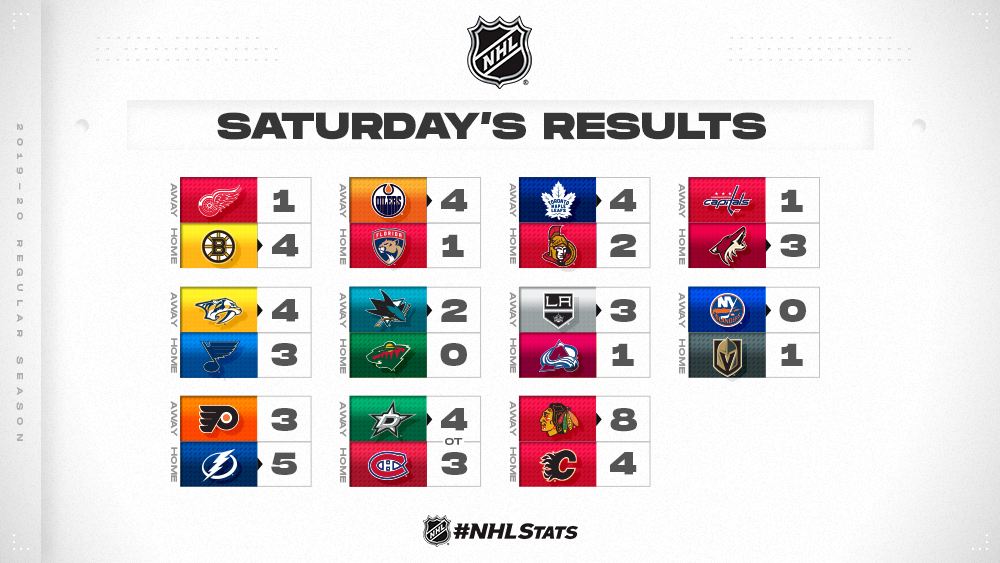 Filed in: NHL Teams, | KK Hockey | Permalink

02/16/20 at 12:42 AM ET | Comments (8)
via the YouTube page of the NHL,
Relive the excitement of the 2020 Stadium Series between the Los Angeles Kings and the Colorado Avalanche at the Air Force Academy.
Filed in: NHL Teams, Colorado Avalanche, Los Angeles Kings, | KK Hockey | Permalink

02/15/20 at 11:34 PM ET | Comments (2)
Brian Burke on the suspensions to Kassian and Kane, plus the fine to Chara.
Burke also had some words for Kane regarding his tweet today and his thoughts on the firing of Bruce Boudreau.
via Sportsnet,
Filed in: NHL Teams, NHL Talk, | KK Hockey | Permalink

02/15/20 at 10:25 PM ET | Comments (0)
Game highlights are below. Montreal lost 4-3 to Dallas in OT.
added 12:31am on 2/16/20, Watch Julien below.
Filed in: NHL Teams, Dallas Stars, Montreal Canadiens, | KK Hockey | Permalink
Tags: claude+julien
« Previous < 1 2 3 4 > Last › Next »
About Kukla's Korner
Kukla's Korner is updated around the clock with the work of our own talented bloggers, plus links to the best hockey writing around the internet. We strive to bring you all the breaking hockey news as it happens.
The home page allows you to see the latest postings from every blog on the site. Subscribe here. For general inquiries and more, please contact us anytime.
Most Recent Posts
Most Recent Comments