04/19/18 at 06:45 AM ET | Comments (0)
from Eric Stephens of the OC Register,
Tomas Hertl scored midway through the third period and the Sharks completed a four-game sweep of the Ducks and brought a swift end to their Pacific Division rival's season with a 2-1 Game 4 victory Wednesday night.

As a rollicking sellout crowd of 17,562 rhythmically chanted for the broom work to go down, San Jose put the clamps on the Ducks as it had all series. The Ducks scored only four goals in the four games and were swept in a playoff series for the first time since Detroit did it to them in 1999.

"We played well down the stretch and then obviously the let up, we didn't respond the way we needed to going into the playoffs in the first game," Ducks captain Ryan Getzlaf said. "That's on us. That's what we got to do as players. Be prepared and ready to compete throughout a whole series and not just at the end."...

"To me, it's too fresh in people's minds and emotions run high in these situations and nobody feels good about what just happened," Ducks coach Randy Carlyle said. "There'll be lots of comments. People that aren't in the organization will be making a lot of comments about what should happen. And that's their opinion.

"We'll let the organization make the decisions that are the best interests. Leave that to the people that are in charge."
Below, watch the game highlights, handshake line and an in-game funny GIF....
Filed in: NHL Teams, Anaheim Ducks, San Jose Sharks, | KK Hockey | Permalink

04/19/18 at 06:33 AM ET | Comments (0)
Exactly 3:43 minutes long.
Filed in: NHL Teams, | KK Hockey | Permalink

04/19/18 at 06:28 AM ET | Comments (0)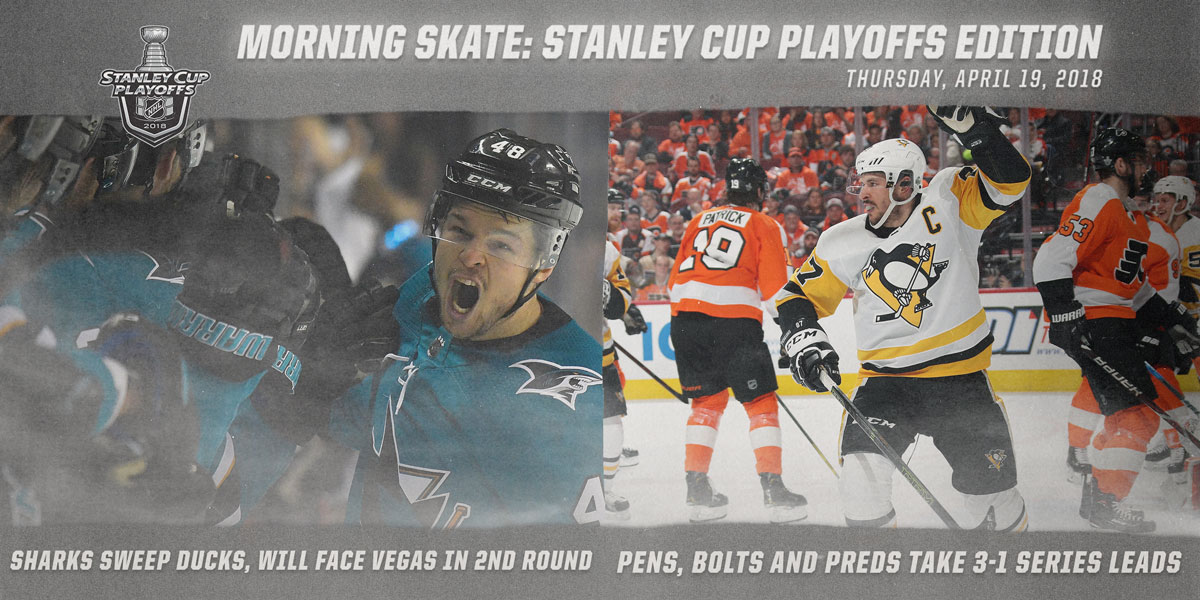 WEDNESDAY'S RESULTS
The Sharks swept their First Round series with the Ducks, while a trio of teams took 3-1 leads in their series. Elias notes teams that take a 3-1 lead in a best-of-seven series own an all-time series record of 269-28 (90.6%).
Filed in: NHL Teams, | KK Hockey | Permalink

04/18/18 at 09:22 PM ET | Comments (2)
via Sportsnet,
Sami Vatanen would head to the locker room after taking big hit from Nikita Kucherov.
To me, it looks like the recent Doughty hit.
Filed in: NHL Teams, New Jersey Devils, Tampa Bay Lightning, | KK Hockey | Permalink
Tags: nikita+kucherov, sami+vatanen
04/18/18 at 07:12 PM ET | Comments (2)
Cross-checking.
Filed in: NHL Teams, Winnipeg Jets, | KK Hockey | Permalink

04/18/18 at 07:00 PM ET | Comments (0)
NEW YORK (April 18, 2018) – Centers Patrice Bergeron of the Boston Bruins, Sean Couturier of the Philadelphia Flyers and Anze Kopitar of the Los Angeles Kings are the three finalists for the 2017-18 Frank J. Selke Trophy, which is awarded "to the forward who best excels in the defensive aspects of the game," the National Hockey League announced today.
Members of the Professional Hockey Writers Association submitted ballots for the Selke Trophy at the conclusion of the regular season, with the top three vote-getters designated as finalists. The winner will be announced Wednesday, June 20, during the 2018 NHL Awards™ presented by Hulu at the Hard Rock Hotel & Casino in Las Vegas
Following are the finalists for the Selke Trophy, in alphabetical order:
Filed in: NHL Teams, NHL Talk, | KK Hockey | Permalink

04/18/18 at 06:30 PM ET | Comments (5)
The Sharks can sweep the Ducks tonight and the Penguins, Lightning and Nashville can go up 3-1/
Feel free to comment on the games.
Filed in: NHL Teams, | KK Hockey | Permalink

04/18/18 at 04:25 PM ET | Comments (0)
via Sportsnet's YouTube page (and the related story at Sportsnet),
Hitting the ice for an Original Six matchup on Hockey Night in Canada has been a lifelong dream for Shandor Alphonso. The original dream was to do so as player. But on this night, it's playing out as an NHL official.
Filed in: NHL Talk, NHL Officiating, | KK Hockey | Permalink
Tags: shandor+alphonso
04/18/18 at 03:47 PM ET | Comments (1)
from TSN,
TSN Hockey Insider Darren Dreger told TSN Radio Vancouver 1040 on Tuesday it may be time for the Ducks to move part of their core, despite reaching the conference final last season.

"I feel something substantive has to be done in Anaheim if they go out with a whimper," Dreger said. "And based on the shellacking [in Game 3] at the hands of the San Jose Sharks, that's more and more how it's looking. How do you not do something of significance?

"And I'm not pointing the finger at [general manager] Bob Murray, but ownership has considerable say in all of this. Maybe at some point ownership looks at what they've got in management and says, 'Okay, it's time to give someone else with a fresh look a crack at this operation.'

"But if Bob Murray stays on board then, yeah, he's got tough decisions to make with Randy Carlyle and most definitely with the core of that team. Because the core of that team is the head of that snake, as they say, and they're not producing. They're not getting it done. So change is needed."
Filed in: NHL Teams, Anaheim Ducks, | KK Hockey | Permalink

04/18/18 at 03:42 PM ET | Comments (0)
If you're the Kings and in transition, are you going to pay Doughty, say, $100 million for eight more seasons? Or are you going to speed the transformation of your roster by getting a bundle of assets in return for the best defenceman in the game?

Doughty is a dynamic, world-class player. He is not the problem in Los Angeles. But there don't appear to be many solutions available to Blake.
-Iain MacIntyre of Sportsnet where you can read more on the LA Kings.
Filed in: NHL Teams, Los Angeles Kings, | KK Hockey | Permalink

« Previous < 1 2 3 4 5 > Last › Next »
About Kukla's Korner
Kukla's Korner is updated around the clock with the work of our own talented bloggers, plus links to the best hockey writing around the internet. We strive to bring you all the breaking hockey news as it happens.
The home page allows you to see the latest postings from every blog on the site. Subscribe here. For general inquiries and more, please contact us anytime.
Most Recent Posts
Most Recent Comments