01/15/18 at 07:58 AM ET | Comments (0)
148 Coach's Challenges | 92 upheld | 56 overturned
· 90 for goalie interference | 58 upheld | 32 overturned (27 to "no goal" / 5 to "goal")
· 13 initiated by Situation Room for goalie interference | 11 upheld | 2 overturned
· 34 for offside | 14 upheld | 20 overturned (all to "no goal")
· 11 initiated by Situation Room for offside | 9 upheld | 2 overturned (all to "no goal")
Filed in: NHL Teams, | KK Hockey | Permalink

01/15/18 at 07:39 AM ET | Comments (0)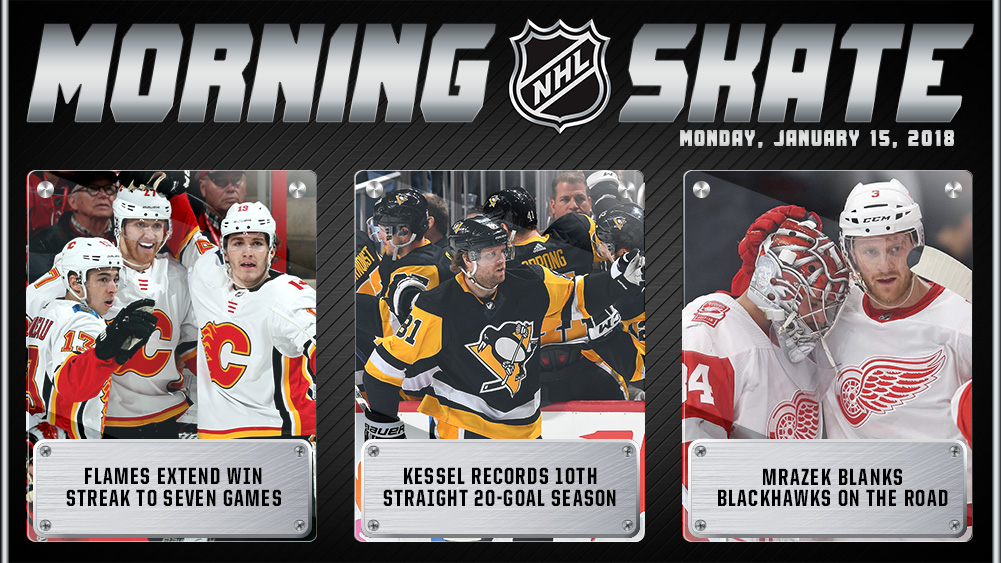 SUNDAY'S RESULTS
Home Team in Caps
Detroit 4, CHICAGO 0
Calgary 4, CAROLINA 1
PITTSBURGH 5, NY Rangers 2
Vancouver 3, MINNESOTA 2 (OT)
Filed in: NHL Teams, | KK Hockey | Permalink

Blog: The Malik Report By George Malik
01/15/18 at 12:21 AM ET | Comments (0)
Of prospect-related note:
In the ECHL, the Toledo Walleye beat an arch-rival--while playing for the 3rd time in 3 nights. Toledo defeated the Cincinnati Cyclones 2-1 on Sunday night; Kyle Bonis and Davis Vandane scored goals for Toledo, and Pat Nagle stopped 25 of 26 shots for the Walleye.
The Walleye's website posted a recap:
Filed in: | The Malik Report | Permalink

Blog: The Malik Report By George Malik
01/14/18 at 05:59 PM ET | Comments (23)
The Detroit Red Wings assuaged their difficult loss to the Pittsburgh Penguins on Saturday by coming out and out-working, out-hustling, out-executing and generally out-playing the Chicago Blackhawks, winning 4-0 in the United Center on Sunday afternoon.
The Wings received goals from Dylan Larkin, MIke Green, Anthony Mantha and Tyler Bertuzzi (the latter two had assists as well), two assists from Andreas Athanasiou and a 27-save shutout performance from Petr Mrazek, who was particularly stout during a 12-shot-against 3rd period.
Dominic Turgeon was also excellent in his NHL debut, blocking 3 shots (including one that sent him to the locker room) in 9:01 of play, and the Wings did a good job of shutting down the Blackhawks' stars despite losing two thirds of the Nielsen shut-down line in Darren Helm and Justin Abdelkader.
There's some pleasant irony in Bertuzzi's goal, too: Nick Jensen made the play happen with a smart pass-back play with Martin Frk and a heavy shot on goal that Bertuzzi rebounded into the net, and Bertuzzi and Jensen made their franchise debuts by fighting during the Wings' summer development camp. The biggest no-no of no-no's resulted in shoulder surgery and 4 months of recovery for Jensen, and now they're in the NHL together, helping each other out.
That's a good end to a strange story--if not a promising start to a new chapter.
Filed in: | The Malik Report | Permalink

01/14/18 at 05:28 PM ET | Comments (1)
Illegal hit to the head.
Filed in: | KK Hockey | Permalink
Tags: mark+giordano
01/14/18 at 04:57 PM ET | Comments (2)
Here is the explanation.
Filed in: NHL Teams, Anaheim Ducks, | KK Hockey | Permalink
Tags: andrew+cogliano
01/14/18 at 03:55 PM ET | Comments (1)
...while the desperation in the standings is blatantly obvious, the desperation on the ice is too often nowhere to be found. And on Sunday afternoon, with a home game, with a lousy opponent, and with a five-day bye week offering no excuse not to "empty the tank," in Jonathan Toews' words, the Hawks sleepwalked through a putrid 4-0 loss to the Detroit Red Wings.

The Red Wings showed up on Sunday morning. The Hawks looked like they were already in Mexico. And they no longer have that luxury.
-Mark Lazerus of the Chicago Sun-Times where you can read more on the Blackhawks.
Filed in: NHL Teams, Chicago Blackhawks, | KK Hockey | Permalink

Blog: The Malik Report By George Malik
01/14/18 at 03:04 PM ET | Comments (20)
The Detroit Red Wings tend not to win in Chicago, and the Wings caught a bit of a break as the Blackhawks did not have Wing-killer Corey Crawford in the lineup for Sunday's "brunch matinee," but the Blackhawks remained a stacked team without their starting goalie, so the Red Wings were in for a challenge in attempting to snap a two-game losing streak on Sunday.
The Red Wings most definitely played a game in which they salvaged some pride after losing to Pittsburgh on Saturday. Despite an 0-for-4 power play, the Wings shut out Chicago 4-0, with Petr Mrazek stopping 27 Blackhawks shots en route to a convincing victory over the in-flux Hawks.
Dylan Larkin, Mike Green, Anthony Mantha and Tyler Bertuzzi scored goals; Mantha and Bertuzzi had assists; Athanasiou had 2 assists.
Dominic Turgeon also had a fine debut, taking 1 shot, registering a takeaway, a faceoff loss and 3 blocked shots in 9:01 played for the Red Wings.
You may call this win "cold comfort" come April, but regardless of the Wings' direction from here on out, the Wings beat Chicago in Chicago on an NBC national game, and that felt really good.
Filed in: | The Malik Report | Permalink

Blog: Abel to Yzerman By Kate from PA now in SC-made in Detroit
01/14/18 at 12:05 PM ET | Comments (95)
As fans of this storied franchise, what we all want is for our team to win. These days however, it's finally starting to sink in on what to expect. Watching so called professionals skating helter skelter all over the place, making passes to no one, leaving gaping holes for other teams to skate right through and score. Running around in our own end with seemingly no concept on how to play hockey.
It's beginning to look a lot like a new Dead Things era, and really, how much more we can take? It's no fun when what used to be anticipation before any game, has instead become dread.
This organization has got to give us a reason to keep watching. Eh?
It's a Live Blog! Bitches!
Filed in: | Abel to Yzerman | Permalink

Blog: The Malik Report By Paul
01/14/18 at 09:44 AM ET | Comments (2)
Puck drops just after 12:30pm ET and is on NBC.
Filed in: | The Malik Report | Permalink

« Previous ‹ First < 2 3 4 5 6 > Last › Next »
About Kukla's Korner
Kukla's Korner is updated around the clock with the work of our own talented bloggers, plus links to the best hockey writing around the internet. We strive to bring you all the breaking hockey news as it happens.
The home page allows you to see the latest postings from every blog on the site. Subscribe here. For general inquiries and more, please contact us anytime.
Most Recent Posts
Most Recent Comments