12/19/18 at 09:22 AM ET | Comments (0)
I will say this, not for the first time and certainly not for the last: It is terribly unfair to penalize teams who are not good enough to win anything for trying to put representative lineups on the ice during a rebuild. The draft, even with a lottery system that makes it dicey for clubs to go into full tank-mode, is unfair. Front offices should not face implied pressure to gut their teams and force season ticket-holders to pony up big bucks to watch an intentionally bad team. It is unfair when a team like the Rangers can lose for winning. But that is the reality.
-Larry Brooks of the New York Post. Read more on how the above statement applies to the New York Rangers.
Filed in: NHL Teams, New York Rangers, | KK Hockey | Permalink

12/19/18 at 09:03 AM ET | Comments (1)
from the CP at Sportsnet,
A goal credited to Pat Maroon early in the third period was the winner as the Blues came away with a 4-1 victory over the Oilers on Tuesday. Maroon's goal came 2:19 into the final period, as officials declared after a video review that the puck had crossed the line during a goal-mouth scramble, despite the referees not originally calling a goal on the ice.

"The way it was explained to us was that he pushed on the puck, he didn't push on the pad," said Oilers head coach Ken Hitchcock. "The pad happened to go with the puck. That was the way it was explained to us. They said they had an overhead view that said the puck was in before the push started. The look that we had was different. So what are you going to do?"

Maroon said he is simply happy that the goal, just his second of the season, was declared valid.

"I think the longer it (review) goes, the better it is for us. I think if it goes longer, they're making a decision if it crossed the line and it went long to see if it was goaltender interference too," he said. "It means a lot. I've been struggling a lot and I haven't been going to the net as much and I haven't been finding ways to get the puck in the net."
read on for more on the game
Below, watch the goal in question.
Filed in: NHL Teams, Edmonton Oilers, St. Louis Blues, | KK Hockey | Permalink
Tags: pat+maroon
12/19/18 at 08:52 AM ET | Comments (1)
from Sam Carchidi of Philly.com,
New coach. New goalie. New result.

Carter Hart, the 20-year-old goalie who the Flyers hope will one day be a franchise cornerstone, stopped 20 of 22 shots in his NHL debut Tuesday night, sparking a crisp 3-2 win over Detroit at the energized Wells Fargo Center.

"I had a blast tonight," Hart said after becoming the youngest goalie in Flyers history to win his NHL debut -- and the youngest in the league to win his debut since Carey Price in 2007. "It was a night I'll never forget."

"He's got ice in his veins," left winger James van Riemsdyk said. "He's very poised and tracks the puck real well."
Filed in: NHL Teams, Philadelphia Flyers, | KK Hockey | Permalink
Tags: carter+hart
Blog: Abel to Yzerman By Paul
12/19/18 at 08:38 AM ET | Comments (1)
from Helene St. James of the Detroit Free Press,
Niklas Kronwall stood in the locker room, his right eye swollen, a bruise across his nose.

His face summed up how the Red Wings are doing: getting beat up. They are winless in their last four games, and while some of that is attributable to how beat up their defense is, Tuesday's stinker at Wells Fargo Center came down to a lack of effort.

"We didn't have enough guys going," Kronwall said after the 3-2 loss to the Flyers. "We can't be waiting for someone else to do it — we have to all look ourselves in the mirror and see what we do better. I know I wasn't nearly good enough as I need to be.

"When we get the puck in our zone it's almost just one guy with the puck and four guys standing around watching to see what is going to happen. That's one area we have to clean up."
Below, watch Kronwall, Cholowski, Bernier and Blashill...
Filed in: | Abel to Yzerman | Permalink

12/19/18 at 08:29 AM ET | Comments (0)
TUESDAY'S RESULTS
Home Team in Caps
Florida 5, BUFFALO 2
Toronto 7, NEW JERSEY 2
NY RANGERS 3, Anaheim 1
PHILADELPHIA 3, Detroit 2
San Jose 4, MINNESOTA 0
CHICAGO 2, Nashville 1
DALLAS 2, Calgary 0
St. Louis 4, EDMONTON 1
NY Islanders 3, ARIZONA 1
Tampa Bay 5, VANCOUVER 2
LOS ANGELES 4, Winnipeg 1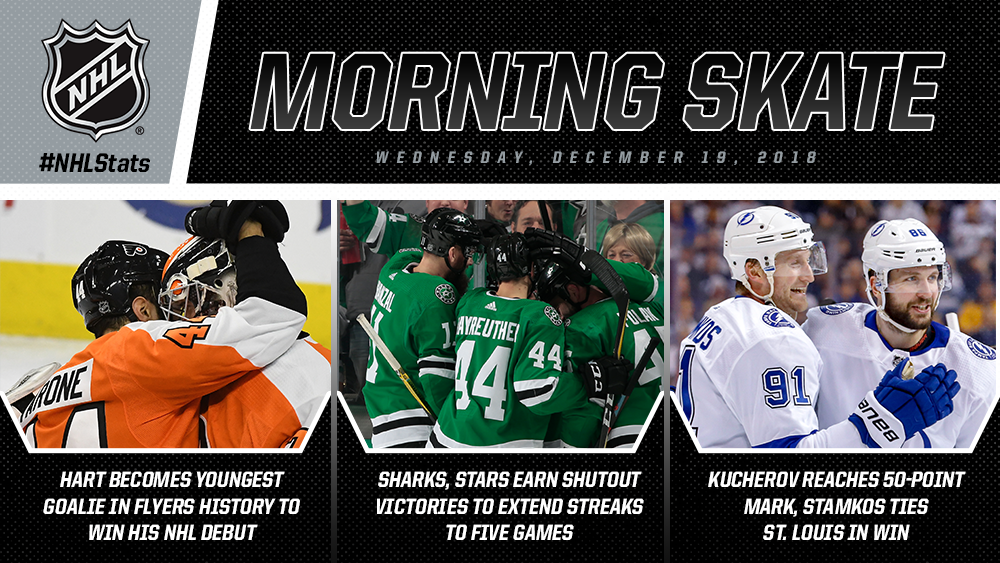 Filed in: NHL Teams, | KK Hockey | Permalink

Blog: Abel to Yzerman By Paul
12/18/18 at 10:07 PM ET | Comments (1)
The highlight package is 5 minutes long.
Filed in: | Abel to Yzerman | Permalink

Blog: Abel to Yzerman By Paul
12/18/18 at 09:40 PM ET | Comments (5)
We've seen this type of game before, still offensively challenged.
Flyers win 3-2, goals and stats below.
Filed in: | Abel to Yzerman | Permalink

12/18/18 at 07:13 PM ET | Comments (7)
via Bob McKenzie tweets,
Heard some idle chatter that 40-year-old KHLer Pavel Datsyuk might consider a return to the NHL next season but his agent Dan Milstein says: "Every year we sit down and talk about options but (returning to the) NHL isn't something he has entertained."

Datsyuk, BTW, turns 41 in July. ARI currently owns Datsyuk's NHL rights, until July 1, when he would become UFA in the NHL.
Filed in: NHL Teams, | KK Hockey | Permalink
Tags: pavel+datsyuk
Blog: Abel to Yzerman By IwoCPO
12/18/18 at 06:42 PM ET | Comments (78)
You do realize the Red Wings are 1-78 against goalies making their first career start? The sole victory coming against a non-descript, middling tender from the St. Louis organization in 1988 named Dick. Nobody remembers his last name.
I made that up. All of it.
Filed in: | Abel to Yzerman | Permalink

12/18/18 at 06:22 PM ET | Comments (0)
from Carol Schram at Forbes,
With the calendar about to flip to 2019, the players and owners from the National Hockey League can congratulate themselves on a pretty successful year.

The league is healthy and just agreed to collect a record-setting $650 million from the ownership group in Seattle in exchange for the rights to a new expansion franchise. Scoring is up. Nightly highlight packages are filled with spectacular goals and jaw-dropping saves, while issues like illegal hits and goaltender interference rulings have faded into the background.

Here's what to watch in NHL in the new year.

Goals Goals Goals

Scoring is up significantly this season, with teams averaging more than three goals a game for the first time since the post-lockout season in 2005-06. A closer look at the numbers from Hockey Reference suggests that the reasons for this trend go beyond this season's smaller goalie equipment.
Filed in: NHL Teams, NHL Talk, | KK Hockey | Permalink

About Kukla's Korner
Kukla's Korner is updated around the clock with the work of our own talented bloggers, plus links to the best hockey writing around the internet. We strive to bring you all the breaking hockey news as it happens.
The home page allows you to see the latest postings from every blog on the site. Subscribe here. For general inquiries and more, please contact us anytime.
Most Recent Posts
Most Recent Comments