02/22/18 at 04:30 AM ET | Comments (0)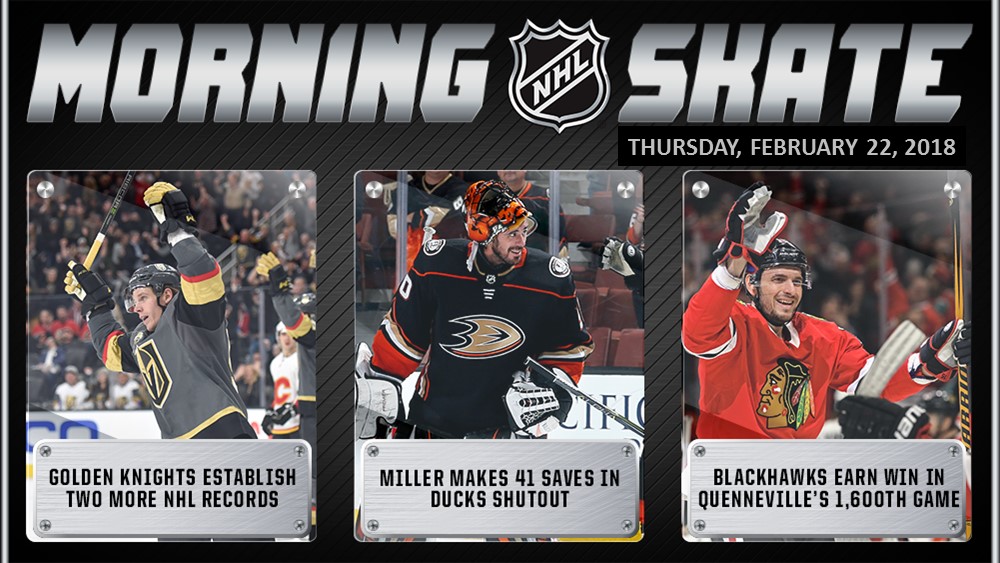 WEDNESDAY'S RESULTS
Home Team in Caps
CHICAGO 3, Ottawa 2 (SO)
ANAHEIM 2, Dallas 0
VEGAS 7, Calgary 3
Filed in: NHL Teams, | KK Hockey | Permalink

02/22/18 at 04:20 AM ET | Comments (19)
from Andrew Podnieks of IIHF.com,
After 80 minutes of end-to-end action, the women's Olympic gold medal was decided by a shootout. And even that went to overtime before the U.S. won, 3-2.

In fact, the shootout mirrored the game exactly. The U.S. led 1-0, trailed 2-1, and fought back to win both, 3-2. The U.S. goalie, 20-year-old Maddie Rooney, outduelled Canada's two-time Olympic gold medallist Shannon Szbados to secure the win.

Lamoureux's winning shootout shot was, as they say, sick. Moving in slwoly, she made a couple of left-to-right dekes that had Szabados on her back.

"I was told after the fourth shooter that I was going to be the sixth one if it came to that," Lamoureux explained. "Coach Stauber asked if I wanted it and I said, 'Absolutely.' I came in on a few inside edges, coming in slow. I knew that was what I was going to do. Szabados is a great goalie. She's an amazing goalie. I knew I had to sell the shot, and I did."

"I can't think about anything except pure pride, excitement, and honour for our team," said winning captain Meghan Duggan. "A lot of us have wanted this since we saw the 1998 team win 20 years ago. To have this experience together, to represent our country is the greatest honour in the world. It's one of the greatest days of all of our lives."
from Bruce Athur of the Toronto Star,
Filed in: | KK Hockey | Permalink

Blog: Abel to Yzerman By Paul
02/22/18 at 03:52 AM ET | Comments (19)
from Bob Wojnowski of the Detroit News,
Now is the time for Holland to be bolder, with less to lose as the Wings slide toward a second straight playoff-less finish. Now would be the time for a risky leap, such as seeing what you can get for a tantalizing young player like Andreas Athanasiou, who has speed and skill, and also vexing defensive and effort lapses.

Now is when you shop other semi-affordable players having solid seasons, such as two of your leading scorers, Tomas Tatar, 27, and Gustav Nyquist, 28, (16 goals each), and perhaps Luke Glendening. Nashville reportedly is interested in Tatar, and although he's owed $5.3 million per season through 2021, that might be palatable to a contender. Nyquist is more affordable, a free-agent after next season. Either might draw more than a pick, perhaps even a prime prospect.

Holland almost never makes value-for-value, equal-for-equal player trades, and for years, it wasn't necessary. At the height of their success, the Wings simply dumped draft picks and prospects for better talent.

Now, instead of playing for Cups, they're holding out a cup, asking for picks. The only certainty before Monday is that Green, 32, a pending unrestricted free-agent, will be dealt. Most rumors are gasps in the wind, but Holland must pursue every avenue.
Filed in: | Abel to Yzerman | Permalink

02/22/18 at 03:44 AM ET | Comments (0)
Filed in: Non-NHL Hockey, International Hockey, | KK Hockey | Permalink
Tags: team+canada, team+usa
02/21/18 at 10:15 PM ET | Comments (15)
Late night game tonight, puck drops at 11:10pm ET.
Watch on NBCSN and CBC.
Feel free to comment on the game.
Filed in: Non-NHL Hockey, International Hockey, | KK Hockey | Permalink
Tags: team+canada, team+usa
02/21/18 at 10:12 PM ET | Comments (0)
The Sportsnet crew with the latest trade talk.
Filed in: NHL Teams, | KK Hockey | Permalink

02/21/18 at 06:59 PM ET | Comments (6)
GLENDALE, ARIZONA - Arizona Coyotes President of Hockey Operations and General Manager John Chayka announced today that the Coyotes have acquired goaltender Darcy Kuemper from the Los Angeles Kings in exchange for forward Tobias Rieder and goaltender Scott Wedgewood.
The 27-year-old Kuemper has posted a 10-1-3 record with a 2.10 goals against average (GAA), .932 save percentage (SV%) and three shutouts in 19 games for the Kings this season. The 6-foot-5, 215-pound native of Saskatoon, SK has a career record of 51-35-17 with a 2.52 GAA, .913 SV% and 10 shutouts in 104 games with the Kings and Minnesota Wild.
"Darcy is a big, talented goaltender who is having an excellent year," said Chayka. "You need great goaltending in this league in order to be successful and with Antti and Darcy, we are confident that we have an excellent tandem for the future."
Filed in: NHL Teams, d, Los Angeles Kings, | KK Hockey | Permalink
Tags: darcy+kuemper, scott+wedgewood, tobias+rieder
02/21/18 at 04:49 PM ET | Comments (11)
We should simply state what we now believe to be patently obvious: The Ottawa Senators are open to the idea of trading Erik Karlsson by Monday.

Let's not get into the semantics of whether they're "shopping" Karlsson or just "listening." We kind of went down that forked road with P.K. Subban and the Montreal Canadiens, didn't we?

The reality is Ottawa Senators' general manager Pierre Dorion has been, and still is, engaged in some level of trade dialogue for Karlsson with multiple NHL teams, certainly more than a half-dozen.
- Bob McKenzie of TSN where you can read more on this topic.
Filed in: NHL Teams, Ottawa Senators, | KK Hockey | Permalink
Tags: erik+karlsson
02/21/18 at 02:37 PM ET | Comments (0)
from Josh Cooper of LA Kings Insider,
It's unclear how much Carter's expected return will impact the Kings at the NHL's Feb. 26 trade deadline, but he should at least help give the team more scoring, which is generally a position of need around the NHL this time of year as groups try to bolster their rosters for playoff runs. The 33-year-old Carter is coming off a season where he had 66 points and made the All-Star Game from the Pacific Division....

"I think when you add a player of Jeff Carter, that we already know and we know where he fits into our lineup, it moves everybody around and into the right spots. We've had a lot of guys having to play out of position this year in the middle. It's no secret," Blake said.
Filed in: | KK Hockey | Permalink
Tags: jeff+carter
Blog: Abel to Yzerman By Paul
02/21/18 at 02:29 PM ET | Comments (5)
Below, Mantha and Blashill videos...
Filed in: | Abel to Yzerman | Permalink

« Previous ‹ First < 3 4 5 6 7 > Last › Next »
About Kukla's Korner
Kukla's Korner is updated around the clock with the work of our own talented bloggers, plus links to the best hockey writing around the internet. We strive to bring you all the breaking hockey news as it happens.
The home page allows you to see the latest postings from every blog on the site. Subscribe here. For general inquiries and more, please contact us anytime.
Most Recent Posts
Most Recent Comments