The Malik Report
by George Malik on 07/22/13 at 11:09 AM ET
Comments (1)
It's officially official:
Here's the press release:
Hockey Canada, along with Canada's National Men's Team management group, has announced that Mike Babcock (Saskatoon, Sask./Detroit, NHL) will be head coach of Canada's National Men's Team. Hockey Canada also announced three associate coaches: Ken Hitchcock (Edmonton, Alta./St. Louis, NHL), Claude Julien (Orleans, Ont./Boston, NHL) and Lindy Ruff (Warburg, Alta./Dallas, NHL). Hockey Canada will nominate this coaching staff to the Canadian Olympic Team for the 2014 Olympic Winter Games this fall.

The coaching staff was named by Canada's National Men's Team management group, comprised of executive director Steve Yzerman (Nepean, Ont./Tampa Bay, NHL), along with Doug Armstrong (Sarnia, Ont./St. Louis, NHL), Ken Holland (Vernon, B.C./Detroit, NHL), Kevin Lowe (Lachute, Que./Edmonton, NHL), Bob Nicholson (Penticton, B.C./Hockey Canada) and Brad Pascall (Coquitlam, B.C./Hockey Canada).

Babcock, Hitchcock and Ruff were all members of the Canadian men's hockey coaching staff at the 2010 Olympic Winter Games in Vancouver, B.C., where Canada won its eighth Olympic gold medal.

The 2014 Olympic Winter Games run from Feb. 6-23, with the men's ice hockey tournament going from Feb. 12-23.

"Canada's coaching staff has a great deal of international and professional experience for the challenge that awaits us in Sochi," said Yzerman. "Mike did a great job setting the foundation for our gold medal win in Vancouver, and I know that with Ken, Claude and Lindy working with him, our team will be very well prepared."

"I am extremely proud to represent my country and coach Team Canada," said Babcock. "To have had the opportunity to share the Olympics with family, friends and all Canadians in Vancouver was something very special. To win gold in Canada was a dream come true. In February, we will have a whole set of new challenges with a new group of players and staff. I am very excited to be working with Claude, Lindy, Ken, the management group, support staff and players to defend our Olympic gold medal."

"On behalf of Hockey Canada, I would like to thank this group of coaches for accepting this great challenge," said Pascall. "Under the leadership of Steve, Mike and Bob, Canadians can be assured that nothing will be left to chance in preparing this team for Sochi."

Mike Babcock, 50, led Canada to gold at the 2010 Olympic Winter Games in Vancouver, making him the first coach to earn membership in the IIHF Triple Gold Club, having won Olympic gold, an IIHF World Championship gold medal and a Stanley Cup. This will mark his fourth time as a head coach with Canada on the international stage. The native of Manitouwadge, Ont., who grew up in Saskatoon, is in his eighth season as head coach of the NHL's Detroit Red Wings, becoming the third-fastest coach in NHL history to reach 400 career wins, achieving the feat in his 699th game. Prior to joining the Red Wings, Babcock coached the Mighty Ducks of Anaheim for two years. Babcock led the Red Wings to a Stanley Cup championship in 2008, and a Western Conference championship in 2009. Internationally, Babcock also coached Canada to gold at the 2004 IIHF World Championship and 1997 IIHF World Junior Championship.

Ken Hitchcock, 61, was an associate coach under Babcock at the 2010 Olympic Winter Games in Vancouver, winning his fourth gold medal, and fifth medal overall in international competition with Canada. The native of Edmonton was also a member of the coaching staff for Canada at the 2002 and 2006 Olympic Winter Games. Hitchcock has just completed his second season as head coach of the NHL's St. Louis Blues. He was previously a head coach in Columbus, Philadelphia and Dallas, leading the Stars to their first and only Stanley Cup in 1999. Internationally, Hitchcock has coached Canada on the international stages a total of seven times, including three Olympics (2002, 2006, 2010), two IIHF World Championships (2002, 2008), one World Cup of Hockey (2004) and one IIHF World Junior Championship (1988).

Claude Julien, 53, is in his sixth season as head coach of the NHL's Boston Bruins, leading the team to its first Stanley Cup in 39 years in 2011 and winning the Jack Adams Award as the NHL's top coach in 2009. Julien has served on Canadian coaching staffs on four previous occasions, as an assistant coach at the 2006 IIHF World Championship, winning a bronze medal as head coach of Canada's National Junior Team at the 2000 IIHF World Junior Championship, a silver medal as an assistant coach at the 1999 IIHF World Junior Championship and a gold medal as head coach of Canada's National Men's Summer Under-18 Team at the 1997 Three Nations Cup. Julien has also served as an NHL head coach in over 700 games, including stints with the Bruins, Montreal Canadiens and New Jersey Devils.

Lindy Ruff, 53, was an associate coach under Babcock at the 2010 Olympic Winter Games in Vancouver, winning gold. He was Canada's head coach at the 2008 IIHF World Championship in Switzerland, winning a silver medal, and at the 2013 IIHF Ice Hockey World Championship. The native of Warburg, Alta., was hired as head coach of the NHL's Dallas Stars on June 21, 2013 after spending more than 15 years as head coach of the NHL's Buffalo Sabres, becoming the winningest coach in franchise history. Ruff ranks second all-time in NHL history for most games coached with one franchise and most wins with one franchise, trailing only Al Arbour of the New York Islanders in both categories. Prior to joining Buffalo, Ruff was an assistant coach with the NHL's Florida Panthers for three seasons. As a player, Ruff appeared in 691 regular season games, including parts of 10 seasons with Buffalo and three seasons with the New York Rangers.

Hockey Canada also confirmed there will be a National Men's Team orientation camp from Aug. 25-28 in Calgary. Details of the camp will be announced shortly.

For more information on Hockey Canada, its national teams, events and development programs, please visit http://www.hockeycanada.ca or fo,llow along through social media at http://www.facebook.com/hockeycanada and https://www.twitter.com/hockeycanada
Lookers, all of 'em: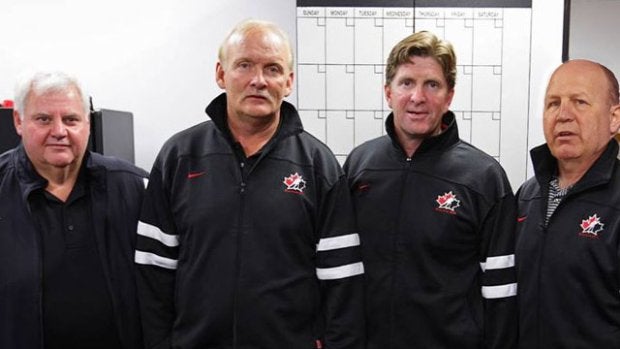 Update: Via ColmbusBlueJackets.com's Rob Mixer, Pavel Datsyuk's been officially invited to the Russians' summer Olympic gathering on August 24th and 25th, too. They'll meet in Sochi:
Filed in: | The Malik Report | Permalink

Comments
Add a Comment
Please limit embedded image or media size to 575 pixels wide.
Add your own avatar by joining Kukla's Korner, or logging in and uploading one in your member control panel.
Captchas bug you? Join KK or log in and you won't have to bother.
Most Recent Blog Posts
About The Malik Report
The Malik Report is a destination for all things Red Wings-related. I offer biased, perhaps unprofessional-at-times and verbose coverage of my favorite team, their prospects and developmental affiliates. I've joined the Kukla's Korner family with five years of blogging under my belt, and I hope you'll find almost everything you need to follow your Red Wings at a place where all opinions are created equal and we're all friends, talking about hockey and the team we love to follow.
Recommended Sportsbook
MyBookie.ag
Tweets by @georgemalik