The Confluence
by Tony on 06/14/09 at 06:14 PM ET
Comments (0)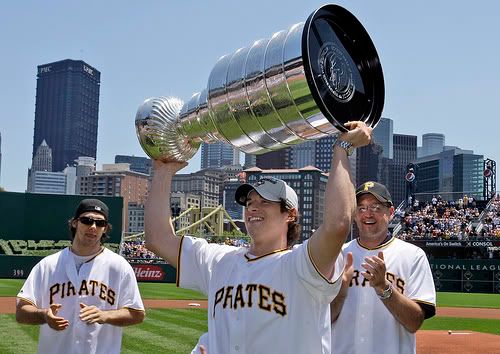 The Penguins continued their journey around Pittsburgh since returning from Detroit Friday night with the Stanley Cup. today visiting PNC Park, where ironically enough, the Pirates are entertaining the Detroit Tigers.
The championship parade is Monday at noon in downtown Pittsburgh, using the same route that the Super Bowl Champion Pittsburgh Steelers used this past February.
Filed in: Pittsburgh Penguins, | The Confluence | Permalink
Tags: detroit+red+wings, nhl-hockey, pittsburgh+penguins
Comments
Be the first to comment.
Add a Comment
Please limit embedded image or media size to 575 pixels wide.
Add your own avatar by joining Kukla's Korner, or logging in and uploading one in your member control panel.
Captchas bug you? Join KK or log in and you won't have to bother.
Commenting is not available in this channel entry.
Most Recent Blog Posts
About The Confluence
Welcome to The Confluence, a Pittsburgh Penguins blog since 2006.
Originally at Blogspot, then at MVN, TheConfluence has over 1500 articles reporting Penguins news as well as jumping on my soapbox to opine constructive Penguins criticism.
I am blogger- credentialed with the Pittsburgh Penguins. My posts are regularly linked by hockey websites such as the Pittsburgh Post-Gazette, Pittsburgh Tribune Review, Yahoo!'s Puck Daddy, and I've done numerous guest blogger spots on such websites asthe New YorkTimes. I am a retired U.S. Navy Chief Petty Officer.

If you'd like to follow me on Twitter-