The Confluence
by Tony on 09/18/09 at 10:40 AM ET
Comments (0)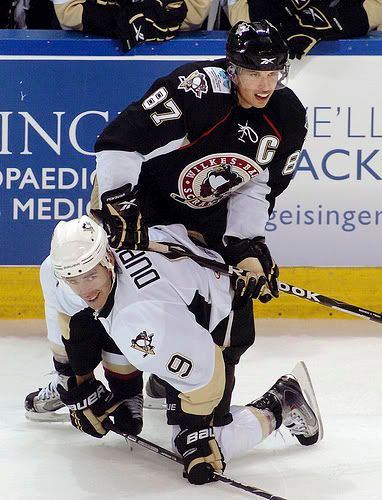 [Pic courtesy of Empty Netters]
The Penguins held their Black/Gold scrimmage in front of a sold-out crowd at Wilkes-Barre/Scranton's Wachovia Arena last night. Defenseman Alex Goligoski scored all three goals for Team Black, that included Sidney Crosby, Jordan Staal and Sergei Gonchar. Luca Caputi and new Penguin Mike Rupp scored for Team Gold (although their jerseys were white), that also included Evgeni Malkin, Bill Guerin and new Penguin Jay McKee.
The Penguins play Toronto tonight at the Igloo.
Filed in: , | The Confluence | Permalink
Tags: nhl-hockey, pittsburgh+penguins
Comments
Be the first to comment.
Add a Comment
Please limit embedded image or media size to 575 pixels wide.
Add your own avatar by joining Kukla's Korner, or logging in and uploading one in your member control panel.
Captchas bug you? Join KK or log in and you won't have to bother.
Commenting is not available in this channel entry.
Most Recent Blog Posts
About The Confluence
Welcome to The Confluence, a Pittsburgh Penguins blog since 2006.
Originally at Blogspot, then at MVN, TheConfluence has over 1500 articles reporting Penguins news as well as jumping on my soapbox to opine constructive Penguins criticism.
I am blogger- credentialed with the Pittsburgh Penguins. My posts are regularly linked by hockey websites such as the Pittsburgh Post-Gazette, Pittsburgh Tribune Review, Yahoo!'s Puck Daddy, and I've done numerous guest blogger spots on such websites asthe New YorkTimes. I am a retired U.S. Navy Chief Petty Officer.

If you'd like to follow me on Twitter-