Red and Black Hockey
Entries with the tag: finland
by David Lee on 05/10/11 at 02:09 PM ET
Comments (0)
This year's IIHF World Championships have been pretty wild. Some countries have played much better than expected and others haven't performed as well as expected. Finland is always expected to be in the medal hunt, but this year, they're being accused of being lucky rather than good.
There's a story on the story on the IIHF home page about how Finland, and specifically Tuomo Ruutu, a href="http://www.iihf.com/channels-11/iihf-world-championship-wc11/news/news-singleview-2011/article/bounces-players-best-friend.html?tx_ttnews[backPid]=4926&cHash=3de9549f67">has been in the right place at the right time with a lot of frequency.
Finland is no stranger to luck at the IIHF tournament. I'm sure we all remember the 2008 game between Finland and the USA, when Ville Koistinen was credited with a goal that should not have counted. More on that in a bit. This year, they've been the benefactor of some lucky bounces, but the bottom line is that they've put themselves in the spot to reap those benefits. The harder you work, the more good luck you will have. Something like that, anyway.
Filed in: | Red and Black Hockey | Permalink
Tags: 2011+iihf+world+championships, finland, tuomo+ruutu
by David Lee on 12/17/09 at 02:24 AM ET
Comments (0)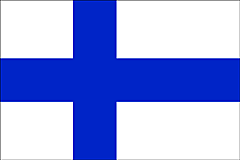 On Wednesday, rumors spread that Carolina will be opening the 2010-11 season with two games in Finland. Maybe all that excitement about the Finnish trip had something to do with it, and maybe it was just some sort of synchronicity, but Carolina's three native Finns played very well in Carolina's 5-3 victory over the visiting Dallas Stars. At the end of it all, Tuomo Ruutu got his first career hat trick, even if Ray Whitney almost messed it up.
Nothing has been announced, and nothing will be announced for another couple of months, but there's some very strong suggestion that Carolina will be one of the teams starting their season in Europe next season, and everything is pointing towards Finland. With Carolina's three Finns, the games would be certain to draw huge crowds. According to what I've heard, although the teams lose home games, the league gives them financial benefits from the Europe games. Season ticket holders would lose one game, but they obviously wouldn't have to pay for it. The Finns get to play at home. Everybody wins.
Filed in: | Red and Black Hockey | Permalink
Tags: carolina+hurricanes, dallas+stars, eric+staal, finland, joni+pitkanen, jussi+jokinen, tuomo+ruutu