Red and Black Hockey
by David Lee on 12/17/09 at 02:24 AM ET
Comments (0)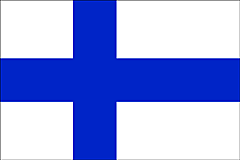 On Wednesday, rumors spread that Carolina will be opening the 2010-11 season with two games in Finland. Maybe all that excitement about the Finnish trip had something to do with it, and maybe it was just some sort of synchronicity, but Carolina's three native Finns played very well in Carolina's 5-3 victory over the visiting Dallas Stars. At the end of it all, Tuomo Ruutu got his first career hat trick, even if Ray Whitney almost messed it up.
Nothing has been announced, and nothing will be announced for another couple of months, but there's some very strong suggestion that Carolina will be one of the teams starting their season in Europe next season, and everything is pointing towards Finland. With Carolina's three Finns, the games would be certain to draw huge crowds. According to what I've heard, although the teams lose home games, the league gives them financial benefits from the Europe games. Season ticket holders would lose one game, but they obviously wouldn't have to pay for it. The Finns get to play at home. Everybody wins.
Very early in the game, there was a scary moment involving Aaron Ward, who was just placed on and cleard waivers. He was hit hard into the end wall by a Dallas player and lay completely motionless for a moment. After a minute or so, he got up on his own power, skated off and didn't miss a shift. Later, he would deliver a key hit on Brenden Morrow on the exact same patch of ice.
Jussi Jokinen scored the first goal of the game with Carolina's second shot at 4:48 of the first act. Bryan Rodney, in a very Pitkänenesque moment, sprung Jussi with a stretch pass to the Dallas blue line, where he split the defense and scored from the bottom of the left circle. Initially, Rodney was the only helper on the power play goal, but there was a scoring change, which gave a secondary assist to Cam Ward. It's the goaltender's second helper of the season.
At 6:32, Tuomo Ruutu scored his first of the night on a nifty spin-o-rama move at the bottom of the right circle. He fired a backhand past Marty Turco, and at that point Carolina had scored two goals on just three shots. Eric Staal and Joni Pitkänen got the helpers on the even strength goal. Oddly, this was one of just two five-on-five goals in the game.
Eric Staal made it 3-0 on another power play goal at 12:35, finishing a really nice passing display with a one-timer from the low slot. Jussi Jokinen's pass came from the bottom of the right circle through the slot to an open Staal. Bryan Rodney got the secondary assist, which was his second point of the night.
Steve Ott (who I always want to call "Mel") got the Stars on the board at 15:09 with a power play goal just 16 seconds into the advantage. He tipped one in from very close range, assisted by Brenden Morrow and Mike Ribeiro.
Carolina had dominated the flow of the game and it looked like the Stars were taking the game lightly or they were just unmotivated for some reason.
Things were very different in the middle stanza. Carolina looked flat and they were outskated, outhit, outshot, outhustled and outscored. Carolina only mustered four shots in the second. Meanwhile, the Stars had twelve. The only scoring came on another power play. Brenden Morrow from Jiri Lehtinen and Mike Ribeiro at 8:32.
I had a slight feeling of dread in the second intermission. We've been here before. One goal lead going into the third on home ice. On a few occasions, the Canes have found really creative ways to lose games that they should have won. Even a three goal lead at home heading into the third against Atlanta wasn't enough. Thankfully, the boys in red didn't give up.
Ruutu notched his second marker of the game at 4:47 of the third on an even strength goal. His shot from the bottom of the left circle made it a two goal game again. Brett Carson earned his first NHL point with the primary assist, while Joni Pitkänen got the secondary.
The Canes rediscovered their jump, and got out of that conservative mode that they've often gotten into. Instead of sitting back, they pushed on with their forecheck and kept playing offensively. The next 13 minutes were just fine, but it got a little bit weird at the end.
With a two goal deficit, Marc Crawford pulled Turco for a sixth attacker pretty early. After a couple of unsuccessful tries, Carolina finally moved the puck out of the zone with the big line on the ice. Ray Whitney had an open net in front of him and an unabated path with about 90 seconds to play. Since he's Ray Whitney, and since he knew that Ruutu had never recorded a hat trick, he didn't take the easy goal. He looked for Ruutu, but he wasted too much time, and the Dallas defense caught up before Whitney could find #15. Things went back the other way, and Loui Eriksson scored an extra attacker goal at 18:56.
At this point, the gravity of Ray Whitney's unselfish act became clear. He could have salted the game away, but suddenly, it had become a one shot game. After the game, he told reporters that he would shoot the puck next time since the Canes are in no position to take anything for granted. But we all know Ray, and he'll do the same thing next time when it's Brandon Sutter or Tim Gleason or some other such player looking for his first hat trick.
Fortunately, there was another chance in the dying seconds for Whitney to set up Ruutu. Actually two. Ruutu had the puck at center ice and a clear path to the empty net, when Mike Modano made an uncharacteristically selfish and unclassy play. When he knew he was beat, he took Ruutu out of the play instead of letting him go. This DID NOT fall into the category of infraction that can result in an awarded goal, but we didn't like it.
Luckily, Modo's actions didn't keep Ruutu from getting the hat trick. Finally, on the third try, he scored into the empty net with six seconds to play. The power play goal was assisted by Whitney and Staal.
Three (1/2) points by Staal was good enough to earn him second star status in my book, but the "official" three stars went to Pitkänen (third), Jokinen (second) and Ruutu (first).
Carolina will travel to Sunrise on Friday night and will play the back end of a home-and-home with the Kitties in Raleigh on Saturday. Unfortunately, the Canes are sort of in a position where they will need to win both games in regulation. "Must-win" games in December.
Filed in: | Red and Black Hockey | Permalink
Tags: carolina+hurricanes, dallas+stars, eric+staal, finland, joni+pitkanen, jussi+jokinen, tuomo+ruutu
Comments
Be the first to comment.
Add a Comment
Please limit embedded image or media size to 575 pixels wide.
Add your own avatar by joining Kukla's Korner, or logging in and uploading one in your member control panel.
Captchas bug you? Join KK or log in and you won't have to bother.
Commenting is not available in this channel entry.
Most Recent Blog Posts
About Red and Black Hockey
David Lee is a restaurant manager with an unused degree in political science. He can be found at Carolina Hurricanes games, Scrabble tournaments and indie-rock shows. Sometimes, all in the same day.
David has contributed to CBC.ca for their Stanley Cup playoff coverage in 2006 and to the New York Times Slapshot blog for theirs in 2008. Red and Black Hockey was founded in July of 2005.