Orange & Black Breakdown
by Vindisi on 12/01/11 at 08:00 PM ET
Comments (2)
Tag me in Marc. **SLAP**. Ok, it is time for me to bring the gauntlet. This should be painless, right?. Problem is…most of the obvious stories have been beaten to a bloody pulp. So without further ado, I will talk about the some of the Flyers players that have surprised or disappointed us after the jump.
SURPRISE
Matt Read
Bob McKenzie goes and calls him to be the Calder Trophy (rookie of the year) winner. So he decides to deliver and then some. He may not win it (he is in 5th with 14 points compared to Nugent-Hopkins 27 points), but he has provided that secondary scoring spark that the Flyers desperately needed when losing Richards and Carter. He has not only potted some game winning goals, but he is also a huge reason the Flyers PK depth is so deep this year. If he can keep this pace, I see a Patrick Sharp type career for him (late bloomers).
Mr. #HartnellDown
Honestly, who thought:
1) Scotty would be our second leading scorer
2) Scotty would be in the top 50 for scoring
3) Scotty would take his #HartnellDown (a count for every time he falls down on Twitter) with a smile
Scotty doesn't know. I would be the last person to ever think any of these were possible. He has once again become a vital part of another formidable line (first Carter-Lupul, then Briere-Leino). He has proven to us once again that grit wins out in a league where flashy plays get the front page news. No one will ever talk about his heroics because they are always going to be ugly. His passes may make you cringe, his skating ability may make you puke, and his tendency for penalties may anger you; but in the end, he is necessary to help clear space for your playmakers on the team and will splash in a few goals here and there.

Giroux has nothing on Hartnell's playoff mop
Couturier
At my first live game, I looked at him on the ice and finally realized how big he looks and plays on the ice. He is going to be a force when he finally builds out his body, but that is for another day. He has been a force on the Penalty Kill and has a real knack for getting loose pucks. Hardly ever do we see him lose a puck battle, even with his diminutive 18 year old body. He also has shown an ability to be a playmaker when paired with viable linemates (no offense Mr. Shelley). You can see management is taking notice by placing him on the Power Play recently. They are utilizing him similar to the way the Bruins did with Tyler Seguin last year. The fact he is only 18 and is performing some of the most difficult tasks on the team will only mean positive things down the road.
Timonen
Does anyone remember last year's playoffs? Didn't it seem like our boy Kimmo lost a step. Well, it looks like he was simply worn out. He is performing like an All-Star this year. Problem is he could be wearing himself out early again because of the injury to Christopher Pronger. Nobody knows. Regardless, you play your best players on a nightly basis and he has been that and then some for the Flyers in a year with significant roster fluctuation.

Channeling a younger version of Kimmo for the rest of this season
Disappointments
Pronger
The man cannot stay healthy. I understand that some of the injuries have been freakish (his words, not mine), but there comes a time where you just hope he's healthy enough come playoff time. When he plays, he is one of the best players on the ice. Problem is you don't know how long it will be until his next stint on the IR (ala Forsberg for the youngins, Howe for the older folks). It's a shame too because he was putting up one of his best offensive outputs tallying at almost a point per game (12 points in 13 games). When he comes back, his knees are going to have a huge target on them. Fortunately, he still knows how to deliver elbows and slashes with the best of them to pay retribution to those who try to take liberty on his knees.
JvR
I'm sorry but even though his production is decent for his second full season in the big leagues, his consistency in his play has been nonexistent. There were rumblings that his confidence in his game had dried up and that he was trying to find his niche. Personally, I don't buy it. I see it as he was thinking the game was going to come to him after a rigorous offseason workout program and didn't realize that his game is predicated on outworking the opponents in the offensive zone. His skill level will show up, much like it has in his most recent games. JvR needs to find that extra gear and stay in it for the rest of the season considering the fact, the entire roster seems injury prone (including himself).

He is either staring down the goalie or reading sign guy's latest and greatest sign
Briere
He is getting paid to be one of the best players on the Flyers. I get it; he brings it come playoff time. My thinking is why can't he sprinkle it every once in a while in the regular season. Enough of the wrong linemates excuse. Giroux performs with anybody, Briere should be able to do the same. Also, his shots are being telegraphed nowadays. His wrister needs to have a different delivery point because they have been getting blocked with ease by defensemen.
Meszaros
He follows up a huge season with a weak one. One has to think he may have put up those numbers last year because he was sheltered on the third defensive pairing. With the added responsibility this year, he has looked lost at times. His offensive game was never the problem, but his defensive prowess is now a liability. For instance, he can't remember the first thing about defending in front of his own net. If there is an open guy, cancel him. Countless times he has become mesmerized by the puck and forgot about his front porch duties. Pronger also needs to teach him a lesson on when it is justifiable to go for the big hit rather than sit back and man the fort.

They do say blondes have more fun
TO BE DETERMINED
Simmonds & Voracek have had opposite starts to the season. Simmonds started the season scorching hot and then passed the torch to Voracek. In limited games, Simmonds looks like a younger Hartnell (with better skating) and Voracek has a similar playing style to JvR with his powerful strides into the offensive zone but has more of a passing mentality. If Voracek keeps this pace and Simmonds raises his level, they will help alleviate the loss of two marquee centers. But the real prize to making those moves has yet to even put a dent into the season. He has been snakebitten by the injury bug, which has resulted in the delay of him shedding the 'best prospect in the NHL' label. Mr. Schenn, it is time. Lastly, goalies are prone to rough stretches. It's a shame that Bryzgalov's is at the start of the season. He will get through it…mark my words.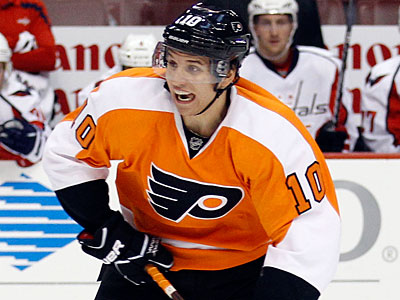 I want to see more of this face
Oh and that Giroux guy. He has been ok…kidding kidding. You have read everything there is to know about him, which is why I shied away from writing about him. He is on pace to contend for the Hart (29 points) as he is competing with two other Leafs (Lupul-30 points and Kessel-32 points) at this moment. One thing we are all certain of though: he will devour hundreds…scratch that…thousands of grilled cheeses (FUN FACT: eats them before every game) leading up to the game tomorrow night after being shutout in New York last Saturday.

Tomorrow, Marc will wrap up this 3 part series and explain the future prospects for the Flyers this season. If you want me to touch on other players, shoot me a message on Twitter (@marcs797 and @thevintern), email (theobbreakdown@gmail.com), or in the comments below and I'd be glad to update the piece with that player.

Lets Go Flyers!
Filed in: | Orange & Black Breakdown | Permalink

Comments
Add a Comment
Please limit embedded image or media size to 575 pixels wide.
Add your own avatar by joining Kukla's Korner, or logging in and uploading one in your member control panel.
Captchas bug you? Join KK or log in and you won't have to bother.
Most Recent Blog Posts
About Orange & Black Breakdown
The Orange & Black Breakdown looks to be the ultimate, around the clock source for news and information on the Philadelphia Flyers organization and it's ever-present quest for the Stanley Cup. Focusing on what the team can do to achieve success is the ultimate goal.
The OBB is written and maintained by myself - Marc Siciliano. I'm a college graduate and media production professional in the sports industry with credits on projects like Hard Knocks: Bengals and 24/7 Penguins vs. Capitals: Road to the Winter Classic. A man of many hobbies, I always seem to find a way to spend a disproportionate amount of my daily routine with two things: Flyers hockey and social media (much to the dismay of my hockey impartial friends on twitter).
So what does this mean for you? The plan is to combine these time-wasting habits passions with my love for writing to provide you with complete coverage of the Flyers from both my head and around the web, 24/7.
This is my second writing stint focusing on the Flyers, but for a much larger audience - so do be gentle. Different perspectives and opinions on the organization are welcome and encouraged. Just because I see it one way doesn't mean I'm beyond seeing it your way as well, so speak up!
I'm always interested in interacting with readers, so find me on twitter (@marcs797) or email me (theobbreakdown@gmail.com) and let's talk hockey.
Thanks for reading; Lets go Flyers!