Orange & Black Breakdown
by Vindisi on 12/15/11 at 08:18 PM ET
Comments (0)
Once again, I'm still in Nashville tonight, and I'm going to check out the Predators take on the Red Wings so this write up will be a little abbreviated. After watching the highlights of the game, the amazing shift for Simmonds goal (youtube it now), and the 24/7 special it looks like the Flyers will be just fine without Giroux as EVERYONE has stepped up their game. More after the jump…
Montreal Canadiens (13-11-7 | 33 pts) vs Philadelphia Flyers (19-7-3 | 41 pts)
Wow, one game can surely change the mood of the team in a split second. It's awful that Giroux is out with a concussion and that Pronger may be shut down for the rest of the season. But the Flyers didn't skip a beat and looked electrifying after a slow start on Tuesday night thanks to other-worldly play of Ilya Bryzgalov in the opening period. His play has been out of this world…it's obvious he's a star. Ok, I'm done with the corny universe puns. It's obvious he has been a huge part of the winning streak, but now it is universally agreed upon (now I'm done) that he has to be THE reason for the Flyers to win it all.

Flyers defiant response showing that they are more than 2 superstars
What to expect from the Canadiens:
Carey Price: Kid is a stud and no one is talking about him because his team can't score. Montreal is 2nd worst offense in the Eastern Conference ahead of only the Islanders for goals scored. He is tied with Pekka Rinne for the most starts this season with 27 games played. The fact that they have 7 overtime/shootout losses (most in the league) proves that they are struggling to find that go-to line when the going gets tough.
Tomas Kaberle: Habs traded for him with the hope that he brings a little offense to the table. He is rocking the Timonen stat line with all of his points going for assists (12). He had 4 points in 2 games with the Hurricanes right before he was traded and has continued his hot play with 3 more points in 2 wins with Montreal. He has to be the focus of the Flyers behind their leading scorer…
Tomas Plekanec: ...yup. Habs love there Tomas'. They don't have a top 30 scorer, but Plekanec is on the doorstep. He is a dynamic playmaker for them with 19 of his 25 points going for assists. He is a smart player and is always in the right spot for turnovers. Shut down these 2 guys and sneak a few by Carey and this should be a cakewalk (Hope I didn't jinx it)

Stop the Tomas'

Keys for the FLYERS tonight:
Voracek: Is he mimicking his game after Jagr? I know, I know. I'm using the same question as last game. But this time, I'm answering it. One constant in that amazing shift for Simmonds' goal is Voracek's amazing puck control. No one could get it off him. Jagr or Forsberg-like. It is downright scary if he puts it together. Problem is he has a one year deal. Hurry Homer, sign him now while he is cheap.
Talbot: Can he keep up with this goal scoring pace? My guess is no. But let's hope that his luck never runs out. He is shooting at a 19.0% clip, significantly higher than his 11.5% career shooting percentage. He has already tied his goal total from last year at 8. He has been Homer's most underrated signing by far this season.
Jagr: Am I obsessed with the Czech Republic? 4 of the 6 guys to watch for are Czechs. We all know what he can do. It's all about chemistry though for a line to get hot. Cooter hasn't found it yet with his linemates, but I have the confidence that chemistry will accelerate big-time tonight.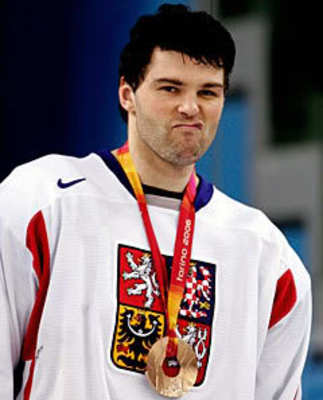 Jagr's unimpressed
My BOLD predictions for tonight:
4-1 Flyers
-Voracek out-shines his fellow Czechs with 2 points
-Briere scratches the score sheet with a lazer
-Hartnell keeps his goal-scoring streak going

Continue the discussion with us on twitter (@marcs797 and @thevintern), email (theobbreakdown@gmail.com), or in the comments below


Lets Go Flyers!
Filed in: | Orange & Black Breakdown | Permalink

Comments
Be the first to comment.
Add a Comment
Please limit embedded image or media size to 575 pixels wide.
Add your own avatar by joining Kukla's Korner, or logging in and uploading one in your member control panel.
Captchas bug you? Join KK or log in and you won't have to bother.
Commenting is not available in this channel entry.
Most Recent Blog Posts
About Orange & Black Breakdown
The Orange & Black Breakdown looks to be the ultimate, around the clock source for news and information on the Philadelphia Flyers organization and it's ever-present quest for the Stanley Cup. Focusing on what the team can do to achieve success is the ultimate goal.
The OBB is written and maintained by myself - Marc Siciliano. I'm a college graduate and media production professional in the sports industry with credits on projects like Hard Knocks: Bengals and 24/7 Penguins vs. Capitals: Road to the Winter Classic. A man of many hobbies, I always seem to find a way to spend a disproportionate amount of my daily routine with two things: Flyers hockey and social media (much to the dismay of my hockey impartial friends on twitter).
So what does this mean for you? The plan is to combine these time-wasting habits passions with my love for writing to provide you with complete coverage of the Flyers from both my head and around the web, 24/7.
This is my second writing stint focusing on the Flyers, but for a much larger audience - so do be gentle. Different perspectives and opinions on the organization are welcome and encouraged. Just because I see it one way doesn't mean I'm beyond seeing it your way as well, so speak up!
I'm always interested in interacting with readers, so find me on twitter (@marcs797) or email me (theobbreakdown@gmail.com) and let's talk hockey.
Thanks for reading; Lets go Flyers!