Orange & Black Breakdown
by Vindisi on 12/07/11 at 06:30 PM ET
Comments (0)
This is your prototypical trap game for the Flyers. Even though they are playing tonight, the biggest game of the season is happening tomorrow. Even as fans, we get captivated by the next big game. Tonight's game though starts a tough stretch of games for the Flyers ending with Chicago on the January 5th. It will show us whether they will be vying for a top spot come March or whether they will be battling for their playoff lives. After the jump, we take a look at the matchup between the Sabres and Flyers.
Buffalo Sabres (14-11-1 | 29 pts) vs Philadelphia Flyers (15-7-3 | 33 pts)
The ex has invited us over their pad for the second time. First time didn't result in any drama. Second time, we are hoping for the same. Leino has been awful for the Sabres up until recently. His last 4 games has resulted in a point per game output. This was what Buffalo thought they were getting when they acquired him this offseason.
Is this short spurt in output simply a mirage or will he continue to gain his footing at the quarter point of this season? Personally, I don't buy it. He never really got the engines going since his rookie year playoff run. Plus, he was benefitted by coming in to the playoff stretch healthy and rested. He may go on stretches that amaze you, but I don't see him as an 82 game (+ playoffs) performer. Discuss in the comments what your take on it is.
Quick Hits:
-Oddly enough Buffalo is not a good home team at 6-8-1, and Philadelphia is a great road team at 9-3-1.
-Buffalo has a laundry list of injured players, among those are Tyler Myers, Jordan Leopold, and Paul Gaustad. The two pieces out for the Flyers are Pronger and Schenn.
-Flyers have been 7-3-0 in their past 10, while Buffalo has scuffled to put a win streak together sporting a mark of 5-4-1.
-Flyers have 4 guys (top line + Briere) with 20 points, Buffalo has 2 (Vanek and Pominville)
Why am I listing these facts? Because this is how you get swept up in the fact that you have this game won. Yes, the Flyers are the better team. But each hockey game is built on mini swings in momentum. An early bad goal by Bryzgalov or a stagnant Power Play could give the Sabres that vital push to send them to a victory over the Flyers. Here's hoping they have their blinders on for the Sabres tonight before SC (not Santa Claus kids) comes to town.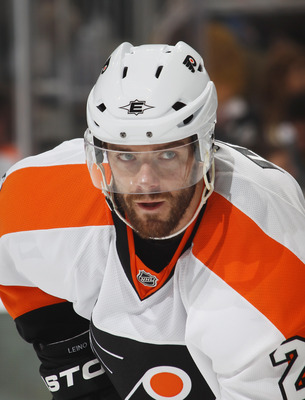 Struggled to find Leino pictures as a Sabre…9 points in 26 games will do that to ya
What to expect from the Sabres:
Thomas Vanek and Jason Pominville: Each have 27 points and have carried the Sabres throughout the season. Each is a threat everywhere on the ice and they do their best work at home (17 points and 18 points, respectively). They are even more lethal on the power play as they have double digit points on the power play. (Put in perspective, Giroux is the only one in double digits for the Flyers). Keep Mr. Vanek out of the slots at all costs.
Luke Adam: This rookie is still the 3rd leading scorer on the team. He is a big body so I expect to see his line set up against Giroux's line to try and slow down Claude and Co. Here's hoping that Lavvy plays a smart game and tries to keep Giroux away from his line. I'm not saying Giroux struggles against bigger opponents, but you just want to see him save energy for tomorrow night's huge matchup.
Tyler Ennis: He has played only 9 games this year, but he might finally be getting his feet under him. In his second game back from injury on Saturday, he potted his first point of the season netting the game winning goal against Nashville. He's an elusive player at 5'9". Hopefully one of our young guns (Harry Z especially) gets a hold of him for a nice hit to slow his pace down tonight.

Mr. Ennis: Meet Cooter and Harry Z

Keys for the FLYERS tonight:
Power Play: Can they keep up the pace on the power play after this past week? We all thought it was Pronger that was the driving force in their success. Apparently, they found something that clicks in that week off, and tallied power play goals at a blistering pace to put them on the skirt of the top 5 in the league.
JvR: Is he officially healed from his upper body injury? Or could they be rushing him back like they have done so many times in the past. (I'm steering clear from that subject). If rumors are true that he has an abdominal tear, there is no reason for him to be playing. Our renewed depth at the forward position provides us the opportunity to rest players who may not be fully healthy. Plus, I'd rather them to be fully healthy down the stretch than to have him dealing with a lingering injury that won't go away.
First line: Who is the standout performer tonight? It's not a matter of if anymore with them; it's a matter of when. This line is dynamic and is a threat every time they touch the ice. The defense must be accountable for Jagr AND Giroux opening up huge voids on the defense for Hartnell to cash in on a daily basis. My guess is Mr. Jagr tonight.
My BOLD predictions for tonight:
3-2 Flyers…barely
-Jagr torments the Sabres tonight on the power play with 2 power play points
-Simmonds tallies a Gordie Howe hat trick
-Leino tallies an assist for good measure

Continue the discussion with us on twitter (@marcs797 and @thevintern), email (theobbreakdown@gmail.com), or in the comments below


Lets Go Flyers!
Filed in: | Orange & Black Breakdown | Permalink
Tags: buffalo+sabres, james+van+riemsdyk, jason+pominville, luke+adam, thomas+vanek, tyler+ennis
Comments
Be the first to comment.
Add a Comment
Please limit embedded image or media size to 575 pixels wide.
Add your own avatar by joining Kukla's Korner, or logging in and uploading one in your member control panel.
Captchas bug you? Join KK or log in and you won't have to bother.
Commenting is not available in this channel entry.
Most Recent Blog Posts
About Orange & Black Breakdown
The Orange & Black Breakdown looks to be the ultimate, around the clock source for news and information on the Philadelphia Flyers organization and it's ever-present quest for the Stanley Cup. Focusing on what the team can do to achieve success is the ultimate goal.
The OBB is written and maintained by myself - Marc Siciliano. I'm a college graduate and media production professional in the sports industry with credits on projects like Hard Knocks: Bengals and 24/7 Penguins vs. Capitals: Road to the Winter Classic. A man of many hobbies, I always seem to find a way to spend a disproportionate amount of my daily routine with two things: Flyers hockey and social media (much to the dismay of my hockey impartial friends on twitter).
So what does this mean for you? The plan is to combine these time-wasting habits passions with my love for writing to provide you with complete coverage of the Flyers from both my head and around the web, 24/7.
This is my second writing stint focusing on the Flyers, but for a much larger audience - so do be gentle. Different perspectives and opinions on the organization are welcome and encouraged. Just because I see it one way doesn't mean I'm beyond seeing it your way as well, so speak up!
I'm always interested in interacting with readers, so find me on twitter (@marcs797) or email me (theobbreakdown@gmail.com) and let's talk hockey.
Thanks for reading; Lets go Flyers!