03/25/19 at 07:50 AM ET | Comments (0)
SUNDAY'S RESULTS
Home Team in Caps
WASHINGTON 3, Philadelphia 1
NY ISLANDERS 2, Arizona 0
CAROLINA 2, Montreal 1 (OT)
CHICAGO 2, Colorado 1 (OT)
Columbus 5, VANCOUVER 0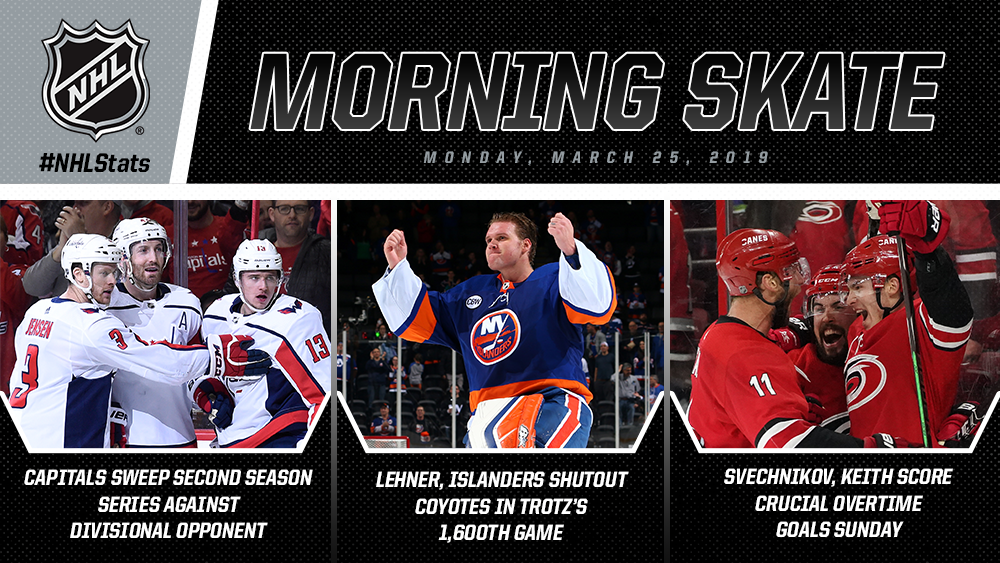 Filed in: NHL Teams, | KK Hockey | Permalink

03/24/19 at 05:44 PM ET | Comments (0)
"We had a good push, but unfortunately, anytime we got close — three points, five points — and we played those big teams in front of us [in] those four-point games, we choked. We couldn't find a way to win those big games, and that's why we are where we are right now."
-Jakub Voracek of the Philadelphia Flyers. Sam Carchidi of Philly.com has more.
Filed in: NHL Teams, Philadelphia Flyers, | KK Hockey | Permalink
Tags: jakub+voracek
03/24/19 at 04:28 PM ET | Comments (0)
Time for the refs to start calling these.
I was going to let Mike Smith pass last night, but today another example.
Watch Smith below.
Darcy Kuemper first.
Filed in: NHL Teams, d, Calgary Flames, | KK Hockey | Permalink
Tags: darcy+kuemper, mike+smith
Blog: Abel to Yzerman By Paul
03/24/19 at 04:00 PM ET | Comments (0)
from Ted Kulfan of the Detroit News,
This hasn't been the season Red Wings forward Anthony Mantha envisioned.

You can bet Mantha was looking forward to a 30-goal season, reaching that milestone for the first time, and launching himself toward a new level in the NHL.

But he had a horrible start to this season, then injured his hand in a fight Dec. 2 – which kept Mantha out of 15 games just as he was turning his season around – severely denting any hopes for a breakthrough season.

On Saturday night, Mantha was able to put a positive spin on these dwindling days of the Wings' season, scoring the tying and winning goals in a 3-2 overtime win over Vegas.

That gives Mantha 19 goals, with seven games remaining. While it's very unlikely he'll reach 30 goals, 20 is certainly attainable.

Mantha was asked if 20 goals is a satisfying plateau.

"No, it's not," Mantha told reporters after Saturday night's game. "I've had ups and down this year, but I had to focus a little more on the downs and try to build off of that for next year – and try to be an even better player next year."
continued plus more topics...
Filed in: | Abel to Yzerman | Permalink

Blog: Abel to Yzerman By Paul
03/24/19 at 12:04 PM ET | Comments (1)
DETROIT – The Detroit Red Wings today recalled defenseman Dylan McIlrath from the American Hockey League's Grand Rapids Griffins under emergency conditions and assigned defenseman Libor Sulak to the Griffins.
McIlrath, 26, is a veteran of 350 AHL games, totaling 73 points (21-52-73), a plus-27 rating and 756 penalty minutes with the Connecticut Whale, Hartford Wolf Pack, Springfield Thunderbirds and Griffins since 2010-11. In 49 games for Grand Rapids this season, McIlrath has nine points (1-8-9) and ranks among team leaders with a plus-12 rating (T3rd) and 94 penalty minutes (1st). The Winnipeg, Manitoba, native was originally acquired by Detroit from Florida on March 1, 2017 along with a third-round draft pick in exchange for Thomas Vanek and has totaled 30 points (8-22-30) and 255 penalty minutes in 146 games with the Griffins since joining the organization. He was also a member of the team's 2017 Calder Cup championship team and has notched seven points (0-7-7), a plus-12 rating and 61 penalty minutes in 44 career AHL playoff games.
A former first-round pick (10th overall) in the 2010 NHL Entry Draft by the New York Rangers, McIlrath has totaled five points (3-2-5) and 94 penalty minutes in 43 career NHL games between New York (2013-17) and Florida (2016-17). Prior to turning professional, McIlrath skated in 232 Western Hockey League games for the Moose Jaw Warriors, posting 74 points (16-58-74) and 551 penalty minutes from 2008-12, adding seven assists and 48 penalty minutes in 27 postseason contests.
Filed in: | Abel to Yzerman | Permalink

Blog: Abel to Yzerman By Paul
03/24/19 at 11:53 AM ET | Comments (0)
from Helene St. James of the Detroit Free Press,
The Detroit Red Wings put on a performance that resonated.

Feeding off the festive, fun atmosphere at T-Mobile Arena Saturday, the Wings looked like they belonged, even as their patchy lineup took on the Golden Knights, one of the best teams in the NHL and last season's Stanley Cup finalist. It was a testament to the Wings character that they played as well as they did even as two weeks stand between them and another long offseason. This game was what the Wings mean when they talk about their culture.

"You get the leadership that we have with our veteran guys," Dylan Larkin said after setting up the overtime goal in the 3-2 victory. "It could have went the other way where we didn't show up but that wasn't the case at all. We were fired up to play. We did some serious preparation for this game and it feels good to get two points."
Filed in: | Abel to Yzerman | Permalink

03/24/19 at 09:53 AM ET | Comments (0)
from Terry Koshan of the Toronto Sun,
There are no moral victories in the National Hockey League. So, no, 45 shots on goal against a team that had lost 11 of its previous 12 shouldn't have had the Leafs feeling good about themselves afterward.

Rangers goalie Alexandar Georgiev – who made 55 saves against the Leafs in a New York win on Feb. 10 – was fine, but the 23-year-old didn't have to be overly spectacular.

Fact is, the Leafs should have beaten this Rangers team with relative ease.

"They're obviously out of a playoff spot but those guys worked really hard and they wanted to win," said Zach Hyman, who scored Toronto's goal. "That's the type of hockey you're getting as we move on here and come playoff time, you have to start converting on your chances. They're going to be tight games like this one and you get to play in games like this."

True, playoff games will be tight. But they're going tight to be against the Boston Bruins, a team that won for the 19th time in 24 games on Saturday when it beat Florida. The Leafs are seven points behind the Bruins, who also have seven games left, for second in the Atlantic.

At this late stage, the Leafs shouldn't be getting a lesson from a team such as the Rangers, one that is 23 points behind them in the standings.
Catch the game highlights below.
Filed in: NHL Teams, New York Rangers, Toronto Maple Leafs, | KK Hockey | Permalink

03/24/19 at 09:28 AM ET | Comments (0)
from Mike Chambers of the Denver Post,
Coloradoan Brad Watson called it a career Saturday, concluding a 23-year stint as an NHL referee in front of family and friends at the Pepsi Center. I feel fortunate to have been among those friends.

A scratch golfer, good hockey player, and terrific story-teller, Watson hand-picked his 1,393rd and final NHL game — choosing his adopted hometown team hosting the Chicago Blackhawks in concluding his 73-game, regular-season annual commitment.

"It's a nice way to go out. It's at home, where I've been for 19 years," Watson said.

Watson, 57, worked 214 playoff games and eight Stanley Cup Finals, including 2013 when the Blackhawks defeated the Boston Bruins in six games. His first playoff game was April 13, 2000, when the Avs hosted the Arizona Coyotes for Game 1 of a first-round series at the Pepsi Center.

The league's oldest ref, Watson has close ties with former Chicago coach Joel Quenneville and Avalanche general manager Joe Sakic — two respectful relationships born in 1996 when Watson worked his first NHL game and the Avs were in their inaugural season in Colorado.
Filed in: NHL Talk, NHL Officiating, | KK Hockey | Permalink
Tags: brad+watson
03/24/19 at 08:42 AM ET | Comments (0)
via Sportsnet,
Brian Burke and David Amber discuss Bob Nicholson's comments regarding Tobias Rieder. The duo also touched on the recent media exposure Eugene Melnyk has taken apart of and how the Vegas Golden Knights won the trade deadline.
Filed in: NHL Teams, | KK Hockey | Permalink

Blog: Abel to Yzerman By Paul
03/24/19 at 08:18 AM ET | Comments (2)
Up first we have the extended game highlights of Detroit's 3-2 OT win over the Vegas Golden Knights.
Below, all the post-game talk.
Filed in: | Abel to Yzerman | Permalink

About Kukla's Korner
Kukla's Korner is updated around the clock with the work of our own talented bloggers, plus links to the best hockey writing around the internet. We strive to bring you all the breaking hockey news as it happens.
The home page allows you to see the latest postings from every blog on the site. Subscribe here. For general inquiries and more, please contact us anytime.
Most Recent Posts
Most Recent Comments