12/15/19 at 02:25 PM ET | Comments (0)
from Louise Radnofsky of the Wall Street Journal,
About a year ago, the National Hockey League brought in an outside expert to tell them about an existential threat. That expert was a demographer.

William Frey, who works for the Washington, D.C. think tank Brookings Institution, conducted a couple of talks and a conference call for the league. He told them that by 2020, the U.S. Census is expected to show that two-fifths of the nation's population identifies with a racial group other than white; and that sometime after 2040, there will be no racial majority in the country.

The NHL, which had only 50 nonwhite players in the 2018-19 season, seemed to get the point. It kept going with 'Hockey is for Everyone' programs in 26 minority and low-income communities, and learn-to-play classes around the country. And it sent around a policy brief co-authored by Frey and Kimberly Davis, the league's executive vice president for social impact, growth and legislative affairs, that acknowledged "hockey has a perception in some circles as being 'not for some' and 'only for others.' "

"Now, more than ever, hockey communities and its leaders must focus on the drastic demographic and cultural change that is coming.
Filed in: NHL Talk, | KK Hockey | Permalink

12/15/19 at 08:43 AM ET | Comments (0)
from John Romano of the Tampa Bay Times,
...The basic numbers say Vasilevskiy is not playing as well as last season. His goals-against average is up (2.40 to 2.78), and his save percentage is down (.925 to .910).

The more advanced stats are even worse. Goals Saved Above Average is a stat designed by hockey-reference.com to determine how a goaltender is faring relative to the league average. Last season, Vasilevskiy was second in the NHL. He is currently 30th.

This doesn't necessarily mean his play has fallen off a cliff. The Lightning have been experimenting with different defensive strategies this season, and it's still a bit of work in progress. In other words, it isn't all Vasilevskiy's fault.

"You can sit here and say, oh maybe there are some saves that Vasy might have wanted back in certain games," said Lightning coach Jon Cooper. "But a lot of those games you can't say we entirely helped him out. I think when your team defense improves, your goaltending is going to improve as well."
Filed in: NHL Teams, Tampa Bay Lightning, | KK Hockey | Permalink
Tags: andrei+vasilevskiy
12/15/19 at 08:24 AM ET | Comments (0)
from Kristina Rutherford of Sportsnet,
One of the NHL's most polarizing players, Tom Wilson is working to clean up his game without sacrificing its physical edge — and laying out the blueprint for the league's new breed of power forward in the process

The question that set Wilson nodding was about whether his play has always elicited an impassioned reaction from opposing fans and players. Yes, it sure has, and the 25-year-old doesn't recall a time when it didn't. "I remember pretty vividly a dad coming over the glass and being like, 'Wilson, you suck!'" he says. His own dad, Keven, was one of his team's coaches back then, and to avoid targeted heckling from irate parents for the rest of that season, they took the kids' nameplates off the backs of their jerseys. Wilson was eight years old.

He received his first pre-game threat at nine or 10. "'My son's going to take care of you on the ice, and I'm going to go take care of your dad in the stands!'" Wilson says. His voice gets a little deeper imitating the angry dad. "Stuff like that, you wouldn't believe," he says. "I learned to deal with it at a very young age."

The reaction has only spread and intensified as Wilson has grown up and played under an increasingly bright spotlight. Now seven years into his NHL career, there isn't a player in the league quite as polarizing as the Toronto-born power forward, and maybe that's because there aren't many players in the NHL quite like him — full stop.
Filed in: NHL Teams, Washington Capitals, | KK Hockey | Permalink
Tags: tom+wilson
Blog: Abel to Yzerman By Paul
12/15/19 at 07:51 AM ET | Comments (1)
from Ted Kulfan of the Detroit News,
Suddenly the Red Wings can't lose.

For two games anyway. But the Red Wings will gladly enjoy this after having lost 12 consecutive games

Saturday they won again in what used to be an arena where they enjoyed very little success over the years, defeating the Montreal Canadiens 2-1.
from Pat Hickey of the Montreal Gazette,
The Canadiens had lots of shots in Bernier's direction — they also had 16 shots blocked and another 18 were off target — but there were two major problems. Two many shots came from outside — defencemen produced 16 of the shots and there was no concerted effort to take advantage of rebounds.

"There were some guys that went to the front of the net, but we had a lot of guys that didn't want to get on the inside there," said coach Claude Julien. "I thought we played a little bit soft tonight at times. We weren't finishing, we weren't in the battle and we just kind of looked to play an easier game than we should have and because of that we got burnt."

"We're disappointed because we got over 40 shots and we were unable to find a way to beat the goalie in the end," said Tomas Tatar, who ended Bernier's shutout bid when he scored his 12th goal of the season with less than a minute remaining in the game.
Below, Helene St. James of the Detroit Free Press answers her fan mail and watch extended game highlights from the win over Montreal.
Filed in: | Abel to Yzerman | Permalink

12/15/19 at 07:21 AM ET | Comments (0)
THREE HARD LAPS

* Minnesota welcomed Philadelphia to Xcel Energy Center and showed its support for Flyers forward Oskar Lindblom with a classy gesture.

* The defending Stanley Cup champions stunned their intradivison rival in the third period to reclaim first place in the Western Conference standings.

* Brad Marchand became the fourth player to reach the 50-point mark this season and first with an Eastern Conference team. The 2019-20 season marked the first to feature four or more 50-point scorers through 514 games since 1996-97, when five players had reached the plateau (Mario Lemieux, Jaromir Jagr, Wayne Gretzky, Joe Sakic and Mats Sundin).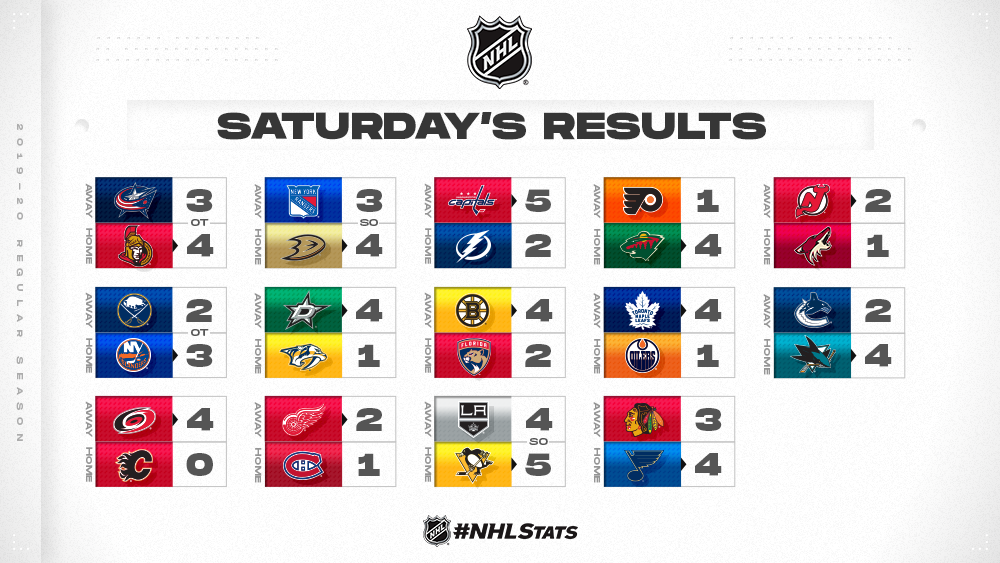 Filed in: NHL Teams, | KK Hockey | Permalink

Blog: Abel to Yzerman By Paul
12/14/19 at 10:18 PM ET | Comments (0)
Game highlights first for your enjoyment and I will add more videos below if the become available in the next hour or so.
added 10:38pm, Jonathan Bernier below. added 10:52pm, Bertuzzi, Bernier and Blashill below.
added 10:58pm, One more for the night is celebrating the win in the room., it's down below.
Filed in: | Abel to Yzerman | Permalink

Blog: Abel to Yzerman By Paul
12/14/19 at 09:42 PM ET | Comments (1)
The Detroit Red Wings played a very good road game and Jonathan Bernier was outstanding in goal.
The Montreal Canadiens did not bring their 'A' game tonight.
Detroit 2 Montreal 1
Detroit goals and stats below.
Filed in: | Abel to Yzerman | Permalink

12/14/19 at 09:14 PM ET | Comments (0)
The panel discussed possible injury to Tyson Barrie afteer blocking a shot, Coyotes have the best offer on the table for Taylor Hall, contract talk for Zack Kassian coming with Edmonton.
What's next for Ilya Kovalchuk, Peter DeBoer interested in coaching again this year and NHL/Olympics talk not dead.
via Sportsnet,
Filed in: | KK Hockey | Permalink

Blog: Abel to Yzerman By Kate from PA now in SC-made in Detroit
12/14/19 at 06:45 PM ET | Comments (93)
The Wings surprised a lot of fans with a win the other night staving off a thirteen game losing streak, but it's the Wings, so most of us are still somewhat sure of what to expect. On the other hand, winning does help to instill confidence in a team that are in some dire straits right now. Well, that and the fact that Mantha and Athanasiou will be back in the lineup. It sure would be nice to be surprised again......
It's a Live Blog!
Filed in: | Abel to Yzerman | Permalink

12/14/19 at 06:02 PM ET | Comments (0)
via Sportsnet,
The Carolina Hurricanes appear to go offside as the puck exits the Calgary Flames zone before being brought back in by Julien Gauthier, with the goal scorer Jamie McGinn still lingering, however, the referees determine that the play was onside.
The Flames were penalized for the challenge and the Canes scored. It went from 0-0 to 2-0 rather quickly.
Watch the goal below.
added 6:11pm, Brian Burke explains the call, watch below.
Filed in: NHL Teams, Calgary Flames, Carolina Hurricanes, | KK Hockey | Permalink

About Kukla's Korner
Kukla's Korner is updated around the clock with the work of our own talented bloggers, plus links to the best hockey writing around the internet. We strive to bring you all the breaking hockey news as it happens.
The home page allows you to see the latest postings from every blog on the site. Subscribe here. For general inquiries and more, please contact us anytime.
Most Recent Posts
Most Recent Comments