Blog: Abel to Yzerman By Paul
06/25/22 at 10:33 AM ET | Comments (0)
from Nate Brown of Detroit Hockey Now,
Ryan Warsofsky

Young and successful, the 34-year-old bench boss for the Chicago Wolves is currently in the Calder Cup Final. The head coach of Carolina's AHL affiliate could very well be a hot commodity once the Wolves are either champions or runners-up. With the Wolves up 3-1 in the series, he may very well be fielding interview requests.

Any information on whether he'll be approached or interested is on hold until he's available. He's been successful at every level of coaching, which includes time in the ECHL with South Carolina....

Derek Lalonde & Jeff Halpern

Still in a holding pattern because of the Stanley Cup Final, it certainly feels as if Yzerman is waiting to interview the pair of Lightning assistant coaches.

Lalonde was already popping up in previous iterations of the DHN updates but now Friedman is adding another name: Jeff Halpern. Freidman seems to think both Lalonde and Halpern are the logical picks for Detroit but cautions it by saying: "Until Steve Yzerman closes the book, don't close the book."

Either Tampa Bay assistant wouldn't be surprising as both have ties to Yzerman's previous organization. Halpern started cutting his teeth shortly after his playing days ended as an assistant with the Syracuse Crunch, the Bolts' AHL affiliate....

Marc Savard

Savard is currently the bench boss for the OHL's Windsor Spitfires and got them to the OHL Final in just his first season. Savard was an assistant coach with the St. Louis Blues during the 2019-20 campaign. Stepping away in September 2020, Savard then was hired by Windsor in August 2021. Update: Savard recently tweeted this out following a Windsor victory:
more on the first two groups of coaches plus other names...
Filed in: | Abel to Yzerman | Permalink

06/25/22 at 03:02 AM ET | Comments (0)
from Luke Fox of Sportsnet,
They were silent in Denver but whooping it up in Frydek-Mistek.

A Game 5 watch party in support of the Tampa Bay Lightning and their life-support threepeat bid had been planned in the thick of the night at Ondrej Palat's supportive home city in Czechia.

"My parents just texted me," said Palat, all smiles after scoring the difference-maker in Tampa's 3-2 win Friday night. "There was like 80 people there. It was two o'clock in the morning. So, it's nice to feel all the support from back home even when the game is pretty late. So, it just feels great."

Also feels familiar.

Palat, the seventh-round gamble with first-line impact, has now sniped three game-winners this post-season and 12 career winners in playoffs, third-most among all active NHLers.
Filed in: NHL Teams, Tampa Bay Lightning, | KK Hockey | Permalink

06/25/22 at 02:57 AM ET | Comments (1)
from Mark Kiszla of the Denver Post,
Welp! The Avalanche victory parade just took an unwelcome 1,858-mile detour.

Now ain't that a disgusting development?

"It's not supposed to be easy," Avalanche captain Gabe Landeskog said Friday night. "And it's not going to be easy."

Instead of hoisting the Stanley Cup, the Avs were forced to pack their bags for a trip back to that slush bowl of an ice rink in steamy Florida, after the Lightning staved off elimination from the championship series with a 3-2 victory.

"We didn't have a choice," Lightning captain Steven Stamkos said. "It's do-or-die for us."

The only way Tampa Bay can win this championship series is if goaltender Andrei Vasilevskiy and coach Jon Cooper steal it.

The Avs are clearly superior in every facet of hockey except perhaps where it counts the most: between the pipes and on the bench.
Filed in: NHL Teams, Colorado Avalanche, | KK Hockey | Permalink

06/25/22 at 02:43 AM ET | Comments (0)
* The Stanley Cup was in the building for the first time during the 2022 Final, but Ondrej Palat potted the go-ahead goal with less than seven minutes remaining in regulation as the Lightning earned a crucial road win to force Game 6 in the championship series.
* Andrei Vasilevskiy vaulted Tampa Bay to another victory following a playoff loss, while Corey Perry picked up two assists to boost his career point total when facing elimination. Perry has helped his team evade elimination during the Final in each of the last three years (also Game 5 in 2020 w/ DAL & Game 4 in 2021 w/ MTL).
* The series shifts back to AMALIE Arena, with the hosts hoping to force the second Stanley Cup Final Game 7 in the last four years.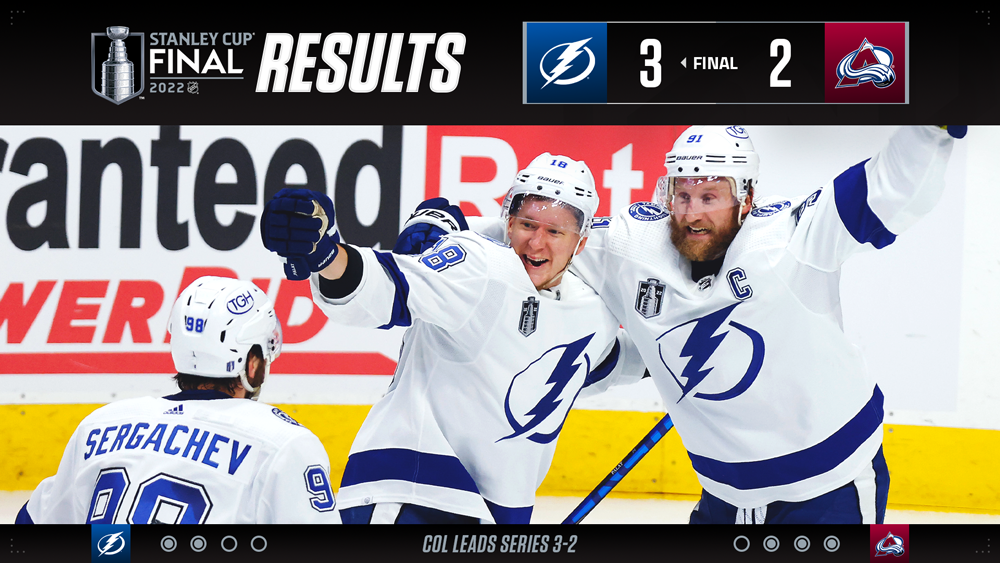 Filed in: NHL Teams, | KK Hockey | Permalink

06/24/22 at 10:00 PM ET | Comments (0)
Ondrej Palat scored with just over 6 minutes left in the third period to break a 2-2 tie game.
Game 6 is Sunday at 8:00pm ET in Tampa.
This was a great game to watch.
Watch the game winning goal below.
added 11:18pm, game highlights are below...
added 11:26pm, HNIC highlights below too.
Filed in: NHL Teams, Colorado Avalanche, Tampa Bay Lightning, | KK Hockey | Permalink

06/24/22 at 07:30 PM ET | Comments (4)
It's is simple tonight. A win by the Colorado Avalanche and the on-ice celebration begins.
A win from the Tampa Bay Lightning and we have a game 6 in Tampa on Sunday at 8:00pm ET.
Filed in: NHL Teams, Colorado Avalanche, Tampa Bay Lightning, | KK Hockey | Permalink

06/24/22 at 05:56 PM ET | Comments (3)
"I've got some things personally that I've got to take care of, family-wise that I've got to take care of," Trotz said Friday. "I didn't feel… if I'd said I'll take the job, I think I would have done any team a little bit of a disservice and myself a disservice because to be a coach in the NHL, it is demanding and it requires your all. It just does, emotionally it just does, mentally it just does. So I couldn't go down that path.

"It doesn't mean I'm not going to coach. Just not going to coach right now. I've been doing this for 25 straight years and I've put a lot of stuff on the back burner and I think it's time. The one thing I do know, and it's a mistake that everybody makes, is you think you have time and you don't. And so this is my time when I can get to a lot of things I've put on the back burner. I have to take care of those, for peace of mind for everything so I will be 100 percent in if I get back into it and I'll be a better coach for it."
-Barry Trotz. Tim Campbell of NHL.com has more from Trotz.
Filed in: NHL Teams, | KK Hockey | Permalink

06/24/22 at 03:37 PM ET | Comments (2)
Filed in: NHL Teams, Winnipeg Jets, | KK Hockey | Permalink

Blog: Abel to Yzerman By Paul
06/24/22 at 01:08 PM ET | Comments (1)
from Nolan Bianchi of the Detroit News,
There will be times when a scene cuts and you realize that your nails are dug into the palm of fist-shaped hands. Assuredly, you will catch yourself smiling at the demise of Claude Lemieux. There's a decent chance you'll cry.

No matter which direction it moves you, "E60: Unrivaled" will move you. It will rock you, roll you and rip your Red Wings heart in two.

The Detroit News received an advanced screening of the ESPN documentary detailing the Detroit Red Wings-Colorado Avalanche rivalry, which will air for the first time at a viewing party at Little Caesars Arena on Saturday and nationwide on Sunday at 1 p.m. on ESPN.

Despite the emotional charge this documentary provides, "Unrivaled," to some degree, feels unfinished. See what we mean in this spoiler-free look, as we give you five things to watch for when it airs this weekend.
added 2:32pm, below watch Mo Seider's day at the NHL Awards Show///
Filed in: | Abel to Yzerman | Permalink

06/24/22 at 11:25 AM ET | Comments (0)
Filed in: NHL Teams, Chicago Blackhawks, | KK Hockey | Permalink

About Kukla's Korner
Kukla's Korner is updated around the clock with the work of our own talented bloggers, plus links to the best hockey writing around the internet. We strive to bring you all the breaking hockey news as it happens.
The home page allows you to see the latest postings from every blog on the site. Subscribe here. For general inquiries and more, please contact us anytime.
Most Recent Posts
Most Recent Comments