Orange & Black Breakdown
by Vindisi on 05/02/12 at 01:43 PM ET
Comments (0)
A guy who has quickly grown on me as one of my favorite Flyers since the beginning of the year is Jakub Voracek. My man crush has gotten to be unreasonable at times for some of my friends. I am a little sour that Homer was proactive in his signings of Coburn (which looks like an absolute steal at 4 years for 18 million) and van Riemsdyk (which looks risky outside of his playoff performance from yesteryear), while forgetting about Voracek, leaving him to prove his worth all year after receiving a one year contract this past offseason. I understand loyalty and prior knowledge (Voracek was labelled as lackadaisical when with Columbus) is a huge driver in those dealings; but after the jump, I will get into the fact why I have such a huge fixation for the guy and why Homer is kicking himself for not jumping on the bandwagon sooner…
One thing that immediately drew my attention was his dynamic skating ability in the game. It is a marvel to watch him skate with blazing speed while still having the agility to turn on a dime without losing much acceleration. What is even more of amazing is his awareness to stick-handle at that break-neck speed without getting popped flying through the neutral zone. Below are a few examples of SOME of my favorite players in the NHL today who I draw comparisons to him due to to their combination of powerful skating with sweet handles:
• Alexander Ovechkin - 6'2" 220 LB
• Bobby Ryan - 6'2" -209 LB
• Duncan Keith - 6'1" - 196 LB
• Marian Gaborik - 6'1" - 199 LB
• Matt Duchene - 5'11" - 200 LB
• Taylor Hall - 6'1" - 190 LB
That was the main thing that you could see from the outset of the season. Then something changed in Jake.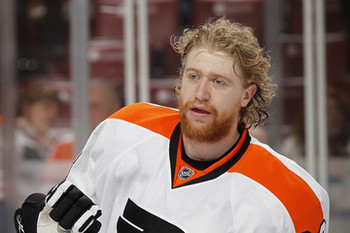 ...besides the beard
His childhood idol, Jagr, had always been known for having tree trunks for legs and a caboose to boot to shield off opponents to knock the puck off his stick. Jake utilized this knowledge from his mentor and assimilated it into his own game as he had the natural build for it (6'2" – 214 pounds). Jake's puck possession exponentially grew from this understanding thus giving him the time to slow the game down and allow his passing creativity to take over. His playmaking ability was the biggest contributor to why Jake had been highly touted when he was drafted 7th overall in the same draft as JvR in 2007; but much like all young players, he had trouble slowing the game down and instead was over-thinking the game instead of letting the game come to him naturally.
In the early part of the year, the Flyers tested him out on a line with a goal-deprived Max Talbot (10 goals in the past 2 years combined with Pitt) and that relationship blossomed. So much so, that Jake helped Talbot notch a career year in goals (19) this year as Jake scratched out helpers on 5 out of Max's 6 goals for a stretch through November-December.
After that, his production suffered as the team looked to use him as the spark to help other suffering scorers throughout the season. His blessing to be a movable part throughout the lineup became his curse. He never found a line he could call home and develop the necessary chemistry that hockey forwards rave that is the root of all players' successes.
Meanwhile, amidst all the mixing and matching, management finally realized Jake's true threat was his passing ability. They decided to set him up on the right half wall on the first power play unit (11 power play assists, 0 power play goals) and the rest is history. All this did was bring upon one of the most dominant power play performances in the Pittsburgh series. He may have only put up 3 power play assists in the series against Pittsburgh, but the bigger picture was how they looked like a threat to score each time out. This only happened because the Penguins couldn't solely focus on the left side of the ice as there was a hot player on the opposite end waiting to put the dagger through the heart. Voracek had been performing like an All Star since the Calendar hit March 26th. He has quietly put in one of the most dominant runs with little to no publicity to boot.
Since March 26th:
Player A: 19 points (6G, 13A) in 15 games; did not register a point in 4 games
Player B: 22 points (8G, 14A) in 15 games; did not register a point in 5 games
Player C: 20 points (7G, 13A) in 13 games; did not register a point in 4 games
Player A is Voracek, Player B is Giroux, and Player C is Crosby.
That is awfully strong company to be in right there. I know it is very easy to get memorized by goals, which is why Giroux and Briere have been catching the headlines, but Voracek is playing at an elite level at this time. He is tied for 2nd in the playoffs with 7 assists, behind only Giroux (8). He is tied for 4th in points (9 points) behind only Giroux (15), Briere (10), and McDonald (10).

Stop talking about me Vindisi…Brodeur is sleeping
This is his coming out party, yet there has very little talk amongst the media about it. Two people that have praised Jake recently for his efforts have come from the opposition. Before Sidney Crosby got sour grapes stuck in his mouth, he had this to say about Jake:
"I think he's a good player," Crosby said. "He's physical up and down the wing. He uses his body well. He's physical throughout the game. He was always around the net [Wednesday]. He keeps it simple."
~Dan Rosen, NHL.com
Even Patrik Elias had this to say after game 1:
"In my opinion, Jakub Voracek is the 2nd best player on the Flyers (after Giroux)"
~Mike Morreale, NHL.com
Here's to hoping that Homer gets lucky in keeping Voracek from the media spotlight so he can manipulate (brainwash) Jake's thinking to a reasonable cap hit so that he continue to put on these types of runs for years to come.
~~~~~~~~~
My quick thinking from last night:
The team showed its age last night as the playoff rookies looked hesitant last night outside of the only goal of the game. No veterans came to the rescue in the production department. Instead, they sat on the lead and thought they could win a 1-0 game. Problem is that it's not in this team's DNA. The Flyers are not the Rangers and never will be. They thought they could coast through the second period and pick it up in the third. Problem was they realized that playing on your heels instead of on your toes is a much more daunting, taxing task. Even Lavvy was a bit timid with his line changes in the second period as he looked to once again shorten the bench when up by 1. Coverage in the defensive slot area needs to be rectified ASAP or my prediction of a Flyers in 5 could easily be switched to a Devils in 5.
Lastly, I hate putting players on blast, but Briere was one of the biggest culprits last night. He did not play like a leader of the locker room should. He looked like a complete joke on one shift in the 2nd period where he blatantly stopped skating for a puck in the defensive zone to avoid a hit, which ultimately left the puck for a golden scoring chance. Then, later in that same shift, he went off for a holding penalty. I could go off on Briere much like Keith Jones did on the Predators' Radulov, but I will save my breath and hope it is just a blip in the radar. As great as he is on the offensive side of the ice at times, his defensive deficiencies could crop up as they were did last night tallying a -3 matching his linemate JvR for the team's worst +/-.
I wasn't looking to have a bashing session after last night's game, but that atrocity of an effort the Flyers displayed, outside of Wellwood and Bryzgalov, was the worst I've seen all season. Moving on…

Continue the discussion with us on twitter (@marcs797 and @thevintern), email (theobbreakdown@gmail.com), or in the comments below


Lets Go Flyers!
Filed in: | Orange & Black Breakdown | Permalink

Comments
Be the first to comment.
Add a Comment
Please limit embedded image or media size to 575 pixels wide.
Add your own avatar by joining Kukla's Korner, or logging in and uploading one in your member control panel.
Captchas bug you? Join KK or log in and you won't have to bother.
Commenting is not available in this channel entry.
Most Recent Blog Posts
About Orange & Black Breakdown
The Orange & Black Breakdown looks to be the ultimate, around the clock source for news and information on the Philadelphia Flyers organization and it's ever-present quest for the Stanley Cup. Focusing on what the team can do to achieve success is the ultimate goal.
The OBB is written and maintained by myself - Marc Siciliano. I'm a college graduate and media production professional in the sports industry with credits on projects like Hard Knocks: Bengals and 24/7 Penguins vs. Capitals: Road to the Winter Classic. A man of many hobbies, I always seem to find a way to spend a disproportionate amount of my daily routine with two things: Flyers hockey and social media (much to the dismay of my hockey impartial friends on twitter).
So what does this mean for you? The plan is to combine these time-wasting habits passions with my love for writing to provide you with complete coverage of the Flyers from both my head and around the web, 24/7.
This is my second writing stint focusing on the Flyers, but for a much larger audience - so do be gentle. Different perspectives and opinions on the organization are welcome and encouraged. Just because I see it one way doesn't mean I'm beyond seeing it your way as well, so speak up!
I'm always interested in interacting with readers, so find me on twitter (@marcs797) or email me (theobbreakdown@gmail.com) and let's talk hockey.
Thanks for reading; Lets go Flyers!