Kukla's Korner Hockey
by Paul on 11/14/19 at 02:45 PM ET
Comments (0)
added 3:07pm,
Filed in: NHL Teams, Calgary Flames, | KK Hockey | Permalink
Tags: t.j.+brodie
by Paul on 11/14/19 at 01:24 PM ET
Comments (4)
Dubas on the Leafs' identity: "Still in formation. It's not a finished product by any stretch and we're still trying to get there. What we're aiming to get toward is a team built on speed, built on talent, creativity, but also tenacious when we don't have the puck."

"We want to shift it away from questions to the established Stanley Cup-winning players of what do the Leafs need to do, to here's what they are and here's what we can expect. And we're right there. I think it's on us to get there for sure."
via Terry Koshan tweets who has more from Dubas.
added 3:06pm, video of Dubas talking with the media can be viewed below.
Filed in: NHL Teams, Toronto Maple Leafs, | KK Hockey | Permalink
Tags: kyle+dubas
by Paul on 11/14/19 at 01:01 PM ET
Comments (2)
from the New York Islanders,
Andrew Ladd was placed on waivers by the New York Islanders on Thursday.

The 33-year-old forward completed a conditioning stint at Bridgeport of the American Hockey League after recovering from surgery to repair a torn ACL on May 31. Islanders general manager Lou Lamoriello told Newsday the team had not seen enough from Ladd to believe he's ready to return to the NHL. If Ladd clears, he'll be reassigned to Bridgeport.

Ladd, who signed a seven-year contract with the Islanders on July 1, 2016, has 71 points (38 goals, 33 assists) in 177 games with New York.
Watch Lou Lamoriello on the move below.
Filed in: NHL Teams, New York Islanders, | KK Hockey | Permalink
Tags: andrew+ladd
by Paul on 11/14/19 at 12:06 PM ET
Comments (0)
via the NHL's YouTube page,
Watch as players from across the league tallied their first career NHL goals in the 2019-2020 season, including Kaapo Kakko, Kirby Dach, Cale Makar and both Quinn and Jack Hughes.
Filed in: | KK Hockey | Permalink

by Paul on 11/14/19 at 09:45 AM ET
Comments (0)
via the Pittsburgh Penguins,
Pittsburgh Penguins captain Sidney Crosby underwent a successful core muscle injury repair today, it was announced by executive vice president and general manager Jim Rutherford.

The surgery was performed by Dr. William Meyers of the Vincera Institute in Philadelphia, Pa. The expected recovery time is a minimum of six weeks.

Crosby, 32, leads the team in scoring with 12 assists and 17 points in 17 games for the Penguins this season despite dealing with a sports hernia since training camp.
Below, watch how the injury happened.
Filed in: NHL Teams, Pittsburgh Penguins, | KK Hockey | Permalink
Tags: sidney+crosby
by Paul on 11/14/19 at 08:04 AM ET
Comments (2)
from Mollie Walker of the New York Post,
Luckily for the Rangers, the coaching staff is beginning to figure out what approach is most effective with the young Finn and how to bring the best out of him.

"About 2 ¹/₂ weeks ago, I told him I wasn't going to talk to him anymore," coach David Quinn said following practice Wednesday. "I'm not joking when I say that. I literally felt that as a staff we really wanted him to be good so fast and all of us were spending a lot of time with him. You could just see it in his face. Finally, I told our whole staff [to lay off of him]. I said to him, 'The only thing I'm going to say to you is hello.'

"The one thing I will say [to Kakko], I'll talk about effort and being physical, those are the only two things we'll talk about. I said, 'But we've got to let you play.' I think that might've helped him a little bit, but I also think adapting to the NHL is hard for any 18-year-old. Sometimes the best coaching is no coaching and I think this is an example."

Quinn wouldn't say if that was a direct result of Kakko's recent success, but it's hard to ignore the difference it's made. At first, the second-year coach experimented with Kakko on the top two lines. But after posting just three points and a collective minus-12 rating through the season's first 10 games, Kakko was demoted — something that probably seemed more detrimental to him in his first NHL season.
Filed in: NHL Teams, New York Rangers, | KK Hockey | Permalink
Tags: kaapo+kakko
by Paul on 11/14/19 at 07:54 AM ET
Comments (0)
THREE HARD LAPS

* The Islanders and Capitals each survived one-goal games against the Maple Leafs and Flyers, respectively, to extend their point streaks to 13 games.

* Blackhawks rookie Kirby Dach became the second 18-year-old to score the game-winning goal in as many nights as Chicago earned its first win over Vegas.

* Jean-Gabriel Pageau scored his first career regular-season hat trick to help the Senators rally to their third win in four games. Pageau has tallied 8-1—9 in his last seven games.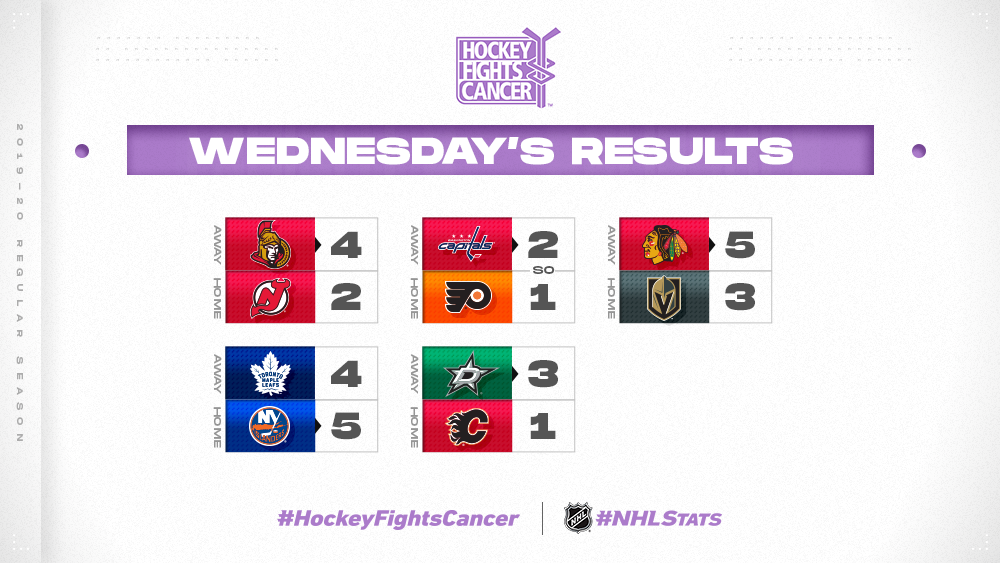 Filed in: NHL Teams, | KK Hockey | Permalink

by Paul on 11/13/19 at 03:28 PM ET
Comments (0)
from Michael Traikos of the National Post,
When Toronto started the season with four of its forwards accounting for 50% of the salary cap, everyone expected that the defence would suffer the most from the financial imbalance.

Instead, it's the backup goaltender.

The Maple Leafs waived Michael Hutchinson earlier this week after he went his first six games without a win. They were paying him $700,000. His replacement, Kasimir Kaskisuo, will earn $25,000 less.

They say you get what you pay for. And in Toronto's case, that's so true.

Had Hutchinson won half his games, the Leafs would be in first place in the Atlantic Division. Instead, they entered Wednesday night's game against the New York Islanders barely clinging to the final wild-card spot in the East.

Every game counts. You might be able to make the playoffs without a $3 million backup. But you might not lock up home-ice advantage — or have a rested starter for the post-season.
Filed in: NHL Teams, Toronto Maple Leafs, | KK Hockey | Permalink

by Paul on 11/13/19 at 01:17 PM ET
Comments (0)
Goalie talk tonight could be interesting.
via a received email...
As scoring continues to increase in the NHL, NHL Network's Tony Luftman will moderate a roundtable discussion with former goalies and NHL Network analysts Darren Pang and Kevin Weekes, and former goalie Martin Biron on the evolution of goaltending and how important the position is to the overall success a team. NHL Network Roundtable: The Modern Age Goalie will debut tonight at 7:30 p.m. ET.
The panel will discuss how goalies stay strong mentally when their play is inconsistent and the steps they take to regain their confidence. Biron, Pang and Weekes will share anecdotes from their combined 23 seasons playing in the NHL, including the best advice they received about playing the position, how they worked on areas of their game that needed improvement and who had the biggest impact on their success.
Filed in: NHL Teams, | KK Hockey | Permalink

by Paul on 11/13/19 at 12:11 PM ET
Comments (0)
from Elliotte Friedman of Sportsnet,
- One coach told me his team's internal metrics indicate that no one spends more time in their own zone than the red-hot New York Islanders. He wondered how that was possible, so he took a look. Answer: "They let you go where they want you to go — on the outside." You get time, but you don't get quality.

- There's a story Ken Holland loves telling about his mother. It was 1985, and after his eighth AHL season, he was considering the next phase of his life. Lee Holland saw a job advertisement for an Electrolux vacuum salesman and pleaded for her son to take it. He starts laughing when delivering the next line: "She told me I'd be her first sale."

Of course, Holland passed on that career option and took a different fork in the road as a Red Wings scout. Wise choice. Thirty-five years later, he's got four Stanley Cup rings and is on a new mission in Edmonton. The Hollands have plenty of hockey tentacles. Ken's brother Dennis is an amateur scout for the Stars, and his son, Brad, is a pro scout in Edmonton. This week, they are mourning Lee, who passed away at age 87. All the best to the family.

- It's very hard to explain the seismic nature of the last 72 hours. We jokingly called Ron and Don "The Circus" when they travelled. Together, they were larger than life — I won't work with anyone else in my career who commanded the attention and had the profile Don has. There were a few of us watching together last Saturday, and we were slack-jawed in amazement. The whole thing is sad. There are no winners. The aftershocks will continue for a long time, exacerbated by this media tour. I felt horrible for co-workers hurt by it, for viewers who felt targeted, for the ugly never-ending social media battles, for Ron, and for any career to end that way. There but for the Grace of God go I.
more topics including the Dallas Stars and the latest on Ilya Kovalchuk...
Filed in: NHL Teams, | KK Hockey | Permalink

About Kukla's Korner Hockey
Paul Kukla founded Kukla's Korner in 2005 and the site has since become the must-read site on the 'net for all the latest happenings around the NHL.
From breaking news to in-depth stories around the league, KK Hockey is updated with fresh stories all day long and will bring you the latest news as quickly as possible.
Email Paul anytime at pk@kuklaskorner.com
Tweets by @kuklaskorner
Recent Blog Posts (Page 2)