Kukla's Korner Hockey
by Paul on 10/18/18 at 06:54 PM ET
Comments (0)
from Marc Dumont at the Montreal Gazette,
Last week, I said the Tomas Tatar-Phillip Danault-Brendan Gallagher line had breakout potential. This week, we're no longer talking about potential, but rather their excellent results.

The line has been flat out dominant and has yet to allow an even-strength goal while they're on the ice.

Tatar has led the charge, scoring three goals and adding four assists (three of which were primary assists) in his last four games and controlling the play. His seven points also happen to be the best point total among all NHL players in the last week, tied with Edmonton's Connor McDavid.

During Tatar's shifts, the Canadiens controlled more than 70 per cent of the shots and just under 70 per cent of the high-danger opportunities.

He was on the ice for seven goals for, and none against. He leads the Canadiens in almost every statistical category, including individual high-danger attempts, where he ranks 14th in the NHL.

Simply put, he's been on a tear since joining the Canadiens, to the point that the Golden Knights are probably starting to regret including him in the Max Pacioretty deal as a salary-cap casualty.
more on the Candiens...
Filed in: NHL Teams, Montreal Canadiens, | KK Hockey | Permalink
Tags: tomas+tatar
by Paul on 10/18/18 at 11:17 AM ET
Comments (2)
from Frank Seravalli of TSN,
Last season, 13 goaltenders sustained 15 diagnosed concussions – as confirmed by their NHL teams and reported by local media sources. That's the exact same number as the previous three seasons combined.

"I think when you hear numbers like that, it is concerning and it definitely makes you give some thought as to why," said Kay Whitmore, the NHL's vice-president of hockey operations and goaltender equipment. "We are taking steps to look into the causes and effects of these [concussions], but a lot is still unanswered. Is this a one-year anomaly? More than that? We have to look into the why."

Two goalies have already been diagnosed with concussions this season. Pittsburgh's Matt Murray suffered his second in as many seasons Oct. 8 and Vancouver Canucks prospect Thatcher Demko was injured during the preseason.

The big change seems to be an increase in the number of concussions resulting from shots off the mask. Of the 15 concussions last season, 10 were as a result of shots off the helmet, while two came from collisions. One came from a stick to the mask, one was a result of a backup being hit on the bench without a helmet, and one was unknown (Crawford).
Filed in: NHL Teams, NHL Talk, | KK Hockey | Permalink

by Paul on 10/18/18 at 09:03 AM ET
Comments (0)
"There was always a lot of potential with our teams in Buffalo and we had a lot of young talent that, for some reason, just couldn't put it all together. We didn't get off to good starts and we kind of took the wind out of our own sails early in the year and it made for some long seasons.

"It was tough to be a part of those losing seasons, but I did have a lot of fun with the group of guys we had."
-Evander Kane of the San Jose Sharks. Mike G. Morreale of NHL.com has more. The Sabres face the Sharks in San Jose tonight.
Filed in: NHL Teams, Buffalo Sabres, San Jose Sharks, | KK Hockey | Permalink
Tags: evander+kane
by Paul on 10/18/18 at 08:52 AM ET
Comments (1)
from Eric Francis of Sportsnet,
At the tail end of a 5-2 win over the Boston Bruins there lay Johnny Gaudreau in a crumpled heap, behind the visitors' net in obvious discomfort.

He'd been pasted by Bruins defenceman Charlie McAvoy split seconds after Gaudreau's breakaway attempt was stopped in spectacular fashion.

It drew an interference penalty, not to mention a crowd, but left Gaudreau wincing as he skated slowly to the bench.

Gaudreau played over a minute in the ensuing power play before a concussion spotter radioed down to Flames athletic therapist Kent Kobelka to let him know Gaudreau was to leave the game to be checked.

He failed to return to the final 10 minutes.
Watch the hit below.
Filed in: NHL Teams, Boston Bruins, Calgary Flames, | KK Hockey | Permalink
Tags: charlie+mcavoy, johnny+gaudreau
by Paul on 10/18/18 at 08:35 AM ET
Comments (0)
from Jim Thomas of the St. Louis Post-Dispatch,
For six games now, the Blues, their coaches and their fans have been waiting for the light to turn on. Oh, it was good and bright for a while against Calgary, the team's only win of the season.

But mostly it has flickered, on and off, with sporadic periods of inspired play punctuated by long stretches of what looks like lethargy, carelessness with the puck and a lack of focus on the little details that so often spell the difference between success and failure.

The darkness continued Wednesday with another wrenching loss, this time a 3-2 defeat at the hands of a young, quick Montreal team. With 11 seconds left in regulation, a turnover occurred when defenseman Colton Parayko couldn't control a spinning puck deep in the St. Louis zone.

It led to a game-winning goal by Montreal's Brendan Gallagher, sending the crowd of 20,137 at Bell Centre into a delirious state.

As for the Blues, the result left them with a 1-3-2 record. Sure, it's only six games. But it's one of the worst six-game starts in franchise history.
The game highlights are below.
Filed in: | KK Hockey | Permalink

by Paul on 10/18/18 at 08:22 AM ET
Comments (1)
ANAHEIM, Calif. - The Anaheim Ducks announced today that the National Hockey League (NHL) club has signed left wing Nick Ritchie to a three-year contract through the 2020-21 NHL season.
Ritchie, 22 (12/5/95), has collected 26-33=59 points with a +5 rating and 171 penalty minutes (PIM) in 186 career NHL games with Anaheim. The 6-2, 234-pound forward has also appeared in 19 career Stanley Cup Playoff contests, scoring four goals with 54 PIM.
Selected in the first round (10th overall) of the 2014 NHL Draft, Ritchie set career highs in goals (14), points (28) and games (77) in 2016-17, and assists (17) and PIM (72) in 2017-18. A native of Orangeville, Ontario, Ritchie won gold as a member of Team Canada at the 2015 World Junior Championship, 2013 Under-18 World Championship and 2012 Ivan Hlinka Memorial Tournament.
Filed in: NHL Teams, Anaheim Ducks, | KK Hockey | Permalink
Tags: nick+ritchie
by Paul on 10/18/18 at 07:57 AM ET
Comments (0)
WEDNESDAY'S RESULTS
Home Team in Caps
MONTREAL 3, St. Louis 2
WASHINGTON 4, NY Rangers 3 (OT)
CALGARY 5, Boston 2
ANAHEIM 4, NY Islanders 1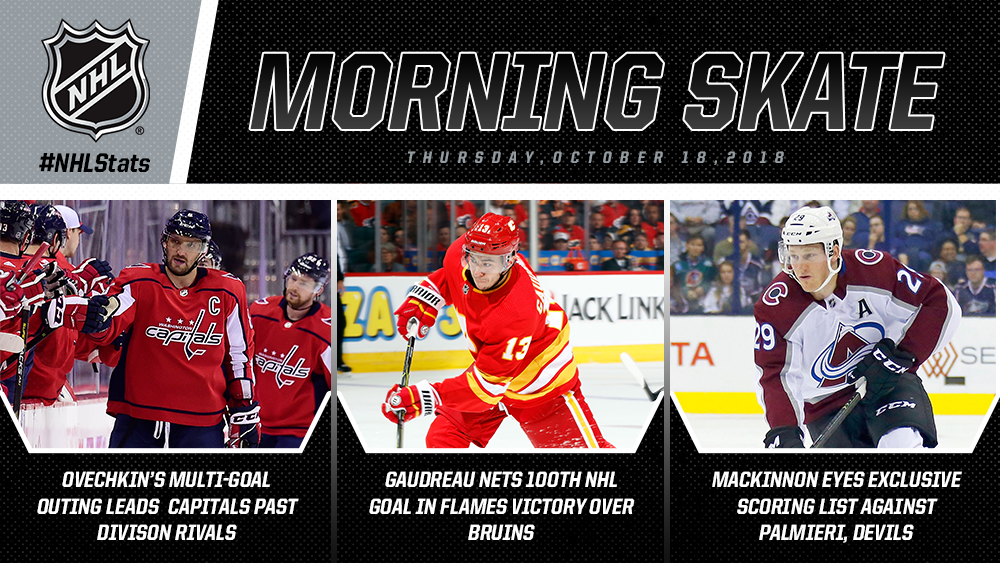 Filed in: NHL Teams, | KK Hockey | Permalink

by Paul on 10/17/18 at 09:12 PM ET
Comments (0)
Tonight on NBCSN, Bob McKenzie discussed the latest on William Nylander's contract situation, will Pekke Rinne get an extension in Nashville and a few more topics.
James O'Brien of NBC Sports has all the topics covered.
Filed in: NHL Teams, | KK Hockey | Permalink

by Paul on 10/17/18 at 06:17 PM ET
Comments (0)
from Mike Zeisberger of NHL.com,
Sidney Crosby considers Connor McDavid to be the top player in the National Hockey League.

"I think McDavid has set himself apart just based on the awards and the accolades he's gotten and the consistency he's had," the Pittsburgh Penguins captain told NHL.com on Wednesday. "I think it's fair to say it's an easy pick just because of that."...

Crosby, 31, said the influx of young talent in the League has produced highlight-reel moments from young skilled players like centers Auston Matthews (21) of the Toronto Maple Leafs and Nathan MacKinnon (23) of the Colorado Avalanche. But it's McDavid's resume in his first three-plus seasons in the NHL that has allowed the Oilers forward to separate himself from the pack.

"There are so many different guys," Crosby said. "Matthews has emerged this year and it really looks like he's taken even another step. I think there's a lot of guys in the conversation. But it's hard to argue (McDavid). He's been really consistent. He's won scoring titles, MVPs. So yeah, that's an easy one to pick."
Filed in: NHL Teams, Edmonton Oilers, Pittsburgh Penguins, | KK Hockey | Permalink
Tags: connor+mcdavid, sidney+crosby
by Paul on 10/17/18 at 11:33 AM ET
Comments (2)
from Elliotte Friedman of Sportsnet,
- A few years ago, Detroit GM Ken Holland suggested reading Legacy: What the All Blacks Can Teach Us About the Business of Life. There's a chapter called "Authenticity," described as the opposite of bad faith. "Bad faith," French philosopher Jean-Paul Sartre writes, "occurs when peer pressure and social forces combine to have us disown our own values. It is an accommodation we make with society to fit in, a psychological 'selling out' in which we forsake our own freedom and self-expression for the conformity of the crowd." There's a lot of speculation about coach Jeff Blashill's future, but, for over a year now, Holland's delivered a consistent message. He strongly believes Blashill should not be made a scapegoat, that this is a good coach put in a rough situation. The infirmary-laden blue line doesn't make things easier. Not sure Holland re-read that chapter, but do feel its contents form his guiding principle.

- Senators' GM Pierre Dorion took heat for the delay before his "We're a team" answer to a David Amber question on Kraft Hockeyville, but it is clear there's a different feeling in the nation's capital this year. Everything last season was tense, especially as things went off the rails. One visit to the dressing room was enough to see things are more relaxed. The players were determined to change the attitude, and three things have helped. First, they are playing more aggressively, which makes things more fun. Second, they see the talent in Thomas Chabot and Brady Tkachuk. Third, and most importantly, winning covers almost every ill.

- Carolina's a good early story, and they'll be interesting to watch for another reason: They've got unusual roster construction. The Hurricanes dress four right-shot defenders — Justin Faulk, Dougie Hamilton, Brett Pesce and Trevor van Riemsdyk. That type of player is always in demand and they're all good enough to play. Scott Darling is due back soon, and, unless they want to carry three goalies, one of him, Curtis McElhinney or Petr Mrazek will need waivers. Assuming it's not Darling, the others might be a Toronto target.
Filed in: NHL Teams, | KK Hockey | Permalink

About Kukla's Korner Hockey
Paul Kukla founded Kukla's Korner in 2005 and the site has since become the must-read site on the 'net for all the latest happenings around the NHL.
From breaking news to in-depth stories around the league, KK Hockey is updated with fresh stories all day long and will bring you the latest news as quickly as possible.
Email Paul anytime at pk@kuklaskorner.com
Tweets by @kuklaskorner
Recent Blog Posts (Page 2)