Kukla's Korner Hockey
by Paul on 03/20/18 at 06:58 PM ET
Comments (1)
from Dan Rosen of NHL.com,
NHL general managers want to give the final authority on goaltender interference reviews initiated by the coach's challenge to the Situation Room in Toronto.

The on-ice officials have the final authority on these reviews, but they consult with members of the NHL Hockey Operations Department in the Situation Room before deciding to allow or overturn the goal.

The League hopes to an announcement on the potential change in the review process Wednesday, but it is still determining whether it needs approval from other organizations, including the NHL Players' Association, the NHL Officials Association and the Board of Governors, because it involves a change in playing conditions.

The hope is to implement the change immediately.
continued with offside and delay of game talk too...
Filed in: NHL Teams, NHL Talk, | KK Hockey | Permalink

by Paul on 03/20/18 at 02:37 PM ET
Comments (4)
OTTAWA - The Ottawa Senators issued the following statement regarding team captain Erik Karlsson and his wife, Melinda.
"The collective thoughts and prayers of the Ottawa Senators organization, the city of Ottawa and entire hockey community rest with Erik and Melinda Karlsson following the loss of their son.
We ask that you respect the family's wishes for privacy during the grieving process."
Filed in: | KK Hockey | Permalink
Tags: erik+karlsson
by Paul on 03/20/18 at 01:26 PM ET
Comments (1)
Filed in: NHL Teams, NHL Talk, | KK Hockey | Permalink

by Paul on 03/20/18 at 10:11 AM ET
Comments (0)
Yes, it is a slow morning.
via the YouTube page of the NHL,
In our latest Puck Personality Player Poll, we ask NHL stars like Tuukka Rask, Erik Karlsson and Roman Josi in what order do they put on their shin pads, pants and skates and the results are...interesting.
Filed in: NHL Teams, | KK Hockey | Permalink

by Paul on 03/20/18 at 08:52 AM ET
Comments (0)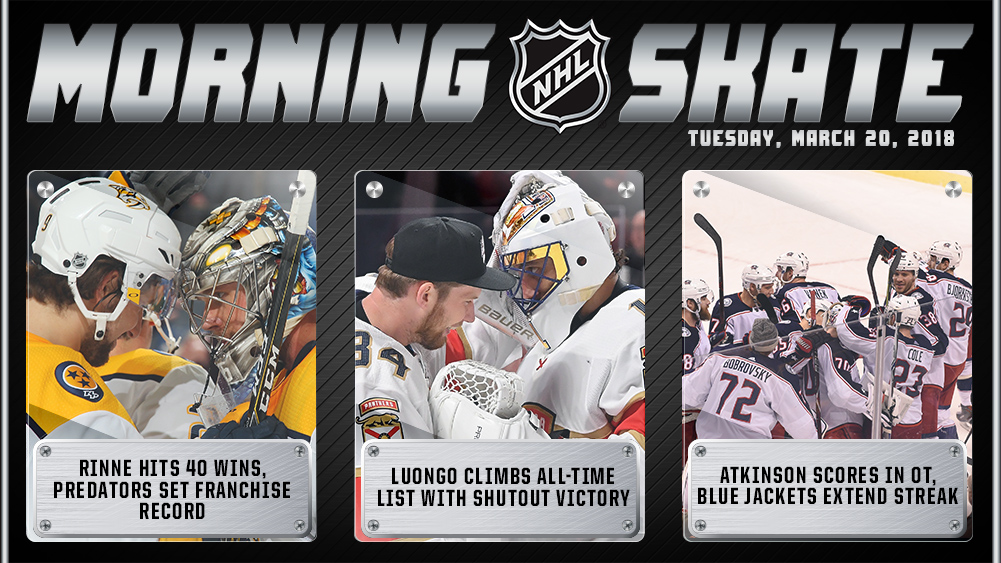 MONDAY'S RESULTS
Home Team in Caps
Columbus 5, BOSTON 4 (OT)
Nashville 4, BUFFALO 0
Florida 2, MONTREAL 0
Los Angeles 4, MINNESOTA 3 (OT)
ARIZONA 5, Calgary 2
Filed in: NHL Teams, | KK Hockey | Permalink

by Paul on 03/19/18 at 07:15 PM ET
Comments (2)
from Frank Servalli of TSN,
Goaltender interference was scheduled for 90 minutes on Monday's agenda, but the three-hour debate went on so long it was the only topic of conversation at the meeting.

"There should be change and there will be," Lamoriello said. "It's just making sure it's the right thing. I think we also have to be very careful and dwell on [whether] something is majorly wrong. We had several isolated incidents that were flagrant and they overshadow everything else."

NHL senior vice-president of hockey operations , along with colleague Kris King and director of officiating Stephen Walkom, led the media through a series of some of the most controversial calls on Monday afternoon.

The NHL reported that out of the 1,114 games and 6,593 goals scored this season, there have been just 170 video reviews for goaltender interference, including those triggered by the Situation Room in the final minute of games or overtime.

Of those 170 reviews, Campbell said Monday that there was internal disagreement or disagreement with referees on just nine scoring plays.
from Chris Johnston of Sportsnet,
Filed in: NHL Teams, NHL Talk, | KK Hockey | Permalink

by Paul on 03/19/18 at 05:39 PM ET
Comments (0)
from Don Brennan of the Ottawa Sun,
If only it were that simple.

Many believe the Senators are in dire need of fresh, new ownership, but fans aren't going to chase Eugene Melnyk out of town overnight by putting up a few billboards.

All it might do, is aid what may well be a long, drawn-out process.

You'd like to think the "#MelnykOut" signs would embarrass the team owner/CEO/president into selling the Senators for the half billion dollars he could probably get in return, and that it would happen while they still have an exciting superstar such as Erik Karlsson and hope of a sparkling new facility at LeBreton Flats.

But then you'd also prefer things had never reached this stage, where what was once a proud hockey market is now the home of a building where seats are covered in tarp.
Filed in: NHL Teams, Ottawa Senators, | KK Hockey | Permalink

by Paul on 03/19/18 at 05:27 PM ET
Comments (0)
from Eric Francis of the Calgary Sun,
The Calgary Flames are done.

There's a better chance the team will broker a deal for a new arena by the spring than there is of seeing playoff hockey here this April.

The players have no choice but to point out that mathematically they still have a chance, but they've stopped believing it.

While fans have been bracing of late for the possibility their squad wouldn't be able to pull a rabbit out of its hat, there's still an element of shock involved.

This team, most of the time, seemed too good to miss the playoffs.
Filed in: NHL Teams, Calgary Flames, | KK Hockey | Permalink

by Paul on 03/19/18 at 04:21 PM ET
Comments (1)
via Sportsnet,
David Amber, Nick Kypreos and Elliotte Friedman report from the NHL general managers meetings in Florida where a major topic was goaltender interference.
Filed in: | KK Hockey | Permalink

by Paul on 03/19/18 at 02:18 PM ET
Comments (0)
from Craig Button of TSN,
Swedish defenceman Rasmus Dahlin continues to be far and away the top prospect in the March edition of Craig's List ahead of the 2018 NHL Draft, but London Knights captain Evan Bouchard has forced his way into the top five of our rankings and could be the second blueliner off the board.

Bouchard, a 6-foot-1, 195-pound native of Oakville, Ont., sat in 23rd place in the September edition of our rankings. The right-shot blueliner then turned in a stellar regular season in London, racking up 87 points (25 goals, 62 assists) in 67 games to lead all OHL defenceman in scoring.

Along the way, he climbed to No. 20 in our November list, to No. 10 in our January rankings and now sits fifth.

The highest-ranked Canadian on our board, Bouchard is a fantastic passer who projects as true power-play quarterback at the next level. He has also been counted on to log north of the 30 minutes a night for a Knights team that traded away a number of key veterans during the season.
Filed in: Non-NHL Hockey, | KK Hockey | Permalink

About Kukla's Korner Hockey
Paul Kukla founded Kukla's Korner in 2005 and the site has since become the must-read site on the 'net for all the latest happenings around the NHL.
From breaking news to in-depth stories around the league, KK Hockey is updated with fresh stories all day long and will bring you the latest news as quickly as possible.
Email Paul anytime at pk@kuklaskorner.com
Recommended Sportsbook
MyBookie.ag
Tweets by @kuklaskorner
Recent Blog Posts (Page 2)