Kukla's Korner Hockey
by Paul on 12/13/18 at 06:39 PM ET
Comments (1)
The NHL December trade freeze is less than a week away and according to general managers, trade talks across the league are ramping up at an unprecedented rate. While the Kings and Blues look like clear sellers, the Hurricanes continue their search for offence and turn their attention to the Leafs' Kasperi Kapanen. Will Toronto make a move to find defensive help? The TSN Hockey Insiders discuss this and more in Insider Trading.
Filed in: NHL Teams, | KK Hockey | Permalink

by Paul on 12/13/18 at 11:59 AM ET
Comments (0)
Just under five minutes long.
Filed in: NHL Teams, | KK Hockey | Permalink

by Paul on 12/13/18 at 09:03 AM ET
Comments (0)
from Barry Svrluga of the Washington Post,
He won the Stanley Cup. He increased his legend by the way he celebrated. He came back from the shortest summer of his hockey life, newly minted as a first-time father, and rolled into a season in which a letdown was not only understandable but all but assumed. And through 30 games, he has 25 goals, four more than any other player in the league.

How many Alex Ovechkin appreciation pieces is one too many Alex Ovechkin appreciation pieces?

Hold your answer because we have no idea how much longer he's going to play. So for now, hit those same notes.

"O's a freak," right wing T.J. Oshie said.

"This is a player that's reinventing himself," first-year Coach Todd Reirden said.
Filed in: NHL Teams, Washington Capitals, | KK Hockey | Permalink
Tags: alex+ovechkin
by Paul on 12/13/18 at 08:58 AM ET
Comments (0)
from Jonathan Bombulie of the Pittsburgh Tribune,
The Pittsburgh Penguins have earned themselves an unenviable distinction in the first two months of the season.

They're the team that struggling clubs want to play in order to get back on the right track.

The 13-11-6 record the Penguins have fashioned through 30 games is good enough to keep them in the playoff hunt in the Eastern Conference, but four of the 11 regulation losses they suffered came against teams that probably won't sniff the postseason come April.

Here's a look at those losses.

— Wednesday night: Chicago 6, Penguins 3

The Blackhawks came into the game on an eight-game losing streak. They played the night before in Winnipeg. They had given up the first goal in 11 straight games. The Penguins trailed most of the game anyway. Even a Bryan Rust hat trick couldn't save the day.
Game highlights are below.
Filed in: NHL Teams, Chicago Blackhawks, Pittsburgh Penguins, | KK Hockey | Permalink

by Paul on 12/13/18 at 08:50 AM ET
Comments (0)
from Eric Francis of Sportsnet,
Proper river hockey etiquette suggests the game's outcome should ultimately be determined with the ol' "next goal wins."

Yet, as wide open as Wednesday's shinny affair at the Dome was, it shouldn't even have come to that as the home side trailed by two with 68 seconds left.

Even though the Flames led the league with 45 third-period goals and a goal differential of plus-24 in that final frame, it didn't seem like the momentum of three straight home wins would carry the day.

Four straight power plays in the third saw Flyers goalie Anthony Stolarz threaten a script that had seen the Flames turn a league-leading six third-period comebacks into a seventh.

Um, wrong.

Rasmus Andersson's first NHL goal prompted the Saddledome to explode in celebration with just over a minute to go before Sean Monahan's second of the night threatened the building's stability with seven seconds remaining.
The Flames defeated the Flyers 6-5 in OT, highlights below.
Filed in: NHL Teams, Calgary Flames, Philadelphia Flyers, | KK Hockey | Permalink

by Paul on 12/13/18 at 08:17 AM ET
Comments (2)
NASHVILLE, Tenn. — Five American hockey legends including Gordon "Red" Berenson, Natalie Darwitz, the late Leland "Hago" Harrington, David Poile and Paul Stewart were formally enshrined into the United States Hockey Hall of Fame this evening during a sold-out induction ceremony at the JW Marriott Nashville.
In addition to the induction of the Class of 2018, the late Jim Johannson was awarded the Lester Patrick Trophy, presented for outstanding service to hockey in the U.S.
"Our sport is flourishing thanks to the extraordinary contributions of those we honored tonight," said Jim Smith, president of USA Hockey. "Their impact on the game is immeasurable and will be felt for generations to come."
For full background on the storied careers of each inductee, please click here.
Filed in: NHL Talk, Non-NHL Hockey, | KK Hockey | Permalink

by Paul on 12/13/18 at 08:12 AM ET
Comments (0)
WEDNESDAY'S RESULTS
Home Team in Caps
Vegas 3, NY ISLANDERS 2
CHICAGO 6, Pittsburgh 3
CALGARY 6, Philadelphia 5 (OT)
ANAHEIM 6, Dallas 3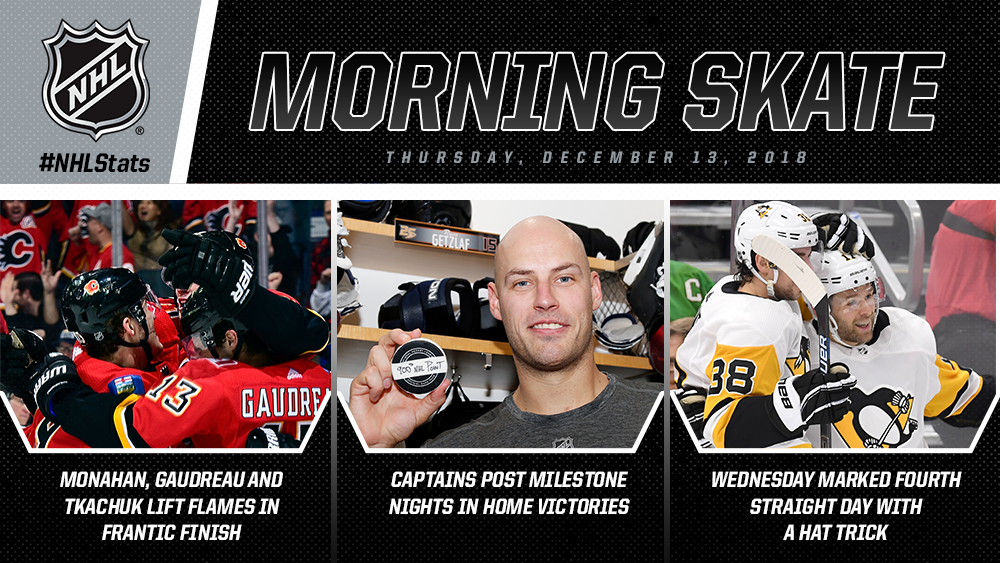 Filed in: NHL Teams, | KK Hockey | Permalink

by Paul on 12/12/18 at 08:20 PM ET
Comments (0)
via NBC Sports,
How active will 'Hawks, Blues be in trade market?

The Chicago Blackhawks and St. Louis Blues are off to disappointing starts, and could be sellers in the trade market.
Leafs and Flyers mentioned too.
Filed in: NHL Teams, Chicago Blackhawks, St. Louis Blues, | KK Hockey | Permalink

by Paul on 12/12/18 at 05:30 PM ET
Comments (0)
from Joshua Clipperton of the CP at the National Post,
With scoring up across the NHL, a group of elite defenceman are the owners of some impressive stat lines. No blue-liner has averaged a point a game in a season since Erik Karlsson in 2015-16, but Washington's John Carlson, Toronto's Morgan Rielly, Ottawa's Thomas Chabot and Calgary's Mark Giordano all currently sit at or above the threshold. The last time more than one defenceman averaged a point a game or better in a season was in 1995-96 when Brian Leetch, Sergei Zubov and Ray Bourque accomplished the feat. Karlsson, Nicklas Lidstrom (2005-06) and Mike Green (2008-09 and 2009-10) are the only other blue-liners to reach the mark since in a full season.
more topics....
Filed in: NHL Teams, | KK Hockey | Permalink

by Paul on 12/12/18 at 03:59 PM ET
Comments (3)
Make sure to read the other tweets regarding this topic.
Filed in: NHL Teams, Carolina Hurricanes, | KK Hockey | Permalink
Tags: tom+dundon
About Kukla's Korner Hockey
Paul Kukla founded Kukla's Korner in 2005 and the site has since become the must-read site on the 'net for all the latest happenings around the NHL.
From breaking news to in-depth stories around the league, KK Hockey is updated with fresh stories all day long and will bring you the latest news as quickly as possible.
Email Paul anytime at pk@kuklaskorner.com
Tweets by @kuklaskorner
Recent Blog Posts (Page 2)