Kukla's Korner Hockey
by Paul on 02/27/20 at 02:35 PM ET
Comments (0)
Sportsnet style, 4:44 to watch.
Filed in: NHL Teams, | KK Hockey | Permalink

by Paul on 02/27/20 at 02:16 PM ET
Comments (0)
VEGAS (February 27, 2020) – Vegas Golden Knights General Manager Kelly McCrimmon announced today, February 27, that the team has signed forward William Carrier to a four-year contract extension through the 2023-24 season worth an average annual value of $1.4 million.
Carrier has recorded a career-high 18 points (7 G, 11 A) to go with 37 penalty minutes in 65 games this season. He also has recorded 199 hits this season, which ranks second on the team and sixth in the league. In three seasons with the Golden Knights, he has recorded 30 points (16 G, 14 A) to go with 85 penalty minutes in 156 games played. Prior to his time in Vegas, the LaSalle, Quebec native appeared in 41 games with the Buffalo Sabres during the 2016-17 season and recorded eight points (5 G, 3 A) to go with 21 penalty minutes.
Carrier was originally selected by the Golden Knights during the 2017 NHL Expansion Draft and signed a two-year contract extension with the team on July 23, 2018.
Filed in: NHL Teams, | KK Hockey | Permalink
Tags: vegas+golden+knights, william+carrier
by Paul on 02/27/20 at 12:47 PM ET
Comments (12)
I am one of them.
Filed in: NHL Teams, NHL Media, Hockey Broadcasting, | KK Hockey | Permalink

by Paul on 02/27/20 at 05:27 AM ET
Comments (2)
East first, West is below.
Filed in: NHL Teams, | KK Hockey | Permalink

by Paul on 02/27/20 at 04:43 AM ET
Comments (1)
THREE HARD LAPS
* The Golden Knights blanked the Oilers with first place in the Pacific Division standings on the line to strengthen their grip on top spot.
* It was another noteworthy night for countrymen Pavel Francouz (Plzen, Czech Republic) and Martin Kaut (Brno, Czech Republic), with the Avalanche improving to 4-0-0 since the latter made his NHL debut on Feb. 19.
* The Kings defeated the Penguins and improved to 3-1-1 in their last five games at STAPLES Center.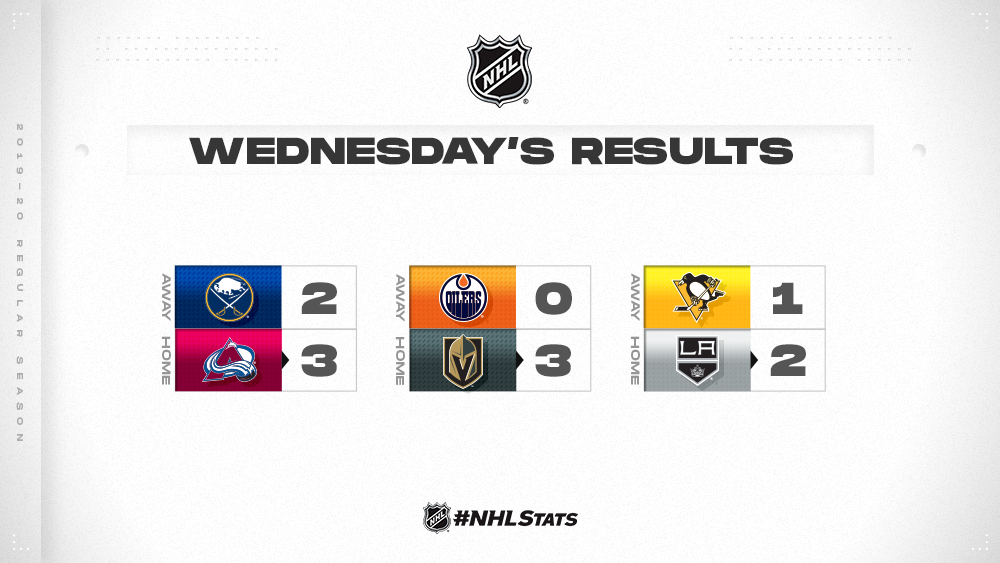 Filed in: NHL Teams, | KK Hockey | Permalink

by Paul on 02/26/20 at 03:38 PM ET
Comments (3)
Other players in the 700 goal club welcome Ovechkin.
Filed in: NHL Teams, Washington Capitals, | KK Hockey | Permalink
Tags: alex+ovechkin
by Paul on 02/26/20 at 02:38 PM ET
Comments (0)
from NHL.com,
Jay Bouwmeester is out the rest of the season for the St. Louis Blues.

The 36-year-old defenseman had a cardiac episode during a game against the Anaheim Ducks on Feb. 11. He collapsed before he was revived with a defibrillator with 7:50 remaining in the first period. The game was postponed and rescheduled for March 11 at Honda Center (10 p.m. ET). It will follow the same 60-minute format of all regular-season games (including overtime/shootout as necessary) and begin with the score tied 1-1, as it was when the game was postponed.

"Jay and I have spoken over the last week or so and we both understand that he won't participate this year in the regular season or playoffs for us," Blues general manager Doug Armstrong said Wednesday. "We talked about longer term things that may or may not happen and both feel that it's February. You don't have to make long term decisions at this point. He's going to take time and again back in with his family and get around the team and he'll address those things as the summer progresses."
Filed in: NHL Teams, St. Louis Blues, | KK Hockey | Permalink
Tags: jay+bouwmeester
by Paul on 02/26/20 at 01:34 PM ET
Comments (9)
from Elliotte Friedman of Sportsnet,
- You can make trades after the deadline. A player can move and play for his new team — although he won't be eligible for the post-season. Carolina needs goaltending, Toronto needs defence, Arizona needs scoring. Those organizations think unconventionally. I wonder.

- They lost in overtime Tuesday night in Anaheim, but Oilers fans were having a collective Twitter orgasm over the two-goal, six-point even-strength night for Andreas Athanasiou, Tyler Ennis and Connor McDavid. Steve Yzerman tried for a first-rounder for Athanasiou, but Ken Holland held firm.

- I do believe the Islanders also had interest in Mikko Koivu, who preferred to stay put.

- One other Detroit player who had legit interest: Luke Glendening.

"(Yzerman) wasn't making it easy," one exec said.
more Thoughts...
Filed in: NHL Teams, | KK Hockey | Permalink

by Paul on 02/26/20 at 12:41 PM ET
Comments (0)
from Chris Johnston of Sportsnet,
To understand how quickly Jake Muzzin became part of the Toronto Maple Leafs fabric, it's instructive to reflect on his uneasy beginning with the team.

"There's no question about it: It's not perfect, it's what we got," former coach Mike Babcock said, infamously, on Muzzin's first day with the Leafs a little more than a year ago. He was referencing the imbalance of left- and right-handed shots among the defence corps, but he just as easily could have been talking about how the defenceman felt amid the shock of his first NHL trade.

Those early days in Toronto were tough.

"I was living in a hotel with three dogs and a pregnant wife," Muzzin said recently. "Yeah, there was a lot of s––t going on."

Fast forward to the dark feeling hovering over the team after Wednesday's announcement that the 31-year-old will be out approximately four weeks with a broken right hand.
Filed in: NHL Teams, Toronto Maple Leafs, | KK Hockey | Permalink
Tags: jake+muzzin
by Paul on 02/26/20 at 12:03 PM ET
Comments (4)
OLORADO SPRINGS, Colo. – Peter Laviolette (Franklin, Mass.), one of the most accomplished coaches in American hockey history and a two-time Olympian as a player, has been named head coach of the U.S. Men's National Team that will participate in the 2020 International Ice Hockey Federation Men's World Championship it was announced today by USA Hockey. The event will take place in Zurich and Lausanne, Switzerland, from May 8-24.
"It's great to have Peter as our head coach," said Chris Drury, general manager of the 2020 U.S. Men's National Team Team. "He brings significant international experience, both as a player and a coach, and his passion and desire to win align with our goal of bringing home the gold medal."
Filed in: Non-NHL Hockey, International Hockey, | KK Hockey | Permalink
Tags: peter+laviolette, team+usa
« Previous < 1 2 3 4 > Last › Next »
About Kukla's Korner Hockey
Paul Kukla founded Kukla's Korner in 2005 and the site has since become the must-read site on the 'net for all the latest happenings around the NHL.
From breaking news to in-depth stories around the league, KK Hockey is updated with fresh stories all day long and will bring you the latest news as quickly as possible.
Email Paul anytime at pk@kuklaskorner.com
Tweets by @kuklaskorner
Most Recent Blog Posts