Kukla's Korner Hockey
by Paul on 10/20/18 at 06:18 PM ET
Comments (1)
from Steve Simmons of the Toronto Sun,
- William Nylander, with 16 goals in his past 51 games, wants to be paid more than David Pastrnak, same age, same draft, who has 16 goals in his past 21 games. For the record, I want to be paid more than J.K. Rowling.

- If you haven't seen a lot of Sebastian Aho, the Hurricanes version, you're missing something. He's an emerging star … Hockey people are raving about the job Rod Brind'Amour is doing with the Carolina Hurricanes. A lifelong NHL scout told me he hasn't seen a rookie coach like Brind'Amour before, using unconventional ways to get terrific results from an excited team.

- The same scout said not to worry about Phil Housley in Buffalo. "He'll be all right," the scout said. "It's still a pretty thin team."

- Have to believe Mike Yeo is coaching on borrowed time in St. Louis. There is lots of talent there. The coach isn't getting anywhere near the most out of them.
Filed in: NHL Teams, | KK Hockey | Permalink

by Paul on 10/20/18 at 05:31 PM ET
Comments (0)
from Larry Brooks of the New York Post,
- As of late in the week, no team had contacted the Rangers for permission to speak to Alain Vigneault since he was dismissed within hours of delivering his valedictory address following the team's final game of last season in Philadelphia.

But we wonder if that might change within the not-too-distant future. Specifically, we would suggest that Vigneault could become a person of interest in Los Angeles if president Luc Robitaille and general manager Rob Blake grow impatient with third-year man John Stevens behind the bench.

The Kings are a win-now team that hasn't won enough or played nearly well enough these first couple of weeks of the season...

- Asking for a friend with the initials SY, but will the Red Wings make a change behind the bench in promoting assistant Dan Bylsma or will they allow Jeff Blashill to remain in place for the duration so as not to threaten the club's hold on 31st-overall and thus the largest number of ping pong balls in the Jack Hughes sweepstakes?

- So I have typed "Presidents' Trophy" hundreds of times and I guess I would like someone to please explain why the NHL awards a Presidents' Trophy when the league hasn't had a president since John Ziegler completed his term more than a quarter of a century ago?
more on the first topic plus other hockiey notes...
At the time of this post, the Kings are losing to the Sabres in LA 4-0 after 2.
Filed in: | KK Hockey | Permalink
Tags: alain+vigneault
by Paul on 10/20/18 at 12:31 PM ET
Comments (3)
from Kevin Paul Dupont of the Boston Globe,
After plucking Taylor Hall, the reigning MVP, away from the Oilers in 2016, it's a good bet Devils GM Ray Shero will be in the thick of the Panarin talks. Shero has the strongest roster of the three NYC-area clubs and he also is sitting on a $15.5 million pile of cap space, second only to the Dollar Store Hurricanes ($16.7 million).

Few clubs, if any, have the combination the Bruins can offer in the Panarin chase. Boston's Russian population may be a little light, but it's a first-class North American city, and the Bruins have abundant player equity to offer Kekalainen, be it in the form of young roster players and/or prospects.

Kekalainen's target pool in a Boston swap no doubt would include the likes of Charlie McAvoy, Brandon Carlo, and Jake DeBrusk — the three kids GM Don Sweeney would be the most reluctant to surrender — and any number of others, including Danton Heinen and Anders Bjork on the varsity, and AHL stock such as Trent Frederic and Urho Vaakanainen.
more plus other topics...
Filed in: NHL Teams, Boston Bruins, Columbus Blue Jackets, | KK Hockey | Permalink
Tags: artemi+panarin
by Paul on 10/20/18 at 10:16 AM ET
Comments (1)
from Brett Cyrgalis of the New York Post,
It's almost as if Brendan Smith were waiting and wanting to hear this question.

"Do you think this system fits your game better than last year?" he was asked, referring to the lost season he spent mostly in the minors.

"For sure I think it does," the smiling Rangers defenseman told The Post after Friday's practice in Tarrytown. "My biggest thing is I want to make good outlet passes; I want to be hard-nosed, strong in front of the net; I want to compete for pucks. I think that's what I've done in the past, and to me, that's winning hockey. When we get back to it, it works out."...

"I think he's really kept it simple," said Quinn, whose team next plays Sunday night at the Garden against the Flames. "He's a guy that has good skills, he's not trying to do too much, he's defended hard. He's in great shape, so he's able to play at a pace. His skating has always been elite. He's in a whole different mindset."
Filed in: | KK Hockey | Permalink
Tags: brendan+smith
by Paul on 10/20/18 at 08:13 AM ET
Comments (1)
via Sportsnet's YouTube page,
Pekka Rinne collides with teammate Kevin Fiala then exits the game a couple minutes after with an apparent injury.
No update from the Predators.
Filed in: NHL Teams, Nashville Predators, | KK Hockey | Permalink
Tags: pekka+rinne
by Paul on 10/20/18 at 07:54 AM ET
Comments (0)
FRIDAY'S RESULTS
Home Team in Caps
Florida 6, WASHINGTON 5 (SO)
Minnesota 3, DALLAS 1
Nashville 5, CALGARY 3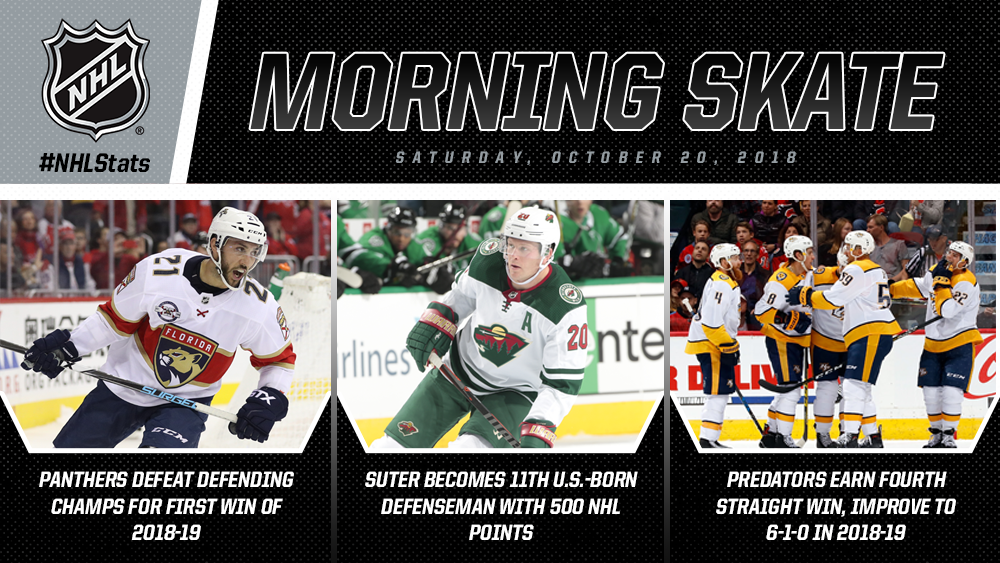 Filed in: NHL Teams, | KK Hockey | Permalink

by Paul on 10/19/18 at 09:20 PM ET
Comments (3)
from Ben Kuzma of the Vancouver Province,
"He definitely has a concussion and probably has whiplash and has probably injured his left shoulder," said Sigalet, a founding practitioner of the Burnaby-based Catalyst Kinetics Group and consulting chiropractor for players in the NHL, CFL, Rugby Canada, MLS and Canadian Olympians.

"I can guarantee you that the left side of his neck — the way it got ripped back — the left anterior part can be completely inhibited.

"If somebody isn't working on that to make it react again properly, it just leaves you susceptible for being injured again. He needs to have good manual therapy and get started on an anti-inflammatory specific protocol for brain inflammation."
Filed in: NHL Teams, Vancouver Canucks, | KK Hockey | Permalink
Tags: elias+pettersson
by Paul on 10/19/18 at 08:59 PM ET
Comments (0)
from Michael Traikos of the National Post at Canoe,
The best players in the league today are also some of the youngest. Of the top five scorers, three (Toronto's Auston Matthews, Colorado's Mikko Rantanen and Carolina's Sebastian Aho) are in the final year of their entry-level contracts. That doesn't include Toronto's Mitch Marner, Tampa Bay's Brayden Point or Winnipeg's Patrik Laine, whose deals also expire next summer.

How do you determine the market value for a player such as Vancouver's Brock Boeser, who by the end of this season will be lucky to have played 150 games? What happens when a player and a team have differing views on his long-term potential? What if the team isn't being fair?

"The fix is fairly simple," Octagon Hockey agent Allan Walsh wrote Postmedia in a direct message on Friday. "Players coming out of entry-level should have arbitrations rights. The one dark year encourages these impasses. Give the players the ability to negotiate a comparable contract to the league-wide marketplace."

Giving players arbitration rights a year earlier would prevent contract impasses, but not everyone is convinced the current rules put the players at a disadvantage.
Filed in: NHL Teams, | KK Hockey | Permalink

by Paul on 10/19/18 at 08:10 PM ET
Comments (4)
from the CP at Sportsnet,
Filed in: NHL Teams, | KK Hockey | Permalink
Tags: jordin+tootoo
by Paul on 10/19/18 at 06:28 PM ET
Comments (2)
VEGAS (October 19, 2018) – Vegas Golden Knights General Manager George McPhee announced today, October 19, that the team has signed forward Alex Tuch to a seven-year contract extension through the 2025-26 season worth an average annual value of $4,750,000.
Tuch, 22, had 37 points (15 G, 22 A) and 27 penalty minutes in 78 games during the 2017-18 regular season. He appeared in all 20 games of the Stanley Cup Playoffs, including the Stanley Cup Final, recording 10 points (6 G, 4 A) with 12 penalty minutes. In his two NHL seasons, Tuch has skated in 84 games and has recorded 37 points (15 G, 22 A) to go with 27 penalty minutes.
The Syracuse, NY native was acquired by the Vegas Golden Knights from the Minnesota Wild during the 2017 NHL Expansion Draft.
Filed in: NHL Teams, | KK Hockey | Permalink
Tags: alex+tuch, vegas+golden+knights
« Previous < 1 2 3 4 > Last › Next »
About Kukla's Korner Hockey
Paul Kukla founded Kukla's Korner in 2005 and the site has since become the must-read site on the 'net for all the latest happenings around the NHL.
From breaking news to in-depth stories around the league, KK Hockey is updated with fresh stories all day long and will bring you the latest news as quickly as possible.
Email Paul anytime at pk@kuklaskorner.com
Tweets by @kuklaskorner
Most Recent Blog Posts