Kukla's Korner Hockey
by Paul on 02/16/19 at 05:01 PM ET
Comments (0)
from Steve Simmons of the Toronto Sun,
- Nikita Kucherov, Patrick Kane and Connor McDavid are 1-2-3 in NHL scoring and probably that way in the Hart Trophy race. If Kane's Blackhawks or McDavid's Oilers make the playoffs, they might slide in ahead of Kucherov. Hard to overlook Kucherov as the best player on the NHL's best team in Tampa. My other MVP candidates with 30% of the season still to play: Sidney Crosby, Johnny Gaudreau, Sebastian Aho.

- The boy genius GM John Chayka, still looking for his first playoff game in Arizona, traded 21-year-old centre Dylan Strome to Chicago and all Strome has done is score 31 points in 34 games. The Blackhawks were 8-1 in their last nine games heading into Saturday night. Strome has 15 points in those nine games. Meanwhile, the Coyotes, out of the playoffs, are still looking for a big No. 1 centre.

- Why Barry Trotz should romp in coach of the year voting: Last year, the Islanders were worst in the NHL in goals against. This year, they're best. And five of his regular defencemen have returned from last year's team. Incredible.
Filed in: NHL Teams, | KK Hockey | Permalink

by Paul on 02/16/19 at 01:58 PM ET
Comments (0)
from Kevin Paul Dupont of the Boston Globe,
- ... A year ago, the lead trade suspect around the NHL was Rick Nash, and Sweeney outbid all suitors with a package that included a first-round draft pick, defensive prospect Ryan Lindgren, along with Matt Beleskey and Ryan Spooner. A year later, from Boston's perspective, the art of the deal was offloading Spooner and Beleskey, a pair of wingers once thought to be essential offensive elements (they combined for 59 goals while wearing the Spoked-B). Today they are Exhibit A: addition by subtraction.

Nash was the real deal and, by market standards in recent years, worth the goods that Sweeney yielded. For about two weeks. Until Nash was dealt yet another concussion, this one ultimately proving to be his express pass to retirement. So it goes in the caveat emptor world of deadline deals. Right deal, wrong outcome, reminiscent of the 1994 deadline swap that had then-GM Harry Sinden plucking Al Iafrate from Washington for Joe Juneau....

- ... What happened? By Murray's eye "lack of emotion" has been the culprit. By an outsider's eye, the Ducks' Big Three look like toast.

Corey Perry, Ryan Getzlaf, and Ryan Kesler are all age 33-plus, each closing in on 1,000 games, and each with high-priced, no-move deals for at least two more years (three for Kesler). To be fair, Perry has just returned, post-surgery, after tearing up a knee in the preseason. If he can get back in gear, Perry can move the needle.

But overall, the Ducks are hurting for speed and also lack the talented youth corps that virtually every team now tries to have in on-the-job training. Without the developing ride-a-long component — witness Boston last season with Jake DeBrusk and Danton Heinen, and this season with Matt Grzelcyk — aging, heavy rosters such as Anaheim's are destined for a slow roll to nowhere. The Ducks look like they're getting nowhere even faster.
more on each of the above plus other hockey topics...
Filed in: NHL Teams, Anaheim Ducks, | KK Hockey | Permalink

by Paul on 02/16/19 at 12:21 PM ET
Comments (3)
from Wayne Fish of the Courier Times,
Now for all the naysayers who cry the game is already too long, we have the solution: Go to commercial break for the 30 seconds (or longer) it would take to sort out the mess (and cut in to the total amount of commercials that slow the flow of the game anyway).

That way, no time is added on to the total amount of time for a game and everyone can still get out of the building by 9:35 and rush home to pay the babysitter.

"Good idea,″ says Flyers TV studio analyst and former player Chris Therien. "There's nothing gray about it — it's black and white. We have the luxury of having multiple video angles of just about everything in life these days, not to mention a hockey rink.

"So from that standpoint, when something like that happened, well, it should not have happened. From a human eye standpoint, all Toronto had to say was, 'Hagg's stick never touched the Minnesota player. We have to call down.' ″

Right now, there is no system in place for the NHL officials in Toronto to overrule penalty calls.
Filed in: NHL Teams, NHL Talk, NHL Officiating, | KK Hockey | Permalink

by Paul on 02/16/19 at 12:11 PM ET
Comments (0)
added 1:01pm, Edmonton release is below.
Filed in: NHL Teams, Edmonton Oilers, Vancouver Canucks, | KK Hockey | Permalink
Tags: ryan+spooner, sam+gagner
by Paul on 02/16/19 at 08:51 AM ET
Comments (0)
from Brendan Kelly of the Montreal Gazettd,
The Canadiens are a wild-card team. Sorry to bring you all crashing down to Earth, but that's the truth.

This is not about hating or trying to be negative. It's about trying to be realistic. The Habs are better than last year's bottom-feeder team, but that's really not much of an achievement.

Is the future so bright you need to wear shades? Maybe. One of the things that disturbs me the most in the hockey culture ici is so many people buy into the Canadiens' management spin. In case you missed the memo from the Habs' PR bosses, here is the spin: General manager Marc Bergevin has turned this team around by focusing on character and bringing in a philosophy built on youth and speed, and it's only going to get better with all the great prospects in the pipeline.

Let's pick apart the Habs' PR line piece by piece. As far as the character thing goes, I think that's hogwash. The team with the best players wins. Of course hockey, possibly more than any sport, is reliant on chemistry among the players. But it's not about character, or grit, which is Bergevin's philosophy. What's key is how the players work together on the ice.
Filed in: NHL Teams, Montreal Canadiens, | KK Hockey | Permalink

by Paul on 02/16/19 at 07:23 AM ET
Comments (0)
from Sarah McLellan of the Star Tribune,
In their first chance to make their own statement on the ice, Wild players didn't exactly back up coach Bruce Boudreau's claim that this is a team that wants to make the playoffs and will.

Instead, it continued to make its climb tougher by collapsing yet again — this time in more dramatic fashion.

After squandering a three-goal lead, the team combusted 5-4 in overtime to the Devils Friday in front of an announced 19,041 at Xcel Energy Center on a puck-handling gaffe by goalie Devan Dubnyk that capped off New Jersey's comeback with its fourth straight tally.

"We're not blind," coach Bruce Boudreau said. "We saw how they went in, but the other thing that bothers me is we do this all the time. We get them down and you don't get that killer instinct and you stop playing and you try to defend all the time, and it's a losing way to play."
Game highlights are below.
Filed in: NHL Teams, Minnesota Wild, New Jersey Devils, | KK Hockey | Permalink

by Paul on 02/16/19 at 06:48 AM ET
Comments (0)
from Larry Brooks of the New York Post,
There has been a shift in the dynamic as the Rangers approach the Feb. 25 trade deadline.

The Post has learned that general manager Jeff Gorton is now engaged in an ongoing dialogue with the agents for pending free agents Mats Zuccarello and Kevin Hayes as the Blueshirts weigh extending the contracts of two of their best players against the return they might get for either or both on the market.

Cap considerations for 2019-20 and beyond are also a major part of the equation. There is, we are told, considerable distance between the parties, but that is to be expected as the negotiating process with each player is in a relatively early stage.
Filed in: NHL Teams, New York Rangers, | KK Hockey | Permalink

by Paul on 02/16/19 at 06:40 AM ET
Comments (2)
Time to celebrate the 3-1 win over the Edmonton Oilers.
Filed in: NHL Teams, Carolina Hurricanes, | KK Hockey | Permalink

by Paul on 02/16/19 at 06:28 AM ET
Comments (0)
FRIDAY'S RESULTS
Home Team in Caps
NY Rangers 6, BUFFALO 2
CAROLINA 3, Edmonton 1
New Jersey 5, Minnesota 4 (OT)
Boston 3, ANAHEIM 0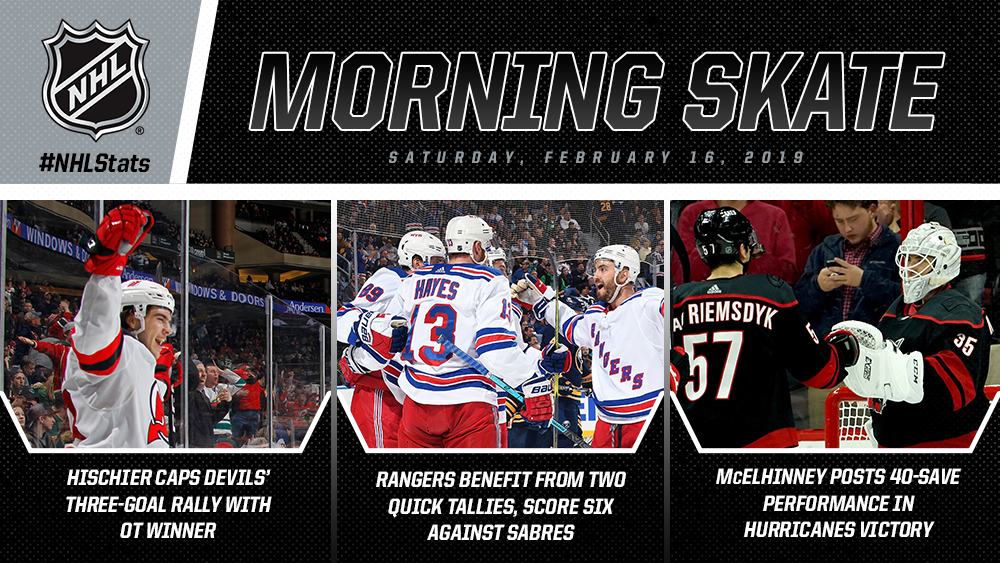 Filed in: NHL Teams, | KK Hockey | Permalink

by Paul on 02/16/19 at 06:17 AM ET
Comments (0)
Edmonton Oilers release,
The Edmonton Oilers have acquired goaltender Anthony Stolarz from Philadelphia in exchange for goaltender Cam Talbot.
Stolarz, 25, has appeared in 12 games for Philadelphia this season, with a 4-3-3 record, a 3.33 GAA and a .902 SV%.
The 6'6", 210-pound goaltender is in his second NHL season, and fifth as a professional. The native of Edison, NJ was originally a second round draft pick of Philadelphia, 45th overall, in the 2012 NHL Draft.
Stolarz played for the U.S. at the 2014 World Junior Hockey Championship, finishing fifth overall. He played for the OHL's London Knights from 2012-14, appearing in two Memorial Cups and capturing one OHL Championship
---
added 6:37am, from Mark Spector of Sportsnet,
Keith Gretzky accomplished what Peter Chiarelli seemingly never could. He won a trade. His first one, as a matter of fact.

This isn't to say that the Philadelphia Flyers got fleeced when they took Cam Talbot in exchange for Anthony Stolarz. Not at all. The Flyers got the support for young starter Carter Hart that they felt they required, and with Hart's emergence, the 25-year-old Stolarz became expendable for Philly.

But let's look at this deal from Gretzky's perspective, an interim general manager in Edmonton who has inherited perhaps the most mismanaged cap in the National Hockey League today.

Gretzky was under pressure to drop $1.3 million in cap space by Tuesday, to make room for the return of defenceman Andrej Sekera, currently on a conditioning assignment in the AHL. That acute need put Gretzky in a position of weakness, and everyone across the NHL knew it.
Filed in: NHL Teams, Edmonton Oilers, Philadelphia Flyers, | KK Hockey | Permalink
Tags: anthony+stolarz, cam+talbot
« Previous < 1 2 3 4 > Last › Next »
About Kukla's Korner Hockey
Paul Kukla founded Kukla's Korner in 2005 and the site has since become the must-read site on the 'net for all the latest happenings around the NHL.
From breaking news to in-depth stories around the league, KK Hockey is updated with fresh stories all day long and will bring you the latest news as quickly as possible.
Email Paul anytime at pk@kuklaskorner.com
Tweets by @kuklaskorner
Most Recent Blog Posts