Kukla's Korner Hockey
by Paul on 04/22/21 at 07:48 PM ET
Comments (0)
TSN Hockey Insider Darren Dreger and TSN Senior Hockey Reporter Frank Seravalli joined host James Duthie to discuss the latest on the Women's Worlds, the NHL at the 2022 Olympics and possibilities for this year's NHL playoffs if the border between the United States and Canada remains closed.
Watch and read the transcript from the segment at TSN.
Filed in: NHL Teams, NHL Talk, Non-NHL Hockey, International Hockey, | KK Hockey | Permalink

by Paul on 04/22/21 at 02:43 PM ET
Comments (0)
Less than 3 minutes of your time.
Filed in: NHL Teams, | KK Hockey | Permalink

by Paul on 04/22/21 at 10:37 AM ET
Comments (0)
via the YouTube page of the NHL,
Recapping another legendary equipment manger moment, a way-too-many-men penalty, fluke bounces, mad scrambles and a wild Joe Thornton cameo.
Filed in: NHL Teams, | KK Hockey | Permalink

by Paul on 04/22/21 at 10:22 AM ET
Comments (0)
from Gentry Estes of The Tennessean,
A season once drowning in disappointment was saved in time for the Nashville Predators to play meaningful games and chase a playoff spot at the end of a shortened regular season.

But on Wednesday night in Chicago, the added significance only made a fresh setback even tougher to swallow.

The 5-4 overtime loss to the Blackhawks will go down as a stunningly disappointing moment in this season, especially if the point the Preds dropped by blowing a late three-goal lead ends up costing them in the NHL's Central Division three-team race for one playoff spot.

"We were playing really good until that moment," said forward Mikael Granlund. "I think we got a little loose there, and it just happened. ... We had a great chance to get two points, and we only got one tonight. That's on us."
Watch the game highlights below.
Filed in: NHL Teams, Nashville Predators, | KK Hockey | Permalink

by Paul on 04/22/21 at 06:55 AM ET
Comments (0)
THREE HARD LAPS

* The Golden Knights defeated the Sharks and became the NHL's first team to clinch a berth into the 2021 Stanley Cup Playoffs.

* The Blackhawks kept their playoff hopes alive after scoring three third-period goals in a span of 2:51 to erase a 4-1 deficit and defeat the Predators.

* Alex Ovechkin has scored some monumental goals against the Islanders as of late. Will the trend continue tonight at Nassau Veterans Memorial Coliseum?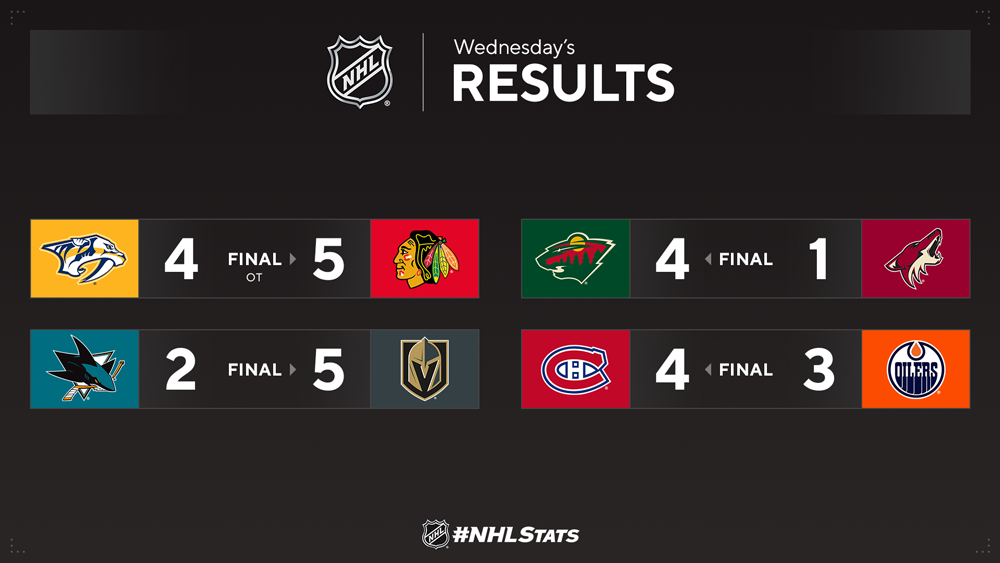 Filed in: NHL Teams, | KK Hockey | Permalink

by Paul on 04/21/21 at 12:16 PM ET
Comments (0)
Ten of them in under five minutes.
Filed in: NHL Teams, | KK Hockey | Permalink

by Paul on 04/21/21 at 12:13 PM ET
Comments (6)
from Elliotte Friedman of Sportsnet,
- Injuries aren't just a factor for teams, they are also affecting the officials. Three linesmen who retired last season (Scott Driscoll, Darren Gibbs, Brian Murphy) were not replaced. Four others — Derek Amell, Greg Devorski, Brian Mach and Steve Miller — have been out most of the year. As a result, the NHL's needed to use minor-league referees as linesmen on a few occasions.

The league is also down two referees: Tim Peel (suspended) and Chris Rooney (injured). This doesn't include short-term injuries, which pop up from time to time. It's been a struggle.

- Get well soon, Carey Price. The Canadiens' netminder was injured Monday night in the first period of their 4–1 loss to Edmonton and will miss at least a week in concussion protocol. Cayden Primeau is up on an emergency basis, and could face Calgary this week.

The secondary concern is the roster headaches this creates for Montreal. If they activate Cole Caufield, it will be their last available post-deadline recall. (You get four, and the previous were used up by Paul Byron, Xavier Ouellet and Alexander Romanov.) Adding Caufield would put someone on the taxi squad (Byron?) who cannot be recalled. It's an extremely delicate dance, and I wouldn't want to depend knowing only an injury could make someone like Byron eligible again.

-. Spencer Knight made his NHL debut Tuesday night, as the Panthers beat Columbus 5-1. He might have played sooner, but had to get his equipment modified to NHL standards. His chest protector, pads and pants all had to adjusted. (It's possible he wears one of Sergei Bobrovsky's old chest protectors.)

- Chris Johnston reported last week that the NHL sent a note to all teams warning of increased scrutiny on long-term injury usage, specifically when it came to cap manipulation. I don't get riled up about this issue, since I try to manipulate the rules of every pool I'm in. But it drives some teams absolutely crazy.
more Thoughts
Filed in: NHL Teams, NHL Talk, | KK Hockey | Permalink

by Paul on 04/21/21 at 11:11 AM ET
Comments (2)
Filed in: NHL Talk, | KK Hockey | Permalink

by Paul on 04/21/21 at 08:52 AM ET
Comments (3)
from Neil Best of Newsday,
In case it was not evident before Tuesday night, the Islanders reminded everyone that they are the best hockey team in New York State, routing the Rangers, 6-1, at Nassau Coliseum.

Up next, three games against the Capitals, with whom they are tied for first place in the East Division. Fun? Sure. But even in a 56-game sprint, this regular-season story is starting to get a little stale.

Just wake us in mid-May, will ya, guys?

In the meantime, let us say a few words before it is too late about another interesting New York hockey team, one built for the near future more than the present.

Will the Rangers catch the Bruins for a playoff spot? That is increasingly unlikely. Tuesday's loss, combined with surging Boston's 2-0 victory over the Sabres, left the Rangers six points out with 10 games to play, two fewer than the Bruins have left.

It was a cold, hard slap in the face after four consecutive victories over the Devils' JV squad.

Humbling? "Yeah, sure," Brendan Smith said. "They're a good squad. They're playoff-ready, and we got a little taste of that, for sure."

Said coach David Quinn, "When you lose 6-1 in the fashion we did, it certainly is humbling, that's for sure."

The good, big-picture news for the Rangers is that making the playoffs is of secondary concern. Competing for them is the point, as the young Blueshirts try to deliver on the organization's famed "we're rebuilding" letter of Feb. 8, 2018.
Filed in: NHL Teams, New York Islanders, New York Rangers, | KK Hockey | Permalink

by Paul on 04/21/21 at 07:05 AM ET
Comments (6)
from Terry Koshan of the Toronto Sun,
William Nylander showed up on time on Tuesday night.

Not all of his Maple Leafs teammates could make a similar claim.

We're looking at you, goaltender David Rittich.

After getting a reprieve for missing a team meeting on Monday, Nylander redeemed himself with a couple of assists on two John Tavares goals against the Vancouver Canucks.

As effectively as Nylander played in the offensive zone, Rittich was wretched at the other end, allowing two soft Canucks goals in the third period.

The result was a 6-3 Leafs loss, marking the first time Toronto has lost five in a row since Mike Babcock's last stand as Leafs coach. The Leafs had lost six consecutive games when Babcock was fired on Nov. 20, 2019, and won its first three under Sheldon Keefe.

The fall on Tuesday came 48 hours after the Leafs lost 3-2 in overtime to the Canucks, a loss that included a couple of weak goals on Jack Campbell.

"I'm concerned about our goaltending," Keefe said. "We got to get that sorted out. I'm not concerned about our team. I believe in our group. We played well enough to win, we played well enough to win the other night. But we got to get better goaltending to give our group confidence."
Below are the game highlights.
Filed in: NHL Teams, Toronto Maple Leafs, Vancouver Canucks, | KK Hockey | Permalink

About Kukla's Korner Hockey
Paul Kukla founded Kukla's Korner in 2005 and the site has since become the must-read site on the 'net for all the latest happenings around the NHL.
From breaking news to in-depth stories around the league, KK Hockey is updated with fresh stories all day long and will bring you the latest news as quickly as possible.
Email Paul anytime at pk@kuklaskorner.com
Tweets by @kuklaskorner
Most Recent Blog Posts