Kukla's Korner Hockey
by Paul on 11/19/18 at 09:02 AM ET
Comments (0)
from Benjamin Hochman of the St. Louis Post-Dispatch,
Monday night's Blues game can't be a barometer for how good the Blues are.

But it sure can reveal how bad they are.

Losing this game — or, if anything, playing with a poor effort — is an inexcusable outcome for a team that believes it's better than its record.

The Blues' home opponent is the Los Angeles Kings, the team with the fewest points in hockey. A team that has scored six combined goals in the past five games. A team that's been on the road since Friday.

This should be one of those "take the knife and jam it" games, a mindset Blues GM Doug Armstrong famously described in the 2014 playoffs.

The 7-8-3 Blues must show their fans hungry hockey, desperate hockey, declarative hockey.
Filed in: NHL Teams, St. Louis Blues, | KK Hockey | Permalink

by Paul on 11/19/18 at 08:52 AM ET
Comments (0)
from Mark Spector of Sportsnet,
Talbot surrendered three in four Vegas shots early in the second period Sunday, as the Golden Knights turned a 2-1 deficit into a 4-2 advantage. Then, two more in the opening 3:03 of the third period, just in case there might be a comeback in the offing.

The Golden Knights eventually prevailed by a 6-3 score, at which point Talbot surrenders one more thing:

His label as the No. 1 goaltender for the Edmonton Oilers.

Step right up, Mikko Koskinen. The job is yours as long as you can hold it....

The Oilers have now lost six of their past seven games, and after looking forward to a five-game stretch against Pacific Division opponents that was supposed to serve as a launching pad, Edmonton is 0-2 in the division and is officially a team adrift.

As Talbot loses his starting gig, everyone's job is at stake in Edmonton this morning. From the general manager, whose trade record is simply not good enough, to the head coach who has had four years with this group and is still patching systemic holes on a number of fronts.
below, watch the game highlights and Connor McDavid post-game...
Filed in: NHL Teams, Edmonton Oilers, | KK Hockey | Permalink
Tags: vegas+golden+knights
by Paul on 11/19/18 at 08:34 AM ET
Comments (0)
from Elliott Teaford of the OC Register,
You know it's been an injury-riddled season when even the national anthem singer is on injured reserve. Dawn Wright, the Ducks' long-time and much-beloved performer, announced recently on social media that she's had throat troubles and had finally found a doctor to treat the problem.

Defenseman Hampus Lindholm was the latest of the Ducks' players to be placed on IR, going down and out of the lineup Sunday because of a lower-body injury. Goaltender John Gibson also couldn't play against the Colorado Avalanche because of the flu.

Four of the six defensemen in the Ducks' lineup were rookies, the first time that's happened to the team since before three of them were born, but a lack of experience on the blue line was the least of their worries during a 4-3 overtime loss at Honda Center.

The Ducks squandered a 3-1 lead and dropped their third consecutive game when Mikko Rantanen scored a power-play goal with 1.3 seconds remaining in the five-minute extra period. Nathan MacKinnon scored twice to rally the Avalanche, including the tying goal with 8:40 left in regulation.
Watch the game highlights below.
Filed in: NHL Teams, Anaheim Ducks, Colorado Avalanche, | KK Hockey | Permalink

by Paul on 11/19/18 at 08:19 AM ET
Comments (0)
via Sportsnet,
The legendary Bob Cole joined Ron and Tara on the desk in Mount Pearl, NL for Rogers Hometown Hockey.
Filed in: NHL Media, Hockey Broadcasting, CBC HNIC, | KK Hockey | Permalink
Tags: bob+cole
by Paul on 11/19/18 at 08:09 AM ET
Comments (0)
SUNDAY'S RESULTS
Home Team in Caps
Dallas 6, NY ISLANDERS 2
CAROLINA 2, New Jersey 1
CHICAGO 3, Minnesota 1
Colorado 4, ANAHEIM 3 (OT)
Vegas 6, EDMONTON 3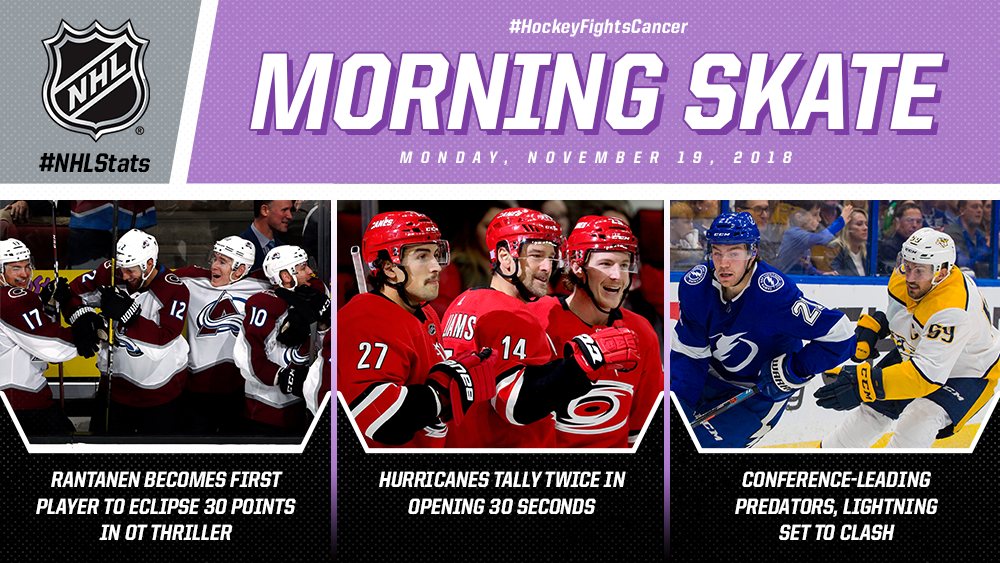 Filed in: NHL Teams, | KK Hockey | Permalink

by Paul on 11/18/18 at 07:23 PM ET
Comments (0)
from Chris Johnston of Sportsnet,
When the general managers met earlier this week in Toronto, they were told the timing of Seattle's anticipated entrance into the league remains open. The NHL isn't convinced the KeyArena revitalization can be completed in time for an October 2020 start, which would push it back to October 2021....

The NHL Seattle group is keeping a low profile in advance of the Dec. 3-4 Board of Governors meeting where they'll officially be granted a franchise, but they did confirm via a statement that they remained focused on a launch 22 months from now:

"NHL Seattle recognizes that its ability to begin to play in 2020 is dependent on the Arena being finished on time. We are confident that we will have a completed arena in time for the 2020 season and we will work closely with the NHL to keep them informed of our progress."

This of high interest to GMs because it will impact the timing of an expansion draft.

If Seattle starts in 2020, current rookies like Vancouver's Elias Pettersson and Montreal's Jesperi Kotkaniemi will be exempt from the process. Should it be delayed until 2021, those players will have to use up one of their team's protection slots.
more topics...
Filed in: NHL Teams, NHL Talk, | KK Hockey | Permalink

by Paul on 11/18/18 at 06:24 PM ET
Comments (0)
from Ken Warren of the Ottawa Citizen,
The question, a few days back, was specifically about whether Ottawa Senators coach Guy Boucher had seen an improvement in Thomas Chabot's play without the puck.

The answer covered a lot more ground, providing an indication of how the young and dynamic club has managed to stay within breathing room of a playoff spot.

"We're really pleased with (Chabot's) development on both sides of the puck," Boucher said. "He's having to play against really good players on a consistent basis. If you look at (Max) Lajoie and him, they're progressing really fast.

"We need that. That's why we're able to win games. Basically, right now, these kids are accelerating the normal process to a maximum. That's as fast as I've seen players grow. Credit to them. They're engaged. They're paying attention to details."

By 'these kids', Boucher was also including rookie forwards Colin White, Brady Tkachuk and — for the past two games — Drake Batherson.
Filed in: NHL Teams, Ottawa Senators, | KK Hockey | Permalink

by Paul on 11/18/18 at 03:35 PM ET
Comments (0)
via Sportsnet,
Brian Burke gets right to the point, discussing James Neal's struggles on the Flames, the difference of being a back-up goalie instead of starting, and why he takes issue with Brad Marchand's antics on the ice.
The Marchand talk starts at the 3:30 mark.
Filed in: NHL Teams, | KK Hockey | Permalink
Tags: brad+marchand, brian+burke
by Paul on 11/18/18 at 10:33 AM ET
Comments (0)
from the CP at Sportsnet,
An Uber driver who posted footage of Ottawa Senators players disparaging one of their coaches and their team's performance says he is sorry for sharing the video and has destroyed a second, unpublished clip.

James Sparklin, an Arizona father of six, told The Canadian Press he has not spoken to the players — Matt Duchene, Chris Wideman, Thomas Chabot, Colin White, Chris Tierney, Dylan DeMelo and Alex Formenton — featured in the footage he posted on YouTube, but received a thanks from a member of the team's administration, when he reached out to offer apologies.

"I called the team…because I wanted to make sure they understood that I have destroyed the other tape. It will never ever see the light of day," he said, describing that video as showing the players entering his van and having a pre-ride discussion about the number of passengers. "I am extremely sorry for what happened and it is not right…I never meant harm on any of the players involved, the coaching staff involved, the owner involved, the town that was involved…I wasn't thinking at all."

An Ottawa Senators spokesperson refuted Sparklin's claim that he apologized, saying, "Based on our review, we have no reason to believe that any such conversation took place."
Filed in: NHL Teams, Ottawa Senators, | KK Hockey | Permalink

by Paul on 11/18/18 at 09:17 AM ET
Comments (0)
from Luke DeCock of the News & Observer,
So here, just short of a quarter of the way through the season, is a turning point. After doing all the right things and failing to be rewarded for most of the past several weeks, the Carolina Hurricanes did none of the right things Saturday night and were duly punished. Duly embarrassed. Duly booed by those fans still willing to put in the effort.

A team that has been able to take pride in its hustle, if not its goal-scoring or goaltending, couldn't even claim that Saturday. After four days off, the Hurricanes took a fifth unscheduled, snoozing their way through a 4-1 loss to the Columbus Blue Jackets in their worst performance of the year and worst under Rod Brind'Amour, whose dogged stoicism finally shattered with a tongue-lashing of the entire bench during a second-period timeout....

This team has a decision to make now: Get back to playing the way it played to start the season, even in the absence of any positive reinforcement, or throw in the towel. By Sunday night, the answer will be clear.

"That's the first game where I have not been happy with everything," Brind'Amour said. "Do you give it a pass? Do you shuffle the deck? I don't know. We'll think about it. We'll look through it again and make an assessment for tomorrow."
Catch the game highlights below.
Filed in: NHL Teams, Carolina Hurricanes, | KK Hockey | Permalink

About Kukla's Korner Hockey
Paul Kukla founded Kukla's Korner in 2005 and the site has since become the must-read site on the 'net for all the latest happenings around the NHL.
From breaking news to in-depth stories around the league, KK Hockey is updated with fresh stories all day long and will bring you the latest news as quickly as possible.
Email Paul anytime at pk@kuklaskorner.com
Tweets by @kuklaskorner
Most Recent Blog Posts