Kukla's Korner Hockey
by Paul on 04/21/18 at 07:59 AM ET
Comments (0)
from Tracey Myers of NHL.com,
Andrew Hammond waited for his opportunity.

The Colorado Avalanche goalie had a taste of the Stanley Cup Playoffs with the Ottawa Senators in 2015, and wanted to have another.

"You want to play meaningful hockey," Hammond said. "When the games mean more, I try to take my game to another level. Obviously, I was able to do that tonight."

Thanks to Hammond, the Avalanche continue to play meaningful hockey.

Hammond made an NHL career high 44 saves, and Sven Andrighetto scored the game-winning goal with 1:28 remaining in third period in a 2-1 victory against the Nashville Predators in Game 5 of the Western Conference First Round at Bridgestone Arena on Friday.

The Predators lead the best-of-7 series 3-2, with Game 6 at Pepsi Center on Sunday...
Below, watch the game highlights and the F&$#)@ hamburglar...
Filed in: NHL Teams, Colorado Avalanche, Nashville Predators, | KK Hockey | Permalink

by Paul on 04/21/18 at 07:46 AM ET
Comments (0)
4 1/2 minutes to watch the action from Friday's Stanley Cup Playoff games.
Filed in: NHL Teams, | KK Hockey | Permalink

by Paul on 04/21/18 at 07:41 AM ET
Comments (0)
FRIDAY'S RESULTS
The Jets recorded the first series win in franchise history, while the Avalanche and Flyers each won in dramatic fashion to avoid elimination and force Game 6 in their respective series.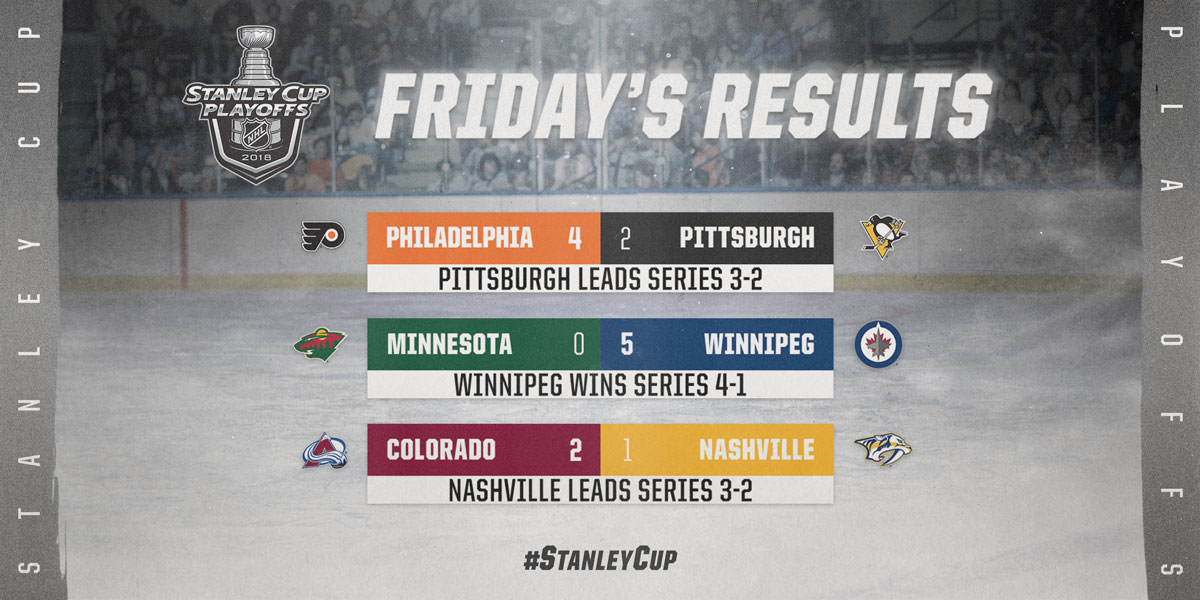 Filed in: NHL Teams, | KK Hockey | Permalink

by Paul on 04/20/18 at 10:47 PM ET
Comments (0)
The Jets will face the winner of Nashville/Colorado.
Tonight's game highlights.
Filed in: NHL Teams, Winnipeg Jets, | KK Hockey | Permalink

by Paul on 04/20/18 at 07:00 PM ET
Comments (0)
NEW YORK (April 20, 2018) – Florida Panthers center Aleksander Barkov, Vegas Golden Knights center William Karlsson and Buffalo Sabres center Ryan O'Reilly are the three finalists for the 2017-18 Lady Byng Memorial Trophy, awarded "to the player adjudged to have exhibited the best type of sportsmanship and gentlemanly conduct combined with a high standard of playing ability," the National Hockey League announced today.
Members of the Professional Hockey Writers Association submitted ballots for the Lady Byng Trophy at the conclusion of the regular season, with the top three vote-getters designated as finalists. The winner will be announced Wednesday, June 20, during the 2018 NHL Awards™ presented by Hulu at the Hard Rock Hotel & Casino in Las Vegas.
Following are the finalists for the Lady Byng Trophy, in alphabetical order
Filed in: | KK Hockey | Permalink

by Paul on 04/20/18 at 06:45 PM ET
Comments (3)
The three road teams, Philadelphia, Minnesota and Colorado are down 3-1. Is it over for all three tonight?
Comment away if you wish to.
Filed in: NHL Teams, | KK Hockey | Permalink

by Paul on 04/20/18 at 05:49 PM ET
Comments (0)
via NHL.com,
The NHL Department of Player Safety explains how they determine the main point of contact of a hit under Rule 48.
Filed in: NHL Talk, | KK Hockey | Permalink

by Paul on 04/20/18 at 02:51 PM ET
Comments (0)
He returns Saturday night.
Filed in: NHL Teams, Toronto Maple Leafs, | KK Hockey | Permalink
Tags: nazem+kadri
by Paul on 04/20/18 at 02:42 PM ET
Comments (1)
from Luke DeCock of the News & Observer,
Ah, the great moments of the Bill Peters era. There was … or … uh … yeah.

Really, it comes down to yapping at Eddie Lack from down the hallway last year – "make a (bleeping) save" – or his epic rant in February about how sending the same team out again would be "unacceptable" at which point the Carolina Hurricanes proceeded to send the same team out again for the next game. Never anything on the ice.

Peters spent four years with the Carolina Hurricanes, made some bad commercials for water-purification systems, never made the playoffs and exits with essentially the same record as his predecessor, Kirk Muller. Peters was a terrific tactician who never connected with his players. This season, they had clearly tuned him out by December. He should have been fired then.

Then again, if Scott Darling isn't grossly negligent in net, the Hurricanes are in the playoffs right now (or at least, would have been earlier this week) and Peters is still in charge.
Filed in: NHL Teams, Carolina Hurricanes, | KK Hockey | Permalink
Tags: bill+peters
by Paul on 04/20/18 at 02:36 PM ET
Comments (0)
A second fishing excursion has been added.
Couldn't schedule the first one (which is still open), then how about this one?
Join NHL Legends July 21st - 25th, 2018 for the trip of a lifetime by traveling to the edge of Haida Gwaii, BC Canada to spend four exciting days fishing, sightseeing and hanging with the Legends of the NHL.

Marty McSorley, Owen Nolan, Jamie Huscroft and Wayne McBean are eager to spend the week with fans telling stories from their time in the NHL over delicious meals, while fishing on the open ocean in a very exclusive setting surrounded by untamed wildlife.
This all-inclusive adventure trip guarantees memories that will last a lifetime and dozens of pounds of fish to bring back for your friends and family.
This incredible experience includes:
Welcome cocktail reception in Vancouver penthouse suite
Overnight in Vancouver – private dinner with renowned chef
$500 gift bag and personalized gift (jerseys)
Chartered flight from Vancouver and helicopter ride to resort
$2500 in fish to take home
Whiskey tasting experience
Oyster shucking presentation and lesson with vodka tasting
4-day fully guided fishing experience
4-day jaw-dropping wildlife viewing
Prizes given out everyday
Filed in: | KK Hockey | Permalink

« Previous ‹ First < 5 6 7 8 9 > Last › Next »
About Kukla's Korner Hockey
Paul Kukla founded Kukla's Korner in 2005 and the site has since become the must-read site on the 'net for all the latest happenings around the NHL.
From breaking news to in-depth stories around the league, KK Hockey is updated with fresh stories all day long and will bring you the latest news as quickly as possible.
Email Paul anytime at pk@kuklaskorner.com
Tweets by @kuklaskorner
Most Recent Blog Posts