Kukla's Korner Hockey
by Paul on 03/21/18 at 10:00 AM ET
Comments (0)
Sportsnet style, 8 1/2 minutes to watch.
Filed in: NHL Teams, | KK Hockey | Permalink

by Paul on 03/21/18 at 09:35 AM ET
Comments (3)
from Rob Rossi at the Pittsburgh Tribune-Review,
A hockey player isn't among the 20 athletes designated as dominant during ESPN The Magazine's 20-year run . This should surprise nobody....

To be fair, were there more fans of the NHL in America, ESPN probably wouldn't mostly treat the NHL as simply a league to which it is obligated to pay a smattering of attention. Of course, if ESPN did pay more attention to the NHL, the league probably would draw in a bigger American audience.

Who cares, right?

Well, you should care. If you're a fan of the Penguins or Sidney Crosby or a Penguins fan because of Crosby, you should care at least a little.
Filed in: NHL Teams, Pittsburgh Penguins, | KK Hockey | Permalink
Tags: sidney+crosby
by Paul on 03/21/18 at 09:25 AM ET
Comments (1)
from Steve Rosenbloom of the Chicago Tribune,
Getting swept in a playoff series was deemed unacceptable last year. People lost jobs. Big verbal fingers were wagged. So, what does missing the playoffs altogether for the first time in 10 years bring?

The firing of GM Stan Bowman?

The end of Joel Quenneville as coach?

Both?

The argument for firing Bowman starts with Brent Seabrook's inexplicable contract that still has six years and more than $41 million remaining with a no-movement clause that makes it less a playing contract than a prison sentence.

The argument also extends to the no-movement clauses given to former heroes such as Jonathan Toews and Duncan Keith. Toews isn't the No. 1 center on a Cup winner anymore the way Keith isn't a No. 1 defenseman on a future champion.
Filed in: NHL Teams, Chicago Blackhawks, | KK Hockey | Permalink

by Paul on 03/21/18 at 09:18 AM ET
Comments (3)
from Mark Spector of Sportsnet,
So we get two teams in the National Hockey League playoffs. Not five, like last year. But hey — it's better than the zero that qualified in 2016.

So, with (hopefully) a few rounds of Canadian content on tap beginning in a few weeks, let's take a look at what we have. It's an interesting dichotomy: Canada's marquee club, Toronto, a Hockey Night in Canada staple; and the team whose time zone doesn't work for anyone, arguably the least sexy market in the NHL in Winnipeg.

A Canadian hockey fan can't avoid the Maple Leafs even if they tried — but why would you? Toronto is perhaps the most entertaining team we have this season, with a budding superstar in Auston Mathews, enough offence to keep the lamp lit, and just loose enough defensively that Frederik Andersen (when healthy) is one of the three stars whenever Toronto wins.

And the Jets, that club you've been hearing about all winter and have no doubt been meaning to watch, with a sniper in Patrik Laine who is on his way to becoming a generational goal scorer. Now that your club is toast — we're talking to you Calgary, Vancouver, Edmonton, Ottawa and Montreal — do yourself a favour and see what a proper, slow and successful build is supposed to look like.
Filed in: NHL Teams, Toronto Maple Leafs, Winnipeg Jets, | KK Hockey | Permalink

by Paul on 03/21/18 at 08:48 AM ET
Comments (0)
Just a little short of 5 minutes long.
Filed in: NHL Teams, | KK Hockey | Permalink

by Paul on 03/21/18 at 08:40 AM ET
Comments (0)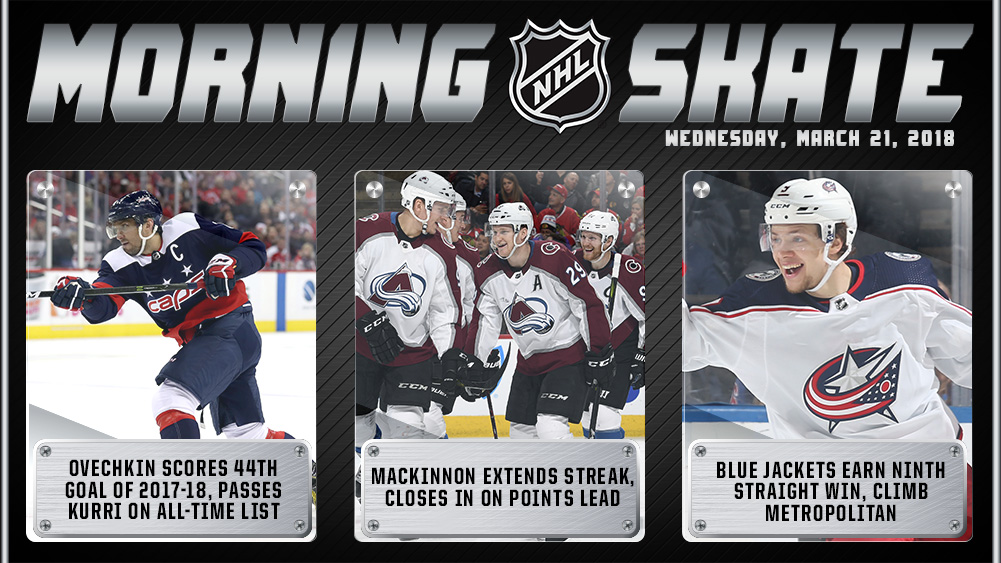 MONDAY'S RESULTS
Home Team in Caps
Pittsburgh 4, NY ISLANDERS 1
Columbus 5, NY RANGERS 3
WASHINGTON 4, Dallas 3
Edmonton 7, CAROLINA 3
Florida 7, OTTAWA 2
DETROIT 5, Philadelphia 4 (SO)
TAMPA BAY 4, Toronto 3
WINNIPEG 2, Los Angeles 1 (OT)
Colorado 5, CHICAGO 1
VEGAS 4, Vancouver 1
SAN JOSE 6, New Jersey 2
Filed in: NHL Teams, | KK Hockey | Permalink

by Paul on 03/20/18 at 06:58 PM ET
Comments (1)
from Dan Rosen of NHL.com,
NHL general managers want to give the final authority on goaltender interference reviews initiated by the coach's challenge to the Situation Room in Toronto.

The on-ice officials have the final authority on these reviews, but they consult with members of the NHL Hockey Operations Department in the Situation Room before deciding to allow or overturn the goal.

The League hopes to an announcement on the potential change in the review process Wednesday, but it is still determining whether it needs approval from other organizations, including the NHL Players' Association, the NHL Officials Association and the Board of Governors, because it involves a change in playing conditions.

The hope is to implement the change immediately.
continued with offside and delay of game talk too...
Filed in: NHL Teams, NHL Talk, | KK Hockey | Permalink

by Paul on 03/20/18 at 02:37 PM ET
Comments (4)
OTTAWA - The Ottawa Senators issued the following statement regarding team captain Erik Karlsson and his wife, Melinda.
"The collective thoughts and prayers of the Ottawa Senators organization, the city of Ottawa and entire hockey community rest with Erik and Melinda Karlsson following the loss of their son.
We ask that you respect the family's wishes for privacy during the grieving process."
Filed in: | KK Hockey | Permalink
Tags: erik+karlsson
by Paul on 03/20/18 at 01:26 PM ET
Comments (1)
Filed in: NHL Teams, NHL Talk, | KK Hockey | Permalink

by Paul on 03/20/18 at 10:11 AM ET
Comments (0)
Yes, it is a slow morning.
via the YouTube page of the NHL,
In our latest Puck Personality Player Poll, we ask NHL stars like Tuukka Rask, Erik Karlsson and Roman Josi in what order do they put on their shin pads, pants and skates and the results are...interesting.
Filed in: NHL Teams, | KK Hockey | Permalink

About Kukla's Korner Hockey
Paul Kukla founded Kukla's Korner in 2005 and the site has since become the must-read site on the 'net for all the latest happenings around the NHL.
From breaking news to in-depth stories around the league, KK Hockey is updated with fresh stories all day long and will bring you the latest news as quickly as possible.
Email Paul anytime at pk@kuklaskorner.com
Recommended Sportsbook
MyBookie.ag
Tweets by @kuklaskorner
Most Recent Blog Posts