Kukla's Korner Hockey
by Paul on 03/24/18 at 03:59 PM ET
Comments (0)
"Honestly, I'm a really happy person, I just see the beauty and the struggle. I play pro hockey for a living, what is there to be mad about? I'm a kid who knows this is what I love to do. I don't want to upset people by saying I'm happy not playing in the NHL. I'd be happier if I was playing in the NHL for sure. But it was really hard for me up there at the beginning of the season."
Filed in: NHL Teams, Non-NHL Hockey, | KK Hockey | Permalink

by Paul on 03/24/18 at 03:43 PM ET
Comments (0)
from Larry Brooks of the New York Post,
Goaltender interference controversies will not diminish by substituting one subjective opinion from an officiating supervisor based in Toronto for another subjective opinion from a referee on the ice, but the peril of incurring brain trauma will persist as long as both the NHL and NHLPA mutually tolerate blows to the head — such as the one St. Louis' Brayden Schenn laid on Boston's unaware David Krejci on Wednesday.

You can argue Krejci, who looked down momentarily to move a puck out of the corner on his backhand, should have been aware he was in imminent danger. Clearly, he had placed himself in a vulnerable position. You can also believe, as did the Department of Player Safety in declining to prosecute Schenn, that the hit was unavoidable because of the Bruin's body position.

Upon review, however, it certainly seems as if Schenn could have avoided a direct hit to Krejci's head. But then, according to the rules adopted by the league and codified by the union, that wasn't Schenn's obligation. There is no rule in the book that turns primary contact with the head into an automatic penalty, let alone a suspendable offense.
continued plus more topics like this...
Gary Bettman believes the coaches' challenge for goaltender interference should be used only "when it's a completely blown call."

Apparently because in the commissioner's world, there is such a thing as partially blown call.
If you missed or want to review the Schenn hit, watch below.
Filed in: NHL Teams, Boston Bruins, St. Louis Blues, NHL Talk, | KK Hockey | Permalink

by Paul on 03/24/18 at 02:09 PM ET
Comments (0)
from Fluto Shinzawa of the Boston Globe,
Alex Ovechkin (44 goals), Steven Stamkos (27), and Tyler Seguin (39) are among the league's best at putting pucks in nets. Ditto for Brad Marchand (31).

The fascinating part is how each approaches his craft. Ovechkin, Stamkos, and Seguin, right-shot forwards, do not hesitate to rip off slap shots. Through 74 games, Ovechkin led all forwards with 93 slappers, according to the NHL. Stamkos had 71, second-most after Ovechkin. Seguin was in the No. 3 hole with 62 slap shots.

Through 58 games, Marchand had none.

"That sounds about right," Marchand said. "I don't think I've taken a slap shot in a lot of years. I don't plan on taking one any time soon either. My stick's too long to take a slap shot. It would just be an embarrassment to my team and myself."
more plus other hockey topics...
Filed in: NHL Teams, Boston Bruins, | KK Hockey | Permalink
Tags: brad+marchand
by Paul on 03/24/18 at 08:41 AM ET
Comments (0)
from Kevin McGran of the Toronto Star,
It's 9:30 in the morning on a Saturday and Don Cherry is at his home in Mississauga when the phone rings.

Cherry answers, as he has for 33 years: "Don's Bicycle Shop, Big Wheel Don talking."

It's Ron MacLean the other end, at his home in Oakville. He doesn't have the foggiest idea why Cherry answers the way he does. But with Cherry — not surprisingly — there's a story.

"You know who told me that? I'll tell you who told me that. Not to drop names, but I was coaching the Boston Bruins and the phone rang and Bobby Orr was in my office and he picked it up and said, 'Don's Bicycle Shop.' And ever since then, I've been fooling around with that. Bobby Orr gave me that."...

From executive producer Mitch Kerzner to a staff of over 91 in two locations dealing with 32 in-rink cameras and about 100 screens — each subdivided into more screens — able to show live feeds and replays instantly. There's producer Brian Spear, who oversees the storytelling of the pre-game and intermission segments at the 10th floor of the CBC building. A few blocks away, by the dumpsters in the basement of the Air Canada Centre, producer Sherali Najak barks orders for shots and replays within a truck, overseeing the live action.
Filed in: NHL Media, Hockey Broadcasting, CBC HNIC, | KK Hockey | Permalink

by Paul on 03/24/18 at 08:35 AM ET
Comments (0)
from Jason Bell of the Winnipeg Free Press,
Patrik Laine's foot bruise was big news in Winnipeg for about 72 hours but quickly morphed into little more than a footnote Friday night.

The Jets forward was, indeed, a player against the Anaheim Ducks despite all indications to the contrary just a day before.

But Kyle Connor, another of the team's talented shooters, stole the headline from him.

The 21-year-old from Shelby Township, Mich., fired his second overtime winner of the week to lift the Jets to a 3-2 victory over the visiting Ducks.
Watch the highlights below...
Filed in: NHL Teams, Anaheim Ducks, Winnipeg Jets, | KK Hockey | Permalink

by Paul on 03/24/18 at 08:08 AM ET
Comments (1)
This one was a real burner and we've got 48 hours to get ready to play again. We've got to be a lot better with the puck under pressure when the game is on the line. We made too many errors with the puck and it cost us. We had lots of effort and everything else we've been having, but execution-wise, we made some mistakes in the third period and we paid for them. Bottom line."
-Ken Hitchcock, head coach of the Dallas Stars after losing 3-2 to Boston, blowing a two goal lead in the 3rd. More post-game comments from the Stars by Mike Heika of the Dallas Morning News.
The Stars playoff hope are fading quickly, 4 point out of the wild card race and the two teams they are chasing have played one less game.
Game highlights are below along with "it's open season on Brad Marchand."
Filed in: NHL Teams, Boston Bruins, Dallas Stars, | KK Hockey | Permalink

by Paul on 03/24/18 at 07:55 AM ET
Comments (0)
from Chris Ryan of NJ.com,
Beating the Penguins on their home has been impossible in recent months, except for the Devils.

The Devils beat the Penguins, 4-3 in overtime, on Friday to give the two-time defending Stanley Cup winners their second loss at home in their past 17 games, and both of those losses came against the Devils.

Taylor Hall's winning goal capped off a wild, emotional game where both teams made big pushes to rack up goals. Ultimately, the Devils took the final game of their six-game road rip to head home with two valuable points.
Watch the game highlights below...
The Devils sit in the 2nd wild card spot, 3 points ahead of the Florida Panthers but the Panthers have 2 games in-hand.
Filed in: NHL Teams, New Jersey Devils, Pittsburgh Penguins, | KK Hockey | Permalink

by Paul on 03/24/18 at 07:38 AM ET
Comments (0)
(Mar. 23, 2018) – St. Louis Blues President of Hockey Operations and General Manager Doug Armstrong announced tonight that defenseman Carl Gunnarsson will miss the remainder of the season after suffering an ACL tear in his left knee during the first period of the Blues' 4-1 win over the Vancouver Canucks. After leaving the ice, Gunnarsson was evaluated by Dr. Matt Matava and Dr. Matt Smith before being taken to Barnes West County Hospital where an MRI revealed the tear. He will undergo surgery once the swelling in his knee subsides and will be re-evaluated in six months.
Gunnarsson, 31, has dressed in 63 games for the Blues this season, posting nine points (five goals, four assists) and 22 penalty minutes. The 6'2, 198-pound defenseman is currently in his fourth season with the Blues after the club acquired him via trade from the Toronto Maple Leafs on June 28, 2014. Overall, the Orebro, Sweden, native has appeared in 556 career NHL regular season games, amassing 122 points (25 goals, 97 assists) and 151 penalty minutes.
---
Filed in: NHL Teams, St. Louis Blues, | KK Hockey | Permalink
Tags: carl+gunnarsson
by Paul on 03/24/18 at 07:04 AM ET
Comments (0)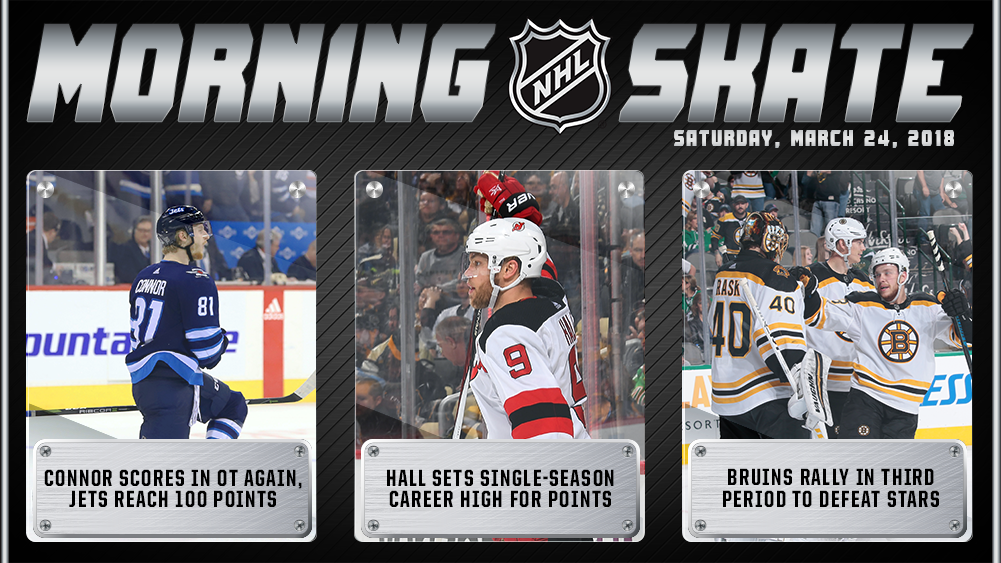 FRIDAY'S RESULTS
Home Team in Caps
Montreal 3, BUFFALO 0
New Jersey 4, PITTSBURGH 3 (OT)
ST. LOUIS 4, Vancouver 1
WINNIPEG 3, Anaheim 2 (OT)
Boston 3, DALLAS
Filed in: NHL Teams, | KK Hockey | Permalink

by Paul on 03/23/18 at 12:34 PM ET
Comments (0)
NEW YORK (March 23, 2018) – National Hockey League Commissioner Gary Bettman today released the following statement regarding the passing of Florida Panthers founding owner H. Wayne Huizenga:
"Wayne Huizenga was an entrepreneurial visionary who possessed boundless energy, drive and imagination, a devotion to his community in South Florida and a passion for sports. Those all were vividly reflected in his founding of the Florida Panthers, the construction of a world-class arena in Sunrise and his leadership of the franchise to an appearance in the 1996 Stanley Cup Final in just its third year in existence.
"While Wayne established South Florida as a hockey market, he devoted as much time and effort to education-focused philanthropic efforts that benefited his beloved community in many ways.
"The National Hockey League sends its condolences to his family and to all throughout the sports and business worlds who Wayne touched and inspired – including the countless hockey fans and players throughout Florida who came to the game as a result of his vision."
Filed in: NHL Teams, Florida Panthers, | KK Hockey | Permalink
Tags: h.+wayne+huizenga
About Kukla's Korner Hockey
Paul Kukla founded Kukla's Korner in 2005 and the site has since become the must-read site on the 'net for all the latest happenings around the NHL.
From breaking news to in-depth stories around the league, KK Hockey is updated with fresh stories all day long and will bring you the latest news as quickly as possible.
Email Paul anytime at pk@kuklaskorner.com
Recommended Sportsbook
MyBookie.ag
Tweets by @kuklaskorner
Most Recent Blog Posts