Kukla's Korner Hockey
by Paul on 12/09/18 at 01:58 PM ET
Comments (0)
Watch the hit if you missed it earlier.
Filed in: NHL Teams, Toronto Maple Leafs, | KK Hockey | Permalink
Tags: zach+hyman
by Paul on 12/09/18 at 01:01 PM ET
Comments (0)
from Sam McCaig of The Hockey News,
What have we learned as the 2018-19 NHL season has unfolded? Well, lots of stuff....

The Tampa Bay Lightning are riding high – first place overall – and it doesn't matter where they play. The NHL's No. 1 team is No. 1 on the road and (almost) No. 1 at home. The Bolts have the best points percentage on the road (.750, 10-3-1) and they have the second-best points percentage at home (.765, 13-4-0), barely behind Boston (.769, 10-3-0). Tampa Bay is the league's most lethal team, averaging nearly four goals per game (3.94), while ranking in the top 10 in goals-against average (2.81) despite the fact starting goalie Andrei Vasilevskiy has been sidelined with a fractured foot since mid-November. (He's expected to return in the next week or two.) The Lightning have advanced to the Eastern Conference final three times – and the Stanley Cup final once – in the past four years, and they're certainly looking like the team to beat this season.

- Nikita Kucherov and Johnny Gaudreau, at the ripe old age of 25, are the elder statesmen at the top of the NHL scoring race. Among the league's leading seven scorers, the Lightning's Kucherov and Calgary Flames' Gaudreau are the greybeards compared to Mikko Rantanen (22), Nathan MacKinnon (23), Connor McDavid (21), Mitch Marner (21) and Brayden Point (22). The rest of the top 10 (and ties) has some 30-something representation – Alex Ovechkin (33), Blake Wheeler (32) and Claude Giroux (30) – but there's also another young gun, too, in Buffalo's Jack Eichel (22). The future looks red-light bright.
Filed in: NHL Teams, | KK Hockey | Permalink

by Paul on 12/09/18 at 12:26 PM ET
Comments (0)
Chris Johnston of Sportsnet expands on the talk from Saturday Headlines.
A few bullet points.
- Duchene likes the city and team, but has played just eight playoff games during his NHL career. Approaching age 28 he wants to be part of a winner. He will also be influenced to some extent by the future of Mark Stone, Ottawa's other pending UFA forward who can't sign an extension before Jan. 1.

If Stone stays, there's a better chance he does, too.

- Kyper certainly made a big headline, tossing right-shot defenceman Alex Pietrangelo's name into the rumour mill and attaching it to the Toronto Maple Leafs during our "Headlines" segment.

It would take some doozy of a trade for the Leafs and Blues to make that one work — although with the teams going in opposite directions there's at least the motivation to explore a potential fit.

- The Anaheim Ducks are actively searching for scoring help, even after acquiring Daniel Sprong earlier in the week. The Carolina Hurricanes want a top-six forward. Jim Rutherford is hamstrung by cap issues in Pittsburgh, but there's no way he's going to sit idly by with his Penguins out of playoff position.

Chicago, Los Angeles and St. Louis are at the very bottom of the standings and in need of a refresh.
more on each of the above...
.
Filed in: NHL Teams, | KK Hockey | Permalink

by Paul on 12/09/18 at 11:13 AM ET
Comments (0)
16 seconds short of 3 minutes to watch NHL bloopers from the very recent past.
Filed in: NHL Teams, | KK Hockey | Permalink

by Paul on 12/09/18 at 09:28 AM ET
Comments (2)
via Kevin Paul Dupont of the Boston Globe,
"I thought it was late. I thought it was unnecessary," said Bruins coach Bruce Cassidy, reviewing the hit, for which Hyman was tossed from the game. "If the league takes a look at it . . . usually they do . . . but again, it's one of those things, you're at a point in the game where there hasn't been a lot of bodychecking from their team and all of a sudden there's a late, blindside, unsuspecting one . . . it annoys you.

"Especially when it's Charlie, you wonder, 'Are they targeting him, or not?' You don't know that — I'd like to think it was just a guy who got there late and didn't pull up."
Filed in: NHL Teams, Boston Bruins, Toronto Maple Leafs, | KK Hockey | Permalink
Tags: charlie+mcavoy, zach+hyman
by Paul on 12/09/18 at 03:43 AM ET
Comments (0)
from Damien Cox of Sportsnet,
Hockey seasons go in peaks and valleys, ups and downs. One day you're unbeatable, the next day you can't imagine winning another game.

The Buffalo Sabres are a great example right now. They won 10 straight. Now they've lost five straight.

The Toronto Maple Leafs, meanwhile, seem to be in a mode where they've decided a full 60 minutes of focused hockey is for the other teams. You know, the teams without all the fancy young forwards. Along with that, they've also decided defending is for the less skilled. Competing hard, too.

The Leafs got away with such a laissez-faire performance at home Thursday against lowly Detroit, at least partially. They were so shoddy over 40 minutes they deserved to lose. They got a point out of it with a third-period comeback before losing in overtime.

Saturday night in the Massachusetts capital, they didn't get away with a nearly identical effect.
Below, catch the game highlights of Boston's 6-3 win over Toronto.
Filed in: NHL Teams, Boston Bruins, Toronto Maple Leafs, | KK Hockey | Permalink

by Paul on 12/09/18 at 02:51 AM ET
Comments (0)
SATURDAY'S RESULTS
Home Team in Caps
Philadelphia 6, BUFFALO 2
LOS ANGELES 5, Vegas 1
BOSTON 6, Toronto 3
OTTAWA 2, Pittsburgh 1 (OT)
NY Islanders 3, DETROIT 2
TAMPA BAY 7, Colorado 1
NY Rangers 5, FLORIDA 4 (SO)
Washington 4, COLUMBUS 0
San Jose 5, ARIZONA 3
CALGARY 5, Nashville 2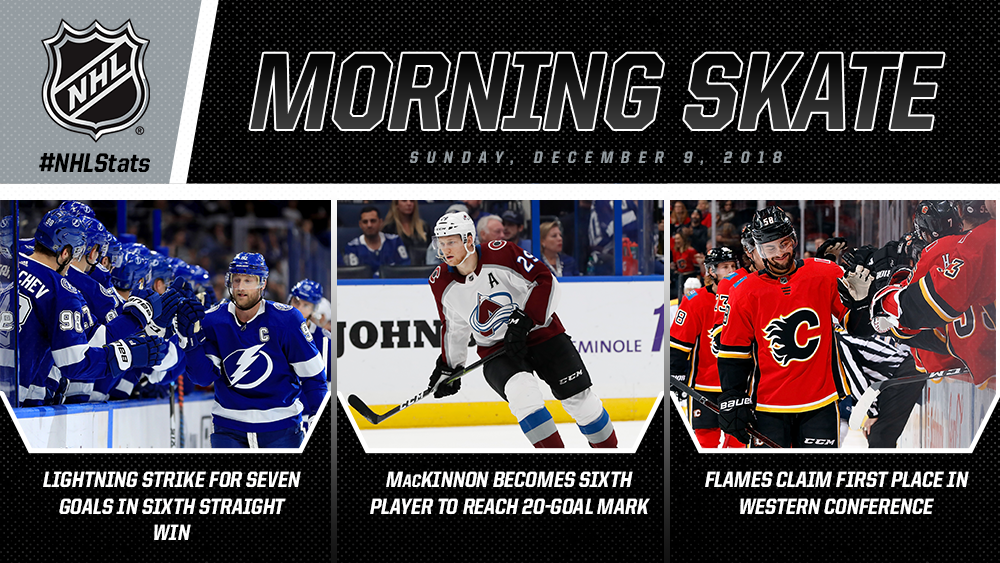 Filed in: NHL Teams, | KK Hockey | Permalink

by Paul on 12/08/18 at 09:17 PM ET
Comments (1)
Topics discussed by the panel include Matt Duchene's injury and his contract talks, Alex Pietrangelo's future in St. Louis, Leafs need to get Matthews signed and all the teams who are actively seeking a trade. Also discussed at the recent BOG meeting was expanding the playoffs, all done in quiet.
via Sportsnet,
Filed in: NHL Teams, | KK Hockey | Permalink

by Paul on 12/08/18 at 08:18 PM ET
Comments (0)
Discussed on Coach's Corner by Don Cherry and Ron MacLean- The play of Thomas Chabot, Mitch Marner on taking a hit, big hits, a suggestion for Patrik Laine, Matt Dumba "turtled, chip-ins and a few more topics.
via Sportsnet,
added 8:36pm, YouTube version below.
Filed in: NHL Teams, NHL Media, Hockey Broadcasting, CBC HNIC, | KK Hockey | Permalink
Tags: don+cherry, ron+maclean
by Paul on 12/08/18 at 08:14 PM ET
Comments (0)
from Steve Simmons of the Toronto Sun,
- Why is there training camp and why is there an NHL pre-season? Watch Nylander in his first game back against Detroit and the question is pretty much answered for you.

- The giant pressure spots in the NHL right now are San Jose, Minnesota and St. Louis. Peter DeBoer is on the clock with the Sharks and the vibe around the team seems so bad right now that Erik Karlsson is hinting he won't sign to stay there next season. In Minnesota, after a great start, the Wild is playing horrible hockey, which tests rookie GM Paul Fenton for the very first time. And the whole year seems wrong in St. Louis, where the Blues are either slow or just play slow.

- A good chunk of media seems myopicly obsessed with John Chayka, the young GM of the Arizona Coyotes. Who knows? Maybe one of these years Chayka will actually manage a team that makes the playoffs. In the meantime, there's a whole lot of hockey people I trust and believe who call the Coyotes front office hockey's most dysfunctional. Somebody's right here and somebody's wrong. The question is: Who?
Filed in: NHL Teams, | KK Hockey | Permalink

About Kukla's Korner Hockey
Paul Kukla founded Kukla's Korner in 2005 and the site has since become the must-read site on the 'net for all the latest happenings around the NHL.
From breaking news to in-depth stories around the league, KK Hockey is updated with fresh stories all day long and will bring you the latest news as quickly as possible.
Email Paul anytime at pk@kuklaskorner.com
Tweets by @kuklaskorner
Most Recent Blog Posts