Kukla's Korner Hockey
by Paul on 01/19/18 at 08:34 AM ET
Comments (0)
from Paul Gackle of the Mercury News,
Martin Jones' post-injury struggles continued in Denver Thursday night, raising questions about whether he's fully healthy and still the Sharks best option in goal.

Jones surrendered goals on three-consecutive shots in the first period of the Sharks 5-3 loss to the Colorado Avalanche (25-16-3), putting his team into an early hole that it couldn't climb out of despite a late charge.

The Sharks goalie could be seen walking out of his team's locker room after the loss with a noticeable limp. Jones was walking out of the arena with his weight predominantly on his left leg, suggesting that he's nursing a lower-body ailment on his right side.

It wouldn't be entirely surprising if Jones is still fighting through an injury he suffered in the third period of a game on Nov. 25 that caused him to miss one start.
Filed in: | KK Hockey | Permalink
Tags: martin+jones
by Paul on 01/19/18 at 08:29 AM ET
Comments (18)
from Greg Wyshynski of ESPN,
The National Hockey League said Thursday that it's aware of the backlash over Kid Rock performing at the 2018 All-Star Game in Tampa, saying that the decision to hire him was "purely based" on his entertainment value and history as a hockey fan.

The 47-year-old singer has drawn attention in the last year for endorsing President Donald Trump, his history of displaying confederate flags at concerts, criticism of NFL quarterback Colin Kaepernick's protests during the national anthem and anti-transgender comments made during a concert....

Steve Mayer, NHL executive vice president and executive producer for programming and creative development, acknowledged the All-Star Game backlash. While the NHL did consider Kid Rock's recent controversies, "our sole objective is to choose musical acts to perform at our events and entertain our fans," Mayer told ESPN in an interview Thursday.
Filed in: NHL Talk, | KK Hockey | Permalink
Tags: kid+rock
by Paul on 01/19/18 at 08:03 AM ET
Comments (0)
from Joe Smith of the Tampa Bay Times,
The door to the Lightning dressing room remained closed a little longer than usual Thursday night, and that wasn't surprising.

After the kind of performance displayed in its 4-1 loss to the expansion Golden Knights, this had team meeting written all over it. No specifics were given about what was discussed.

"None of your business," Anton Stralman said.

But what players did say after the doors were open was telling about what's behind this recent funk, the Lightning having lost four of its past six.

"It all starts with how we work," Stralman said. "And we're not a good team when we don't work. And (Thursday) was one of those nights we didn't show.

"(Vegas) is as good team, but I don't think they did anything remarkable out there. They played simple, and we just didn't put up a fight. And that's on us."
watch the game highlights below...
Filed in: NHL Teams, Tampa Bay Lightning, | KK Hockey | Permalink
Tags: vegas+golden+knights
by Paul on 01/19/18 at 07:52 AM ET
Comments (5)
Dustin Brown received a game misconduct for boarding last night.
Below, Evgeni Malkin, nothing for his stick work...
Filed in: NHL Teams, Los Angeles Kings, Pittsburgh Penguins, | KK Hockey | Permalink
Tags: dustin+brown, evgeni+malkin
by Paul on 01/19/18 at 07:40 AM ET
Comments (0)
from Terry Koshan of the Toronto Sun,
An angry but matter-of-fact Andersen came out verbally swinging after the Leafs lost by a goal for the fourth consecutive game, falling 3-2 in overtime to the Philadelphia Flyers.

The loss at Wells Fargo Center came after the Leafs built a 2-0 lead in the second period, only to fritter it away in the third.

"We have to figure out who wants to commit to playing for the team," Andersen said. "We've got to look at the attitude. We played well enough for two periods, but we've got to find a way to keep the foot on the gas the whole game. We can't be satisfied with two periods."
Below, watch Andersen post-game...
Filed in: NHL Teams, Philadelphia Flyers, Toronto Maple Leafs, | KK Hockey | Permalink
Tags: frederik+andersen
by Paul on 01/19/18 at 07:35 AM ET
Comments (0)
Just south of 8 minutes long.
Filed in: NHL Teams, | KK Hockey | Permalink

by Paul on 01/19/18 at 07:26 AM ET
Comments (0)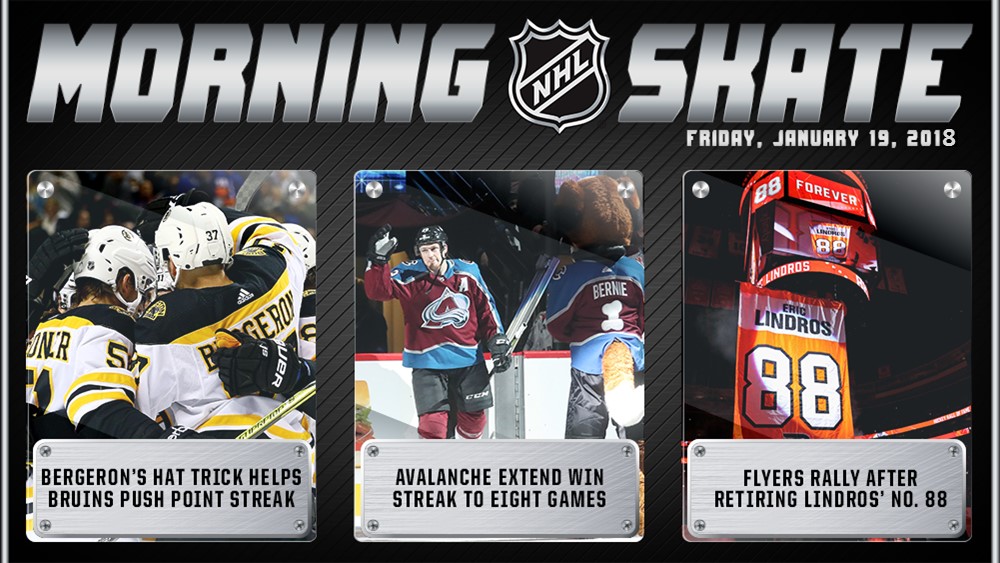 THURSDAY'S RESULTS
Home Team in Caps
NEW JERSEY 4, Washington 3 (OT)
Boston 5, NY ISLANDERS 2
PHILADELPHIA 3, Toronto 2 (OT)
COLUMBUS 2, Dallas 1 (SO)
NY RANGERS 4, Buffalo 3
St. Louis 4, OTTAWA 1
Vegas 4, TAMPA BAY 1
NASHVILLE 3, Arizona 2 (SO)
COLORADO 5, San Jose 3
Pittsburgh 3, LOS ANGELES 1
Filed in: NHL Teams, | KK Hockey | Permalink

by Paul on 01/18/18 at 07:59 PM ET
Comments (0)
Congrats Eric Lindros.
Filed in: NHL Teams, Philadelphia Flyers, | KK Hockey | Permalink
Tags: eric+lindros
by Paul on 01/18/18 at 07:23 PM ET
Comments (0)
from TSN,
One of the Canadiens' most glaring problems is their lack of a first-line centre. An obvious solution would be New York Islanders' star John Tavares, should he hit the open market this off-season. Dreger said that while Tavares leaving the Islanders is unlikely, the Habs have no choice but to be ready just in case.

"It's a pipedream. I'm still in the camp that believes that Tavares and the Islanders are going to find that middle ground. He'll stay and quite possibly finish his career with the Islanders."

"In Tavares you have to be all-in if you're the Canadiens, you're so desperate up the middle of the ice. I had an NHL executive tell me earlier this week that he believes that if Tavares goes to market, someone is going to offer a seven-year term at $15 million per season. If you're the Canadiens with $9 million in cap space right now, and that's going to grow in the off-season, if he hits the market, you need to be one of those teams ready to pony up that kind of dough."
more on Montreal trade options...
Filed in: NHL Teams, Montreal Canadiens, New York Islanders, | KK Hockey | Permalink
Tags: john+tavares
by Paul on 01/18/18 at 07:17 PM ET
Comments (3)
Filed in: NHL Teams, NHL Talk, | KK Hockey | Permalink

« Previous ‹ First < 2 3 4 5 6 > Last › Next »
About Kukla's Korner Hockey
Paul Kukla founded Kukla's Korner in 2005 and the site has since become the must-read site on the 'net for all the latest happenings around the NHL.
From breaking news to in-depth stories around the league, KK Hockey is updated with fresh stories all day long and will bring you the latest news as quickly as possible.
Email Paul anytime at pk@kuklaskorner.com
Recommended Sportsbook
MyBookie.ag
Tweets by @kuklaskorner
Most Recent Blog Posts