Kukla's Korner Hockey
by Paul on 01/21/18 at 10:15 AM ET
Comments (2)
Carey Price..
Or Pekka Rinne?
Filed in: NHL Teams, Montreal Canadiens, Nashville Predators, | KK Hockey | Permalink

by Paul on 01/21/18 at 09:55 AM ET
Comments (5)
from Paul Roumeliotis of NBCChicago,
Probably not the way the Blackhawks wanted to start their second half of the season.

After a five-day break, the Blackhawks suffered a brutal 7-3 loss to the New York Islanders on Saturday night at the United Center. This coming after a 4-0 loss to the Detroit Red Wings on home ice last Sunday.

"It was a game we had to win," Quenneville said after Saturday's loss. "Disappointing in a lot of ways."

The Blackhawks needed both goaltenders to get through 60 minutes. Anton Forsberg and Jeff Glass combined for 39 saves on 46 shots.
Game highlights are below...
Filed in: NHL Teams, Chicago Blackhawks, New York Islanders, | KK Hockey | Permalink

by Paul on 01/21/18 at 09:48 AM ET
Comments (0)
via the San Jose Sharks,
15-year-old Make-a-Wish recipient Hayden Bradley joins the Sharks and takes the opening ceremonial faceoff against Sidney Crosby.
Filed in: NHL Teams, San Jose Sharks, | KK Hockey | Permalink
Tags: hayden+bradley
by Paul on 01/21/18 at 09:40 AM ET
Comments (0)
from Joe Smith of the Tampa Bay Times,
It didn't take the sound of a door slamming in the dressing room Saturday night to sense this Lightning team is frustrated.

Tampa Bay felt like it worked hard – at least, harder than Thursday's listless loss to Vegas – yet dropped another game. That makes five losses in the last seven. More telling, the team has lost its swag.

"We're out of sync," coach Jon Cooper put it. "The guys didn't forget how to play hockey in the last week and a half."

But they forgot how to play the right way.

Gone is that "mojo" Nikita Kucherov often talked about the Lightning having in the first half of the season, when it appeared to be running away with the Eastern Conference. Now Tampa Bay's division lead has shrunk to three points thanks to a surging Boston team that just might be the class of the conference right now.

It's not time to hit the panic button, but it's getting closer.

Here are some takeaways from Saturday's 5-2 loss in Minnesota:
Catch the game highlights below...
Filed in: NHL Teams, Minnesota Wild, Tampa Bay Lightning, | KK Hockey | Permalink

by Paul on 01/21/18 at 09:19 AM ET
Comments (1)
If you're looking for sympathy for the Sabres, or their fans, and suggestions of better days ahead, you came to the wrong place. The Sabres are a terrible hockey team in a terrible place, thanks to terrible ownership and a terrible rebuilding plan that was implemented before this long, terrible season.

The Sabres are getting exactly what they deserve after bungling one decision after another since Terry and Kim Pegula purchased the team in 2011. The Sabres will miss the playoff for a seventh full season under the Pegulas, which is hardly a coincidence given the sample size.
-Bucky Gleason of the Buffalo News after the Sabres 7-1 loss to the Dallas Stars. Read on for more from Gleason.
Filed in: NHL Teams, Buffalo Sabres, | KK Hockey | Permalink

by Paul on 01/21/18 at 09:16 AM ET
Comments (0)
from Tom Timmermann of the St. Louis Post-Dispatch,
"This is embarrassing," said forward Vladimir Tarasenko.

"To be perfectly honest, there's no explanation for it," Yeo said.

So if that previous home game was unacceptable, where does that put this one, Yeo was asked.

"It's got to be unacceptable to them, I hate to say it," Yeo said. "That's the reality. I can say it all I want, but we can keep trying to do whatever, and obviously we will. We'll come back to the rink tomorrow and that'll be a practice that obviously ... we'll have practice, but it's in the preparation. For whatever reason, when you're not ready to work, obviously that's the result tonight.
Game highlights are below...
Filed in: NHL Teams, d, St. Louis Blues, | KK Hockey | Permalink

by Paul on 01/21/18 at 08:59 AM ET
Comments (0)
Catch up on the action if you missed yesterday's games.
Filed in: NHL Teams, | KK Hockey | Permalink

by Paul on 01/21/18 at 08:52 AM ET
Comments (0)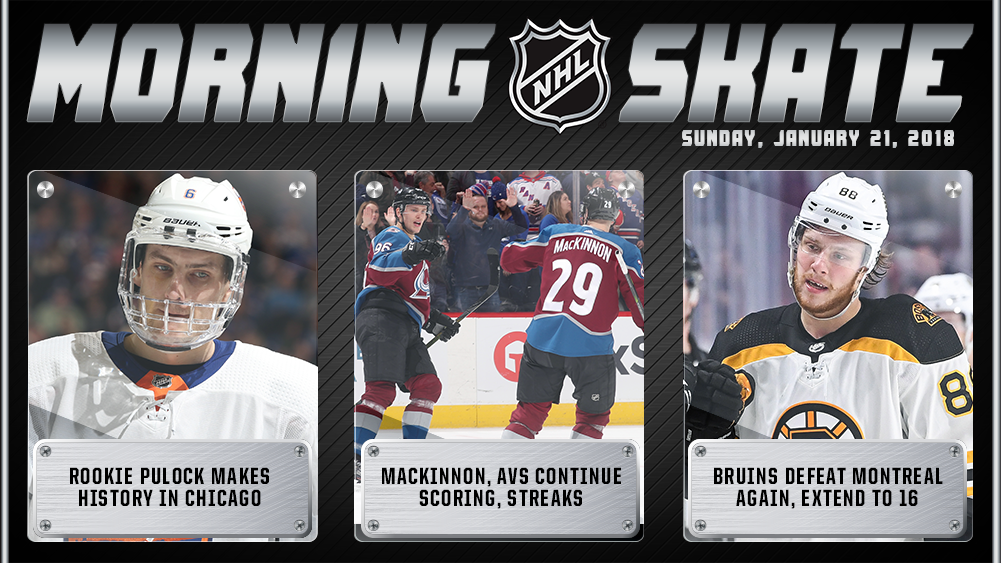 SATURDAY'S RESULTS
Home Team in Caps
Dallas 7, BUFFALO 1
PHILADELPHIA 3, New Jersey 1
COLORADO 3, NY Rangers 1
Winnipeg 2, CALGARY 1 (SO)
Boston 4, MONTREAL 1
Toronto 4, OTTAWA 3
Carolina 3, DETROIT 1
SAN JOSE 2, Pittsburgh 1
Arizona 5, ST. LOUIS 2
NASHVILLE 4, Florida 3
NY Islanders 7, CHICAGO 3
MINNESOTA 5, Tampa Bay 2
EDMONTON 5, Vancouver 2
Filed in: NHL Teams, | KK Hockey | Permalink

by Paul on 01/20/18 at 09:15 PM ET
Comments (1)
from Steve Simmons of the Toronto Sun,
- There are times when Maple Leafs players must appreciate the faith Mike Babcock has in them.

Because a whole lot of NHL coaches — past and present — would not have been so steadfast in keeping lines together through this latest Leaf malaise....

You can congratulate Babcock for his consistency or criticize him for his unwillingness to change. Either way, something has to give with the Leafs.

- Quick advice for John Tavares, the pending free agent: Talk to Marcel Dionne. Ask him how he felt about never playing for a Stanley Cup contender or never getting close to a ring. And if after that, he wants to remain with the wonky Islanders, shake his hand and wish him well.

- Add Doug Armstrong's name to the list of those having trouble getting over the fact that the NHL is not participating in the Winter Olympics next month. Armstrong is a longtime Team Canada executive. He knows why the NHL isn't going: Still, he hates the fact they are not.
more on the Leafs and Babcock plus additional hockey topics
Filed in: NHL Teams, | KK Hockey | Permalink

by Paul on 01/20/18 at 08:59 PM ET
Comments (0)
from Mike Chambers of the Denver Post,
Suddenly, the NHL's worst team last season has put together the league's longest winning streak this season; center Nathan MacKinnon has become a Hart Trophy candidate, and coach Jared Bednar is being mentioned as a Jack Adams Award nominee.

A year ago at this time, MacKinnon was having the worst season of his career and somewhat embarrassed to represent the Avalanche at the All-Star Game. And fans were calling for Bednar's firing just five months after he was hired. Colorado was 13-30-2 at the time.

The league's Hart (MVP) and Jack Adams (coach of the year) awards are side stories to what has become one of the NHL's biggest stories — the Avalanche and its winning ways. Next to the expansion Vegas Golden Knights being in President's Trophy contention as the regular-season's top point producer, Colorado is eyeing the playoffs and grabbing hockey headlines throughout North America.

Behind MacKinnon and goalie Jonathan Bernier — again — on Saturday, the Avs won their ninth consecutive game, defeating the New York Rangers 3-1 before a sellout crowd of 18,056 at the Pepsi Center.
Below are the game highlights...
Filed in: NHL Teams, Colorado Avalanche, New York Rangers, | KK Hockey | Permalink

« Previous < 1 2 3 4 5 > Last › Next »
About Kukla's Korner Hockey
Paul Kukla founded Kukla's Korner in 2005 and the site has since become the must-read site on the 'net for all the latest happenings around the NHL.
From breaking news to in-depth stories around the league, KK Hockey is updated with fresh stories all day long and will bring you the latest news as quickly as possible.
Email Paul anytime at pk@kuklaskorner.com
Recommended Sportsbook
MyBookie.ag
Tweets by @kuklaskorner
Most Recent Blog Posts