Kukla's Korner Hockey
by Paul on 02/22/20 at 10:06 PM ET
Comments (0)
added 10:12pm, Below, Ayres speaks with Fox Sports Carolinas.
added 11:19pm, Below, Ayres in post-game media scrum.
Filed in: NHL Teams, Carolina Hurricanes, | KK Hockey | Permalink
Tags: david+ayres
by Paul on 02/22/20 at 09:35 PM ET
Comments (1)
The panel discussed Toronto's defense, the emergency goalie David Ayres and mentioned numerous names and possible trades.
videos via Sportsnet,
Below, watch Hrudey on emergency goalie Ayres.
Filed in: | KK Hockey | Permalink

by Paul on 02/22/20 at 08:40 PM ET
Comments (3)
Filed in: NHL Teams, Carolina Hurricanes, | KK Hockey | Permalink
Tags: david+ayres
by Paul on 02/22/20 at 05:34 PM ET
Comments (2)
from Steve Simmons of the Toronto Sun,
- If the world was a perfect place, Henrik Lundqvist would be traded to Colorado on Monday and go on to lead the Avalanche to the Stanley Cup.

It would be his only Stanley Cup win.

If only the world was just a little more perfect …

Odds are, Lundqvist isn't going anywhere and his final days with the New York Rangers will play out rather uncomfortably, just as they are playing out now.

- Best player in the NHL nobody talks enough about: Artemi Panarin of the New York Rangers. He's fourth in scoring, first in even-strength scoring, first in plus-minus among forwards. He'd be a Hart Trophy favourite if he played for a team heading to the playoffs.

- Years ago coaches would privately wonder if Phil Kessel's lack of training would eventually catch up to his immense skill. Kessel is 32 and playing this season like he's at the end. He scored 82 and 92 points the last two seasons in Pittsburgh. He has 35 this season and has two years left on his contract … Kessel was drafted by Boston, 5th overall in 2006. After taking Milan Lucic in the second round, the Bruins selected this undersized winger in the third round. His name: Brad Marchand. Has anyone ever had a better draft than that?
more on topic one and other hockey mentions...
Filed in: NHL Teams, | KK Hockey | Permalink

by Paul on 02/22/20 at 05:07 PM ET
Comments (0)
from Larry Brooks of the New York Post,
- Well, just seven more years to go for the Sabres on that Jeff Skinner contract at $9 million per. And is this the summer in Buffalo that ownership/upper management takes at peek at a possible boffo return for Jack Eichel, who will have six years at $10 million per remaining on his contract after the 23-year-old captain's sixth straight playoff miss since joining the NHL as the second-overall behind Connor McDavid in 2015? Or is the player who will request a move?

- So in New Jersey, how much of it was, A) Cory Schneider; B) John Hynes; C) Taylor Hall?

- Finally, once again, presenting Jere-ME Roenick, another one who just never got it — not when he acted as an enemy within as an NHLPA union member through the 2004-05 lockout, not when he got the gig at NBC, not when he posts on social media.
more topics including the dynasty years for the New York Islanders and the 1980 USA Hockey team should be in the HHOF...
Filed in: NHL Teams, | KK Hockey | Permalink

by Paul on 02/22/20 at 03:13 PM ET
Comments (3)
Oveckin becomes the 8th NHL player to reach 700 goals.
added 3:20pm, below, via the NHL PR department...
added 3:26pm, extended video below...
Filed in: NHL Teams, Washington Capitals, | KK Hockey | Permalink
Tags: alex+ovechkin
by Paul on 02/22/20 at 01:12 PM ET
Comments (0)
from Kevin Paul Dupont of the Boston Globe,
- Based on the buzz headed into the weekend, bodies should be flying like a Cirque de Soleil casting call Sunday and Monday as the NHL trade deadline closes down for yet another year. All sales final, Monday, 3 p.m. ET, and absolutely no refunds.

Despite the flurry of moves throughout the week prior to Friday night — including Boston's acquisition of Ondrej Kase — the winner to date is Jim Rutherford, the Pittsburgh GM, who closed his big deal early (Feb. 10), finally landing Jason Zucker from the Wild.

Zucker arrived as a sort of a latter-day Chris Kunitz for the Penguins, a guy who can play up and down the forward lines and deliver points wherever he's slotted. Zucker in his first five games with the flightless birds: three goals and an assist. Impact made....

- With the emergence of David Pastrnak as the Bruins' No. 1 shooting option, Brad Marchand's goal scoring has plateaued in recent years

Mind you, the L'il Ball o'Hate averaged 36.5 goals the previous four seasons, so he's had a penthouse view from that plateau. He could finish with 30-plus again this season, though he'll have to shake from his recent protracted slumber.

Meanwhile, Marchand is on pace to outdistance his prior season's assist mark for the fourth straight year.

After posting 24 helpers in 2015-16, he went on to finish with career-best assist totals of 46, 51, and 64, with last season's motherlode contributing to his first 100-point campaign.

This season, Marchand is tracking to upward of 70 assists — a level we haven't seen attained here since Marc Savard collected 74 upon his arrival for the 2006-07 season....
more on each of the above plus other hockey topics...
Filed in: NHL Teams, Boston Bruins, Pittsburgh Penguins, | KK Hockey | Permalink

by Paul on 02/22/20 at 07:17 AM ET
Comments (10)
from Joe Lapointe at Deadline Detroit,
One of the few places in Metro Detroit where you could see a live telecast of the 4-3 U.S. victory over the Soviet Union that Friday was the Blue Goose, along with homes in the East Side suburbs along the international border.

That was important because the ABC television network covered the game only on videotape and showed it, on a delayed basis, during prime time in the U.S....

If you wanted to see USA vs. USSR when it actually took place, you had to drive to Lake Placid and buy a ticket or find a TV near the Canadian border, preferably with a UHF antenna.

And that was exactly what they had at the Blue Goose. It could pick up Channel 42, on the CTV network, from Sarnia. That was 60 miles away as the Canada goose flies from St. Clair Shores, with no buildings in the lake to block the signal....

ABC Sports – then the powerhouse in American TV sports – owned rights to the Olympics in the U.S. and manipulated its "same-day, tape-delay" coverage so that major events that took place before 8 p.m. were held back for prime-time presentation when the audience and sponsorship revenues were largest....

But in some cities – including Detroit – local stations accidentally ruined the ersatz suspense during station breaks by offering "teases" with announcers saying something like "USA beats Russia in hockey! Miracle on Ice! Film at 11!" In Detroit, it happened on Channel 7 (WXYZ-TV) and the guilty news anchor was Bill Bonds.
Below, watch a 12 minute highlight package of the game.
Filed in: Non-NHL Hockey, International Hockey, | KK Hockey | Permalink
Tags: team+usa
by Paul on 02/22/20 at 06:46 AM ET
Comments (0)
via the NHL PR department,
By the Numbers: Entering the final quarter of the 2019-20 NHL regular season, with comparative stats through 946 games. The 2019-20 regular season will reach the three-quarter mark midway through Saturday's schedule.
5,736 – Goals scored (including shootout-deciding goals) for an average of 6.1 per game – on pace to mark the first instance of back-to-back campaigns each averaging at least six goals per game at season's end since 1994-95 (6.0) and 1995-96 (6.3).

4,346 – Even-strength goals scored (not including shootout-deciding goals). Over three-quarters of all goals scored in regulation/overtime have been at even strength (76.8%; 4,346 of 5,660); the last season to feature at least 77% at this stage was 1977-78 (77.3%; 3,668 of 4,747).

2,058 – Goals scored by players age 24 or younger (not including shootout-deciding goals), including 43 apiece by 23-year-old Bruins forward David Pastrnak (43-43—86 in 62 GP) and 22-year-old Maple Leafs forward Auston Matthews (43-30—73 in 62 GP) who share the most in the NHL. Each of the last 13 NHL seasons excluding 2012-13 have now featured at least 2,000 goals scored by players age 24 or younger.

670 – Games decided by a one-goal margin or multiple goals with at least one empty netter, accounting for 70.8% of all games contested in 2019-20.
Filed in: NHL Teams, | KK Hockey | Permalink

by Paul on 02/22/20 at 06:33 AM ET
Comments (0)
THREE HARD LAPS
* The recent trend of teams putting together noteworthy performances immediately following a jersey retirement ceremony continued Friday, with Jordan Eberle scoring a hat trick after the Islanders honored John Tonelli.
* Jared Spurgeon also tallied three times and joined a rare list of NHL defensemen to score a natural hat trick.
* After falling behind 3-1 in the opening 3:23, the League-leading Bruins rallied to pull off a comeback win seen just six other times in NHL history.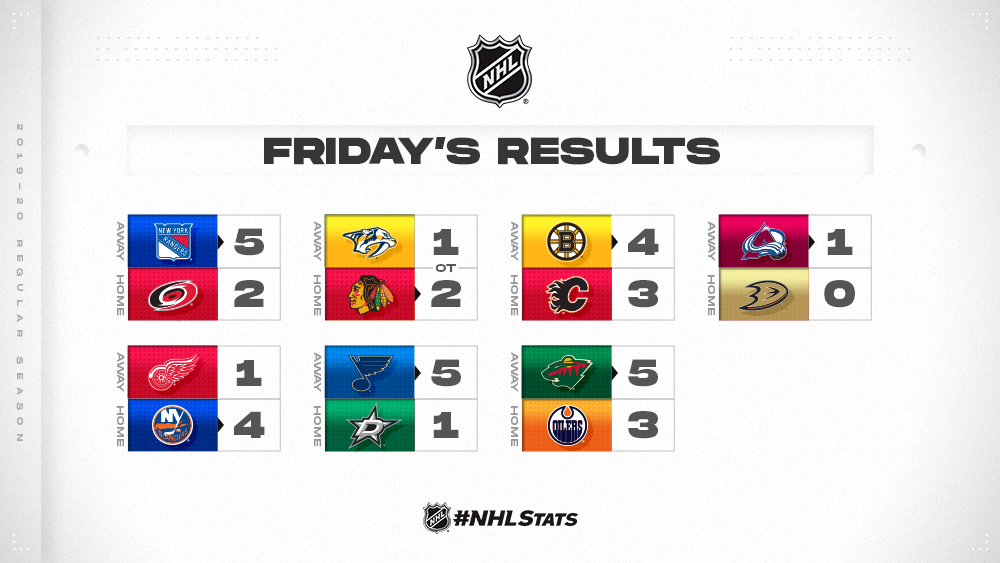 Filed in: NHL Teams, | KK Hockey | Permalink

« Previous < 1 2 3 4 > Last › Next »
About Kukla's Korner Hockey
Paul Kukla founded Kukla's Korner in 2005 and the site has since become the must-read site on the 'net for all the latest happenings around the NHL.
From breaking news to in-depth stories around the league, KK Hockey is updated with fresh stories all day long and will bring you the latest news as quickly as possible.
Email Paul anytime at pk@kuklaskorner.com
Tweets by @kuklaskorner
Most Recent Blog Posts