Kukla's Korner Hockey
by Paul on 02/21/18 at 02:37 PM ET
Comments (0)
from Josh Cooper of LA Kings Insider,
It's unclear how much Carter's expected return will impact the Kings at the NHL's Feb. 26 trade deadline, but he should at least help give the team more scoring, which is generally a position of need around the NHL this time of year as groups try to bolster their rosters for playoff runs. The 33-year-old Carter is coming off a season where he had 66 points and made the All-Star Game from the Pacific Division....

"I think when you add a player of Jeff Carter, that we already know and we know where he fits into our lineup, it moves everybody around and into the right spots. We've had a lot of guys having to play out of position this year in the middle. It's no secret," Blake said.
Filed in: | KK Hockey | Permalink
Tags: jeff+carter
by Paul on 02/21/18 at 11:16 AM ET
Comments (0)
from Sen McIndoe at Sportsnet,
Occasionally, a GM will offer up some real insight into their deadline approach, hinting at a broad strategy and process without giving too much away. But most of the time, we just get clichés and filler, and sometimes stuff that doesn't even make sense. If you're a fan hoping for actual insight, that can be annoying.

So today, let's count down the 10 most annoying things a GM might say in the days leading up to the trade deadline. Feel free to print a copy and check them off as your team's GM makes the media rounds.

No. 10: "We're open for business."

You hear this one fairly often this time of year, although it's one of those points that's often fed through the media rather than offered up directly. Either way, it's always a strange one. When it comes to making trades, NHL front offices are supposed to be open for business. At this time of year, that's kind of their whole job.
Filed in: NHL Teams, | KK Hockey | Permalink

by Paul on 02/21/18 at 10:29 AM ET
Comments (1)
from Rory Boylen of Sportsnet,
We're days away from the 2018 NHL trade deadline, which we hope brings more significant moves than what we saw at this time last year. There are many impactful players potentially available, from Max Pacioretty to Mike Hoffman to, gasp, maybe even Erik Karlsson — each of whom would be huge factors for any acquiring team this season and ones to come.

But we're going to focus on the top rental players who could be available. We're setting our sights on guys who are on expiring contracts and due to become UFAs on July 1.

This is not a ranking of players — we'll leave that up to you — but we look at what each guy is doing this season and what he may be able to add to a contender.

Evander Kane, Buffalo Sabres

At 26, Kane still has a chance to hit 30 goals for just the second time in his career, but he'll need to heat up to hit that mark. Despite a strong start to the season, Kane has slowed with just three goals in his past 20 games and now has 19 in 60 games overall. The good thing is he generates all kinds of chances and is fifth in the league with 224 shots on goal. A whopping 60.2 per cent of his even strength starts come in the offensive zone, so if he's moved on to a line with a different team that brings that number down, it could hurt his performance.
Filed in: NHL Teams, | KK Hockey | Permalink

by Paul on 02/21/18 at 09:48 AM ET
Comments (0)
Games will be on Friday, more at IIHF.com.
Filed in: Non-NHL Hockey, International Hockey, | KK Hockey | Permalink

by Paul on 02/21/18 at 08:22 AM ET
Comments (3)
from Rob Longley at the National Post,
How long can the pain of one crushing loss linger and how empowering can the result be for the winners of the greatest women's hockey game ever played?

Four years after Canada ripped out the hearts of their archrival Americans in deliciously dramatic fashion, we're about to find out.

Four years after that showdown in Sochi, the two superpowers of their sport will meet again for gold at the Gangneung Hockey Arena on Thursday afternoon (11:10 p.m. ET/8:10 p.m. PT on Wednesday in Canada).

Given a chance for full revenge only returns every 48 months in this sport, forgetting the robbery in Russia might be easier said than done for the Americans.

"They know how important it is to put that stuff in the past, to learn from experience and draw from it," American coach Robb Stauber said of his players approach. "We're not talking about it. We're in South Korea and it's 2018 and we want a different result."
I will have an open post up for the game.
Filed in: Non-NHL Hockey, International Hockey, | KK Hockey | Permalink
Tags: team+canada, team+usa
by Paul on 02/21/18 at 07:27 AM ET
Comments (0)
from Mike Chambers of the Denver Post,
It was a wild, wild game to begin a three-game western Canadian road trip for the Avalanche.

All-star center Nathan MacKinnon, in his second game back from a eight-game injury absence, scored Colorado's fifth power-play goal of the game in overtime for a 5-4 come-from-behind victory against the Vancouver Canucks at Rogers Arena. MacKinnon finished with a four-point game, adding three assists....

Colorado finished a remarkable 5-of-6 on the power play; and seven of the game's eight goals in regulation were scored in the second period....

The Avs climbed to three points within Minnesota for the last Western Conference playoff spot.
Game highlights are below...
Filed in: NHL Teams, Colorado Avalanche, Vancouver Canucks, | KK Hockey | Permalink

by Paul on 02/21/18 at 06:47 AM ET
Comments (0)
5 1/2 minutes of your time will get you up to date.
Filed in: NHL Teams, | KK Hockey | Permalink

by Paul on 02/21/18 at 06:29 AM ET
Comments (0)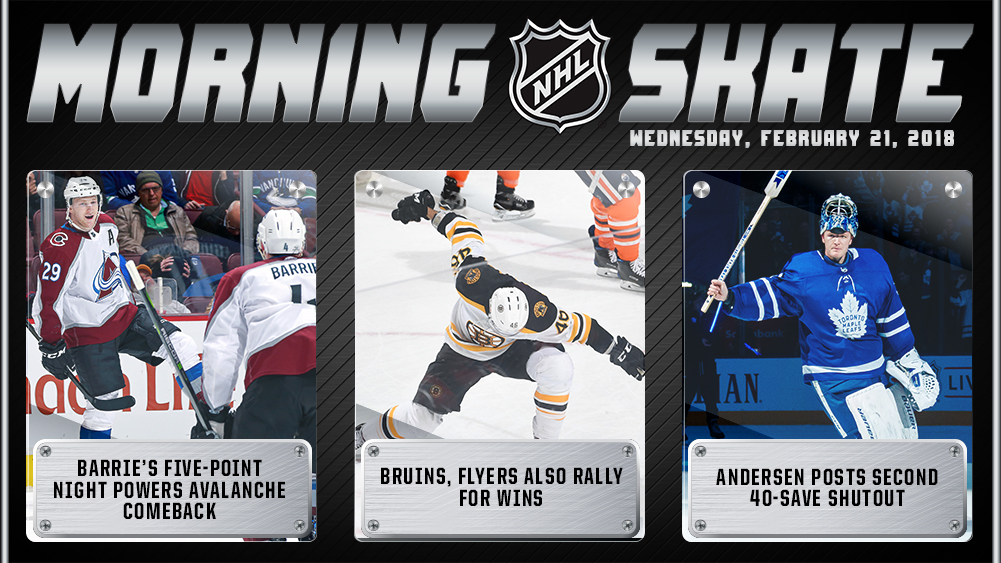 TUESDAY'S RESULTS
Home Team in Caps
TORONTO 1, Florida 0
Columbus 2, NEW JERSEY 1
PHILADELPHIA 3, Montreal 2 (OT)
Tampa Bay 4, WASHINGTON 2
Nashville 3, DETROIT 2
San Jose 3, ST. LOUIS 2
Los Angeles 4, WINNIPEG 3
Boston 3, EDMONTON 2
Colorado 5, VANCOUVER 4 (OT)
Filed in: NHL Teams, | KK Hockey | Permalink

by Paul on 02/21/18 at 06:19 AM ET
Comments (9)
GANGNEUNG, South Korea — Ryan Donato (Scituate, Mass.) and Jim Slater (Lapeer, Mich.) scored, but the U.S. Olympic Men's Ice Hockey Team fell to the Czech Republic, 3-2, in a shootout here today in the quarterfinals of the 2018 Olympic Winter Games at the Gangneung Hockey Centre.
"The one thing that we wanted to make sure of when we came into this tournament is that when it ended we'd be proud of how we represented our country," said Tony Granato, head coach of the U.S. Olympic Men's Ice Hockey Team. "I'm very proud of how we competed and how we played and how we represented our country from the start of the tournament to the end of it."
For the complete game recap, click here.
OAR defeated Norway 6-1 and Canada/Finland Sweden/Germeny starts at 7:10am ET this morning.
added 8:01am, Remember the women go for gold tonight, Canada/USA at 11:10pm ET.
Filed in: Non-NHL Hockey, International Hockey, | KK Hockey | Permalink
Tags: team+usa
by Paul on 02/20/18 at 08:48 PM ET
Comments (0)
from Elliotte Friedman of Sportsnet,
- I had an interesting conversation with an agent last weekend.

Thinking about all of the players being discussed in trade rumours around the league, he asked, "How many untouchable players do you think there really are? I mean players who absolutely would not be traded?" I said 20.

His reply: "I don't think there are that many."

He might be right. That's why I don't think it's impossible Erik Karlsson gets traded. Maybe no one wants to pay Ottawa's price, but that doesn't mean it isn't discussed. Ottawa's front office will consider every option, as it should.

- At times, the Red Wings have shown an inclination to move Gustav Nyquist or Tomas Tatar, but not both.

We'll see where it goes, but while Nashville has shown interest in Tatar, there may be others who like Nyqvist better because he's got one year remaining as opposed to Tatar's two.

Nyquist controls more of his future at this time with a no-trade, while Tatar's doesn't kick in until July 1.

- Some of the scouts/reporters who were watching Los Angeles at Buffalo last weekend said they haven't seen a general manager all year as upset as Jason Botterill was during that game.
Filed in: NHL Teams, | KK Hockey | Permalink

« Previous ‹ First < 4 5 6 7 8 > Last › Next »
About Kukla's Korner Hockey
Paul Kukla founded Kukla's Korner in 2005 and the site has since become the must-read site on the 'net for all the latest happenings around the NHL.
From breaking news to in-depth stories around the league, KK Hockey is updated with fresh stories all day long and will bring you the latest news as quickly as possible.
Email Paul anytime at pk@kuklaskorner.com
Recommended Sportsbook
MyBookie.ag
Tweets by @kuklaskorner
Most Recent Blog Posts