Kukla's Korner Hockey
by Paul on 04/26/18 at 12:08 PM ET
Comments (4)
from Damien Cox of Sportsnet,
He's a very good, reliable regular season goalie, and on a very affordable ticket at $5 million a season for three more seasons.

The bad news is he was lousy against Boston. You can't hide an .896 save percentage. Covering up for the mistakes of others is the very definition of his job, and he did it notably well in Games 5 and 6, and that's it. That's not even close to good enough. At 28-years-old, he is in his prime, and based on the past two playoff seasons, he has defined himself as a very good goalie in the regular season who falls off a little or a lot in the post-season when the competition gets tougher.

For the Leafs to become more than a first round casualty, they are going to require better goaltending. The question is whether Andersen is the man to deliver it. Certainly, his play in this series suggests he isn't, but not to such a degree that it's reasonable to advocate that he needs to go elsewhere. He's established essentially what he is at this level, and while he might still have another level to his game, he also might not. The Leafs need to upgrade that position, and sitting around just hoping the Dane gets better seems like a very passive approach.
Filed in: | KK Hockey | Permalink
Tags: frederik+andersen
by Paul on 04/26/18 at 11:29 AM ET
Comments (0)
from Eric Duhatschek of The Athletic,
The Golden Knights play a high-paced aggressive style that is not only successful, but also pleasing to the eye. Long ago, Gallant realized the game of hockey had to be fun, even when played at the highest level – and that's what you see when the Golden Knights are on the ice, practicing or playing. It doesn't seem like just another day at the office to them, the way it sometimes does to other NHL teams.

In everyday hockey parlance, the traits Gallant demonstrates make him a so-called "players' coach." But that's a broad, all-encompassing term that borders on cliché and can mean wildly different things to different people. If I were defining the term, I would say a "players' coach" is demanding but respectful, honest and communicative, and even-keeled in good times and bad.
more (paywall)
Filed in: NHL Teams, | KK Hockey | Permalink
Tags: vegas+golden+knights
by Paul on 04/26/18 at 11:11 AM ET
Comments (0)
via Bob McKenzie tweet,
Just saw the NHL's format/timing for Saturday's draft lottery. Picks 15 thru 4 between 7:30 and 8:00 p.m. ET, picks 3 thru 1 in the second intermission of an 8 p.m. ET game. Huh. I suppose we should be happy they aren't doing one pick a day for two weeks.
If you need more details on the lottery, I posted it earlier today.
added 11:31pm,
Filed in: NHL Talk, | KK Hockey | Permalink

by Paul on 04/26/18 at 10:23 AM ET
Comments (0)
via the NHL PR department
HIGH-SCORING TREND CONTINUES INTO 2018 STANLEY CUP PLAYOFFS
The increased offense from the highest-scoring regular-season in 11 years carried over into the opening round of the 2018 Stanley Cup Playoffs, with an average of 5.9 goals per game (255 goals in 43 GP) – up 20% from the 2017 First Round (4.9 G/GP; 205 G in 42 GP).
Filed in: NHL Teams, | KK Hockey | Permalink

by Paul on 04/26/18 at 09:24 AM ET
Comments (0)
Sportsnet style, just a bit under five minutes long.
Filed in: NHL Teams, | KK Hockey | Permalink

by Paul on 04/26/18 at 09:08 AM ET
Comments (0)
from the CP at the Calgary Herald,
Here are five storylines that could carry over into Round 2.

OFFENCE, NOT DEFENCE, WINNING GAMES — Seven of the eight teams that advanced to the second round averaged at least 3.20 goals per game, with only Vegas making it out of Round 1 relying on goaltending. The defending Stanley Cup champion Pittsburgh Penguins scored the most at 4.67 goals per game to eliminate the Philadelphia Flyers in six games. Meanwhile, 27 goaltenders made an appearance in the first round and Philadelphia used three different netminders in an effort to find a solution. Four of the eight teams still alive called upon their backup at some point, even for relief in a blowout, but all have a bona fide No. 1 they should be able to turn to from here on out.

NO NEED FOR OVERTIME — Just five of the 43 first-round games needed extra time to decide an outcome this year, and four of those happened in the Washington Capitals' six-game series win over the Columbus Blue Jackets. In comparison, last season's first round had 18 of 42 games go to overtime, with all eight series needing OT to determine at least one contest. Much of the post-season so far hasn't needed extra time because many games haven't even been close. There were just 11 one-goal games in the opening round. Vegas and L.A. were in on four of those, all going the Golden Knights' way. No one will complain about more OT hockey especially now that the games are expected to be more intense.
three more storylines...
Filed in: NHL Teams, | KK Hockey | Permalink

by Paul on 04/26/18 at 07:52 AM ET
Comments (0)
from Amalie Benjamin of NHL.com,
They sang Wednesday, full-throated, relief and happiness and exuberance pouring out of them with every word.

Long after the music stopped, the puck had gone back into play, the crowd at TD Garden found release, where minutes earlier they had found only nerves, only worry, only concern that this would be the end of the season.

No longer. Now they believed. Now they sang, a full extra verse of Bon Jovi's "Livin' On A Prayer" as play continued on the ice. Now they knew.

They were celebrating, in the way that Boston Bruins defenseman Torey Krug celebrated after his third-period, game-tying goal, arms extended and face up, basking in the moment. They were celebrating in the way Bruins forward Jake DeBrusk celebrated after his third-period, game-winning goal, having lost his balance in the very moment he pushed the puck past Toronto Maple Leafs goaltender Frederik Andersen.
Watch the extended game highlights below.
Filed in: NHL Teams, Boston Bruins, Toronto Maple Leafs, | KK Hockey | Permalink

by Paul on 04/26/18 at 07:43 AM ET
Comments (9)
from Chris Johnston of Sportsnet,
From Morgan Rielly, with his lip busted up after taking a Zdeno Chara shot to the face. From Auston Matthews, who fired a team-best 27 shots on goal but only beat Tuukka Rask once. From Connor Brown, who said only "tough one" while shaking broadcaster Joe Bowen's hand in the hallway and walking off into the night.

"I'm not really commenting on anything. I didn't go in like I normally do and go through the replays or that," said coach Mike Babcock, letting his foot off the gas for the first time all season. "We're done. So, we'll have lots of time to look at those goals and get that figured out. The bottom line is we went out for the third period and they scored and we didn't.

"Once they scored, they tilted the rink and I don't even know how many looks we had if we had any."
from Bruce Arther of the Toronto Star,
Jake Gardiner looked like he wouldn't sleep for a long time, like his stomach would feel hollow and bottomless through some long summer nights. The defenceman ran his hand through his hair, stared into space, tried to say it honestly. Tough night.

"Yeah, it was not the way we saw it going," said Gardiner, after the Toronto Maple Leafs blew their third lead of the night in the third period and lost Game 7 to the Boston Bruins, 7-4. "Had a lead going into the third period, and personally I got to be better. A lot of this game is on me. And it's just not good enough, especially in a game like this. It's the most important game of the season, and I didn't show up. There's not much I can say, really."

It wasn't all Gardiner's fault, even if that's what some people will howl. In the biggest game of the season, goaltender Frederik Andersen failed as well: the first two goals in the third period weren't goals a Stanley Cup goaltender should let in, and his save percentage for the series was .860.
Terry Koshan of the Toronto Sun on Auston Matthews below...
Filed in: NHL Teams, Toronto Maple Leafs, | KK Hockey | Permalink

by Paul on 04/26/18 at 07:31 AM ET
Comments (0)
RUINS RALLY TO WIN ANOTHER EPIC GAME 7 AGAINST MAPLE LEAFS
The Bruins overcame deficits of 1-0, 2-1 and 4-3 – highlighted by four unanswered goals in the third period – to defeat the Maple Leafs in Game 7 and advance to the Second Round for the first time since 2014.

* Boston became the first team in NHL history to overcome three deficits of at least one goal to win a Game 7 in regulation (only three clubs did so en route to overtime wins). Five years ago, Boston became the first team in NHL history to overcome a three-goal, third-period deficit to win in a Game 7, also against the Maple Leafs.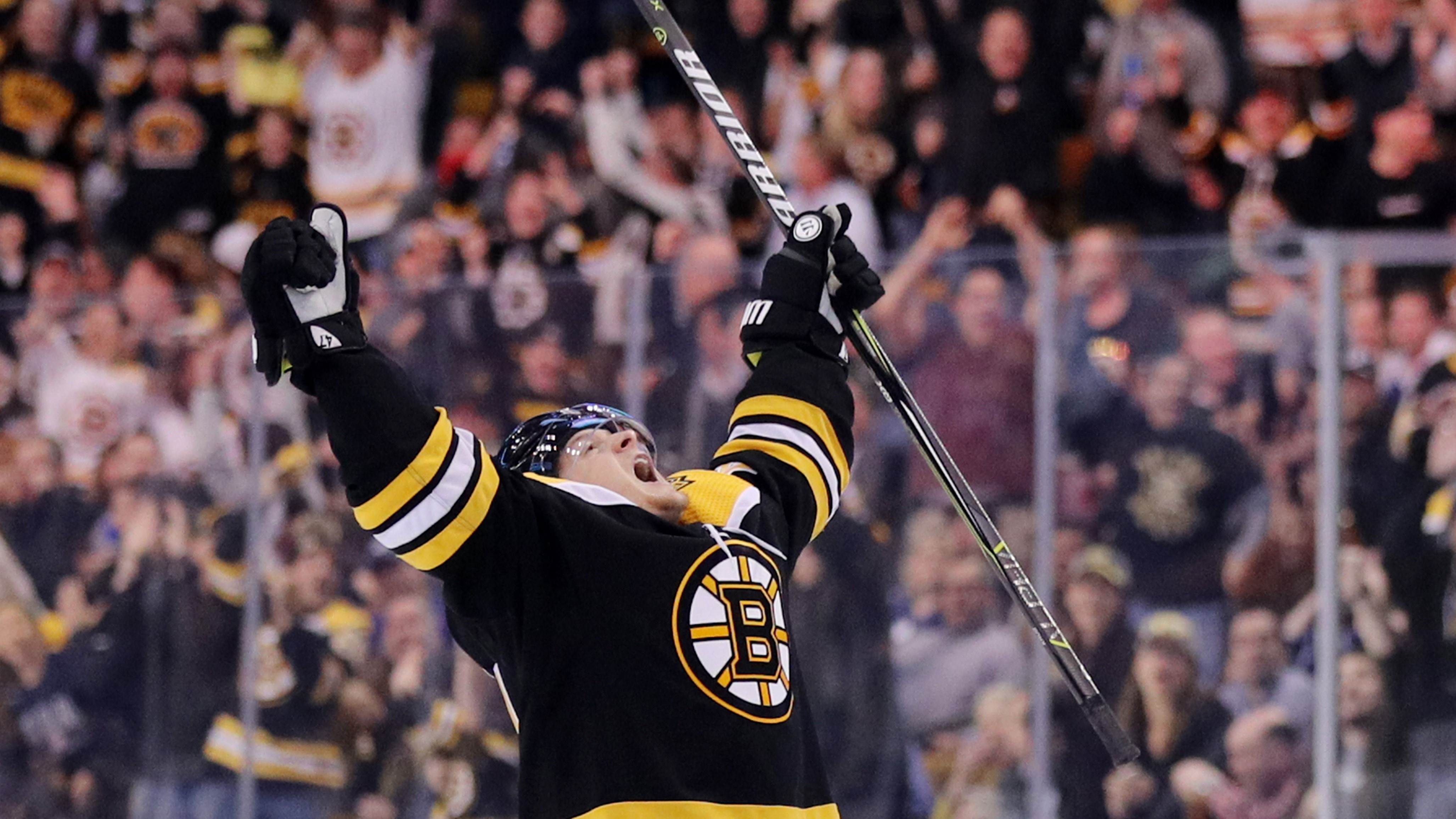 Filed in: NHL Teams, | KK Hockey | Permalink

by Paul on 04/25/18 at 10:38 PM ET
Comments (0)
NEW YORK (April 25, 2018) – The National Hockey League today announced the dates, starting times and national television coverage for the 2018 Stanley Cup Playoffs Second Round, which begins Thursday, April 26. All times listed are ET and subject to change.
Filed in: NHL Teams, | KK Hockey | Permalink

« Previous < 1 2 3 4 > Last › Next »
About Kukla's Korner Hockey
Paul Kukla founded Kukla's Korner in 2005 and the site has since become the must-read site on the 'net for all the latest happenings around the NHL.
From breaking news to in-depth stories around the league, KK Hockey is updated with fresh stories all day long and will bring you the latest news as quickly as possible.
Email Paul anytime at pk@kuklaskorner.com
Tweets by @kuklaskorner
Most Recent Blog Posts