Kukla's Korner Hockey
by Paul on 11/19/17 at 01:59 PM ET
Comments (1)
Watch the hit below...
Filed in: NHL Teams, Colorado Avalanche, Nashville Predators, | KK Hockey | Permalink
Tags: austin+watson
by Paul on 11/19/17 at 11:56 AM ET
Comments (2)
from Mike Harrington of the Buffalo News,
As we, um, sharpen our swords in the wake of Saturday's 3-1 loss to Carolina, an utter snoozefest until the final eight minutes, there's one gnawing issue that keeps growing: What's going on with Jack Eichel?

Forget about an elephant in the room. This is an entire herd. Eichel is not the guy we've seen the last two years. He was invisible again for long stretches Saturday -- not getting a single shot on goal for more than 48 minutes.

Eichel has five goals in 20 games, tallying just once in his last 11. He's got a minus-9 rating for the season. Those are the numbers. Now let's move to things you can't measure.

Eichel's body language has been terrible much of season. It's a dirty little secret fans are finally figuring out that he floats off the ice far too much on the end of his shifts.

Just don't tell Housley that. The coach simply isn't dissing any of his players in public, let alone the face of the franchise. Fair enough. You can respect that. And Housley certainly knows what happened to Byslma seven months ago too.
Filed in: NHL Teams, Buffalo Sabres, | KK Hockey | Permalink
Tags: jack+eichel
by Paul on 11/19/17 at 06:41 AM ET
Comments (2)
from Mike Boone of the Montreal Gazette,
How bad are your Montreal Canadiens?

Frederik Andersen's 32-save shutout was the fourth time a goose egg has been hung on them this season.

Home cooking?

More like home yakking: Three of the shutouts have occurred at the Bell Centre.

On four other occasions, the Canadiens have been held to one goal.

And there are 61 games to go.

This, folks, is the most impotent scoring team in the NHL.

They are punchless. They are boring.
Game highlights of the 6-0 Toronto win can be watched below...
Filed in: NHL Teams, Montreal Canadiens, Toronto Maple Leafs, | KK Hockey | Permalink

by Paul on 11/19/17 at 06:34 AM ET
Comments (1)
...the numbers don't lie: minus-2 against St. Louis Thursday, and minus-2 again Saturday, despite a goal and two assists. Your best player simply has to be better than that, and McDavid's line — with Pat Maroon and Drake Caggiula — was on the ice for three even strength goals by Dallas, with McDavid also on for a fourth.

Somehow, too many turnovers have mixed into McDavid's game, resulting in odd-man rushes the other way after high-risk zone entry attempts go bad. In his own zone, the puck is getting behind his goalie too often, even if the reasons are ever-changing.

Part of being a superstar is playing as well without the puck, and being smarter with it than McDavid has been this season. Your best player has to be just that — at both ends of the rink — to have success.
-Mark Spector of Sportsnet on Connor McDavid. Read more on the Oilers and their 6-3 loss to the Dallas Stars.
Game highlights are below...
Filed in: NHL Teams, Dallas Stars, Edmonton Oilers, | KK Hockey | Permalink
Tags: connor+mcdavid
by Paul on 11/19/17 at 06:25 AM ET
Comments (0)
Almost five minutes of NHL action from Saturday.
Filed in: NHL Teams, | KK Hockey | Permalink

by Paul on 11/19/17 at 06:16 AM ET
Comments (0)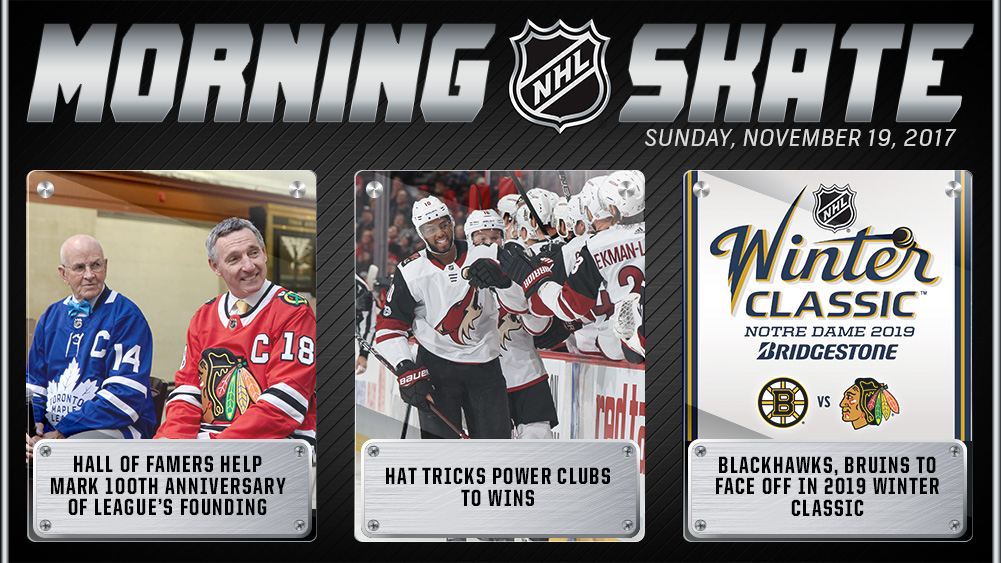 HALL OF FAMERS HELP MARK 100TH ANNIVERSARY OF LEAGUE'S FOUNDING
Hall of Famers Dave Keon, Ray Bourque, Denis Savard, Yvan Cournoyer, Frank Mahovlich and Rod Gilbert participated in a pre-game ceremony in Montreal to commemorate the 100th anniversary of the League's founding.

* MUST SEE: Savard and Mahovlich, who each won at least one Stanley Cup with the Canadiens, changed into Montreal jerseys mid-ceremony, at the urging of Cournoyer, who won 10 championships with the club.
Filed in: NHL Teams, NHL Talk, | KK Hockey | Permalink

by Paul on 11/18/17 at 09:25 PM ET
Comments (0)
The guys at Sportsnet talked about penalties and changes to them as discussed by the GMs at the recent meeting, GMs without contracts for next season, topic became all Lou Lamoriello, the Montreal Canadiens and a few more items.
Filed in: NHL Teams, NHL Talk, | KK Hockey | Permalink

by Paul on 11/18/17 at 08:53 PM ET
Comments (0)
Topics Don Cherry and Ron MacLean discussed:
The play of Frederik Andersen, a couple of hat tricks today, the brawl in Detroit (what was Tkachuk thinking), player benches next to each other and a few more topics...
via Sportsnet,
Filed in: NHL Teams, | KK Hockey | Permalink

by Paul on 11/18/17 at 08:22 PM ET
Comments (0)
from Bruce Garrioch of the Ottawa Sun,
Let's face it, this season has not gone according to plan in several locales, so those GMs are trying to decide whether they should add, subtract, sit still or make a change for the sake of doing something to try to improve.

"There's a lot of teams talking," a league executive said Saturday.

- The Coyotes, who went into Saturday's visit to Ottawa, with only one regulation victory. are willing to talk about pretty much every player on their roster. There's no way the plan was to go in the tank this season after acquiring centre Derek Stepan from the New York Rangers and defenceman Niklas Hjalmarsson from the Chicago Blackhawks. GM John Chayka is receiving plenty of calls because the best bet for the Coyotes now is to get the best odds in the draft lottery....

- It's believed several teams have contacted Habs' GM Marc Bergevin. There can't be a hotter seat in the NHL right now than Bergevin's because coach Claude Julien isn't going anywhere. The word is that Bergevin is the NHL's most active GM and he'd like to do something to shake up his team.
more on the Yotes and other hockey notes...
Filed in: NHL Teams, | KK Hockey | Permalink

by Paul on 11/18/17 at 07:56 PM ET
Comments (0)
from Larry Brooks of the New York Post,
The city of Houston and the Olympics both serve the same purpose for the NHL. Both exist as points of leverage for commissioner Gary Bettman, who is never hesitant to accumulate chips to play when it comes to advising tax-paying citizens what they must do in order that their respective cities keep their teams and negotiating against the players.

In the wake of the estimable Katie Strang's reporting for The Athletic, we know that Houston is the current city of prominence the NHL has to leverage against cities such as Ottawa and Calgary, whose club owners are seeking new arenas....

Houston makes sense as a U.S. port if accompanied by a viable hockey infrastructure. The Hurricanes are in trouble. The Panthers have been a sinkhole since their move out of Miami to Sunrise. The Islanders are going to become fair game if the bid for Belmont is rejected.

Culturally, of course, Quebec has always made more sense, just as has a second franchise in Toronto.
more and other hockey topics like...
If George Parros wants to make his mark as the new sheriff in town, the first-year head of the Department or Player Safety will ignore whatever excuses Radko Gudas offers for using his stick like a guillotine against Mathieu Perreault and suspend the serial predator for no fewer than eight games.
Filed in: NHL Talk, | KK Hockey | Permalink

About Kukla's Korner Hockey
Paul Kukla founded Kukla's Korner in 2005 and the site has since become the must-read site on the 'net for all the latest happenings around the NHL.
From breaking news to in-depth stories around the league, KK Hockey is updated with fresh stories all day long and will bring you the latest news as quickly as possible.
Email Paul anytime at pk@kuklaskorner.com
Recommended Sportsbook
MyBookie.ag
Tweets by @kuklaskorner
Most Recent Blog Posts