Kukla's Korner Hockey
by Paul on 01/18/22 at 06:43 AM ET
Comments (0)
* The Bruins will raise the No. 22 of Willie O'Ree to the rafters Tuesday, the 64th anniversary of when he became the first Black player in the NHL. The ceremony will be streamed live on NHL.com at this link.
* Timo Meier made Sharks history Monday, becoming the first player to score five goals in a game with the franchise and the NHL's fifth in the past 25 years.
* Nathan MacKinnon reached the 600-point milestone as the Avalanche became just the fourth team in the past 35 years to win at least 14 consecutive home games.
BRUINS SET TO HONOR WILLIE O'REE ON 64TH ANNIVERSARY OF HIS DEBUT
An Original Six franchise will add to its legendary list of retired numbers when the Bruins raise the No. 22 worn by hockey pioneer and Hockey Hall of Fame member Willie O'Ree to the rafters Tuesday. O'Ree, who will virtually attend the ceremony, made history on Jan. 18, 1958, when he suited up for Boston at the Montreal Forum to become the first Black player in the NHL.
* The U.S. House of Representatives is scheduled to vote on a bill this week to award O'Ree the Congressional Gold Medal, which is the highest civilian honor bestowed in the United States. House passage of the Willie O'Ree Congressional Gold Medal Act is the final legislative step; once the bill passes, it will go to the White House for President Joe Biden to sign.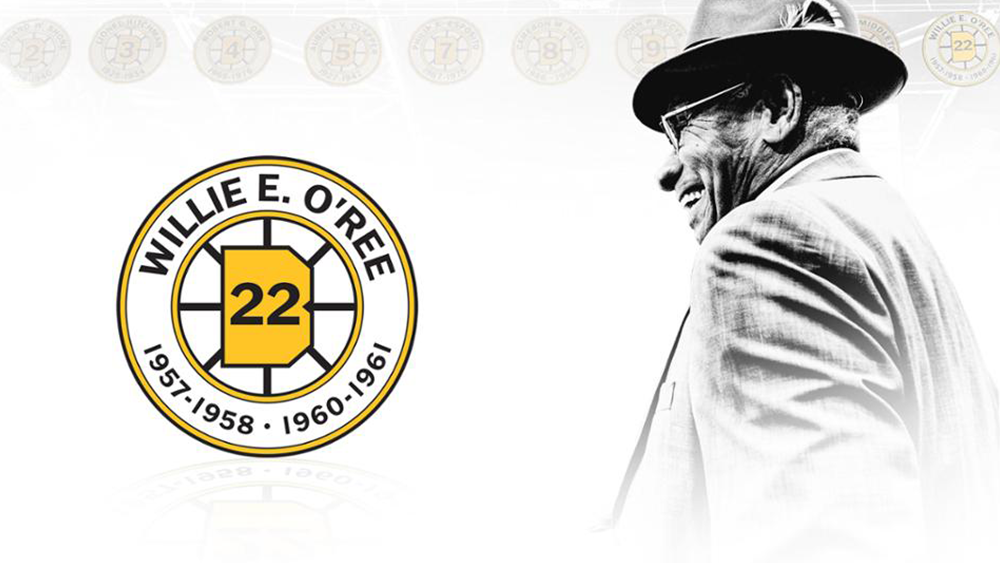 * Legally blind in one eye, O'Ree played two NHL games during the 1957-58 season (also Jan. 19, 1958, in Boston) before rejoining the Bruins in 1960-61, collecting 4-14—18 in 43 games.
* O'Ree had a lengthy and prolific minor league career during a professional hockey journey that spanned 21 years, a stretch that included five 30-goal seasons in the former Western Hockey League (1964-65, 1965-66, 1966-67, 1968-69 & 1973-74). O'Ree accumulated 328-311—639 across 785 games from 1961-62 to 1973-74 while playing with the Los Angeles Blades and San Diego Gulls of the WHL, placing him at 11th in career goals and 17th in career points in league history according to Elite Prospects.
* During his post-playing career, O'Ree has dedicated himself to growing the game in his role as the NHL's Diversity Ambassador – a title he has held since 1998. O'Ree has helped to inspire more than 130,000 kids to take part in the League's Hockey Is For Everyone initiatives.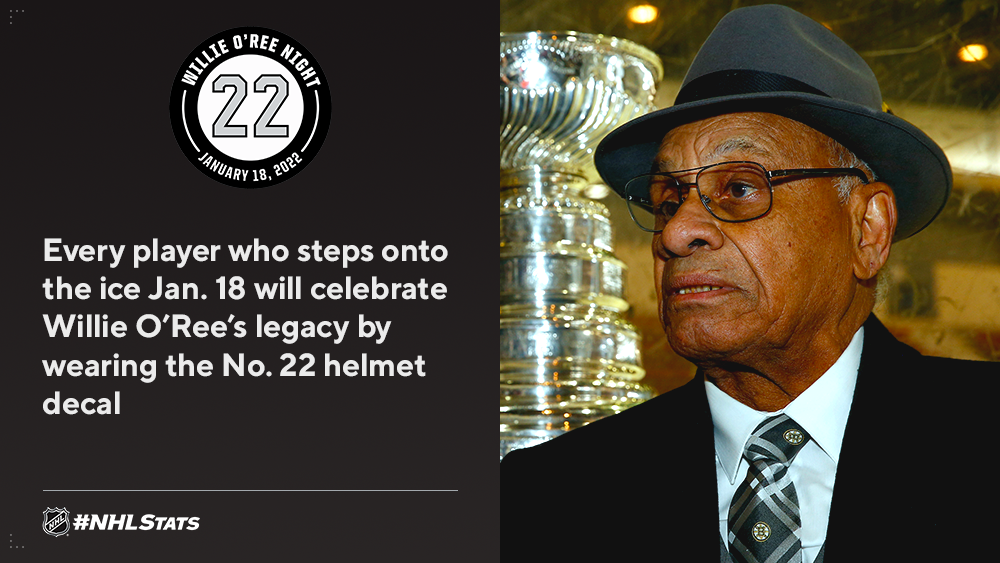 HUBERDEAU EYES FRANCHISE RECORD AS PANTHERS BEGIN ROAD TRIP
Jonathan Huberdeau (5-15—20 in 8 GP) can match the longest assist streak in the NHL this season and establish a franchise record should he set up a goal when the League-leading Panthers (26-7-5, 57 points) visit the Flames (17-11-6, 40 points).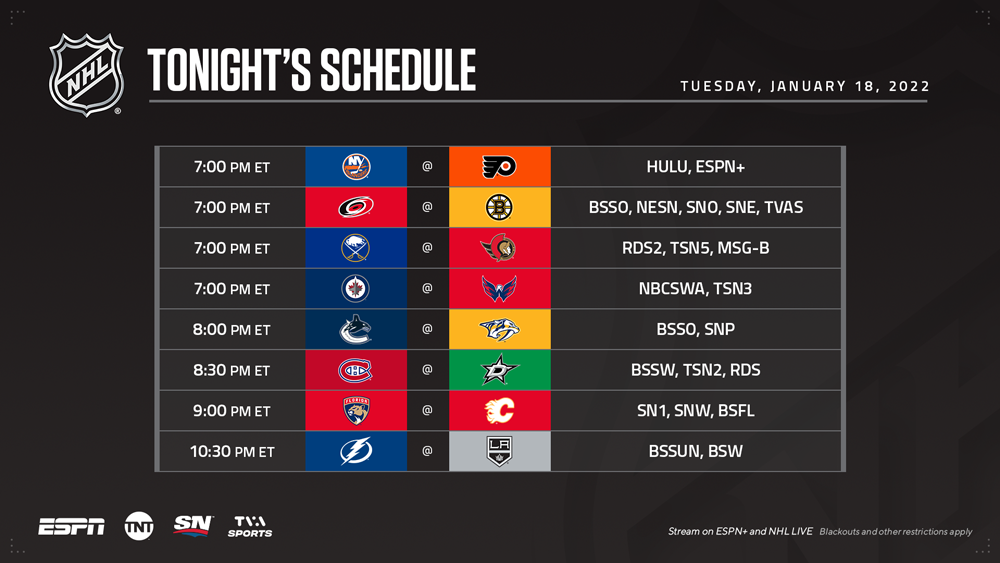 MONDAY NIGHT CONCLUDES WITH STORYLINES APLENTY
An eight-game slate Monday featured a mix of high-scoring affairs, comeback wins and a franchise record – all of which are highlighted below.



MEIER SETS SHARKS FRANCHISE RECORD WITH FIVE-GOAL GAME
Timo Meier scored five of San Jose's six goals, including three in the first period to record the fastest hat trick from the start of a game in franchise history (19:09). Meier also became the first Sharks player to net five goals in a single outing.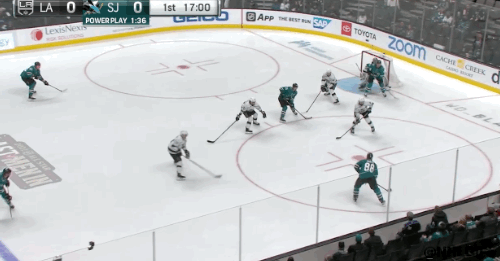 * Meier became the fifth NHL player in the past 25 years to score five goals in a contest (regular season or playoffs), joining Mika Zibanejad (March 5, 2020), Patrik Laine (Nov. 24, 2018), Johan Franzen (Feb. 2, 2011) and Marian Gaborik (Dec. 20, 2007). The last player to score six goals in a game was Darryl Sittler on Feb. 7, 1976.

* Meier is the first NHL player in his lifetime to score at least five goals within the first two periods of a game. The last such instance occurred nearly 28 years ago when Peter Bondra had five goals through 39:30 for the Capitals on Feb. 5, 1994 – more than two years before Meier was born.




* Meier reached the 20-goal mark on the season with his fifth tally of the game (20-25—45 in 35 GP). Only five players in Sharks history have required fewer contests to reach the 20-goal benchmark: Joe Pavelski (32 GP in 2018-19), Patrick Marleau (32 GP in 2009-10), Owen Nolan (32 GP in 1999-00), Dany Heatley (33 GP in 2009-10) and Ray Sheppard (34 GP in 1996-96).

MacKINNON, LANDESKOG LEAD AVALANCHE TO 14TH STRAIGHT WIN AT BALL ARENA
Nathan MacKinnon (1-1—2) reached the 600-point milestone and Gabriel Landeskog (0-1—1) registered a point in his 16th straight appearance to help the Avalanche (25-8-3, 53 points) extend their home win streak to 14 games.

* Colorado, which improved to 14-0-0 at Ball Arena dating to Nov. 11, 2021, recorded the 13th instance in NHL history of a team posting a home win streak of at least 14 games and became just the fourth in the past 35 years to do so. They joined the Red Wings (23 GP in 2011-12), Capitals (15 GP in 2016-17) and Bruins (14 GP in 2008-09).

* Landeskog has registered at least one point in each of his 16 appearances since Nov. 22, 2021 (8-15—23). The captain became the fourth Avalanche/Nordiques player in the past 35 years to record a point in 16 or more straight games, joining Paul Stastny (20 GP in 2006-07), Alex Tanguay (16 GP in 2002-03), Mats Sundin (30 GP in 1992-93) and Peter Stastny (18 GP in 1987-88).

* MacKinnon (219-381—600 in 599 GP) became the seventh player in Avalanche/Nordiques history to record 600 points and the first to do so from the 2013 NHL Draft class – with over 100 points more than the next-closest skater (Aleksander Barkov: 196-298—494 in 554 GP).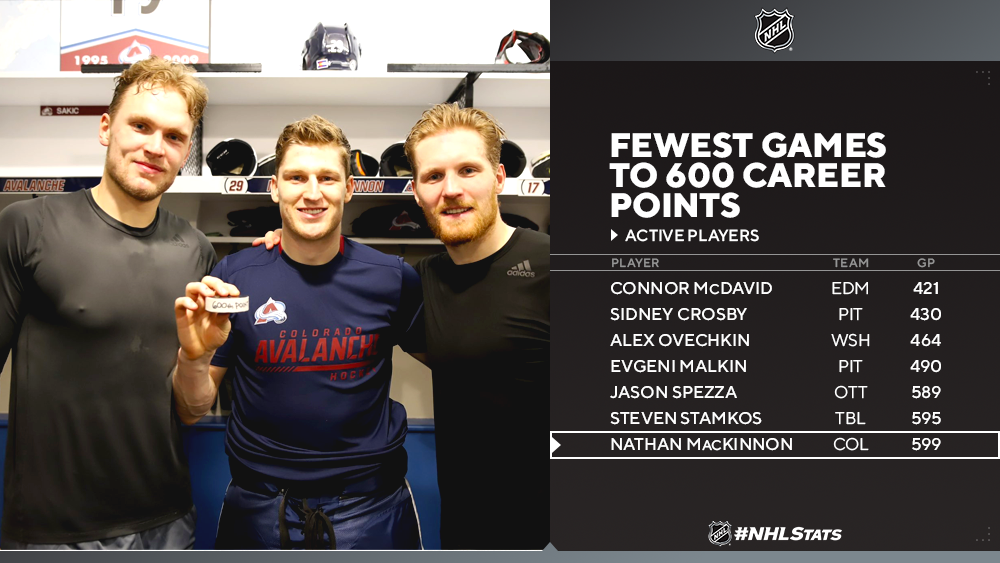 PENGUINS MOUNT THREE-GOAL COMEBACK WIN AS GUENTZEL HITS 20-GOAL MARK
The Golden Knights built a three-goal first-period lead, but the Penguins (23-10-5, 51 points) responded with five unanswered tallies thanks to back-to-back markers from Jason Zucker (2-0—2) and Teddy Blueger (1-0—1) in a 49-second span and the eventual game winner from Jake Guentzel (1-0—1).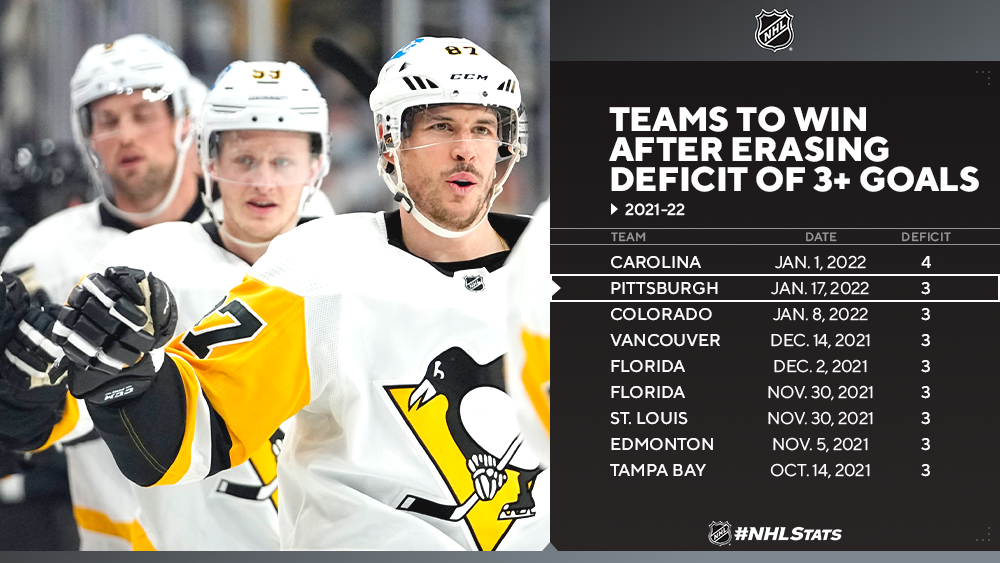 * Guentzel, who netted the winning tally for the second time in as many games, notched his fifth 20-goal campaign and has found the score sheet in all but five outings in 2021-22 (20-18—38 in 32 GP). Since he debuted with the Penguins in 2016-17, only four players have posted more 20-goal seasons: Alex Ovechkin (6 w/ WSH), Brad Marchand (6 w/ BOS), Leon Draisaitl (6 w/ EDM) and Auston Matthews (6 w/ TOR).
* Monday marked the 10th time the Penguins have scored twice within a span of 60 seconds, the most among all teams and two more than the next closest clubs (CBJ & MIN: both w/ 8).

CHARA'S 1,636TH CAREER GAME FEATURED ON #NHLSTATS: LIVE UPDATES
Islanders defenseman Zdeno Chara was featured in the latest edition of #NHLStats: Live Updates as he skated in his 1,636th career game Monday. The 24-year NHL veteran surpassed Hockey Hall of Fame member Scott Stevens (1,635 GP) for sole possession of second place on the League's all-time games played list among defensemen and is on pace to become the all-time leader later this season.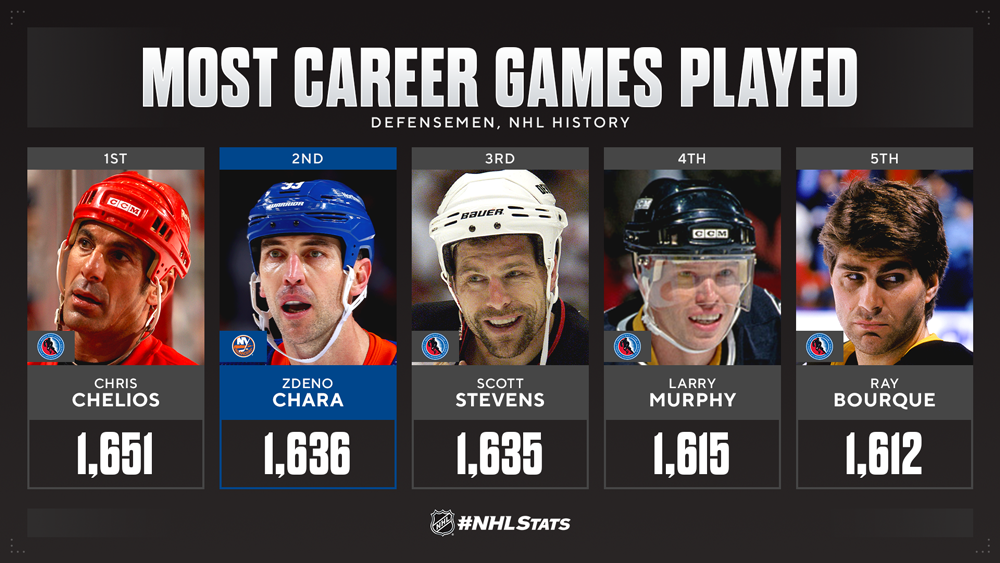 QUICK CLICKS
* Brad Marchand, Marc-Andre Fleury, Nikita Kucherov named Three Stars of the Week
* ESPN's first all-female NHL broadcast presents Canadiens-Coyotes game
* Willie O'Ree gets proclamation, new hat from Bruins day before number's retired
* Carey Price to restart knee rehabilitation for Canadiens
* Blues raise Chris Pronger's No. 44 to the rafters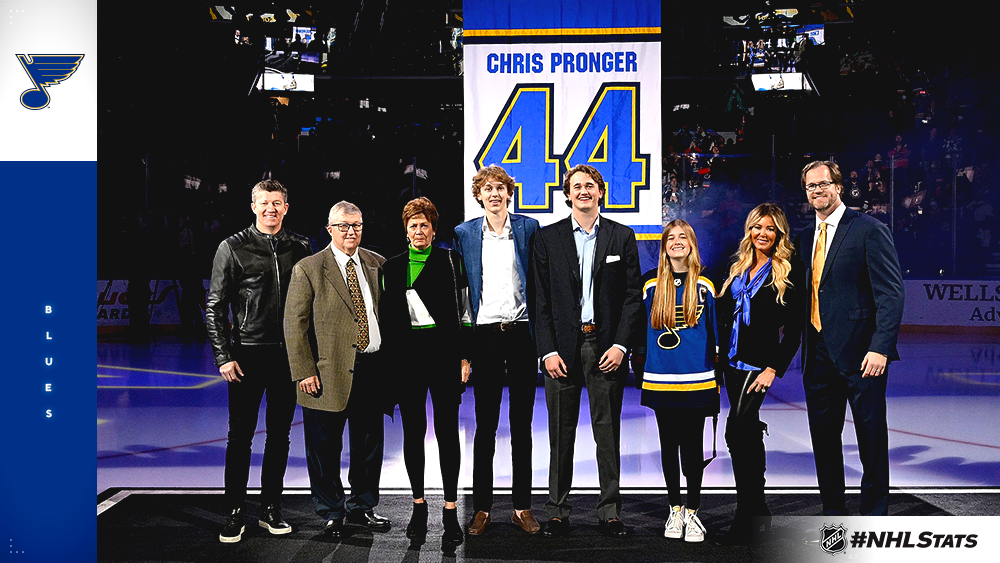 Thanks to the NHL PR department for the information above.
Filed in: NHL Teams, | KK Hockey | Permalink

Comments
Be the first to comment.
Add a Comment
Please limit embedded image or media size to 575 pixels wide.
Add your own avatar by joining Kukla's Korner, or logging in and uploading one in your member control panel.
Captchas bug you? Join KK or log in and you won't have to bother.
Most Recent Blog Posts
About Kukla's Korner Hockey
Paul Kukla founded Kukla's Korner in 2005 and the site has since become the must-read site on the 'net for all the latest happenings around the NHL.
From breaking news to in-depth stories around the league, KK Hockey is updated with fresh stories all day long and will bring you the latest news as quickly as possible.
Email Paul anytime at pk@kuklaskorner.com
Tweets by @kuklaskorner