Kukla's Korner Hockey
by Paul on 08/05/20 at 06:56 AM ET
Comments (0)
THREE HARD LAPS

* The Hurricanes, who were the final team to reach the 2019 Second Round, completed the three-game sweep of the Rangers and became the first club to advance from the qualifying round in 2020.

* The Islanders and Flames each earned wins to move within one of advancing from the qualifying round.

* The Maple Leafs, Predators and Canucks evened their respective best-of-five series at 1-1.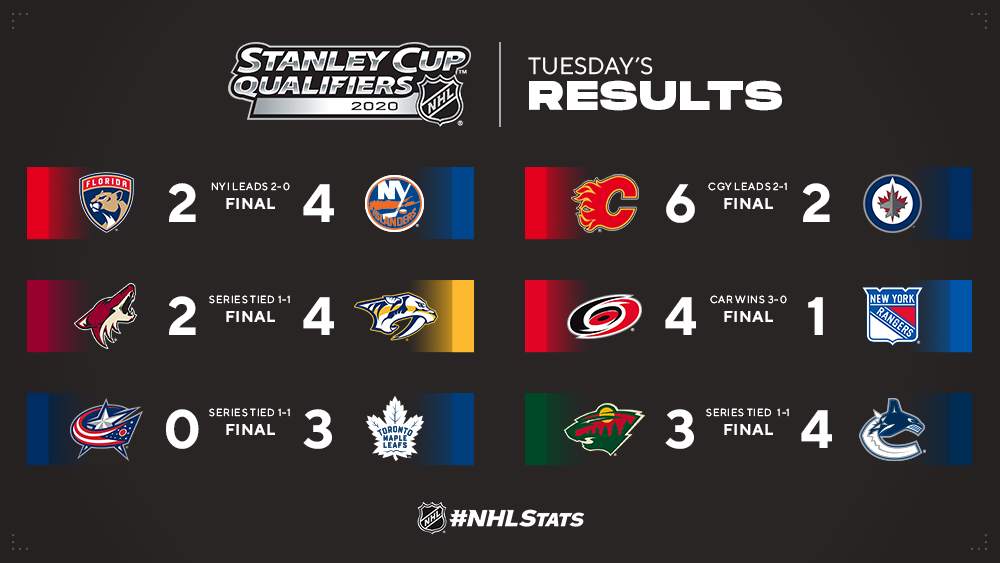 HURRICANES COMPLETE THREE-GAME SWEEP OF RANGERS
Sebastian Aho led all players with three points (2-1—3), including scoring a highlight-reel goal with 9:34 remaining in regulation to put Carolina up 3-1, as the Hurricanes completed the three-game sweep of the Rangers. Carolina swept a best-of-five postseason series for the second time in franchise history – the first instance was as the Hartford Whalers against the Quebec Nordiques in the 1986 Division Semifinals.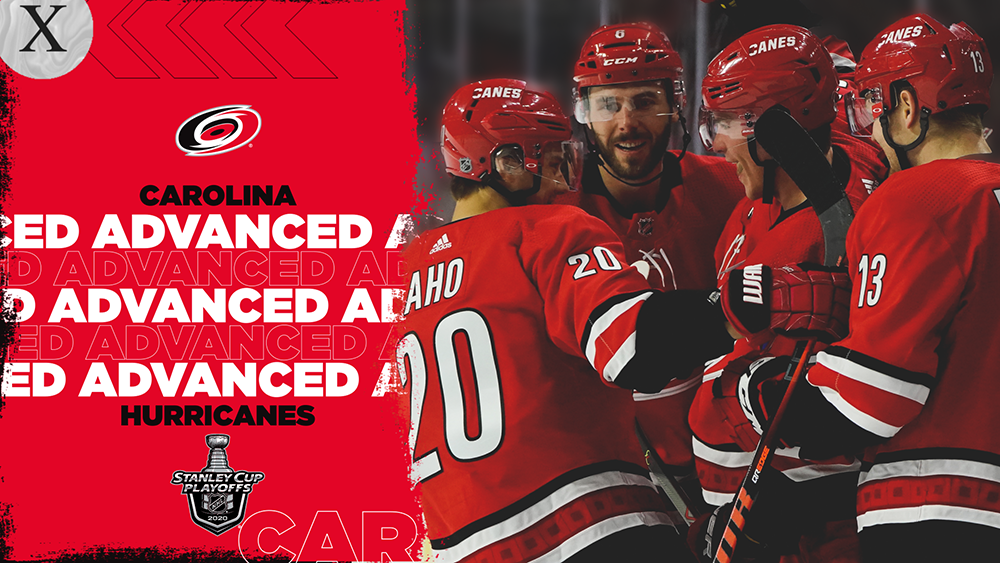 * Aho concluded the qualifying round with eight points (3-5—8 in 3 GP), which currently leads all players competing in the Stanley Cup Qualifiers. He established a franchise record for most points in a best-of-five series, eclipsing the previous mark of seven set by Hartford's John Anderson in the 1986 Division Semifinals (3-4—7 in 3 GP).

* Aho became the eighth different player in NHL history to record eight or more points in a best-of-five sweep (with either the winning or losing club).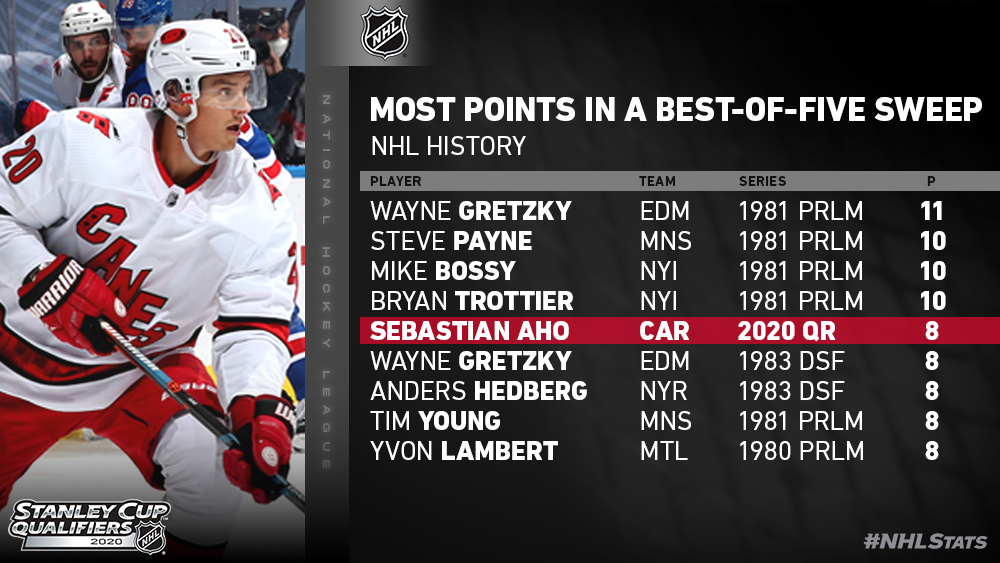 * Aho has recorded 20 points through 18 career postseason games (8-12—20). Only two other players have reached 20 postseason points with the Hurricanes/Whalers in 18 games played or fewer (NHL debut or otherwise): Eric Staal (7-13—20 in 16 GP) and Kevin Dineen (9-11—20 in 18 GP).

REMINDER: The top four teams in each conference are currently playing each other in a round-robin format to determine the top four seeds in the First Round. The four qualifying round winners will join with the seeded top four teams to create an eight-team playoff in each conference. The highest remaining seed will face the lowest remaining seed in each round. All four rounds are best-of-seven.
EBERLE SHINES AS ISLANDERS TAKE 2-0 SERIES LEAD . . .
Jordan Eberle scored a pair of goals, including the game-winning tally and the insurance marker, to help propel the Islanders to a 2-0 series lead against the Panthers. New York has now won all five head-to-head meetings with Florida this season (3-0-0 in regular season & 2-0 in postseason).

* Eberle, who led all Islanders skaters in the 2019 Stanley Cup Playoffs with 4-5—9 in eight outings including a goal in each of his first four playoff games with the franchise, boosted his totals to 6-5—11 in his first 10 postseason contests with New York.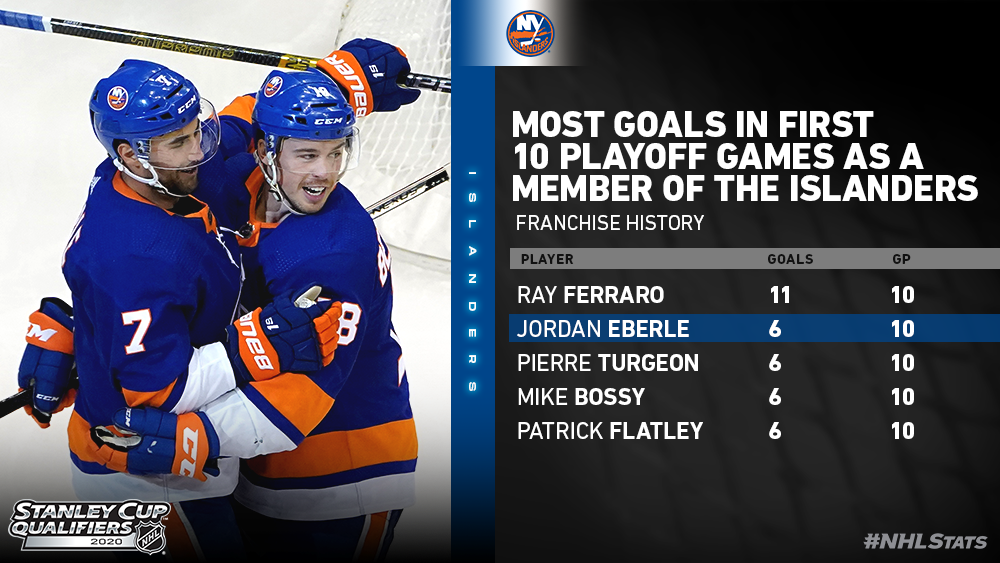 * These teams will face off in Game 3 of the series today with the Islanders having the opportunity to win their first best-of-five series since the 1985 Division Semifinals (3-2 W vs. WSH). During the regular season, both teams posted winning records in the second half of back-to-back games, with New York earning wins in six of eight contests (6-1-1) and Florida winning eight of 14 games (8-4-2).

* The last time the Islanders and Panthers each played back-to-back postseason games was against each other during the 2016 First Round. New York captured Game 1 on April 14, 2016, while Florida rebounded to take Game 2 on April 15, 2016.

. . . WHILE MONAHAN AND FLAMES ALSO PUSH JETS TO BRINK OF ELIMINATION
Sean Monahan (1-2—3) paced a group of five Flames players with multiple points as Calgary benefited from a six-goal outing and pushed Winnipeg to the brink of elimination. The Flames sit one victory shy of advancing to the First Round and securing their fifth win in a best-of-five series in franchise history (also 1986 DSF, 1984 DSF, 1983 DSF & 1981 PRLM).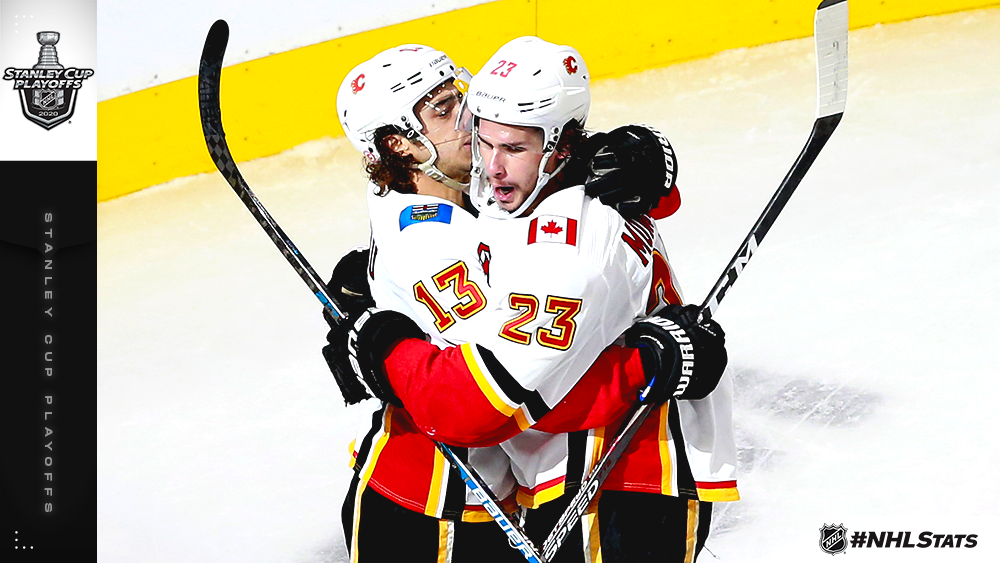 * Monahan boosted his career playoff totals to 9-8—17 in 23 games played. Among players to debut with the Flames, Monahan became just the third in the last 30 years to collect his 15th career playoff point in 23 games or fewer. The others: Jarome Iginla (16 GP: 1995-96 to 2003-04) and Robert Reichel (21 GP: 1990-91 to 1994-95).

MAPLE LEAFS, PREDATORS AND CANUCKS EARN GAME 2 WINS TO EVEN SERIES
The Maple Leafs, Predators and Canucks each earned Game 2 wins to even their respective qualifying round series at 1-1:

* After Joonas Korpisalo stifled the Maple Leafs in Game 1 with a 28-save shutout, Auston Matthews found the back of the net 16 minutes into the second period to end the Blue Jackets goaltender's shutout streak at 96:00 and propel Toronto to victory.

* Matthews, one of three Maple Leafs goal scorers Tuesday, tallied his 11th career postseason goal (11-4—15 in 22 GP) and moved into a tie with Wendel Clark (11-6—17 in 23 GP) for the second-most by a Toronto player age 22 or younger. Ted Kennedy tops that list with 20 (20-14—34 in 38 GP).

* Frederik Andersen (21 saves) outdueled Korpisalo to post his first career playoff shutout with the Maple Leafs. In the process, the club's Game 2 victory marked the sixth time in franchise history in which the Maple Leafs recorded a shutout win in the postseason immediately following a shutout loss and first since the 2002 Conference Finals versus the Hurricanes (Game 4 & Game 5).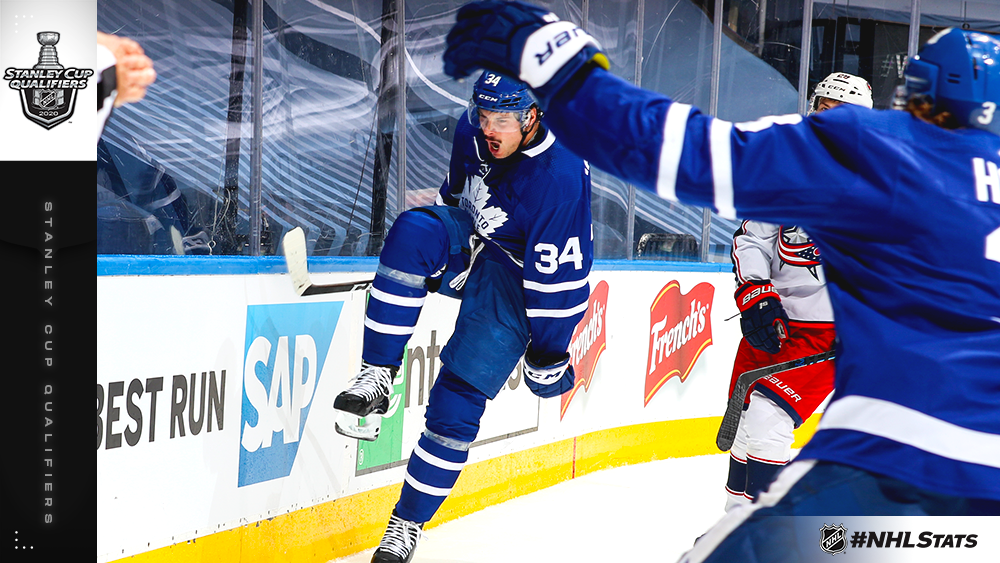 * Juuse Saros (24 saves) came 57 seconds shy of his first career postseason shutout and Ryan Johansen (1-1—2) led the way offensively as the Predators skated to a Game 2 victory over the Coyotes.

* Saros earned his first career postseason win in his ninth appearance. Only four other goaltenders in NHL history have made nine or more playoff appearances before their first win: Clint Malarchuk (12 GP), Dan Bouchard (11 GP), Bob Froese (9 GP) and Sergei Bobrovsky (9 GP).

* These teams will face off in Game 3 of the series today. During the regular season, Nashville posted a better record in the second half of back-to-back games, winning four of seven contests (4-3-0) to Arizona's two in nine (2-5-2).

* The Predators last played a back-to-back set in the postseason during the 2004 Stanley Cup Playoffs versus the Red Wings (April 10 & April 11). Meanwhile, the Coyotes last played back-to-back postseason games during the 1999 Stanley Cup Playoffs against the Blues (April 24 & April 25).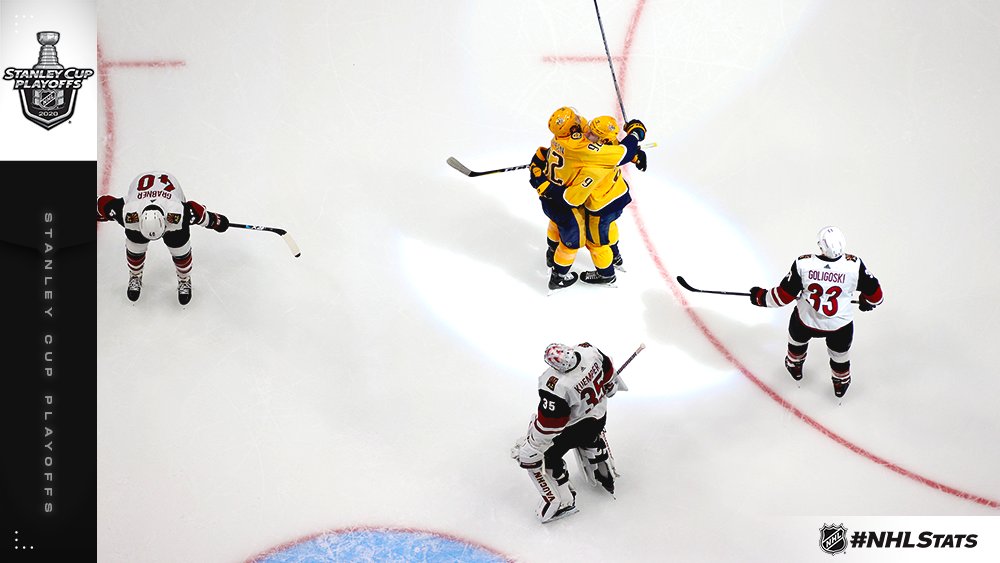 * Tanner Pearson opened the scoring 24 seconds into the first period and Brock Boeser, J.T. Miller (1-1—2) and Bo Horvat (1-1—2) also tallied as the Canucks triumphed over the Wild in Game 2.

* Pearson scored the second-fastest goal from the start of a postseason game in franchise history, behind only the mark of eight seconds set by Stan Smyl against the Flames in Game 1 of 1982 Division Semifinals. Pearson, who won the championship with Los Angeles in 2014, is one of three Stanley Cup winners on Vancouver's current roster (also Jay Beagle: 2018 WSH, Tyler Toffoli: 2014 LAK).

* Boeser, a native of Burnsville, Minn., scored his first career postseason goal. His first career regular-season goal was also against the Wild (March 25, 2017).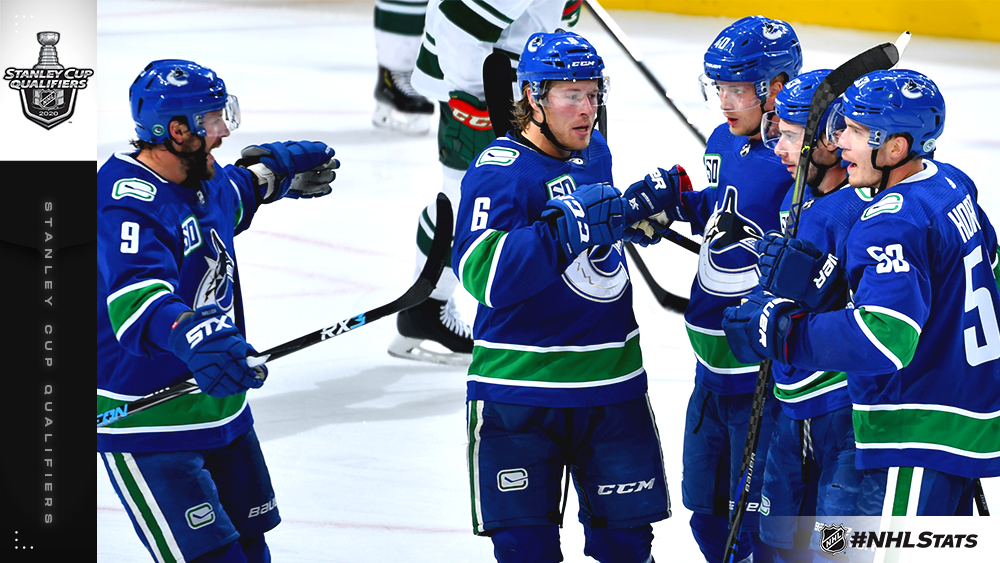 * NHL announces start times for Cup Qualifier games on Aug. 6
* Mike Matheson fined for actions in Panthers game against Islanders
* Brady Keeper postseason debut for Panthers in Game 2 big news in Cree community
* Rangers, Hurricanes engage in post-series fist-bump line after Qualifier
* Inside the Bubble Blog: Hats off to staffs in Edmonton, Toronto

PREVIEW OF TODAY'S ACTION
Wednesday will feature two round robin contests and the Game 3 of four qualifying round series, with the Islanders looking to join the Hurricanes as the second team to advance.

* Teams that win each of the first two games in a best-of-five series own an all-time series record of 56-1 (.983). That total includes a 1-0 mark in 2020 and three series involving non-NHL clubs (1920 SCF, 1925 SCF & 1926 SCF).

* Teams that win Game 3 after splitting the first two games in a best-of-five series own an all-time series record of 21-7 (.750). That total includes four series involving non-NHL clubs (1918 SCF, 1921 SCF, 1922 SCF & 1923 SC SF).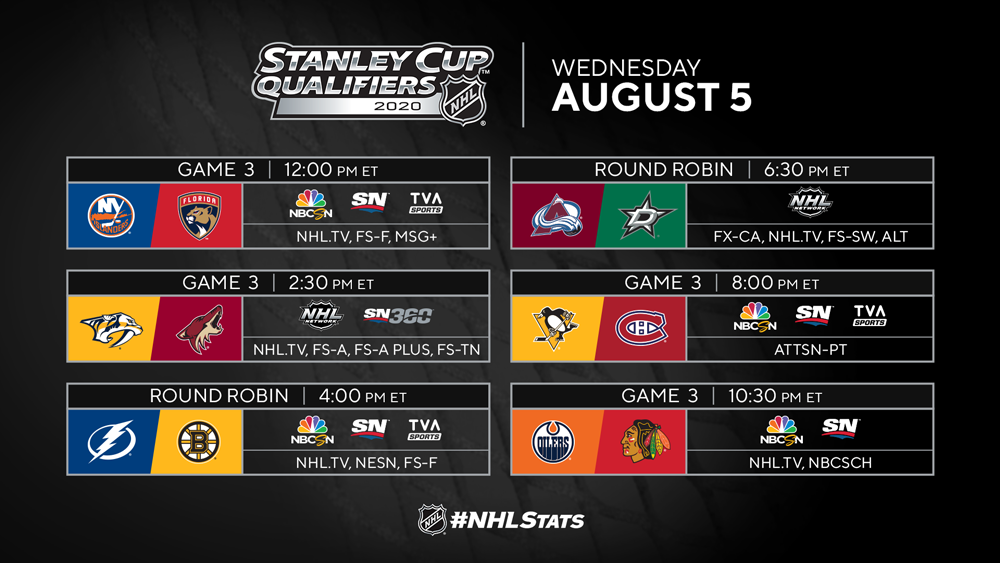 Thanks to the NHL PR department for the information above.
Filed in: NHL Teams, | KK Hockey | Permalink

Comments
Be the first to comment.
Add a Comment
Please limit embedded image or media size to 575 pixels wide.
Add your own avatar by joining Kukla's Korner, or logging in and uploading one in your member control panel.
Captchas bug you? Join KK or log in and you won't have to bother.
Most Recent Blog Posts
About Kukla's Korner Hockey
Paul Kukla founded Kukla's Korner in 2005 and the site has since become the must-read site on the 'net for all the latest happenings around the NHL.
From breaking news to in-depth stories around the league, KK Hockey is updated with fresh stories all day long and will bring you the latest news as quickly as possible.
Email Paul anytime at pk@kuklaskorner.com
Tweets by @kuklaskorner