Kukla's Korner Hockey
by Paul on 08/01/20 at 01:42 AM ET
Comments (0)
"SUMMER WITH STANLEY" BECOMES "SUMMER CHASING STANLEY"
The first of August often includes plans for the Stanley Cup to sit poolside during a hometown celebration for one of its newest champions, but this year will be different. Nearly five months after the NHL paused the 2019-20 regular season due to the COVID-19 pandemic, play will continue with 10 of 24 resuming teams in action to begin the 2020 Stanley Cup Qualifiers.

* The first slate of NHL games ever in the month of August will span more than 13 hours of action, rotating between Toronto (3 games) and Edmonton (2 games). All five games are best-of-five series openers.
V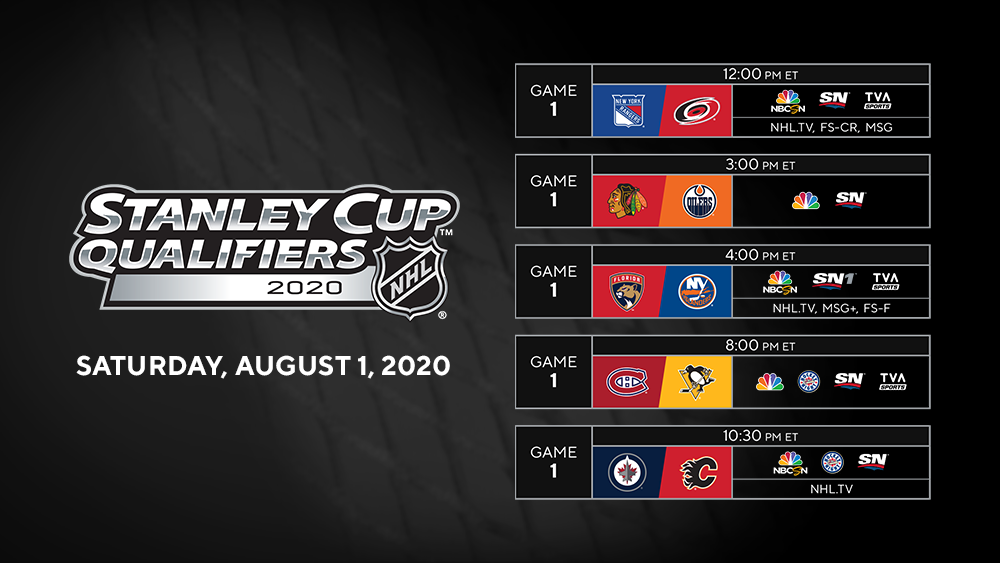 OPENING DAY TO SALUTE SOCIAL JUSTICE ACTIVISTS, FRONT-LINE WORKERS
Throughout opening day, the NHL will pay tribute to those at the forefront of the anti-racism movement and fight against COVID-19.

* As part of the NHL's new League-wide initiative, #WeSkateFor, the NHL and its 32 Member Clubs and players will support, celebrate and honor community heroes, front-line and healthcare workers, and racial justice activists through various local and national programs and activities, including charitable donation drives, social media campaigns using the hashtag #WeSkateFor and pregame acknowledgements.

* Players will wear #WeSkateFor Equality helmet decals in support of Black Lives Matter and other social justice movements. Within each arena, the message #WeSkateFor Black Lives will be displayed on digital screens and seat coverings.

* The NHL also will recognize 24 healthcare professionals and other essential workers for their heroism and courage in a virtual pregame ceremony before the Blackhawks-Oilers game and prior to the Canadiens-Penguins puck drop.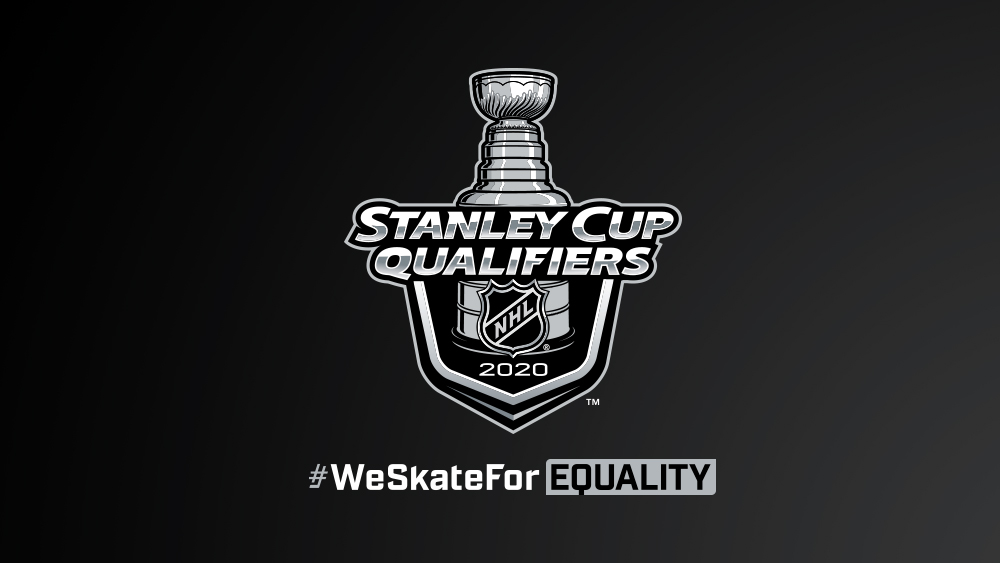 QUICK HITS: BEST-OF-FIVE SERIES
* Teams that win Game 1 in a best-of-five series own an all-time series record of 68-15 (.819). In addition, the original Ottawa Senators won the 1927 Stanley Cup Final, a best-of-five series, after playing to a 0-0 tie in Game 1.

* Eleven franchises competing in the qualifying round have contested a best-of-five series, including eight clubs playing today: Pittsburgh, Montreal, NY Rangers, Carolina (as Hartford Whalers), Chicago, Edmonton, NY Islanders and Calgary. The others are Arizona (as the original Winnipeg Jets), Vancouver and Toronto.

* NHL teams last contested best-of-five series in the 1986 Division Semifinals. The opening night of the playoffs – April 9, 1986 (12,533 days ago) – featured Game 1 of each of those series, including a showdown between Calgary and the original Winnipeg Jets. The Flames and current Jets will open their series in tonight's finale.

* Wayne Gretzky holds or shares the distinctions of "most goals," "most assists," and "most points" in the opening game of a best-of-five series – he recorded five assists on April 8, 1981 at Montreal and four goals on April 6, 1983 at home against Winnipeg, finishing each of those games with five points for the Oilers. The only other player to record five points in Game 1 in a best-of-five series is Bryan Trottier, who had 2-3—5 with the Islanders against the Maple Leafs on April 8, 1981 - the same day Gretzky had his five-assist showing.

* There has been only one instance in the last 81 years of a goaltender recording a shutout in the opening game of a best-of-five series – Bob Sauve led the Sabres to a 1-0 victory over the Canadiens on April 6, 1983.

HURRICANES LOOK TO TURN TIDE VS. RANGERS IN FIRST GAME OF QUALIFIERS
The Hurricanes/Whalers and Rangers will go head-to-head in the Stanley Cup Playoffs for the first time, with New York looking to continue its recent success against Carolina after posting a 4-0-0 record against them during the 2019-20 regular season.

* Artemi Panarin led all NHL players with nine points against the Hurricanes in 2019-20 (3-6—9 in 4 GP), recording multiple points in all four games.

* Sebastian Aho has 5-7—12 in 15 career postseason games. His 0.80 points-per-game rate in the playoffs ranks fifth in franchise history (min. 10 GP).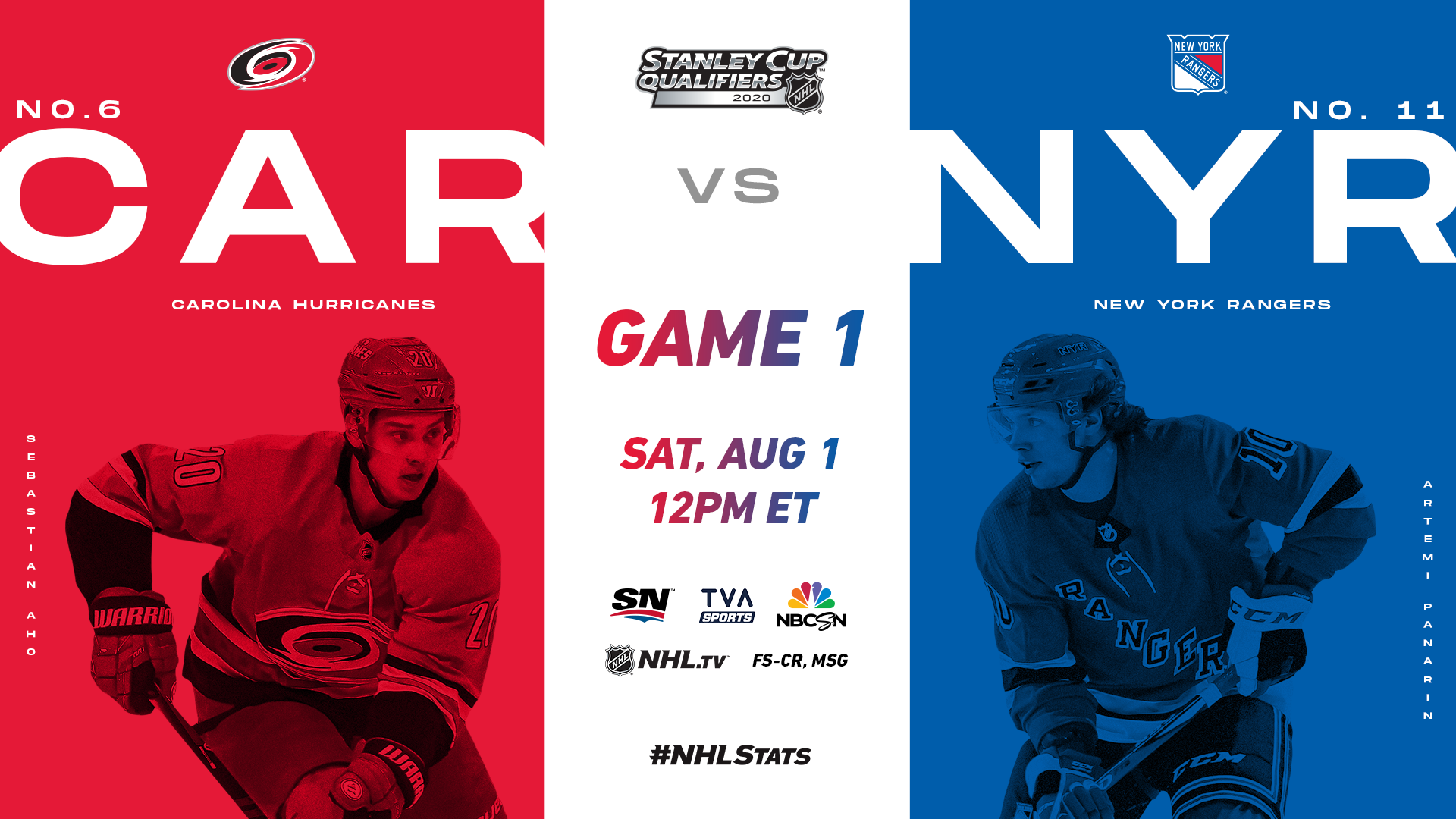 McDAVID, DRAISAITL BATTLE TOEWS, KANE AS OILERS AND BLACKHAWKS COLLIDE
The first game from Edmonton will open the fifth all-time playoff meeting between the Oilers and Blackhawks, and first since 1992. It is one of two games on Saturday's schedule that will honor front-line pandemic workers and those who are fighting for social justice (also MTL vs. PIT).

* Leon Draisaitl (6-10—16) and Connor McDavid (5-4—9) – who finished first and second in scoring in 2019-20 – have 16 and nine points, respectively, through 13 career playoff games, all in 2017. That's three points more than their Blackhawks counterparts Patrick Kane (8-4—12) and Jonathan Toews (4-6—10) had through their first 13 career playoff games, all in 2009.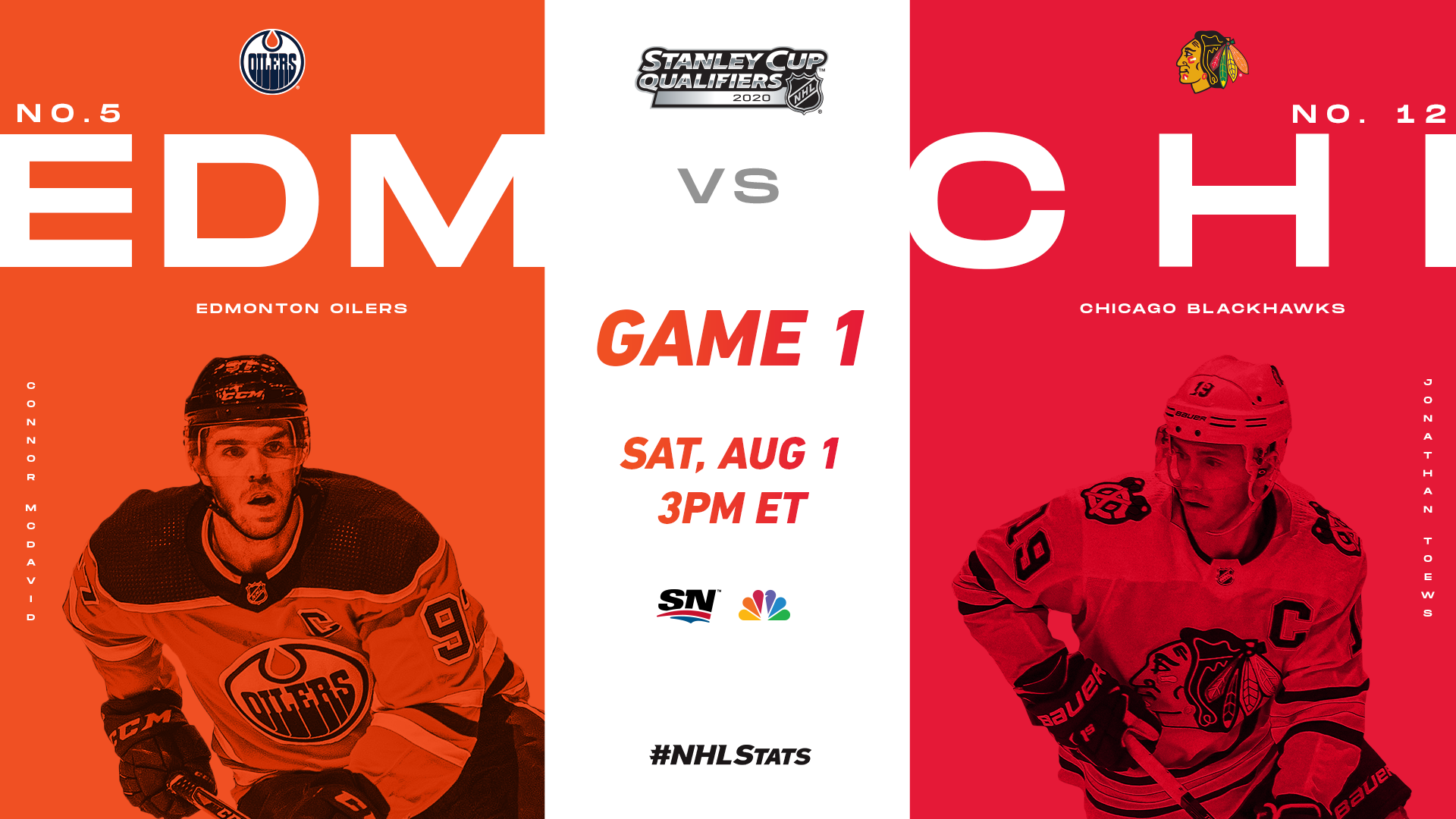 ISLANDERS, PANTHERS SET FOR SECOND POSTSEASON MEETING IN FOUR YEARS
The Islanders and Panthers are set to square off in their second playoff meeting after requiring overtime in three of six games in their first series four years ago. New York won each of those overtime games, including Game 6 when former captain John Tavares clinched the series in double-overtime.

* Anders Lee, who missed the 2016 matchup versus Florida and now wears the "C" for New York, will aim to help the Islanders improve upon their 6-1 series record in best-of-five series. Their all-time win percentage of .857 in best-of-five series is the highest among the 31 current NHL franchises.

* Aleksander Barkov (2-1—3) and Jonathan Huberdeau (1-2—3) each had three points in six games against the Islanders in the 2016 Stanley Cup Playoffs. Barkov is the only current Panthers player with multiple career postseason goals with the franchise.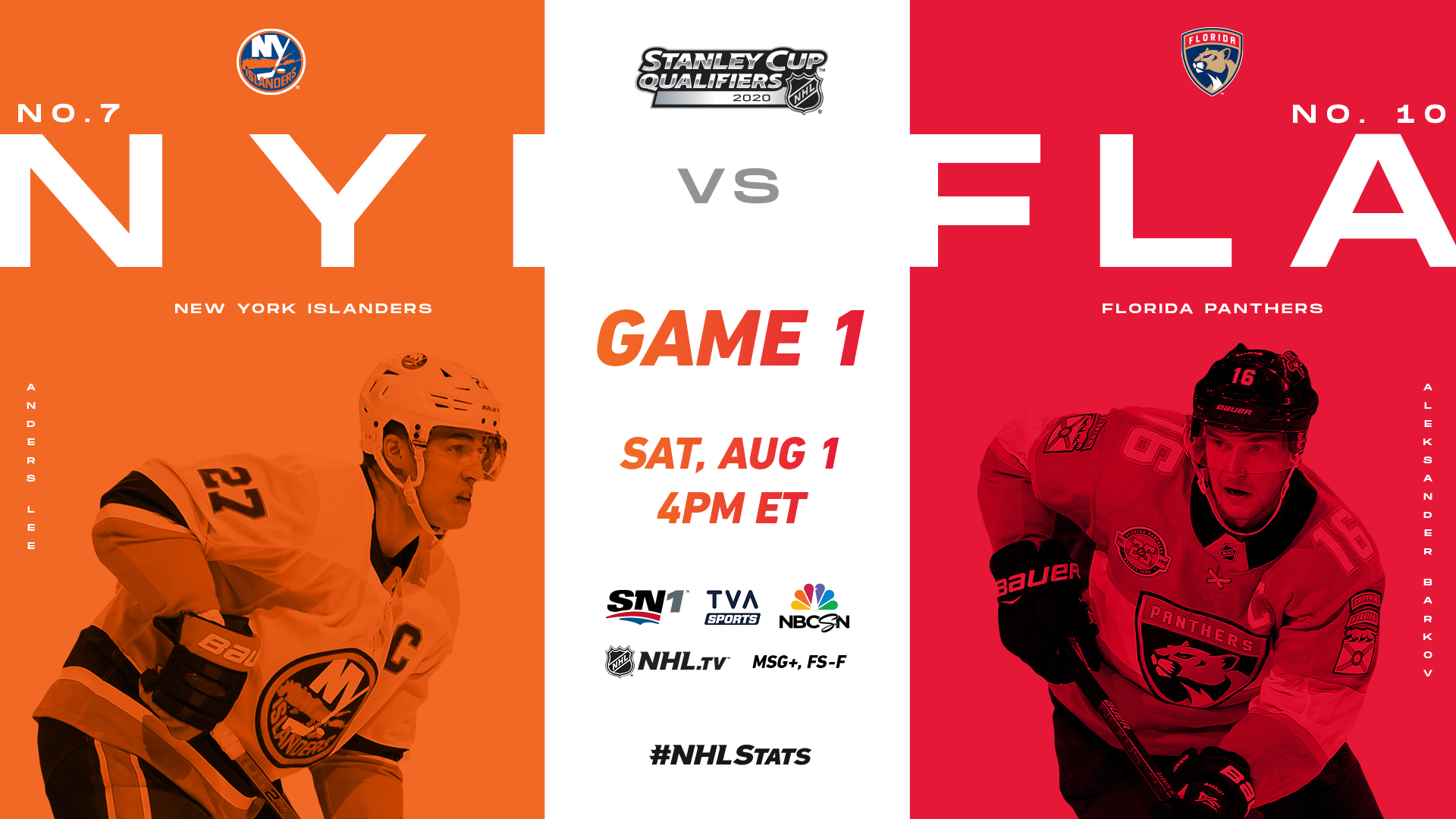 CROSBY AND COMPANY SET TO TANGLE WITH WEBER AND CANADIENS
This will be the third playoff meeting between the Penguins and Canadiens, with Montreal winning each of the previous encounters (1998 Eastern Conference Quarterfinals and 2010 Conference Semifinals).

* Sidney Crosby is one of three Penguins setting out to capture his fourth Stanley Cup, while new teammate Patrick Marleau vies for hist first. Crosby leads all active players with 186 career playoff points, two back of tying Doug Gilmour and Joe Sakic for eighth place in League history.

* Shea Weber ranks among the top 10 in playoff goals among active defensemen (14). His 0.22 goals per game played in the postseason paces active defensemen (minimum: 25 GP), with Pittsburgh's Jack Johnson (0.19) tied for fourth on that list.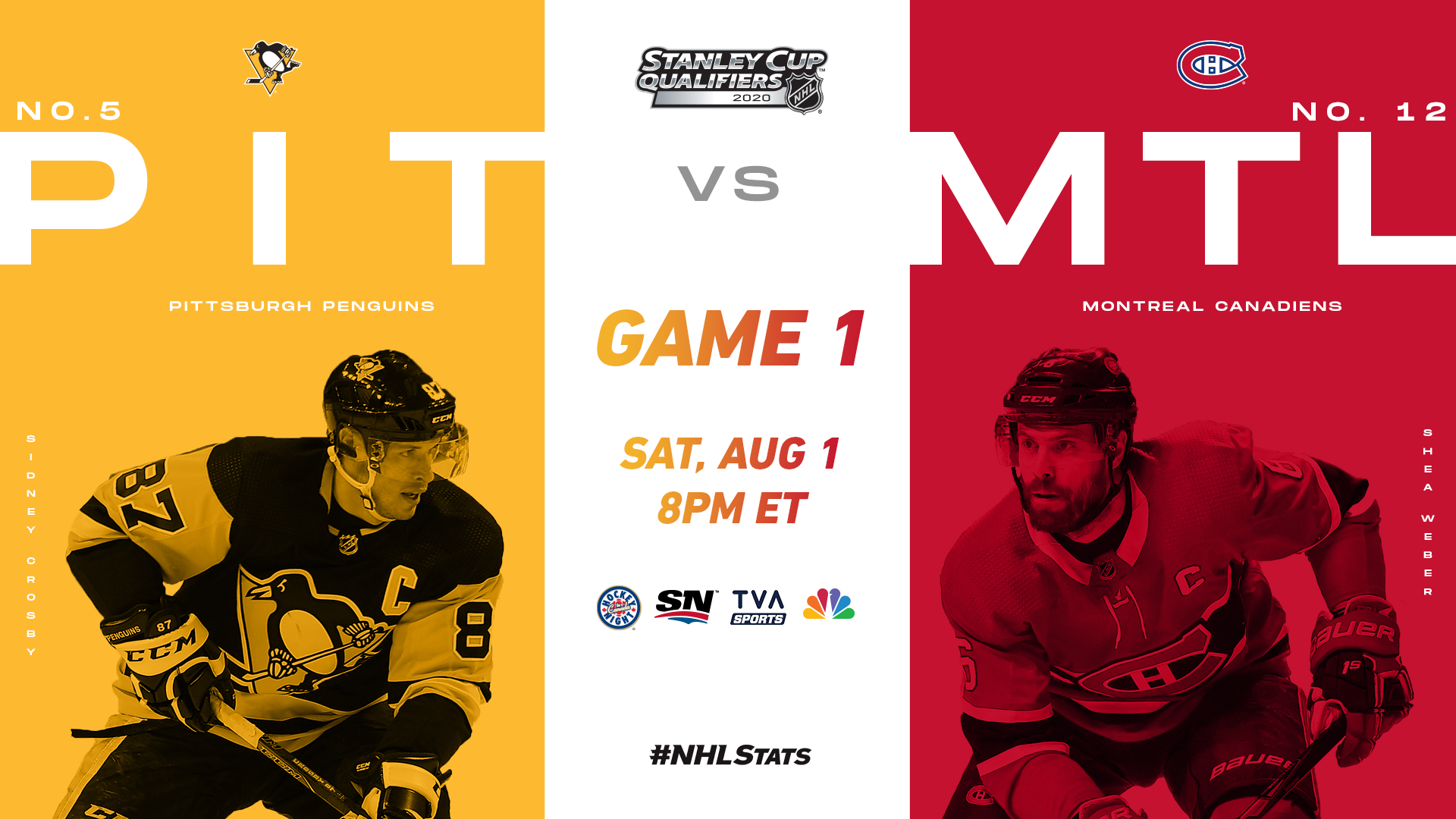 * Crosby's father, Troy, was selected by the Canadiens in the 1984 NHL Draft. He never played in the League, a fate perhaps tied to the fact that he was the second goaltender selected by Montreal that year – the other being Patrick Roy. The elder Crosby was the 242nd selection that year, but two ineligible picks bumped him up to No. 240, as shown in this clipping from the June 11, 1984 edition of the Montreal Gazette.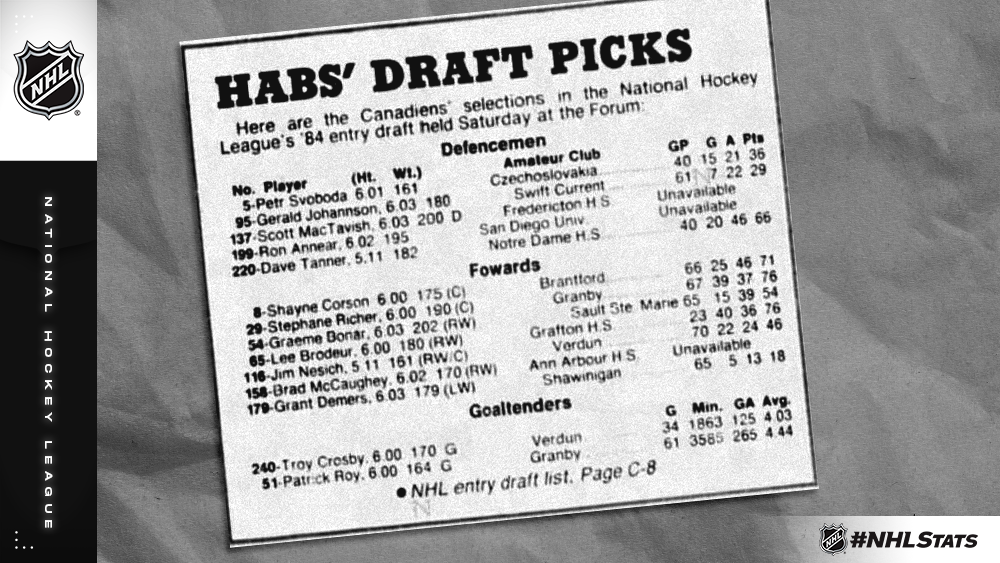 FLAMES, JETS SET TO CLASH IN ALL-CANADIAN SHOWDOWN
Exactly 280 days after meeting outdoors at Mosaic Stadium in Regina, Saskatchewan, the Flames and Jets/Thrashers franchises will go head-to-head in the playoffs for the first time. However, Calgary and the original Winnipeg Jets met three times in the playoffs – in consecutive Division Semifinals showdowns in 1985, 1986 and 1987 – including twice in best-of-five series.

* Captains Mark Giordano and Blake Wheeler will lead their clubs into the first all-Canadian playoff series since 2015 when there were two in the First Round – the Flames, playing without Giordano, defeated the Canucks in six games while the Canadiens eliminated the Senators. This will be the first all-Canadian playoff series for the current Jets, but the original club played 11 of its 13 playoff series against Canadian clubs while based in Winnipeg.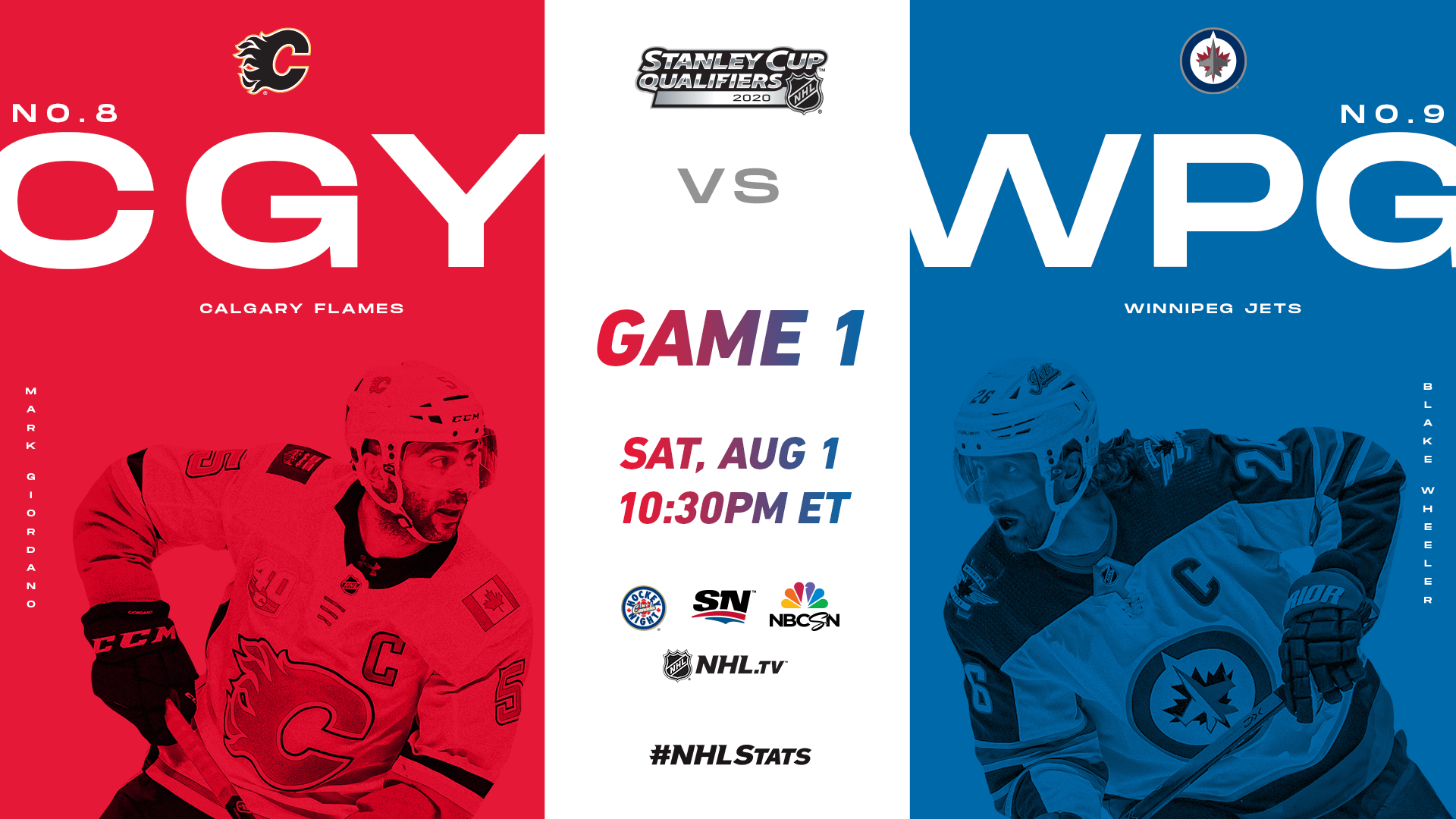 MEDIA REMINDER: Schedules and recordings of all Zoom media availabilities (including post-game) are available daily on the NHL's media site – you must have an account to access this content. The 2020 Stanley Cup Qualifiers Information Guide as well as team playoff media guides also are available on the site.

QUICK CLICKS:
* Why I raised my fist: JT Brown
* Mike "Doc" Emrick set to call games remotely
* Stanley Cup Qualifiers mark return of NHL, 'going to be a lot of fun'
* Maple Leafs' Sheldon Keefe learned from John Tortorella
* Roman and NHL announce 2020 Stanley Cup Playoffs partnership
the above informatio wa supplied by the NHL PR department
Filed in: NHL Teams, NHL Talk, | KK Hockey | Permalink

Comments
Be the first to comment.
Add a Comment
Please limit embedded image or media size to 575 pixels wide.
Add your own avatar by joining Kukla's Korner, or logging in and uploading one in your member control panel.
Captchas bug you? Join KK or log in and you won't have to bother.
Most Recent Blog Posts
About Kukla's Korner Hockey
Paul Kukla founded Kukla's Korner in 2005 and the site has since become the must-read site on the 'net for all the latest happenings around the NHL.
From breaking news to in-depth stories around the league, KK Hockey is updated with fresh stories all day long and will bring you the latest news as quickly as possible.
Email Paul anytime at pk@kuklaskorner.com
Tweets by @kuklaskorner