Kukla's Korner Hockey
by Paul on 10/22/19 at 07:47 AM ET
Comments (0)
Nyquist scores penalty-shot goal in overtime for Blue Jackets; Blues hand Avalanche first regulation loss of the season; MacKinnon extends season-opening point streak to join elite company.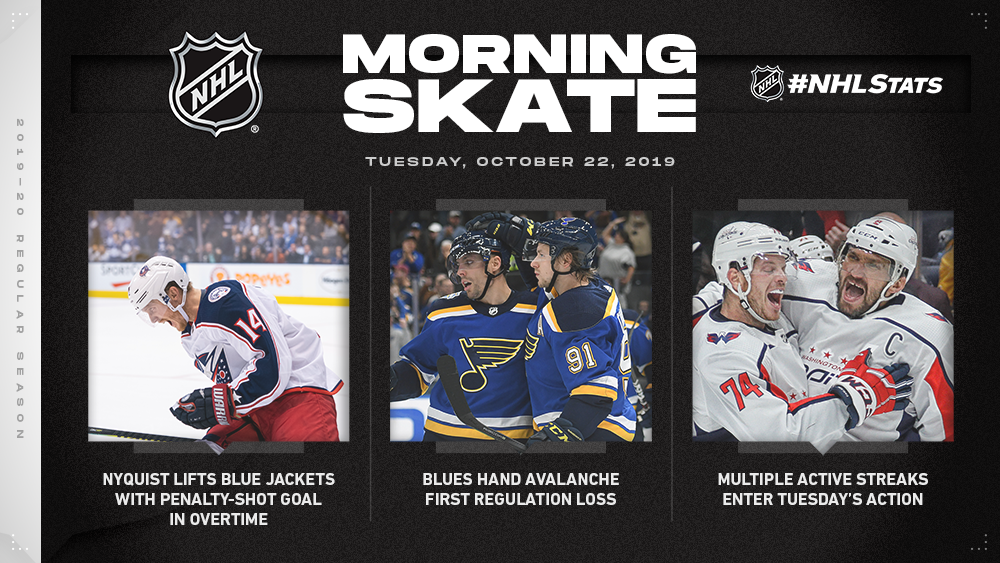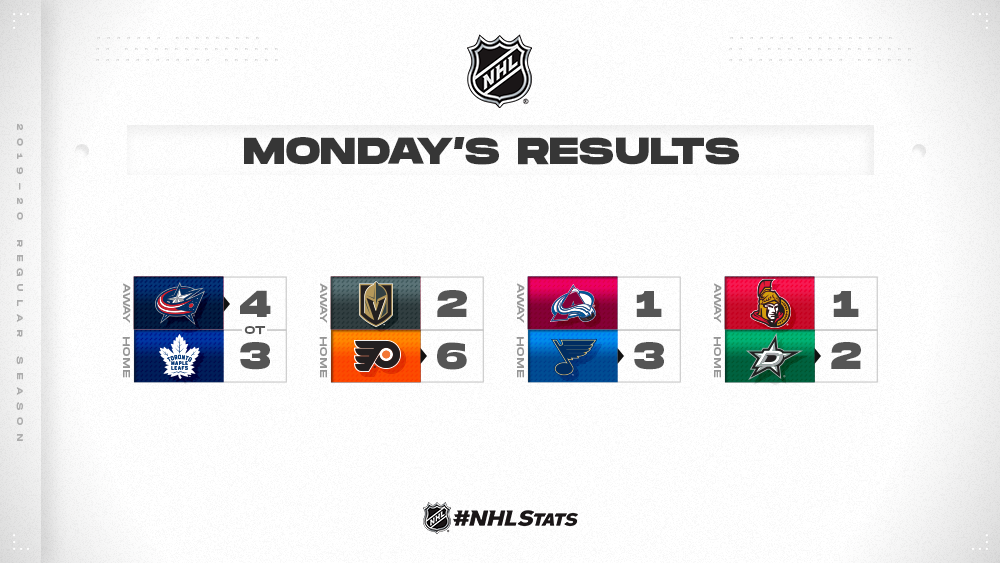 THREE HARD LAPS

* Gustav Nyquist scored in overtime with a penalty-shot goal to help Columbus extend its point streak to five games. Nyquist netted the 16th penalty-shot goal in overtime in League history and first by a Blue Jackets player.

* Vladimir Tarasenko factored on all three Blues goals as St. Louis handed Colorado its first regulation loss of 2019-20.

* With yet another point Monday, Nathan MacKinnon became just the fifth player in NHL history to post a season-opening point streak of nine or more games in consecutive seasons.

NYQUIST NETS DRAMATIC PENALTY-SHOT GOAL IN OVERTIME
After the Blue Jackets scored on their first two shots of the game, Gustav Nyquist converted on a penalty shot in overtime to help Columbus improve to 3-0-2 in its last five games. Nyquist, who became the first player in Blue Jackets history to score a penalty-shot goal in overtime, recorded the 16th penalty-shot goal in overtime in League history and seventh in the last four seasons.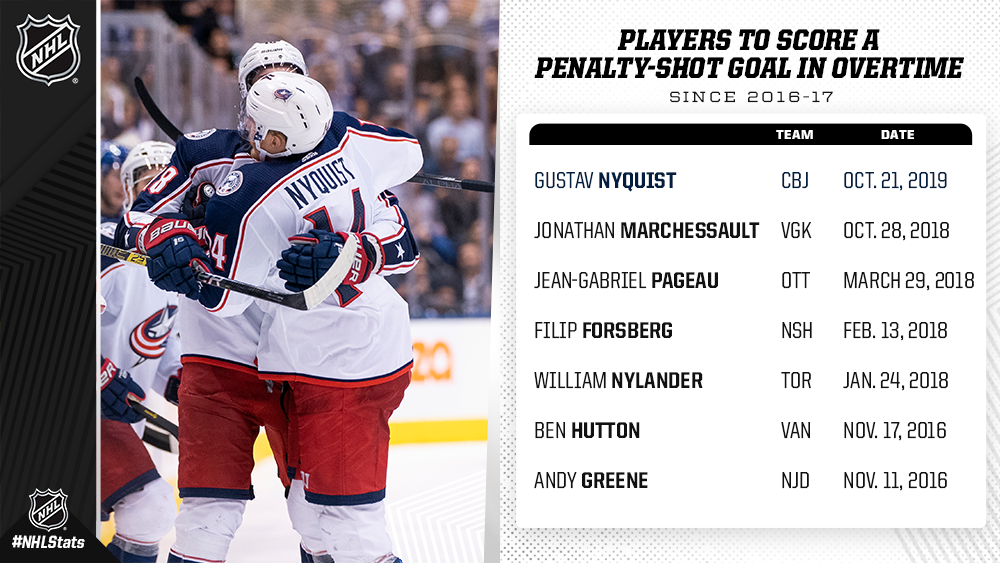 * The Blue Jackets, who played beyond regulation for the third straight game, scored an even-strength, power-play, shorthanded and penalty-shot goal in the same contest for the second time in franchise history. The other: Dec.17, 2005 at NSH. Los Angeles (Nov. 3, 2018) and San Jose (Feb. 18, 2019) both accomplished the feat last season.

BLUES HAND AVALANCHE FIRST REGULATION LOSS OF 2019-20
Vladimir Tarasenko (1-2—3) factored in on all three of his team's goals as the Blues won their fifth straight contest over the Avalanche and handed Colorado its first regulation loss of the season. In 2018-19, the Blues swept their season series with the Avalanche for the fifth time in franchise history (min. 2 GP) and first since 1991-92 (2-0-0 vs. QUE).
* Tarasenko (214-214—428 in 506 GP), who led St. Louis with four points (tied) in its four-game season series with Colorado last season, registered his 22nd career performance with at least three points to pass Keith Tkachuk (208-219—427 in 543 GP) for sole possession of ninth place on the Blues all-time points list.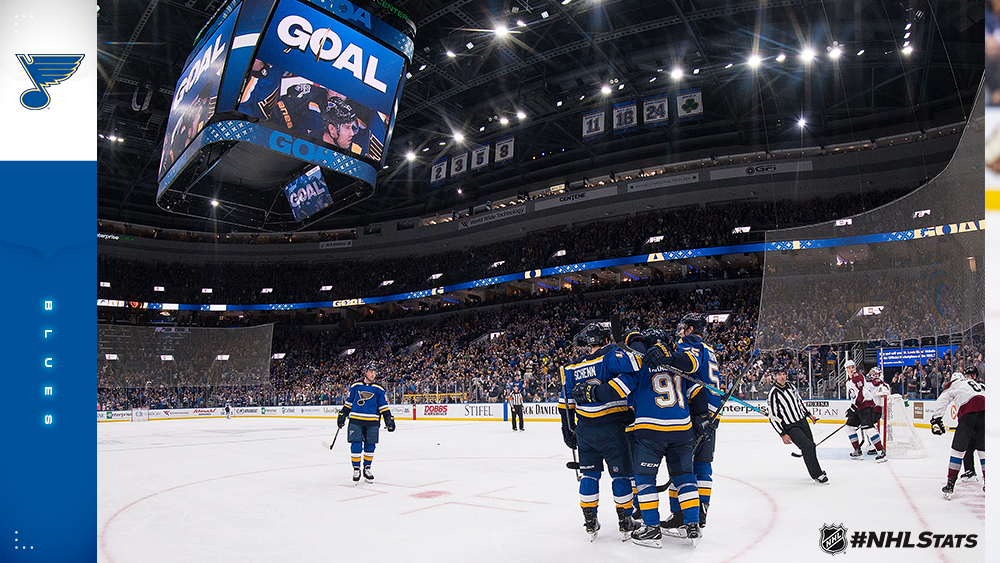 MacKINNON JOINS ELITE LIST WITH ANOTHER POINT. . .
Avalanche forward Nathan MacKinnon scored to boost his season totals to 5-7—12 and extended his season-opening point streak to nine games – matching an equal run to begin 2018-19 (8-7—15 in 9 GP). He became the fifth player in NHL history to record such a point streak of nine of more games in consecutive campaigns.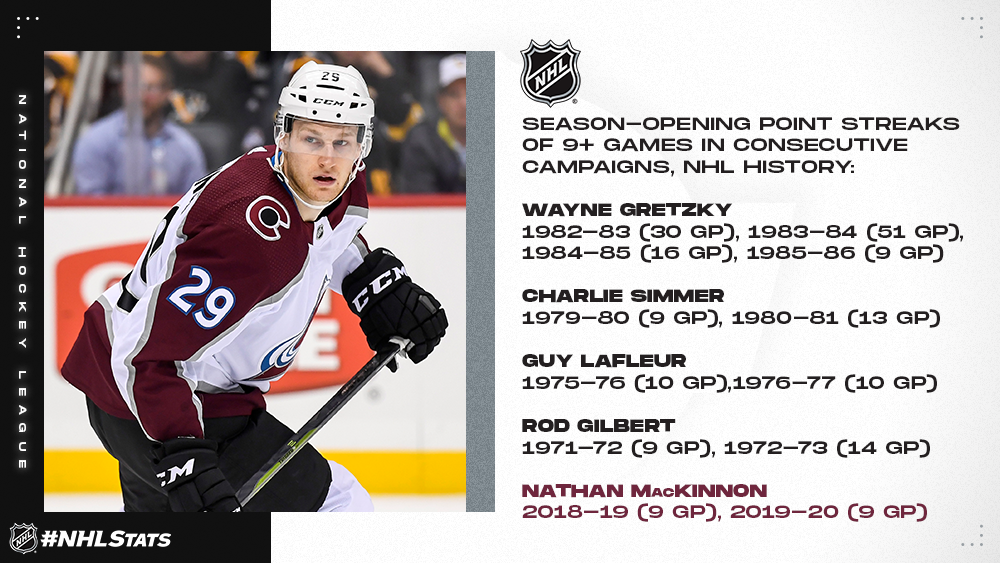 . . . WHILE MATTHEWS MATCHED FRANCHISE LEGEND WITH ANOTHER GOAL
Auston Matthews (1-1—2) scored his eighth goal of the season and trails only Boston's David Pastrnak (9-6—15) and Edmonton's James Neal (9-1—10) for the League lead in 2019-20. The 22-year-old forward boosted his career totals to 119-97—216 and matched Ted Kennedy for the most goals by a Maple Leafs player before his 23rd birthday.

QUICK CLICKS

* David Pastrnak, John Carlson and Carter Hutton named "Three Stars of the Week"
* NHL Execuitve Suite Podcast: Seattle GM Ron Francis
* Matthew Tkachuk relishes opportunity to play Heritage Classic with Flames
* Patrik Laine eager to create new memories with Jets at Heritage Classic
* Jimmy Fallon lets NJ Devil pie him in face to settle bet
PREVIEW OF TODAY'S ACTION
Multiple players enter Tuesday's 10-game slate looking to build off active streaks.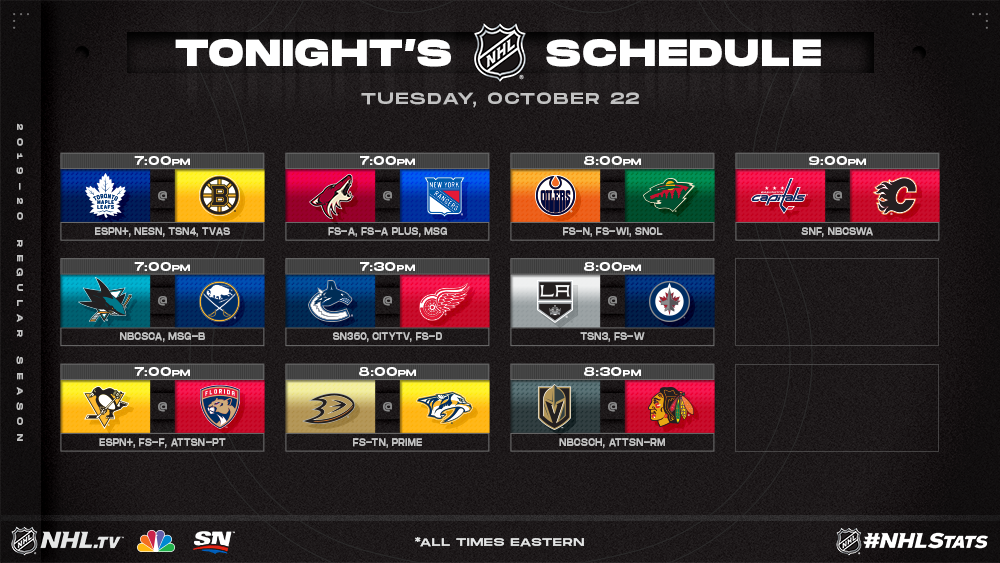 * Capitals defenseman John Carlson, who leads the League in assists and points (3-15—18 in 10 GP), looks to extend his assist/point streak to eight games (3-12—15 in 7 GP). He can become the first Capitals blueliner in 10 seasons to post an assist streak of eight or more games – Mike Green was the last to do so in 2009-10 (1-9—10 in 8 GP) when he matched Scott Stevens' run in 1987-88 (2-10—12 in 8 GP) for the longest assist streak by a defenseman in franchise history.
* Carlson's teammate, Alex Ovechkin, also enters the contest on a seven-game point streak (5-4—9 in 7 GP).
* Sabres goaltender Carter Hutton enters Tuesday with back-to-back shutouts in his last two appearances. He can become just the second Sabres goaltender to record a shutout in three straight appearances - Martin Biron is the only one to do so (3 SO from Jan. 18-24, 2003).
* Bruins forwards Brad Marchand (4-8—12 in 8 GP) and Patrice Bergeron (2-6—8 in 8 GP) each take an active seven-game point streak into their game against the Maple Leafs. Since 2009-10, two Boston players have had an overlapping point streak of eight or more games on one occasion: Marchand (6-8—14 in 9 GP from Nov. 29 - Dec. 18, 2017) and David Pastrnak (5-9—14 in 12 GP from Nov. 22 - Dec. 18, 2017) in 2017-18.
* Predators defenseman Ryan Ellis has recorded multiple points in each of his last four games to match the longest such streak in franchise history. In the last 20 years, only four blueliners have recorded a multi-point streak of five or more games: Dustin Byfuglien (5 GP from Feb. 19-27, 2012), Andrej Sekera (5 GP from Feb. 26-March 6, 2011), Mike Green (6 GP from Jan. 31-Feb. 11, 2009) and Nicklas Lidstrom (5 GP from Feb. 25-March 7, 2000).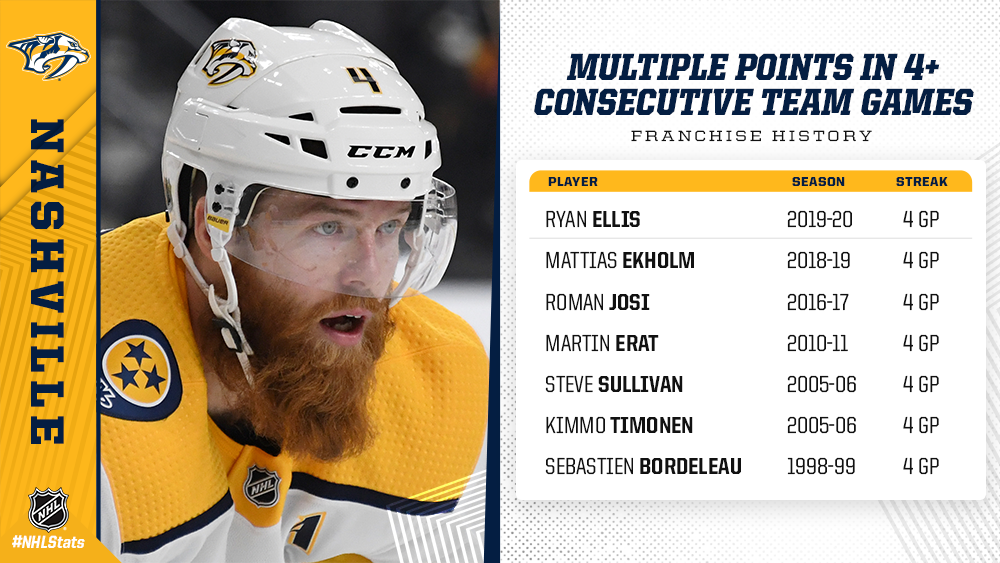 PENGUINS LOOK TO EXTEND SEASON-OPENING ROAD WIN STREAK
The Penguins (6-3-0, 12 points) look to improve to 3-0-0 as visitors in 2019-20 when they travel to BB&T Center to take on the Panthers (3-2-3, 9 points). Pittsburgh, which earned a 7-4 win at Minnesota on Oct. 12 and a 7-2 triumph in Winnipeg a day later, can record a season-opening road win streak of three or more games for the fifth time in franchise history – following 1994-95 (4-0-0), 2006-07 (4-0-0), 2009-10 (7-0-0) and 2010-11 (3-0-0).

* A six-goal outing Tuesday would give the Penguins 20 through their first three road games in 2019-20. Only five teams in NHL history have scored 20 or more goals through their first three road games in a season, with the most recent instance occurring 31 years ago.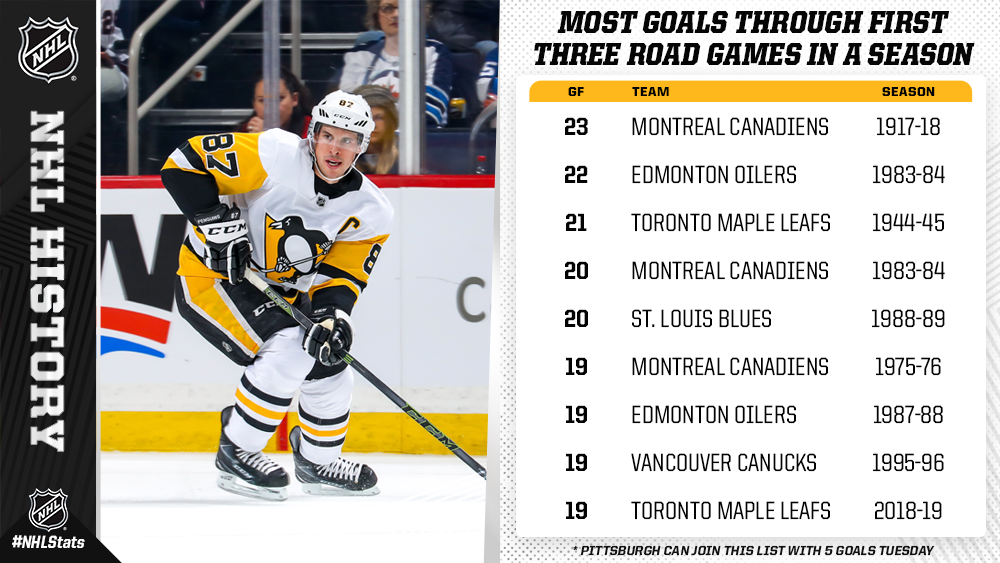 the above information was provided by the NHL PR department
Filed in: NHL Teams, | KK Hockey | Permalink

Comments
Be the first to comment.
Add a Comment
Please limit embedded image or media size to 575 pixels wide.
Add your own avatar by joining Kukla's Korner, or logging in and uploading one in your member control panel.
Captchas bug you? Join KK or log in and you won't have to bother.
Most Recent Blog Posts
About Kukla's Korner Hockey
Paul Kukla founded Kukla's Korner in 2005 and the site has since become the must-read site on the 'net for all the latest happenings around the NHL.
From breaking news to in-depth stories around the league, KK Hockey is updated with fresh stories all day long and will bring you the latest news as quickly as possible.
Email Paul anytime at pk@kuklaskorner.com
Tweets by @kuklaskorner