Kukla's Korner Hockey
by Paul on 10/18/19 at 07:40 AM ET
Comments (0)
Hughes records first NHL point vs. Kakko, Rangers; Kessel scores first goals in a Coyotes uniform; Hutton sets Sabres record in shutout performance.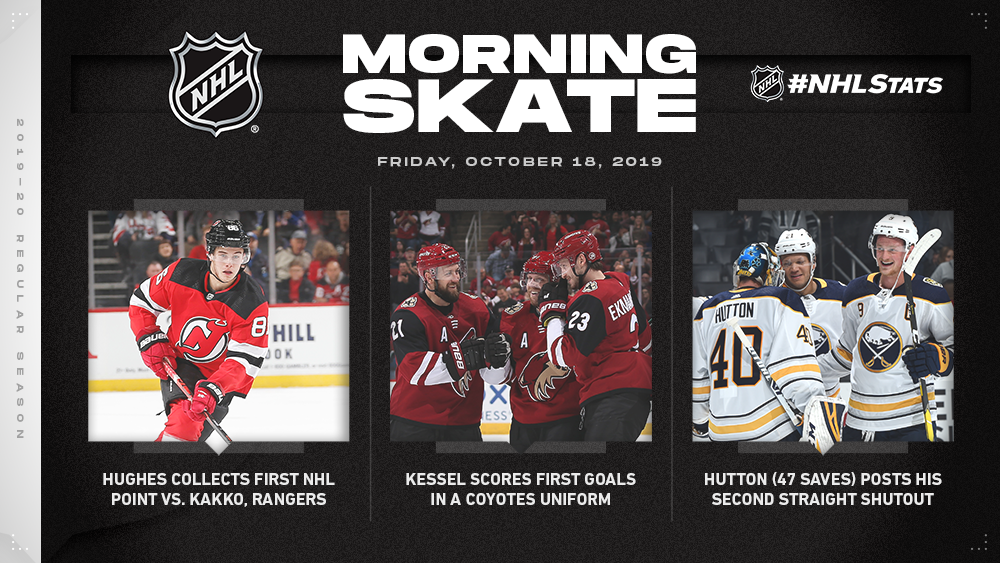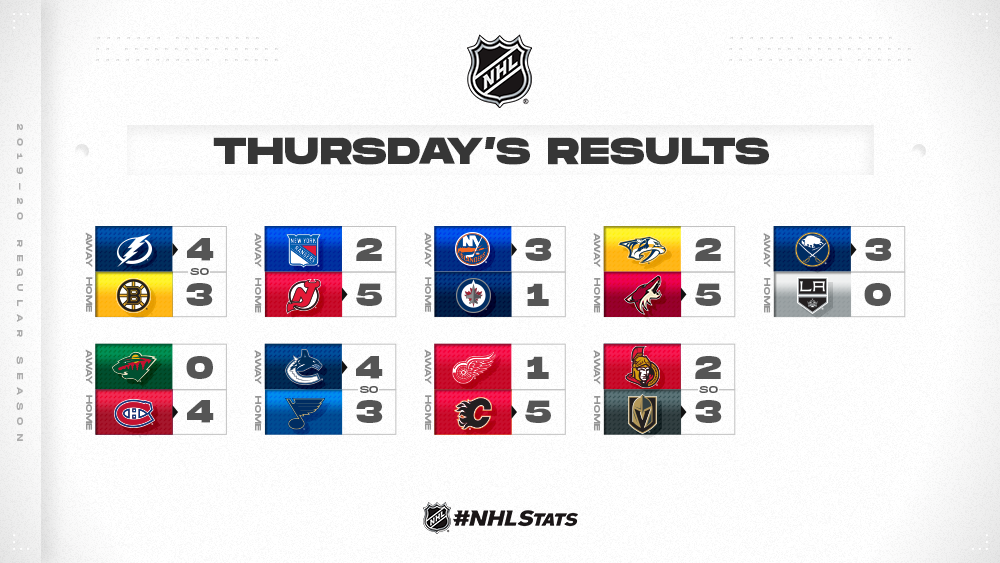 THREE HARD LAPS

* In Jack Hughes and Kaapo Kakko's first head-to-head matchup in an NHL game, the first-overall pick in the 2019 NHL Draft became the third-youngest player in Devils franchise history to record a point.

* Eleven-time 20-goal scorer Phil Kessel found the back of the net for the first time in a Coyotes uniform en route to registering his 53rd career multi-goal game.
* Carter Hutton posted his second straight shutout to backstop the League-leading Sabres and establish a franchise record for saves in a shutout performance (47).

HUGHES COLLECTS FIRST NHL POINT IN FIRST SHOWDOWN WITH KAKKO
In the first-ever NHL matchup between the first- and second-overall picks in the 2019 NHL Draft, it was Jack Hughes (0-1—1) and the Devils who triumphed over Kaapo Kakko and the Rangers for their first win of 2019-20.

* Hughes, who holds the USA Hockey National Team Development Program record for most career points (74-154—228), found his name on an NHL score sheet for the first time. In the process, Hughes became the third-youngest player in Devils/Scouts/Rockies franchise history to record his first NHL point.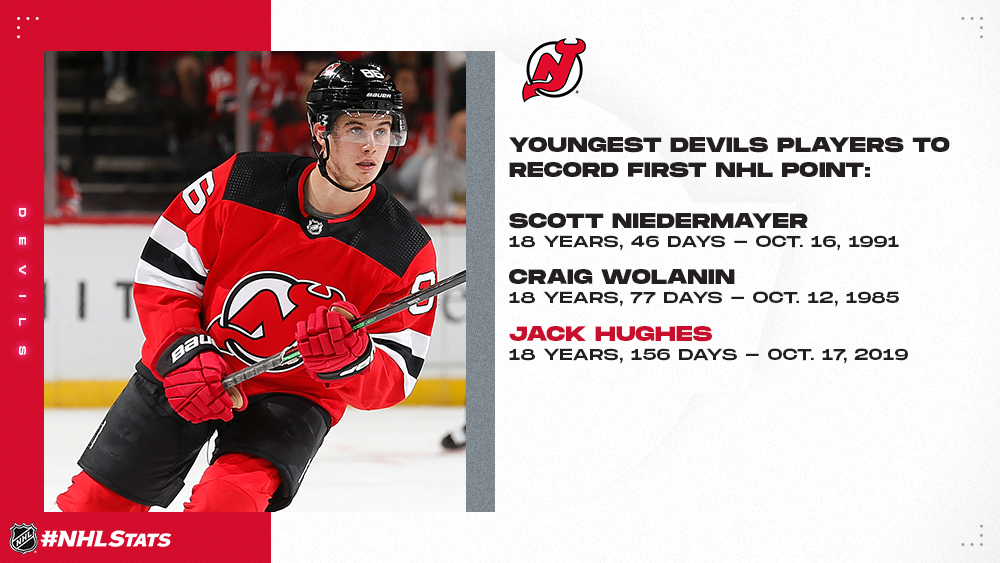 * The top two picks from the previous draft have met in each of the past seven seasons, including five straight years in which at least one of them has found the score sheet in their first meeting. The No. 1 selection improved to 4-1-2 in those seven contests.
* The Rangers and Devils are set to meet three more times this season, with the next contest taking place at Prudential Center on Nov. 30. Only 11 campaigns since 1963-64 have featured the top two picks in an NHL Draft facing each other as opponents four or more times during the ensuing regular season.

KESSEL THRILLS COYOTES, SCORES FIRST TWO GOALS WITH NEW CLUB
Phil Kessel (2-0—2) and Nick Schmaltz (0-2—2) recorded two points apiece and goaltender Darcy Kuemper turned aside 23 of 25 shots to help the Coyotes improve to 3-0-1 in their past four games.

* Kessel scored his first two goals in an Arizona uniform while notching his 53rd career multi-goal outing. Kessel is one of nine active players with at least 50 multi-goal games since 2006-07 when he made his NHL debut (Alex Ovechkin tops the list with 124 in that span).
* Kuemper became the first goaltender in Coyotes/Jets franchise history to allow two or fewer goals in 12 consecutive starts (dating to March 23). This marks the 21st such streak in the League's modern era (since 1943-44), with Ben Bishop standing as the only other goaltender in the last five seasons to accomplish the feat (13 GS; Feb. 23 – Oct. 3, 2019).
* Schmaltz has collected 8-13—21 in 23 games since joining Arizona last season. The 23-year-old forward became the 12th player in Coyotes/Jets history to record at least 21 points through his first 23 games with the franchise.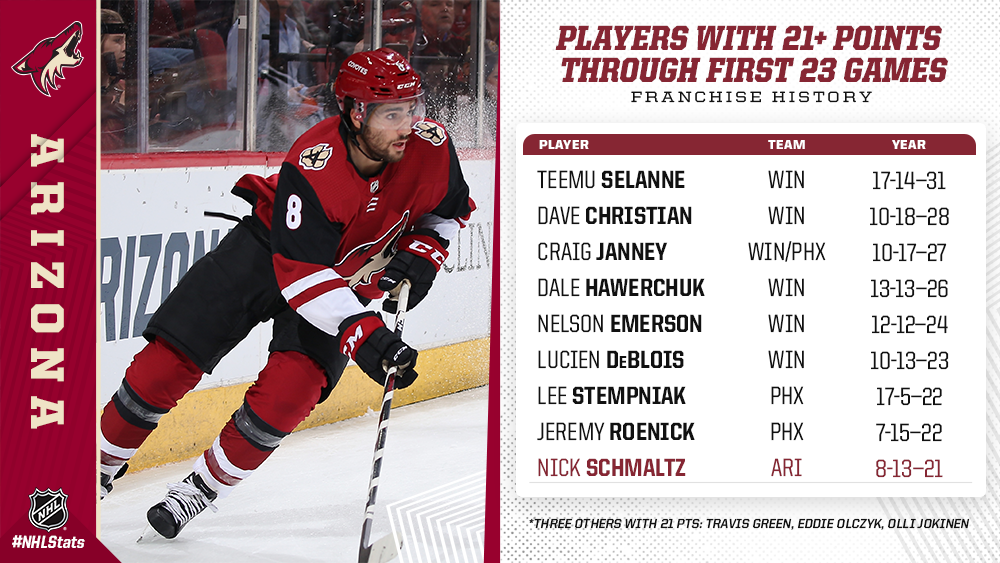 HUTTON HONES IN, POSTS HIS SECOND STRAIGHT SHUTOUT
Carter Hutton (47 saves) posted his second straight shutout and Casey Mittelstadt (2-1—3) registered his first career three-point game to lead the League-leading Sabres (6-1-1, 13 points) to victory. Hutton's 47 saves marked the highest such total in a regular-season shutout by a Buffalo goaltender.

* Hutton also became the second netminder in franchise history to earn multiple shutouts through his first five games of a season (also Bob Sauve in 1979-80).
* Hutton now can become the second Sabres goaltender to record a shutout in three straight appearances - Martin Biron is the only one to do so (3 SO from Jan. 18-24, 2003).

* Entering his second full season with Buffalo, Hutton (5-0-0) became the third different Sabres goaltender in the last 40 years to win each of his first five games of a season, joining Ryan Miller (8-0-0 in 2006-07 and 5-0-0 in 2008-09) and Biron (6-0-0 in 2006-07).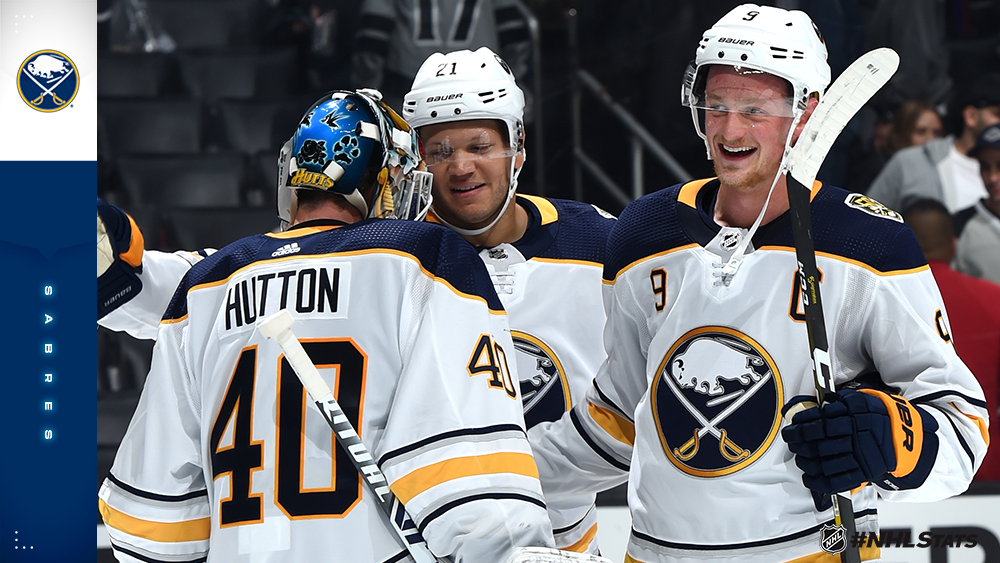 METE, SUZUKI EACH NET FIRST NHL GOAL AS CANADIENS TAME WILD
While 13-season veteran Carey Price posted his 45th career shutout, 21-year-old Victor Mete and 20-year-old Nick Suzuki scored their first NHL goals 4:46 apart to propel the Canadiens to their first win over the Wild since Nov. 8, 2014 (snapping a 0-9-0 head-to-head slide).
* Mete, who scored his first NHL goal in his 127th career game, and Sukuzi became the 12th set of Canadiens teammates to record their first NHL goal in the same contest and just the fifth in the NHL's modern era (since 1943-44).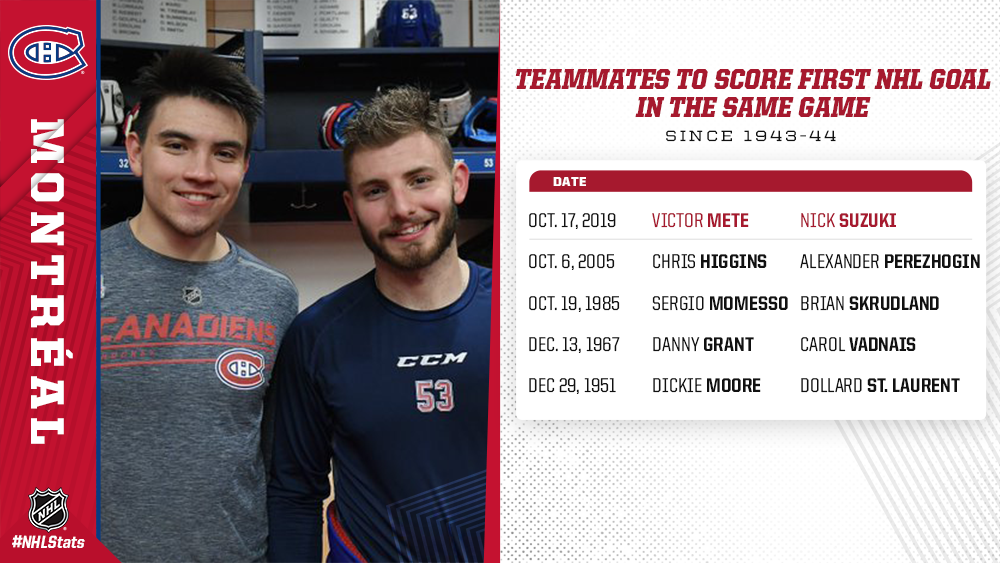 * Of the 12 players in NHL history to require 127 or more games to score their first career goal, only Mete and Tony Twist (181 GP on Jan. 21, 1995 w/ STL) had it stand as the game-winner.
STANDOUT PERFORMANCES FROM THURSDAY:
Bruins forward David Pastrnak (2-1—3) and Senators goaltender Anders Nilsson (52 saves) each produced impressive performances for their clubs Thursday:
* Pastrnak, the third player in Bruins franchise history to score at least five consecutive team goals, has factored on at least seven consecutive team goals for the second time in his career (also Jan. 19 to Feb. 5, 2019: 3-5—8). Phil Esposito (9 straight: March 6-12, 1974 and 7 straight: Oct. 14-16, 1970) is the only other player in franchise history to accomplish the feat on multiple occasions.
* Entering his first full season with Senators, Nilsson fell one save shy of tying the franchise record for saves in a regular-season game, held by Robin Lehner (53: Nov. 1, 2013). Nilsson became the first goaltender to post 50 saves in a game this season, a mark reached by five goaltenders in 2018-19.

QUICK CLICKS

* Canucks extend win streak to four games
* Mathew Barzal scores twice in Islanders victory
* Valentin Zykov suspended 20 games for violating substance abuse program
* Vasilevskiy, Anderson, Howard share stories of why they became goalies
* Arizona's 'Noche de Los Yotes' features festive Sugar Skull jerseys
PREVIEW OF TODAY'S ACTION

information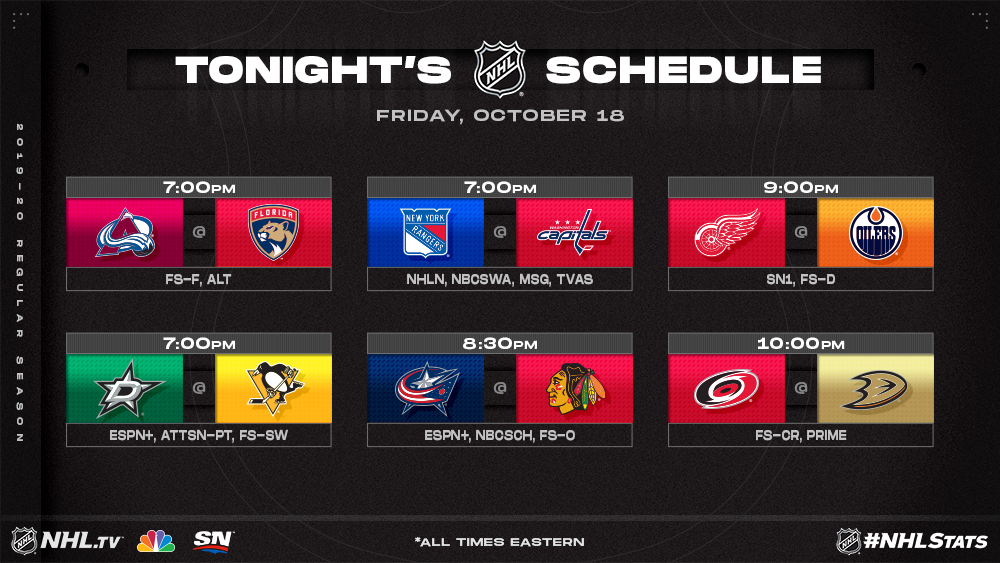 the above was supplid to the NHL PR department
Filed in: NHL Teams, | KK Hockey | Permalink

Comments
Be the first to comment.
Add a Comment
Please limit embedded image or media size to 575 pixels wide.
Add your own avatar by joining Kukla's Korner, or logging in and uploading one in your member control panel.
Captchas bug you? Join KK or log in and you won't have to bother.
Most Recent Blog Posts
About Kukla's Korner Hockey
Paul Kukla founded Kukla's Korner in 2005 and the site has since become the must-read site on the 'net for all the latest happenings around the NHL.
From breaking news to in-depth stories around the league, KK Hockey is updated with fresh stories all day long and will bring you the latest news as quickly as possible.
Email Paul anytime at pk@kuklaskorner.com
Tweets by @kuklaskorner