Kukla's Korner Hockey
by Paul on 10/12/18 at 07:59 AM ET
Comments (0)
THURSDAY'S RESULTS
Home Team in Caps
BOSTON 4, Edmonton 1
Colorado 6, BUFFALO 1
Columbus 5, FLORIDA 4
NEW JERSEY 6, Washington 0
NY RANGERS 3, San Jose 2 (OT)
PITTSBURGH 4, Vegas 2
Los Angeles 3, MONTREAL 0
Toronto 5, DETROIT 3
Vancouver 4, TAMPA BAY 1
ST. LOUIS 5, Calgary 3
NASHVILLE 3, Winnipeg 0
MINNESOTA 4, Chicago 3 (OT)

MATTHEWS, RIELLY, TAVARES, MARNER HAVE MAPLE LEAFS IN HISTORIC COMPANY
The Maple Leafs quartet of Auston Matthews (2-0—2), Morgan Rielly (1-1—2), John Tavares (0-4—4) and Mitchell Marner (1-1—2) continued their record-setting start to the season as the club scored at least five goals for the fourth consecutive game. Matthews (9-3—12), Rielly (3-9—12), Tavares (6-4—10) and Marner (3-7—10) hold the top four spots in League scoring, with a combined 44 points.
* Only five clubs in NHL history have had four players combine for more than 44 points within the first five games of a season. Those clubs are as follows, with the maximum four-player point combination listed: 1984-85 Islanders (51 points), 1979-80 Kings (47 points), 1973-74 Bruins (47 points), 1917-18 Arenas (46 points) and 1988-89 Penguins (45 points).
* Matthews became the 12th player in NHL history to record multiple points in each of his team's first five games of a season, and the first to do so since 2012-13, when his current teammate Patrick Marleau did so alongside Joe Thornton. At age 21, Matthews is the youngest ever to achieve this feat, besting the previous mark set by Wayne Gretzky at age 22 in 1983-84.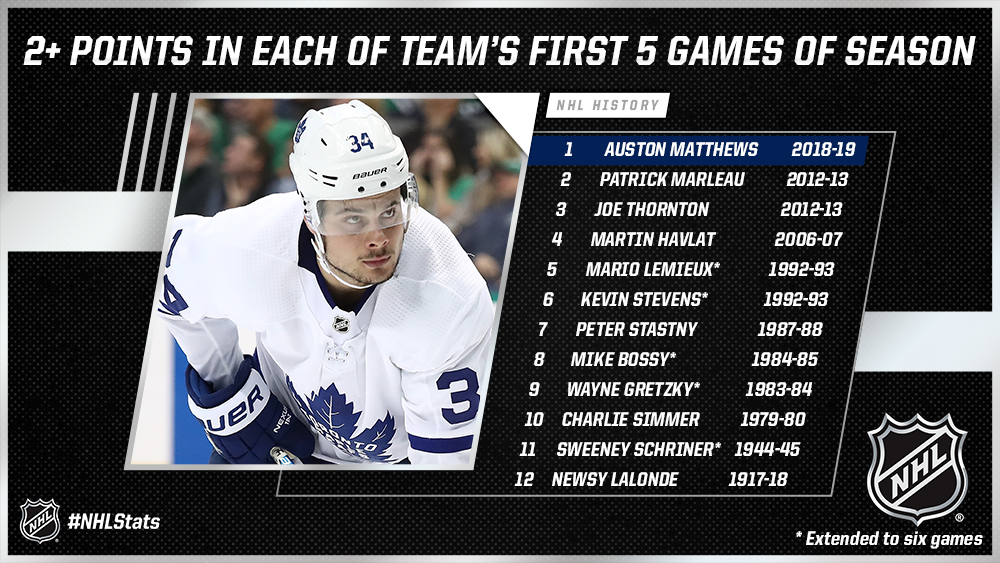 * Matthews, who has a 52.9% shooting percentage (9 goals on 17 shots), also became the 16th player in NHL history - and just the fifth since 1930-31 - to score nine goals within his team's first five games of the season. This marks the second straight season that a player has scored nine goals in his team's first five games of a season - the only other time that happened in consecutive seasons was from 1917-18 to 1920-21, the first four seasons in NHL history.
* Rielly is the second defenseman in NHL history to record at least 12 points through his team's first five games of a season - the only other instance came 101 years ago when Harry Cameron had 8-6—14 for the Toronto Arenas in the League's inaugural campaign of 1917-18. Rielly now holds the modern era record (since 1943-44), which previously belonged to eight-time Norris Trophy winner Bobby Orr (1973-74: 2-9—11 in 5 GP w/ BOS). His five-game season-opening point streak equals the longest ever by a Maple Leafs' defenseman.

* Tavares recorded four assists for the first time in 698 career NHL games (regular season and playoffs), his third multi-point game with the Maple Leafs (6-4—10 in 5 GP). Only two players in franchise history recorded more points in their first five games with the club - with both occurrences coming in the League's inaugural season of 1917-18.
* Marner registered multiple points for a fourth straight game - a first in his career. He is on pace to become the second-youngest player to accumulate 100 career assists with the franchise (behind Vincent Damphousse).
MACKINNON, RANTANEN, PETTERSSON APPROACH FRANCHISE RECORDS
After Thursday's contests, 21 players have active season-opening point streaks of at least three games.
* Nathan MacKinnon (2-0—2) scored his fourth and fifth goals of the season as the Avalanche scored six times en route to their third win of 2018-19. MacKinnon (5-1—6) has notched at least one goal in each of Colorado's first four games and trails only Mats Sundin (5 GP in 1992-93) for the longest season-opening goal streak in Avalanche/Nordiques franchise history.

* Mikko Rantanen (0-3—3) collected an assist on both MacKinnon tallies to extend his season-opening assist streak to four contests (1-6—7). Only two players in franchise history have recorded longer such stretches to begin a campaign: John Michael Liles in 2010-11 (0-11—11, 9 GP) and Paul Stastny in 2008-09 (1-9—10, 6 GP).

* Rookie Elias Pettersson scored the first of four unanswered goals to kickstart the Canucks' third-period comeback and extend his season-opening point streak to four contests. Pettersson (4-3—7) has seven points through his first four career games, tied for second-most by a Canucks player through his first four career NHL games, behind Thomas Gradin (5-3—8 in 1978-79). Only one player in franchise history has started his NHL career with a point streak longer than four games: Don Tannahill in 1972-73 (3-2—5 in 5 GP).

* Blackhawks forwards Alex DeBrincat (2-1—3), Jonathan Toews (0-2—2) and Patrick Kane (0-1—1) each extended their season-opening point streaks to four games. DeBrincat had four games with at least three points in 2017-18, including a trio of hat tricks to match the NHL record for most three-goal games in a season by a U.S.-born rookie.
HAT TRICKS POWER CLUBS ON HOME ICE
Penguins forward Phil Kessel and Blues forward David Perron each recorded hat tricks Thursday to power their clubs to convincing victories at home.
* Kessel's sixth career hat trick marked his first three-goal performance with the Penguins. The two-time Stanley Cup champion has scored at least 20 goals in 10 consecutive seasons and is one of five NHL players with an active streak of at least that length.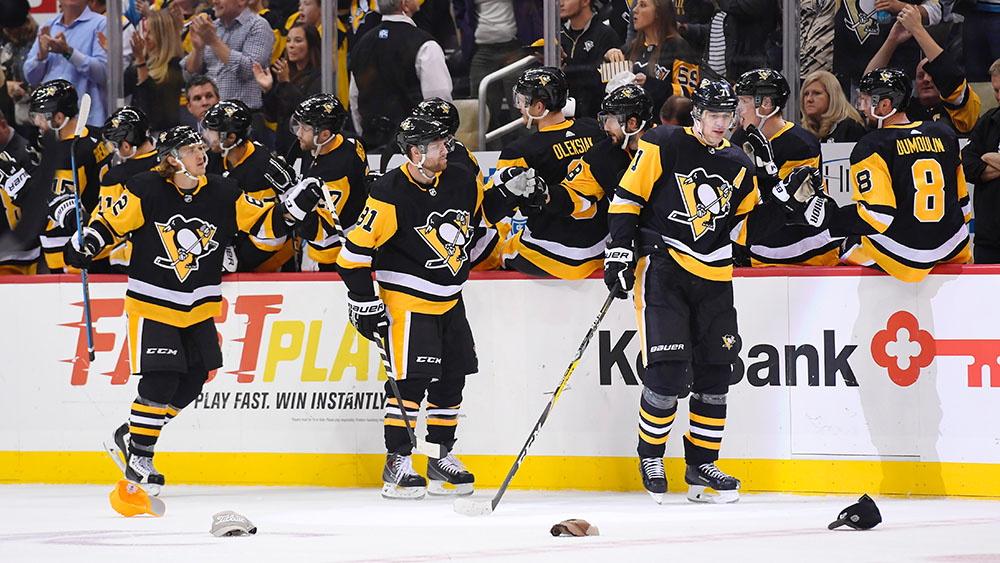 * Perron netted his fourth career hat trick and the NHL's fifth such performance through the first week of the 2018-19 campaign. The three-goal night marked his third such outing with the Blues, with each taking place during his previous two stints with the team (Nov. 10, 2009 vs. VAN and Oct. 22, 2016 at CGY).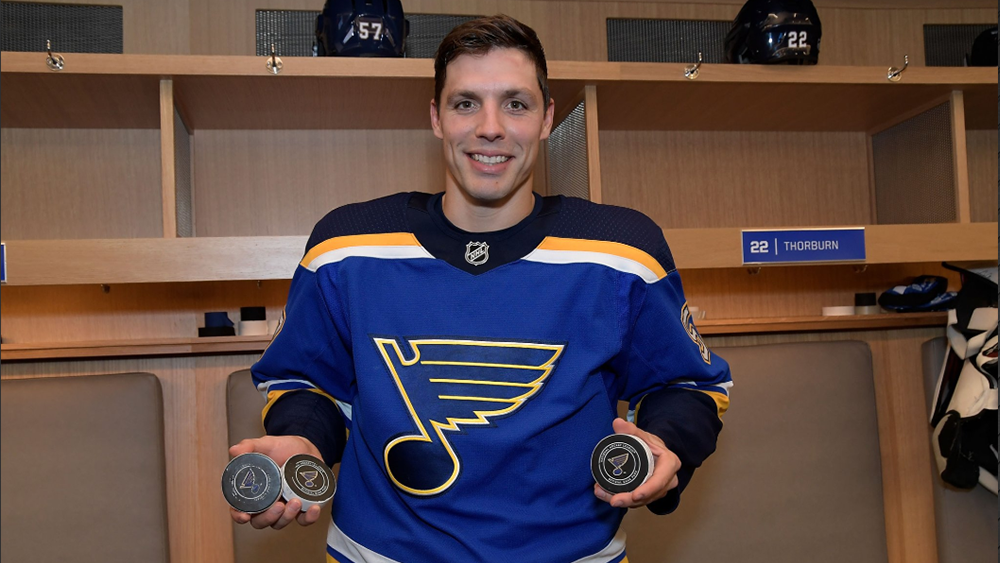 * There have been five hat tricks through nine days this season (56 GP). In 2017-18, there were 81 performances of at least three goals - the most in one campaign since 2000-01 (93) - including six within the first nine days of the season.
* More than half of Thursday's games featured at least six goals. Overall, there have been 358 goals through 56 games in 2018-19, an average of 6.4 goals per game.

RINNE LEADS TRIO OF GOALTENDERS WITH SHUTOUT WINS
Predators netminder Pekka Rinne (29 saves), Devils goalie Keith Kinkaid (21 saves) and Kings netminder Jack Campbell (40 saves) posted flawless outings on Thursday:

* Rinne recorded his 52nd career shutout while facing the Jets for the first time since Game 7 of the 2018 Second Round - a contest in which he allowed two goals on seven shots in just 10:31 of playing time. Rinne, who already is the NHL leader in shutouts by Finnish-born goaltenders, earned his 313th career regular-season win to move within six victories of matching Miikka Kiprusoff (319) for the most by a Finnish-born netminder in League history.

* Kinkaid recorded his fifth career shutout in New Jersey's first game at Prudential Center this season, following a 5-2 victory as the home team in the 2018 NHL Global Series. After scoring two goals in Sweden, Kyle Palmieri netted another pair Thursday to become the first player in Devilsfranchise history to score multiple goals in each of the team's first two games of the season.
* Campbell recorded his first career shutout (10 GP) and Jeff Carter (1-2—3) factored on all three Los Angeles goals as the Kings spoiled the Canadiens' 101st home opener. Campbell became the third different goaltender in franchise history to shut out the Canadiens.
QUICK CLICKS
● Rasmus Dahlin gets his first NHL point
● Sedins to have jerseys retired by Canucks next season
● Austin Watson of the Nashville Predators has suspension reduced to 18
● Shea Weber skates for Canadiens, first time since knee surgery
● Canadiens celebrate 1993 Stanley Cup team before home opener
SNEAK PEEK AT SATURDAY'S ACTION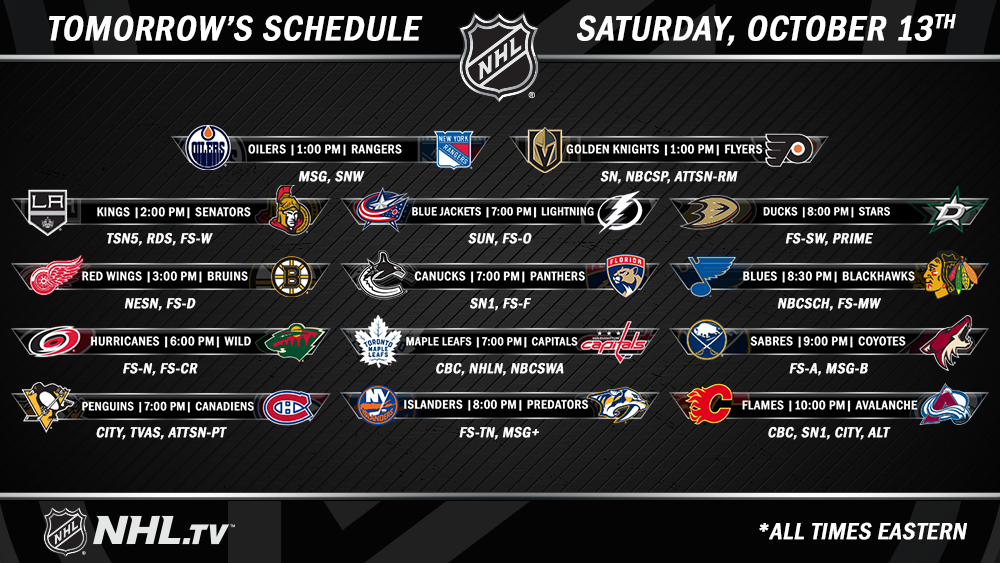 Thanks to the NHL PR department for the above information.
Filed in: NHL Teams, | KK Hockey | Permalink

Comments
Be the first to comment.
Add a Comment
Please limit embedded image or media size to 575 pixels wide.
Add your own avatar by joining Kukla's Korner, or logging in and uploading one in your member control panel.
Captchas bug you? Join KK or log in and you won't have to bother.
Most Recent Blog Posts
About Kukla's Korner Hockey
Paul Kukla founded Kukla's Korner in 2005 and the site has since become the must-read site on the 'net for all the latest happenings around the NHL.
From breaking news to in-depth stories around the league, KK Hockey is updated with fresh stories all day long and will bring you the latest news as quickly as possible.
Email Paul anytime at pk@kuklaskorner.com
Tweets by @kuklaskorner