Kukla's Korner Hockey
by Paul on 03/22/18 at 11:02 AM ET
Comments (0)
Almost 13 minutes of weird stuff.
Filed in: NHL Teams, | KK Hockey | Permalink

by Paul on 03/22/18 at 08:46 AM ET
Comments (0)
via Mike Harrington tweets,
Steam coming out of Housley's ears after this one. As well it should be.

Housley unhappy after strong effort vs. NSH: "We can't handle any success. By the way, we lost that game 4-0 so you'd think you'd come out gangbusters to start. It was a very meaningful game in that you're in last place. That's what's hard to swallow. Just unacceptable."
Below, watch the game highlights from Buffalo's 4-1 loss to the Arizona Coyotes.
Filed in: NHL Teams, d, Buffalo Sabres, | KK Hockey | Permalink
Tags: phil+housley
by Paul on 03/22/18 at 08:33 AM ET
Comments (0)
Craig Custance of The Athletic talked with a few general managers at the GM Meetings, this from Stan Bowman,
Bowman points out that last year's team probably wasn't as good as the record indicated, over-reliant on Crawford and the beneficiary of overtime wins. "This year, we're not even getting to overtime," Bowman said. His sense is that the team is the opposite – better than the record shows, although still frustrating coaching and management with its ability to find ways to lose. "We need our best players to play better. There's no question," Bowman said. "Our top players are all having their worst years all at the same time. That's not a recipe for success. The question is, why? It's not one thing. It's not like there's one thing — 'Aha, I found it, let's go fix that.' Why are these guys not playing like they've always played? That's a fair question."
more (paid subscription) from Bowman and other GMs.
from Jeff Arnold of the New York Times,
Reminders of the past hang chronologically in the United Center rafters, where the Chicago Blackhawks' Indian head logo is displayed on banners bookending the six white flags saluting the team's Stanley Cup championships.

A new banner will not be added this season, which has produced fewer victories and points than any other since the last time the Blackhawks failed to qualify for the N.H.L. playoffs, a decade ago....

The combination of lost talent, injuries and less production from top-line players has taken its toll on the Blackhawks (30-35-9), who sit in last place in the Central Division. Bowman accepts the hand Chicago has been dealt and refuses to consider what could have been had the Blackhawks been able to remain healthy and maintain the level of excellence that has made Chicago a playoff staple for the better part of the past 10 years.

"The league doesn't stop when good players get hurt, and other teams go through it too, and you have to find a way to overcome," Bowman said in a telephone interview.
Filed in: NHL Teams, Chicago Blackhawks, | KK Hockey | Permalink
Tags: stan+bowman
by Paul on 03/22/18 at 07:59 AM ET
Comments (0)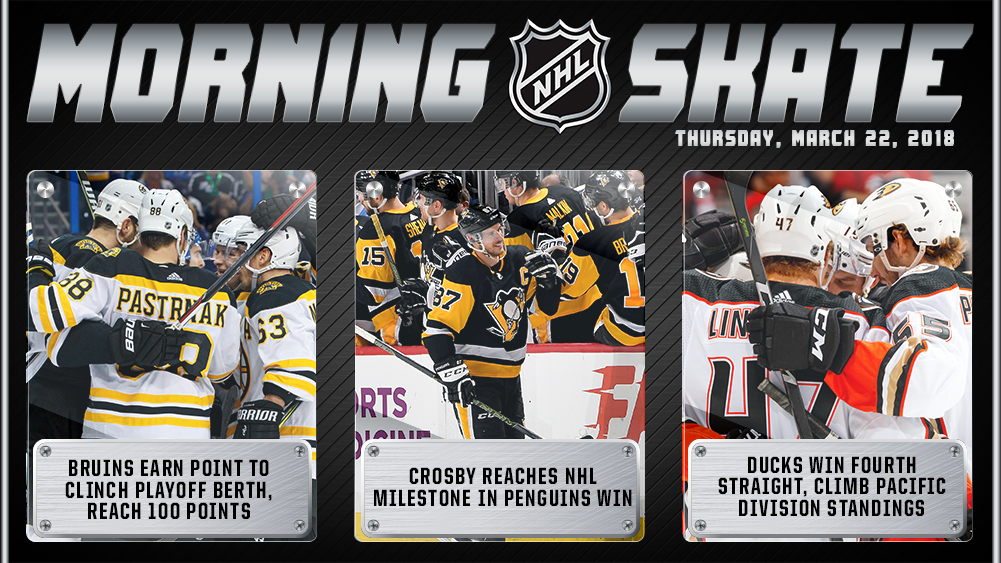 WEDNESDAY'S RESULTS
Home Team in Caps
Arizona 4, BUFFALO 1
PITTSBURGH 5, Montreal 3
ST. LOUIS 2, Boston 1 (OT)
Anaheim 4, CALGARY 0
Filed in: NHL Teams, | KK Hockey | Permalink

by Paul on 03/21/18 at 09:53 PM ET
Comments (4)
added 10:07am 3/22/18, Video is below...
Filed in: NHL Teams, Boston Bruins, St. Louis Blues, | KK Hockey | Permalink
Tags: brayden+schenn, david+krejci
by Paul on 03/21/18 at 09:44 PM ET
Comments (0)
via TSN's YouTube channel,
Marjory Stoneman Douglas High School in Parkland, Florida, was nestled in the state's safest city. But Feb 14th changed everything, after a former student opened fire in the school, killing 17 students & educators. A week later, the school's hockey team sought to help the healing by winning the state championship, in honour of the victims. Rick Westhead has more in this TSN Original, "For The 17"
Filed in: Non-NHL Hockey, | KK Hockey | Permalink

by Paul on 03/21/18 at 08:04 PM ET
Comments (0)
TORONTO (March 21, 2018) – The National Hockey League Players' Association (NHLPA) has reviewed the NHL General Managers Recommended Change to Rule 78.7 (ii) Governing Coach's Challenges for Goaltender Interference with our Competition Committee Members – Michael Cammalleri (Edmonton Oilers), Ron Hainsey (Toronto Maple Leafs), Kevin Shattenkirk (New York Rangers), Cory Schneider (New Jersey Devils), and Daniel Winnik (Minnesota Wild) – along with many other Players in our Membership. Based on those discussions, the NHLPA has decided to approve the proposed change. The rule change will now require further approval by the NHL's Board of Governors.
"First and foremost, the players want consistency in the application of the rule, and therefore support this proposed change in order to help accomplish that goal," said Mathieu Schneider, NHLPA Special Assistant to the Executive Director.
Filed in: NHL Talk, NHLPA, | KK Hockey | Permalink

by Paul on 03/21/18 at 07:47 PM ET
Comments (6)
Called a goal on the ice.
Filed in: NHL Teams, Montreal Canadiens, Pittsburgh Penguins, | KK Hockey | Permalink

by Paul on 03/21/18 at 05:09 PM ET
Comments (5)
Filed in: NHL Talk, | KK Hockey | Permalink
Tags: gary+bettman
by Paul on 03/21/18 at 04:39 PM ET
Comments (0)
"No one expected us to be doing what we're doing, especially after the first half and especially with all the young defencemen, new players and new coaches, so, we're enjoying it. The meaningful games are more important for what we plan to do down the road. It's a great experience for our young guys and I'm excited to see how they react to it.

"Six of our seven defencemen have played less than 200 games, so we knew that there would be growing pains and there would make mistakes. But they're getting better and making fewer and fewer mistakes and playing with composure."
-Dale Tallon, GM of the Florida Panthers. Michael Traikos of the National Post has more on Florida plus the talk at the GM Meetings.
Filed in: NHL Teams, Florida Panthers, | KK Hockey | Permalink
Tags: dale+tallon
About Kukla's Korner Hockey
Paul Kukla founded Kukla's Korner in 2005 and the site has since become the must-read site on the 'net for all the latest happenings around the NHL.
From breaking news to in-depth stories around the league, KK Hockey is updated with fresh stories all day long and will bring you the latest news as quickly as possible.
Email Paul anytime at pk@kuklaskorner.com
Recommended Sportsbook
MyBookie.ag
Tweets by @kuklaskorner
Most Recent Blog Posts