Kukla's Korner Hockey
by Paul on 01/31/18 at 12:51 PM ET
Comments (3)
from Kevin Allen of USA TODAY,
Wouldn't it be entertaining to see goalie Henrik Lundqvist play once a season with "King Henrik" on the back of his New York Rangers jersey? Shouldn't Zdeno Chara be able to wear a "Z" on his back once a year?

On one day a year, shouldn't a member of the Detroit Red Wings be able to salute Gordie Howe's memory with a photograph display on his helmet?

"I think it would be pretty fun if the NHL did something like that," Columbus Blue Jackets defenseman Zach Werenski said. "Just gets more personality in the game. I don't think the world outside of hockey sees enough of our personality and who we are."

Major League Baseball and the MLB Players Association has already embraced this concept...
Filed in: NHL Teams, NHL Talk, | KK Hockey | Permalink

by Paul on 01/31/18 at 12:39 PM ET
Comments (2)
from Elliotte Friedman of Sportsnet,
- It will be interesting to see if any GM comes up with a serious plan for changing the playoff format at the March meeting. The NHL could wait to see if Seattle happens before making any alterations, but there is no question the Atlantic Division's three locked-in teams are causing consternation. But remember: The players have a say, and nothing is easy between the NHL and NHLPA at this time.

- As you have undoubtedly heard, there was a goaltender interference meeting last weekend, involving most of the coaches who were there, some GMs, Colin Campbell, Commissioner Gary Bettman, Deputy Commissioner Bill Daly and a couple of referees. They looked at a number of recent examples — including Auston Matthews vs. Jonathan Bernier, Viktor Arvidsson vs. Louis Domingue, Artem Anisimov vs. Frederik Andersen and Connor McDavid vs. David Rittich — and, while there was no absolute consensus, I understand the majority felt all of those should be goals.

When video review initially arrived, the idea was to prevent "egregious" violations from occurring, and that's a reset the league wants now. A few people indicated it was a pretty honest conversation, which they liked. I don't think anyone disagrees with the intention, but since this is a judgement call, there is concern it is wishful thinking.

- There will be a push to have the Situation Room in Toronto make the final call, like it does with offside challenges. That could help with consistency, but would be a battle, as referees were promised this setup in agreeing to video review in the first place....
more on the last topic plus other thoughts...
Filed in: NHL Teams, NHL Talk, | KK Hockey | Permalink

by Paul on 01/31/18 at 11:19 AM ET
Comments (2)
from Bruce Garrioch of the Ottawa Sun,
Eugene Melnyk has reached out to the Ottawa Senators' fan base to try to mend the fences.

The Senators' owner is doing a media tour in Toronto Tuesday and he indicated it was "unfortunate" his comments about possibly moving the team last month if they didn't get support didn't sit well with the people of Ottawa.

Melnyk, who is working with a Toronto-based public relations firm, told CTV's Your Morning he is fortunate to own an NHL team and is committed to trying to bring a Stanley Cup to Ottawa.

"Whatever was said in December, it's unfortunate that it hit a real nerve in Ottawa," Melnyk said. "The reality is I love the city, I love the people, I love the fans and it's actually my privilege to be there and to ice a team like the Ottawa Senators.
Filed in: NHL Teams, Ottawa Senators, | KK Hockey | Permalink

by Paul on 01/31/18 at 10:02 AM ET
Comments (2)
from Luke DeCock of the News & Observer,
There were enough season-ticket no-shows – again, not uncommon for a frigid Tuesday night against Ottawa, even in the salad days – to give the lower bowl a gap-toothed look, but all but a few hundred die-hard upper-levelers took up the team on its open offer to move down, including the notorious noisemakers from Section 328 who took up residence in Section 123. Things did get louder than they would have been in the third, even if no amount of fan migration could have salvaged the first two sleepy periods. What's the point of trying to fill up the lower bowl if there's nothing to get loud about?
Filed in: NHL Teams, Carolina Hurricanes, | KK Hockey | Permalink

by Paul on 01/31/18 at 08:25 AM ET
Comments (3)
via the CP at Sportsnet,
MacKinnon was hurt after taking a hit in the corner from Canucks defenceman Alexander Edler with about six minutes left in the second period.

The 22-year-old, whose helmet popped off as a result of the collision, skated slowly to the Colorado bench and appeared to be favouring his left shoulder.

MacKinnon was briefly attended to by a trainer before heading to the locker-room.

"I really don't know a timeline. It's upper-body," said Avalanche head coach Jared Bednar. "I don't know if it's day-to-day or not. I'll have to talk to the trainers. We'll probably know more (Wednesday)."
Filed in: NHL Teams, Colorado Avalanche, | KK Hockey | Permalink
Tags: nathan+mackinnon
by Paul on 01/31/18 at 07:59 AM ET
Comments (0)
via TSN,
In 2009, Lightning defenceman Paul Ranger vanished from the NHL. The reason for his departure was a mystery. Darren Dreger sits down with Paul in this revealing and deeply personal TSN Original.
Watch at TSN and well worth the 14 minutes you will spend watching.
Filed in: NHL Teams, Hockey Related Stories, | KK Hockey | Permalink
Tags: paul+ranger
by Paul on 01/31/18 at 07:44 AM ET
Comments (1)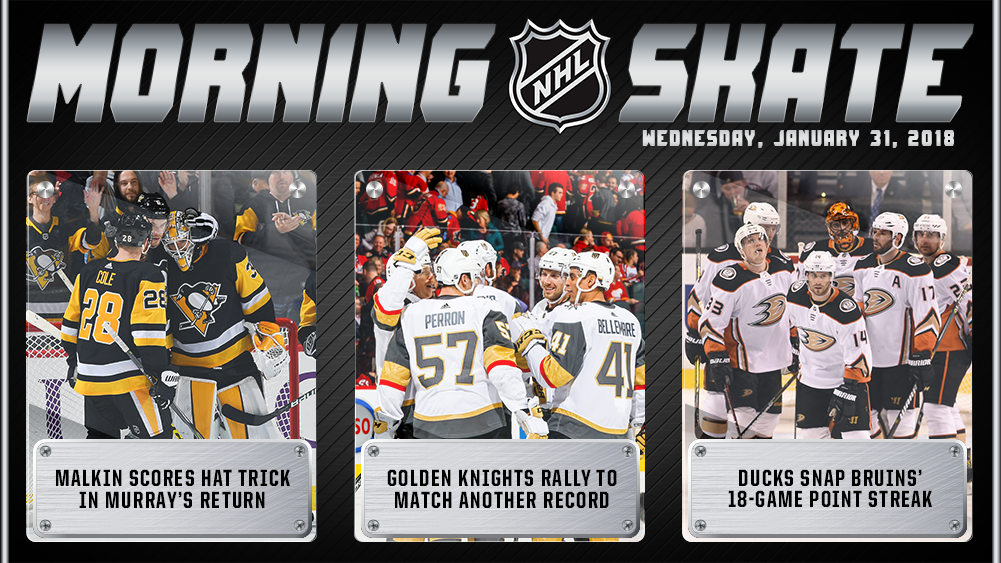 TUESDAY'S RESULTS
Home Team in Caps
Anaheim 3, BOSTON 1
New Jersey 3, BUFFALO 1
Florida 4, NY ISLANDERS 1
PITTSBURGH 5, San Jose 2
CAROLINA 2, Ottawa 1
Minnesota 3, COLUMBUS 2 (SO)
ST. LOUIS 3, Montreal 1
Chicago 2, NASHVILLE 1
WINNIPEG 3, Tampa Bay 1
Los Angeles 3, DALLAS 0
Vegas 4, CALGARY 2
VANCOUVER 4, Colorado 3 (OT)
Filed in: NHL Teams, | KK Hockey | Permalink

by Paul on 01/30/18 at 09:21 PM ET
Comments (0)
from Ian MacIntyre of Sportsnet,
Vancouver Canucks defenceman Erik Gudbranson is off the trade market. For now.

General manager Jim Benning confirmed to Sportsnet today that he will try to sign the 26-year-old to a contract extension ahead of the Feb. 26 NHL trade deadline. But if contract talks fail in the next couple of weeks, the Canucks will trade Gudbranson rather than lose him as an unrestricted free agent on July 1.

"He's a physical, stay-at-home defenceman who helps us," Benning said. "We have other defencemen who are more puck-moving guys, but we don't have anyone else with Gudbranson's style of play.
Filed in: NHL Teams, Vancouver Canucks, | KK Hockey | Permalink
Tags: erik+gudbranson
by Paul on 01/30/18 at 08:29 PM ET
Comments (1)
"The young guys, they have so much speed and skill. I have to say, it looks good . . . It's all about the fans. If the fans want to bring the old stuff back, if they want more fighting and big guys, it's going to come back. But now, the fans want the speed hockey, the skill hockey. And who blames them? It looks good."
-Roman Polak of the Toronto Maple Leafs. Dave Feschuk of the Toronto Star has more on a feature about toughness in the game.
I don't agree with Polak at all, fighting is going away year by year.
Filed in: NHL Teams, Toronto Maple Leafs, | KK Hockey | Permalink
Tags: roman+polak
by Paul on 01/30/18 at 08:20 PM ET
Comments (0)
via Sportsnet's YouTube channel,
NHL insider Elliotte Friedman joins David Amber to discuss the injury to Winnipeg Jets defenceman Jacob Trouba, the injury to San Jose Sharks centre Joe Thornton and the controversy surrounding Seth Jones playing despite missing the NHL All-Star Game.
Filed in: NHL Teams, NHL Talk, | KK Hockey | Permalink

« Previous ‹ First < 98 99 100 101 102 > Last › Next »
About Kukla's Korner Hockey
Paul Kukla founded Kukla's Korner in 2005 and the site has since become the must-read site on the 'net for all the latest happenings around the NHL.
From breaking news to in-depth stories around the league, KK Hockey is updated with fresh stories all day long and will bring you the latest news as quickly as possible.
Email Paul anytime at pk@kuklaskorner.com
Tweets by @kuklaskorner
Most Recent Blog Posts