Kukla's Korner Hockey
by Paul on 03/28/18 at 07:49 PM ET
Comments (0)
from Joe Smith of the Tampa Bay Times,
Worried about the Lightning?

Freaking out, maybe?

The fans' sense of panic hasn't quite hit the Tampa Bay dressing room. This is still a first-place team, a playoff team, an experienced team. You don't rack up 106 points by luck.

But this upcoming five-day stretch will be extremely telling for the Lightning, starting with Thursday night's showdown with the Bruins at TD Garden. It is the first of two final meetings between the rivals, and they'll go a long way in deciding the Atlantic Division title. The Bruins trail Tampa Bay by one point, with a game in hand and seven to go.
Filed in: NHL Teams, Boston Bruins, Tampa Bay Lightning, | KK Hockey | Permalink

by Paul on 03/28/18 at 11:22 AM ET
Comments (21)
from Elliotte Friedman of Sportsnet,
- There were some wild rumours that Pavel Datsyuk is coming back to Detroit for 2018-19. Dan Milstein, his agent, says that is not true.

- It has been a very difficult week in Calgary, with the Flames on fumes, lurching to the end of the season. I think they are in a similar kind of shock Edmonton was in for awhile, stunned at how a hopeful season went off the rails. It's led to a lot of questions about the team's character, but my sense is they are less worried about that than a lack of urgency.

Yes, it's a fine line, but let me give you an example of what I think this means. One of the stories I heard was that, in 2016–17, some players went to coach Glen Gulutzan and said the group responded better to a velvet glove than an iron hand. There are times that is true and good coaches use both, but the team has to be able to properly police itself. Gulutzan's taken heat this year for public tirades/stick tosses, but he's also got defenders who say he was trying to light a fire under a team that couldn't do it. How do you add that edge? That's the off-season question.

- Detroit's Ken Holland is in the cone of silence, not revealing much about his future. I'm loathe to say he's 100 per cent coming back, because nothing is done until it is done, but all indications are pointing in that direction. The Athletic's Craig Custance quoted sources as expecting a three-year extension; I heard rumblings about a two-year move. Whatever the case, the organization is working through the process.

Owner Marian Ilitch has a place near the site of last week's GM meetings and it is believed they met. There are some GMs who know the end is coming and give off a "Dead Man Walking" impression, but Holland isn't acting that way. He's spent much less time around the team than normal, throwing on his scouting beret for a hugely important draft.
more Thoughts...
Filed in: NHL Teams, | KK Hockey | Permalink

by Paul on 03/28/18 at 11:15 AM ET
Comments (0)
NEW YORK (March 28, 2018) – The National Hockey League announced today the odds for the 2018 NHL Draft Lottery, which will be held Saturday, April 28, in Toronto.
The 2018 NHL Draft Lottery will consist of three drawings: the 1st Lottery Draw will determine the club selecting first overall, the 2nd Lottery Draw will determine the club selecting second overall and the 3rd Lottery Draw will determine the club selecting third overall.
The 15 clubs that do not qualify for the 2018 Stanley Cup Playoffs – or the clubs that have acquired the first-round picks of those non-playoff clubs – will participate in the 2018 NHL Draft Lottery.
Filed in: NHL Teams, NHL Talk, | KK Hockey | Permalink

by Paul on 03/28/18 at 10:06 AM ET
Comments (0)
BOSTON - Boston Bruins General Manager Don Sweeney announced today, ‪March 28, that the team has signed defenseman Zdeno Chara to a one-year contract extension through the 2018-19 season worth $5 million, plus an additional $1.75 million in performance-based incentives.
Filed in: NHL Teams, Buffalo Sabres, | KK Hockey | Permalink
Tags: zdeno+chara
by Paul on 03/28/18 at 09:40 AM ET
Comments (0)
Mike Heika of the Dallas Morning News answered some questions for the fans...
Mike, explain to me what happened. The Stars hired Jim Nill who favored the puck possession style that made the Red Wings so successful. They were one of the most entertaining teams in the league even when they lost. I remember the then coach of the Blues saying this is the future of the NHL.

Two glaring weaknesses needed to be addressed: goaltending and a defensive defenseman. These problems were addressed with the Ben Bishop and Marc Methot signings.

The Stars then hired the dump and chase, goals don't matter, boring style coach.

Was this decision made by Tom Gaglardi?

Heika: I think the owner had a hand in the decision, but the GM had to approve. Ken Hitchcock defends his style as a lot like what Pittsburgh runs or Tampa Bay or Nashville. He said he wants an aggressive offensive plan of attack that pushes the puck into the offensive zone and relies heavily on forwards winning puck battles to keep the puck in the offensive zone.

It's not that different from Detroit in theory. The Red Wings controlled the puck with skill, the Stars want to control the puck with work. They both want to spend a lot of time in the offensive end. Hitch does not like to hear that he coaches boring hockey.

The key to what he does is it requires a lot of work and talent in the forward group, and he might not have that just yet. There is a real chance that if he stays and has better talent in the forward group, his team will look a lot less boring.

Of course, that's all in theory.
read on for more Q & A...
Filed in: NHL Teams, Dallas Stars, | KK Hockey | Permalink

by Paul on 03/28/18 at 09:33 AM ET
Comments (0)
NEW YORK/TORONTO (March 28, 2018) – During its first-ever NHL Green™ month, celebrating an ongoing commitment to environmental sustainability, the National Hockey League today published the 2018 Sustainability Report, the second installment following the first-ever report of its kind in 2014. The 2018 report, available on NHL.com/Green, assesses the League's environmental impact and its commitment to ensure all levels of hockey – on frozen ponds, community rinks, or in-arena – thrive for future generations.
Filed in: NHL Talk, | KK Hockey | Permalink

by Paul on 03/28/18 at 08:53 AM ET
Comments (0)
Sportsnet style, 8 1/2 minutes long.
Filed in: NHL Teams, | KK Hockey | Permalink

by Paul on 03/28/18 at 08:48 AM ET
Comments (1)
from Steve Gorten of the Columbus Dispatch,
The Blue Jackets showed the swagger Tuesday that coach John Tortorella hoped would still be there after their 10-game winning streak was snapped Saturday.

Smacked in the mouth by the Edmonton Oilers in the opening 10-plus minutes, and staggering, the Jackets charged back with an improbable, spectacular response — seven unanswered goals. By the first intermission, they had erased a three-goal deficit. By the second intermission, they had a three-goal lead.

Right wing Thomas Vanek had already notched his 11th career hat trick by then, and the Jackets were on their way to a 7-3 win at Rogers Place to start this crucial three-game western Canada trip.

"We showed a lot of character to get a big two points," Vanek said.

"It's a hell of a win for us to bounce back," said center Alexander Wennberg, who had two assists and finished with a single-game franchise record plus-6 rating.
Game hightlights are below...
Filed in: NHL Teams, Columbus Blue Jackets, Edmonton Oilers, | KK Hockey | Permalink

by Paul on 03/28/18 at 07:32 AM ET
Comments (0)
Get caiught up in 5:08 minutes.
Filed in: NHL Teams, | KK Hockey | Permalink

by Paul on 03/28/18 at 07:25 AM ET
Comments (0)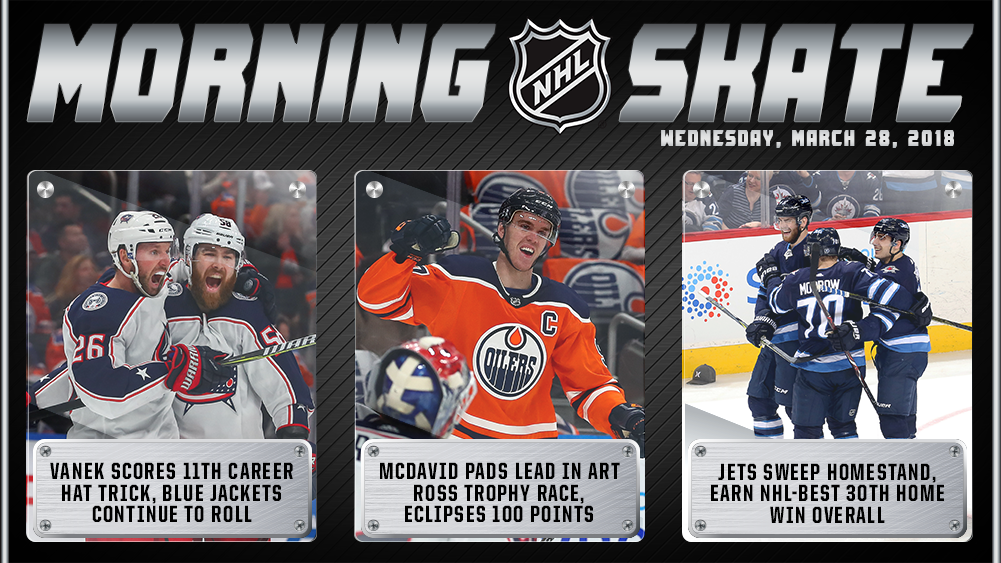 TUESDAY'S RESULTS
Home Team in Caps
NEW JERSEY 4, Carolina 3
NY Islanders 4, OTTAWA 3
DETROIT 5, Pittsburgh 2
ST. LOUIS 3, San Jose 2 (OT)
NASHVILLE 2, Minnesota 1 (SO)
WINNIPEG 5, Boston 4 (SO)
DALLAS 3, Philadelphia 2 (OT)
Columbus 7, EDMONTON 3
VANCOUVER 4, Anaheim 1
Filed in: NHL Teams, | KK Hockey | Permalink

« Previous ‹ First < 93 94 95 96 97 > Last › Next »
About Kukla's Korner Hockey
Paul Kukla founded Kukla's Korner in 2005 and the site has since become the must-read site on the 'net for all the latest happenings around the NHL.
From breaking news to in-depth stories around the league, KK Hockey is updated with fresh stories all day long and will bring you the latest news as quickly as possible.
Email Paul anytime at pk@kuklaskorner.com
Tweets by @kuklaskorner
Most Recent Blog Posts