Kukla's Korner Hockey
by Paul on 03/13/18 at 09:10 AM ET
Comments (0)
from Ken Warren of the Ottawa Sun,
Now, teams may have thought they were close to making a deal with the Senators, but only GM Pierre Dorion knows for sure. Either way, there's no doubt conversations will pick up again after the season. The Senators will surely entertain trade talks for Karlsson at the draft, and in order to get the captain, they'll ask that Ryan is included in the package.

The Senators will try and move the former 30-goal scorer, not because he's a bad player or bad person — the opposite is true in both cases, actually — but because he's not worth the $7.25-million cap hit they have him at for four more seasons.

Ryan gets it. Both he and wife Danielle like Ottawa and want to stay. But he also sees the writing on the wall....

"I understand with my contract and the obligations, that I haven't performed up to a $7-million player," he said. "But that's something that happens. That's the business side of things. I try to separate it when I get to the rink. I don't worry about what's going on over there, in the other hallway, I just worry about what's in front of me. That's all you can do."
Filed in: NHL Teams, Ottawa Senators, | KK Hockey | Permalink
Tags: bobby+ryan
by Paul on 03/13/18 at 09:00 AM ET
Comments (5)
from Michael Traikos of the National Post,
It's not because of something nefarious. But in the minds of potential voters, his season is tainted. Call it guilt by association.

McDavid is ranked third in the Art Ross Trophy race with 84 points in 68 games. Since the All-Star break, he is tied for first in goals (18) and second in points (30). He's having as good an offensive year as he did in 2017-18 when he finished with 100 points and won the Hart Trophy and Ted Lindsay Award.

The problem is that while McDavid is having another MVP season, his team is having a forgettable one.

The Edmonton Oilers are not a playoff team. As of Monday, they weren't even close. For this reason — and pretty much this reason alone — McDavid won't come close to winning an award that by definition is awarded annually to the "player judged most valuable to his team."
Filed in: NHL Teams, Edmonton Oilers, | KK Hockey | Permalink
Tags: connor+mcdavid
by Paul on 03/13/18 at 08:49 AM ET
Comments (0)
Five minutes to watch.
Filed in: NHL Teams, | KK Hockey | Permalink

by Paul on 03/13/18 at 08:33 AM ET
Comments (3)
The end of the regular season is near and it is time to talk the Stanley Cup Playoffs, specifically the two teams who will come out of the conference finals to play for the Stanley Cup.
I imagine if you were betting on the Stanley Cup, these teams would surely be mentioned: Pittsburgh Penguins, Tampa Bay Lightning, Nashville Predators and possibly a few other teams.
Others may mention the Boston Bruins and Winnipeg Jets and how about the Vegas Golden Knights?
Filed in: NHL Teams, | KK Hockey | Permalink

by Paul on 03/13/18 at 08:24 AM ET
Comments (0)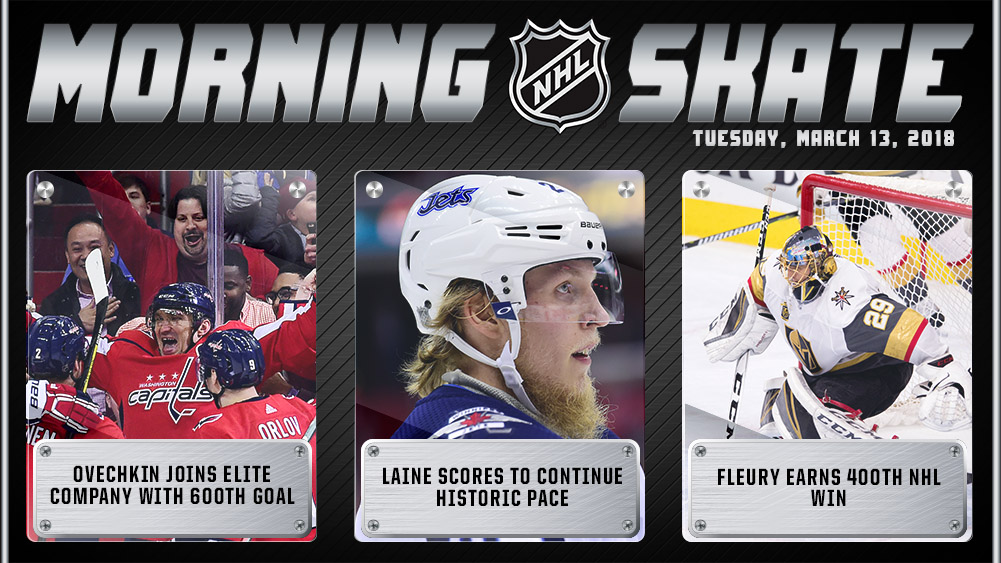 MONDAY'S RESULTS
Home Team in Caps
NY RANGERS 6, Carolina 3
Vegas 3, PHILADELPHIA 2
WASHINGTON 3, Winnipeg 2 (OT)
COLUMBUS 5, Montreal 2
Ottawa 5, FLORIDA 3
St. Louis 4, ANAHEIM 2
LOS ANGELES 3, Vancouver 0
SAN JOSE 5, Detroit 3
Filed in: NHL Teams, | KK Hockey | Permalink

by Paul on 03/12/18 at 11:06 PM ET
Comments (0)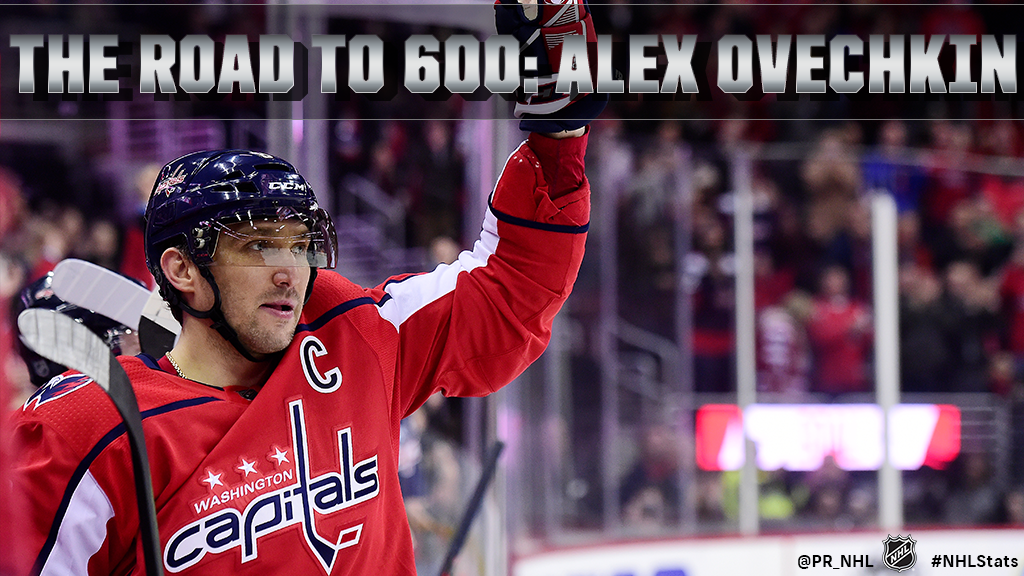 OVECHKIN BECOMES 20TH PLAYER TO SCORE 600 CAREER NHL GOALS
Alex Ovechkin became the 20th player in NHL history to reach the 600-goal milestone, doing so in his 990th career game (600-509—1,109). Only three players achieved the feat in fewer contests: Wayne Gretzky (718), Mario Lemieux (719) and Brett Hull (900).
Filed in: NHL Teams, Washington Capitals, | KK Hockey | Permalink
Tags: alex+ovechkin
by Paul on 03/12/18 at 10:49 PM ET
Comments (0)
from the CP at TSN,
Marc-Andre Fleury made 38 saves to become the 13th goalie in NHL history with 400 career wins, and Ryan Carpenter scored the winning goal with 2:40 left to lead the Vegas Golden Knights over the Philadelphia Flyers 3-2 on Monday night.

Erik Haula and William Karlsson also scored for the Pacific Division leaders, who won their third straight and completed a 4-1 road trip.

Fleury, who earned his first NHL win on Oct. 18, 2003, became the third active goalie to reach the milestone, joining Roberto Luongo and Henrik Lundqvist.
continue for more on the game...
Below, watch Fleury post-game.
Filed in: NHL Teams, | KK Hockey | Permalink
Tags: marc-andre+fleury, vegas+golden+knights
by Paul on 03/12/18 at 08:22 PM ET
Comments (0)
Goal #601 will tie Ovechkin with Jari Kurri.
Washington press release is below.
added 8:42pm, YouTube version of the goal is below too.
Filed in: NHL Teams, Washington Capitals, | KK Hockey | Permalink
Tags: alex+ovechkin
by Paul on 03/12/18 at 07:05 PM ET
Comments (1)
from Ed Willes of the Vancouver Province,
It would be cruel to suggest this team might win the Rasmus Dahlin lottery because these, after all, are the Canucks. If that should happen, it would be a total game-changer for this franchise. It might also signal the end of days.

What's more likely, and interesting, is if the Canucks end up 30th and the possibilities that opens up. After Dahlin, there are three forwards on the top of most boards: Andrei Svechnikov, Brady Tkachuk and Filip Zadina. All three are wingers. All three project as front-liners. But, while the Canucks' roster has more holes than a bad alibi, none of those three really address their needs.

So we ask, if they do end up picking second to fourth, does that open up a trade-down scenario because the next group features a number of defencemen — which does fill a crying need for the Canucks?

The interesting part here is the four most-often mentioned blue-line prospects — Quinn Hughes, Adam Boqvist, Evan Bouchard and Noah Dobson — all bring something a little different to the party.
more and some Hart Trophy talk too...
Filed in: NHL Teams, Vancouver Canucks, | KK Hockey | Permalink

by Paul on 03/12/18 at 06:44 PM ET
Comments (0)
from Kevin Allen of USA TODAY,
Here are five players who should have a greater impact in the playoffs than they had in the regular season:

T.J. Oshie, Washington Capitals: Undermined by a concussion, Oshie has gone from 33 goals last season to 12 goals now. He has netted one goal in his last 32 games. Oshie's hard-to-the-net style has always served him well in the postseason when there is less room to navigate. He has 10 goals and 22 points in 25 playoff games for Washington.

Ryan Kesler, Anaheim Ducks: Kesler's season began Dec. 27 because of offseason hip surgery, and it has taken him time to find his rhythm, with six goals and nine points in 31 games. But he should be ready to be his usual beastly presence in the postseason. Few players, if any, are more difficult to play against. Kesler has 24 goals and 63 points in 97 playoff games.
three more players...
Filed in: NHL Teams, | KK Hockey | Permalink

« Previous ‹ First < 90 91 92 93 94 > Last › Next »
About Kukla's Korner Hockey
Paul Kukla founded Kukla's Korner in 2005 and the site has since become the must-read site on the 'net for all the latest happenings around the NHL.
From breaking news to in-depth stories around the league, KK Hockey is updated with fresh stories all day long and will bring you the latest news as quickly as possible.
Email Paul anytime at pk@kuklaskorner.com
Tweets by @kuklaskorner
Most Recent Blog Posts