Kukla's Korner Hockey
by Paul on 01/02/18 at 09:19 AM ET
Comments (3)
from Larry Brooks of the New York Post,
Even before the numbers are recorded for the game Monday at Citi Field, this unlikely matchup between the Rangers and Sabres was the least-hyped Winter Classic yet. There was no alumni event, no preceding indoor matchup to serve as an appetizer. It would have been a reach even for NBC to cast these two New York state reps for Wednesday Night Rivalry Night.

But that made no difference at all while they played the Granddaddy of Them All in frigid Queens. If it is a given that all politics are local, it is equally true that these outdoor games are spectacles that are savored in their respective local markets and by the athletes who participate in them. The NHL hit it out of the park again.

"I could easily play one every year and not get tired of it," Henrik Lundqvist said after improving his and his team's all-time outdoor record to 4-0 with their 3-2 overtime victory in which J.T. Miller got the walk-off. "It doesn't get old to me."
Filed in: NHL Teams, Buffalo Sabres, New York Rangers, | KK Hockey | Permalink

by Paul on 01/02/18 at 09:01 AM ET
Comments (0)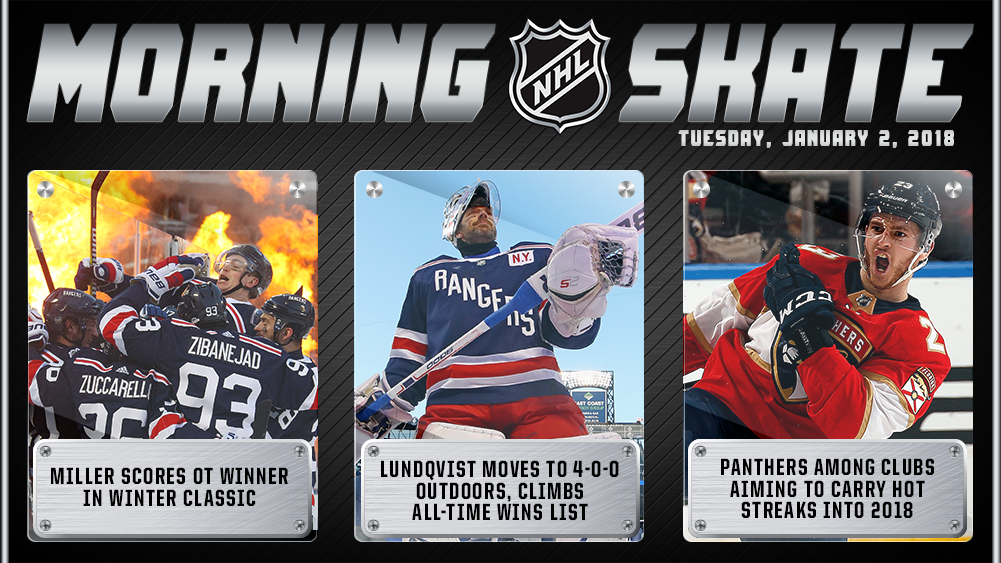 MONDAY'S RESULT
Home Team in Caps
NY Rangers 3, BUFFALO 2 (OT)
Filed in: NHL Teams, | KK Hockey | Permalink

by Paul on 01/01/18 at 04:22 PM ET
Comments (3)
from USA Hockey,
USA Hockey announced today the rosters for its 2018 U.S. Olympic Men's and Women's Ice Hockey Teams and 2018 U.S. Paralympic Sled Hockey Team during the second intermission of the NHL Winter Classic at Citi Field in New York City.

"We're excited about all three of our teams and the chance to compete for gold," said Pat Kelleher, executive director of USA Hockey. "There's no bigger stage than the Olympics and Paralympics and I know our teams will represent our country extremely well in PyeongChang."
See all the rosters below...
Filed in: | KK Hockey | Permalink
Tags: team+usa
by Paul on 01/01/18 at 01:02 PM ET
Comments (0)
NEW YORK (Jan. 1, 2018) – Winnipeg Jets goaltender Connor Hellebuyck, Vegas Golden Knights center William Karlsson and Boston Bruins right wing David Backes have been named the NHL's "Three Stars" for the week ending Dec. 31.
Filed in: NHL Teams, | KK Hockey | Permalink

by Paul on 01/01/18 at 01:00 PM ET
Comments (4)
Some of you may be watching the only game on the NHL schedule today, some of you may be watching NCAA football and some of you may still be sleeping or taking a cat nap. I plan on doing all three so this open post is yours.
Talk the Winter Classic game or anything hockey related and even some football can be tossed in too.
Enjoy the day and tomorrow the NHL comes back with 12 games.
The Sabres/Rangers game is scheduled to start sometime after 1:00pm (NBC, Sportsnet and TVAS).
Filed in: NHL Teams, Buffalo Sabres, New York Rangers, | KK Hockey | Permalink

by Paul on 01/01/18 at 11:45 AM ET
Comments (0)
All in super slow motion.
Filed in: NHL Teams, | KK Hockey | Permalink

by Paul on 01/01/18 at 10:04 AM ET
Comments (0)
"I think we did a lot of really good things, thought we had a lot of zone time. We had a significant amount of scoring chances. I thought we got inside tonight more than we have in the past handful of games.

"It stings when you lose, but I think we've got to make sure that we keep our heads up, keep getting more determined and make sure that we try to learn from each experience and move on. I think at this point that's the only approach that we can take."
-Mike Sullivan, head coach of the Pittsburgh Penguins after a 4-1 loss to the Detroit Red Wings. The Penuins sit in the 7th spot in the Metropolitan Division.
Jason Mackey of the Pittsburgh Post-Gazette has more on the Penguins and their scoring issues.
Filed in: NHL Teams, Pittsburgh Penguins, | KK Hockey | Permalink
Tags: mike+sullivan
by Paul on 01/01/18 at 09:51 AM ET
Comments (0)
from Michael Traikos of the National Post,
With the medal round starting on Tuesday, here is what is making noise so far at the annual under-20 tournament:

Canada can score

There is no player of the calibre of Connor McDavid or Sidney Crosby on this year's Canadian team. But you wouldn't know it based on the team's blowout wins over Slovakia and Denmark.

Canada led the preliminary round with 21 goals in four games. The most impressive part was that they did it mostly by committee. While Sam Steel leads the team with three goals, Canada received offence from every line and nearly every forward....

Playing like a No. 1

He's been compared to Erik Karlsson and been called the best defensive prospect — ever — but if there was any concern that Sweden's Rasmus Dahlin was being unfairly hyped as the next Nicklas Lidstrom, the talented defenceman put them to rest. With a tournament-leading six assists in three games, he's come as advertised. Dahlin has been a minute-munching game-changer for Sweden, noticeable every time he steps on the ice....
more on each of the above plus other observations...
Filed in: Non-NHL Hockey, International Hockey, | KK Hockey | Permalink

by Paul on 01/01/18 at 09:06 AM ET
Comments (0)
The puck is scheduled to drop just after 1:00pm ET.
via the NHL PR department:
The 2018 Bridgestone NHL Winter Classic marks the 10-year anniversary of the Winter Classic, which debuted Jan. 1, 2008, at Ralph Wilson Stadium in Orchard Park, N.Y. The Sabres also served as hosts of that game, suffering a 2-1 shootout loss to the Penguins in front of 71,217 fans.
Filed in: NHL Teams, Buffalo Sabres, New York Rangers, | KK Hockey | Permalink

by Paul on 01/01/18 at 08:59 AM ET
Comments (0)
from Robert Tychkowski of the Edmonton Journal,
Thankfully, 2017 is over.

And one or two more games like that and so are the Edmonton Oilers.

With their season hanging by a thread and zero room left for error, against a Winnipeg Jets team without Mark Scheifele and Dustin Byfuglien, the Oilers put all of their hunger and determination on display Sunday night at Rogers Place.

It wasn't much.

Their fast-fading playoff hopes suffered another serious blow, this time a 5-0 loss that had the home town crowd booing Edmonton off the ice.

With good reason. The Oilers were a lukewarm mess in losing their 16th straight New Year's Eve game (0-12-4 dating back to 1985). After four-straight wins before the Christmas break, they've now lost three in a row since....

"How come in a game this important, at home, they couldn't muster the determination to put up a fight?

"I can't really answer that," said McDavid. "We understand the position we are in and that every point matters is no secret to anyone in here. It was obviously not our best effort, but we'll regroup with a couple of games coming up against divisional teams."
Game highlights are below...
Filed in: NHL Teams, Edmonton Oilers, Winnipeg Jets, | KK Hockey | Permalink

« Previous ‹ First < 90 91 92 93 94 > Last › Next »
About Kukla's Korner Hockey
Paul Kukla founded Kukla's Korner in 2005 and the site has since become the must-read site on the 'net for all the latest happenings around the NHL.
From breaking news to in-depth stories around the league, KK Hockey is updated with fresh stories all day long and will bring you the latest news as quickly as possible.
Email Paul anytime at pk@kuklaskorner.com
Recommended Sportsbook
MyBookie.ag
Tweets by @kuklaskorner
Most Recent Blog Posts