Kukla's Korner Hockey
by Paul on 04/19/18 at 07:17 AM ET
Comments (6)
from Roger Mooney of the Tampa Bay Times,
Bachman-Turner Overdrive's Taking Care of Business shook the walls of the Lightning locker room not long after it dispatched the Devils in Wednesday's Game 4 of their first-round playoff series.

The 3-1 win was sparked by Nikita Kucherov, who put his game into overdrive with two goals, an assist, a game-high seven shots and a big first-period hit that might have set the tone for the rest of the game.

"For sure," J.T. Miller said. "Any time you see one of your top offensive players and one of the best in the league offensively hit a guy like that, that's a big-time hit. That gives the group a spark. I think that was a big part of the first period.

"When he's involved, engaged physically like that, it sends a message to the team that everybody's got to be engaged. This is a big game, and from there on out, we played a really solid game."

Kucherov's hit on Sami Vatanen near the Devils' bench knocked the defenseman from the game with an upper-body injury and sparked retaliation and several minor scuffles.
Watch the game highlights below and the Kucherov hit on Vatanen if you missed it last night.
Filed in: NHL Teams, New Jersey Devils, Tampa Bay Lightning, | KK Hockey | Permalink

by Paul on 04/19/18 at 07:06 AM ET
Comments (2)
from Mike Sielski of Philly.com,
One stride, two strides, three strides, and Brian Elliott was alone in the middle of the Wells Fargo Center ice Wednesday night, Michal Neuvirth gliding past him, the far end of the Flyers' bench still a long way away, a predictable shower of boos soaking him in sound.

Sure as the Flyers were going to exhume that grainy 43-year-old video of Kate Smith belting out "God Bless America" and rerun it before Game 4 against the Penguins, a soft goal or two was all it would take for Elliott to take a seat and Neuvirth to get his chance to prevent this series from becoming what it has become. This was a 5-0 rout that only reaffirmed the distance between these two teams, and this is a three-games-to-one lead for the Penguins, a full-fledged domination by the two-time defending Stanley Cup champions of an inferior opponent.

"We lost to a better team tonight," Neuvirth said, committing the classic gaffe in sports and politics of speaking a plain truth.
Game highlights are below.
Filed in: NHL Teams, Philadelphia Flyers, Pittsburgh Penguins, | KK Hockey | Permalink

by Paul on 04/19/18 at 06:54 AM ET
Comments (0)
from Mike Chambers of the Denver Post,
The Presidents' Trophy-winning Preds overwhelmed the Avs from the first drop of the puck in Game 4, scoring the first three goals before holding on late for a 3-2 victory that puts them on the brink of advancing to the Western Conference semifinals.

Nashville takes a 3-1 series lead to Game 5 on Friday on its home ice.

"I loved our third, there's no question. But we need to find that urgency earlier," Avs coach Jared Bednar said. "Even after it was 3-2, we had to have three or four real good looks at the net."
from Mark Kiszla of the Denver Post,
When this season is over for Colorado, perhaps as soon as Friday night, when Game 5 will be played in Nashville, there will be praises sung for Nathan MacKinnon as the most valuable player in the league and admiration for how the feisty young Avalanche made pro hockey relevant again in Denver.

But this was also the year when the Avalanche finally buried the chaos created by Roy when he abruptly quit as the team's coach in August 2016.

"He left us in the lurch," Avalanche president Josh Kroenke told me last week, while marveling how the vision of general manager Joe Sakic has triumphed over the vote of no-confidence given by Roy on his way out the door.

Make no mistake. Bruises remain from how Roy dumped the Avs.

"I don't really respect the way (Roy) handled it," Kroenke said. "He went public before I even had a chance to talk with him....
Watch the game highlights below along with some chippy play...
Filed in: NHL Teams, Colorado Avalanche, Nashville Predators, | KK Hockey | Permalink

by Paul on 04/19/18 at 06:45 AM ET
Comments (0)
from Eric Stephens of the OC Register,
Tomas Hertl scored midway through the third period and the Sharks completed a four-game sweep of the Ducks and brought a swift end to their Pacific Division rival's season with a 2-1 Game 4 victory Wednesday night.

As a rollicking sellout crowd of 17,562 rhythmically chanted for the broom work to go down, San Jose put the clamps on the Ducks as it had all series. The Ducks scored only four goals in the four games and were swept in a playoff series for the first time since Detroit did it to them in 1999.

"We played well down the stretch and then obviously the let up, we didn't respond the way we needed to going into the playoffs in the first game," Ducks captain Ryan Getzlaf said. "That's on us. That's what we got to do as players. Be prepared and ready to compete throughout a whole series and not just at the end."...

"To me, it's too fresh in people's minds and emotions run high in these situations and nobody feels good about what just happened," Ducks coach Randy Carlyle said. "There'll be lots of comments. People that aren't in the organization will be making a lot of comments about what should happen. And that's their opinion.

"We'll let the organization make the decisions that are the best interests. Leave that to the people that are in charge."
Below, watch the game highlights, handshake line and an in-game funny GIF....
Filed in: NHL Teams, Anaheim Ducks, San Jose Sharks, | KK Hockey | Permalink

by Paul on 04/19/18 at 06:33 AM ET
Comments (0)
Exactly 3:43 minutes long.
Filed in: NHL Teams, | KK Hockey | Permalink

by Paul on 04/19/18 at 06:28 AM ET
Comments (0)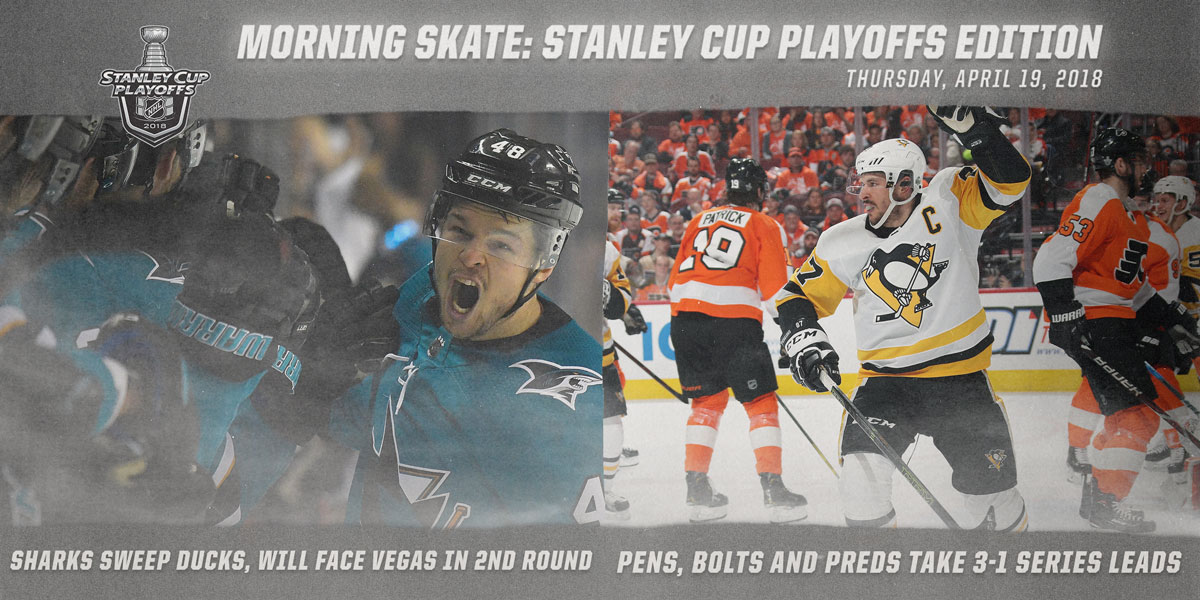 WEDNESDAY'S RESULTS
The Sharks swept their First Round series with the Ducks, while a trio of teams took 3-1 leads in their series. Elias notes teams that take a 3-1 lead in a best-of-seven series own an all-time series record of 269-28 (90.6%).
Filed in: NHL Teams, | KK Hockey | Permalink

by Paul on 04/18/18 at 09:22 PM ET
Comments (2)
via Sportsnet,
Sami Vatanen would head to the locker room after taking big hit from Nikita Kucherov.
To me, it looks like the recent Doughty hit.
Filed in: NHL Teams, New Jersey Devils, Tampa Bay Lightning, | KK Hockey | Permalink
Tags: nikita+kucherov, sami+vatanen
by Paul on 04/18/18 at 07:12 PM ET
Comments (2)
Cross-checking.
Filed in: NHL Teams, Winnipeg Jets, | KK Hockey | Permalink

by Paul on 04/18/18 at 07:00 PM ET
Comments (0)
NEW YORK (April 18, 2018) – Centers Patrice Bergeron of the Boston Bruins, Sean Couturier of the Philadelphia Flyers and Anze Kopitar of the Los Angeles Kings are the three finalists for the 2017-18 Frank J. Selke Trophy, which is awarded "to the forward who best excels in the defensive aspects of the game," the National Hockey League announced today.
Members of the Professional Hockey Writers Association submitted ballots for the Selke Trophy at the conclusion of the regular season, with the top three vote-getters designated as finalists. The winner will be announced Wednesday, June 20, during the 2018 NHL Awards™ presented by Hulu at the Hard Rock Hotel & Casino in Las Vegas
Following are the finalists for the Selke Trophy, in alphabetical order:
Filed in: NHL Teams, NHL Talk, | KK Hockey | Permalink

by Paul on 04/18/18 at 06:30 PM ET
Comments (5)
The Sharks can sweep the Ducks tonight and the Penguins, Lightning and Nashville can go up 3-1/
Feel free to comment on the games.
Filed in: NHL Teams, | KK Hockey | Permalink

« Previous ‹ First < 4 5 6 7 8 > Last › Next »
About Kukla's Korner Hockey
Paul Kukla founded Kukla's Korner in 2005 and the site has since become the must-read site on the 'net for all the latest happenings around the NHL.
From breaking news to in-depth stories around the league, KK Hockey is updated with fresh stories all day long and will bring you the latest news as quickly as possible.
Email Paul anytime at pk@kuklaskorner.com
Tweets by @kuklaskorner
Most Recent Blog Posts