Kukla's Korner Hockey
by Paul on 03/23/18 at 09:41 AM ET
Comments (6)
Filed in: Non-NHL Hockey, College Hockey, | KK Hockey | Permalink

by Paul on 03/23/18 at 09:26 AM ET
Comments (1)
from Eric Francis of the Calgary Sun,
What the Calgary Flames have done to their fans the last two months is borderline theft.

Taking people's hard-earned money to watch the home team lose 11 of their last 14 at home seems almost criminal given how much talent this team has on paper.

What puzzles investigators who are digging deep into the crime scene on Olympic Way is how these lads let a once-promising season turn into a tire fire down the stretch.

What is becoming increasingly clear is the cleanup required this off-season is going to be more significant than previously thought.

There needs to be a significant cultural shift aimed at infusing leadership and character, because this team showed little of either when it mattered most.
Filed in: NHL Teams, Calgary Flames, | KK Hockey | Permalink

by Paul on 03/23/18 at 08:48 AM ET
Comments (1)
from Jessi McDonald at LA Kings Insider,
Anze Kopitar, on where tonight ranks on his list of best games:

Yeah, I mean it's definitely up there. I just felt all night that the puck was kind of following me around and you really want to make the most of it really. You know, I got a couple of scoring opportunities and you really want to cash in. And I guess it worked out for me tonight.
continue for more from Kopitar after the Kings 7-1 win over the Avs...
Filed in: NHL Teams, Columbus Blue Jackets, Los Angeles Kings, | KK Hockey | Permalink
Tags: anze+kopitar
by Paul on 03/23/18 at 08:34 AM ET
Comments (1)
from Craig Merz at NHL.com,
Sergei Bobrovsky made 33 saves for the Columbus Blue Jackets in their 10th straight win, 4-0 against the Florida Panthers at Nationwide Arena on Thursday.

Columbus (42-28-5) is third in the Metropolitan Division, one point ahead of the Philadelphia Flyers and behind the second-place Pittsburgh Penguins because it has played one more game....

"It was one of our most complete games," Columbus coach John Tortorella said. "The first period they were fast. We gave them too much ice in the neutral zone that allowed them to generate speed."

Florida (37-28-7) failed to pass the New Jersey Devils for the second wild card into the Stanley Cup Playoffs from the Eastern Conference. The Panthers are one point behind having played one fewer game.

"We've been a good team all year facing adversity and bouncing back after a game like this" Florida coach Bob Boughner said.
Watch the game highlights below...
Filed in: NHL Teams, Columbus Blue Jackets, Florida Panthers, | KK Hockey | Permalink

by Paul on 03/23/18 at 08:08 AM ET
Comments (0)
Highlights galore.
Filed in: NHL Teams, | KK Hockey | Permalink

by Paul on 03/23/18 at 08:06 AM ET
Comments (0)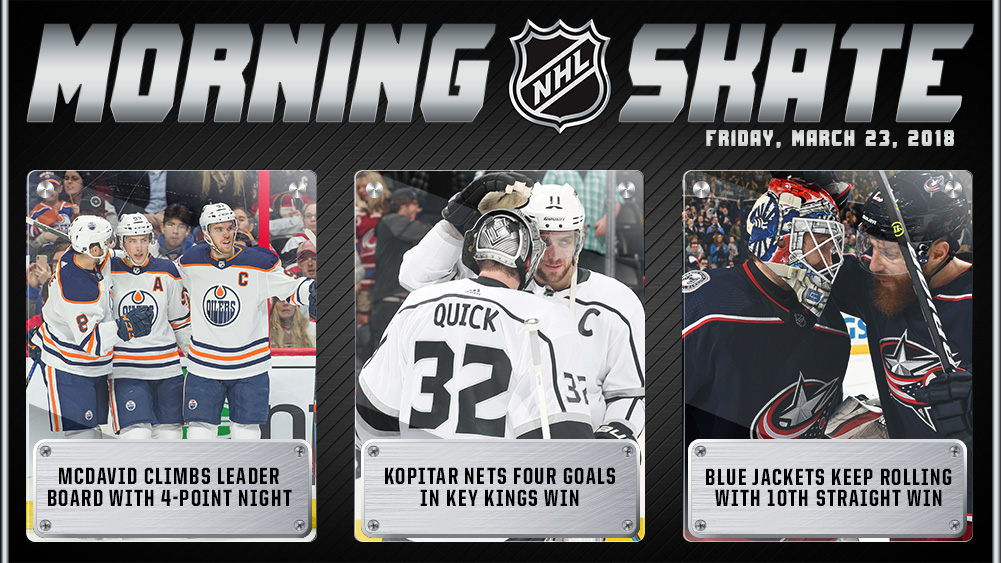 THURSDAY'S RESULTS
Home Team in Caps
Tampa Bay 7, NY ISLANDERS 6
PHILADELPHIA 4, NY Rangers 3
CAROLINA 6, Arizona 5
COLUMBUS 4, Florida 0
Edmonton 6, OTTAWA 2
Washington 1, DETROIT 0
Toronto 5, NASHVILLE 2
Vancouver 5, CHICAGO 2
Los Angeles 7, COLORADO 1
SAN JOSE 2, Vegas 1 (OT)
Filed in: NHL Teams, | KK Hockey | Permalink

by Paul on 03/22/18 at 10:05 PM ET
Comments (2)
from Elliotte Friedman of Sportsnet,
- The NHL has submitted to the NHLPA a revised Draft Lottery odds system for 2018. In 2016-17, the 30th-place team had an 18 per cent chance. If approved, whoever finishes 31st would be at 18.5 per cent. It was 20 prior to 2017.

- There were GMs who thought there would be a change to the offside rule, especially since Colin Campbell favoured it. One reason it didn't happen was worry that camera angles were not clear enough to show if a skate truly was off the ice. That would've been a total gong show. You don't want to walk from one problem to another.

- Carolina's interim GM, Don Waddell, departed the meetings early to go back to home base. That left many of his brethren wondering exactly what is going on with the search. I think the honest answer is: not even Tom Dundon is sure. There are a few issues here. Tops among them, as Nick Kypreos and I mentioned last week, are authority and salary. From what I understand, one of the things that drove a wedge between Dundon and Ron Francis was that if the owner had a question about coaching strategy or something that happened during the game, he'd call Bill Peters directly. Francis didn't like that, and most GMs wouldn't either....
more on Carolina and of course more Thoughts...
Filed in: NHL Teams, NHL Talk, | KK Hockey | Permalink

by Paul on 03/22/18 at 09:58 PM ET
Comments (2)
Filed in: NHL Teams, Chicago Blackhawks, NHL Media, Hockey Broadcasting, | KK Hockey | Permalink
Tags: eddie+olczyk
by Paul on 03/22/18 at 08:01 PM ET
Comments (4)
Can't recall witnessing this before.
Filed in: NHL Teams, d, Carolina Hurricanes, | KK Hockey | Permalink
Tags: cam+ward
by Paul on 03/22/18 at 03:05 PM ET
Comments (4)
from Mike Chambers of the Denver Post,
Defenseman Erik Johnson says the Avalanche began to gel in November during their weeklong trip to Sweden, which began immediately after Colorado traded disgruntled center Matt Duchene to Ottawa.

"We came together pretty early," Johnson said from the United Center, where the Avs on Tuesday night solidified their Western Conference wild-card playoff standing with a 5-1 victory over Chicago. "The trip to Sweden helped us out a lot. We had a lot of fun together and got to know one another. It kind of took us a little while to hit our stride, but we're a team that really gets along on and off the ice and we have fun coming to the rink together."

Johnson never mentioned Duchene's name in the one-on-one interview, and it's possible the Avs' rise shortly after the trade is only coincidence. But, the Avs were 8-6-0 when they traded Duchene, and are now 40-25-8 with nine regular-season games left.
Filed in: NHL Teams, Colorado Avalanche, | KK Hockey | Permalink

« Previous ‹ First < 99 100 101 102 103 > Last › Next »
About Kukla's Korner Hockey
Paul Kukla founded Kukla's Korner in 2005 and the site has since become the must-read site on the 'net for all the latest happenings around the NHL.
From breaking news to in-depth stories around the league, KK Hockey is updated with fresh stories all day long and will bring you the latest news as quickly as possible.
Email Paul anytime at pk@kuklaskorner.com
Tweets by @kuklaskorner
Most Recent Blog Posts