Kukla's Korner Hockey
by Paul on 04/23/18 at 06:40 PM ET
Comments (2)
So what do you think, how many game 7's will we have on Wedensday?
Filed in: | KK Hockey | Permalink

by Paul on 04/23/18 at 04:47 PM ET
Comments (0)
NEW YORK (April 23, 2018) – The National Hockey League announced today the list of nominees for the 2017-18 King Clancy Memorial Trophy, which is awarded "to the player who best exemplifies leadership qualities on and off the ice and has made a noteworthy humanitarian contribution in his community."
Filed in: NHL Teams, | KK Hockey | Permalink

by Paul on 04/23/18 at 04:30 PM ET
Comments (0)
"Avalanche vs Maple Leafs" (CC BY 2.0) by halseike
By Mike,
Jack Hughes, the 16-year-old from Orlando, Fla., is odds-on favorite to be picked number one overall in the 2019 NHL draft. The teenager possesses a rare combination of skills that include a gritty determination and exciting dynamism on the ice. His game is already so well-developed he's head and shoulders above everyone else when it comes to 2019 NHL draft predictions.
Those who have seen him play recognize great skating ability and fast hands as well as a maturity beyond his years. In fact, he has a genuine skill at reading the game; his "hockey mind" ingrained courtesy of growing up within a family who all adore the spor
Filed in: Non-NHL Hockey, | KK Hockey | Permalink

by Paul on 04/23/18 at 01:35 PM ET
Comments (0)
A little over 4 1/2 minutes long.
Filed in: NHL Teams, | KK Hockey | Permalink

by Paul on 04/23/18 at 01:01 PM ET
Comments (0)
CALGARY, AB - The Calgary Flames announced today that they have named Bill Peters as the franchise's 19th head coach. Peters joins the Flames after spending the past four seasons as the head coach with the Carolina Hurricanes.
A native of Three Hills, Alberta, Peters brings 21 years of coaching experience to the club. Prior to serving the Hurricanes, the 53-year-old was an assistant coach with the Detroit Red Wings from 2011-12 through the 2013-14 season. Before that, he led the American Hockey League's Rockford IceHogs for three campaigns from 2008-09 and 2010-11.
Filed in: NHL Teams, Calgary Flames, | KK Hockey | Permalink
Tags: bill+peters
by Paul on 04/23/18 at 12:27 PM ET
Comments (8)
SAINT PAUL -- Minnesota Wild Owner, Craig Leipold, today announced the organization will not renew the contract of Executive Vice President and General Manager Chuck Fletcher.
"I want to thank Chuck Fletcher for his substantial contributions to our franchise over the past nine years," said Leipold. "Through his strong work ethic, integrity and vision, Chuck and his staff built a winning culture and a perennial playoff team. For all of that I am grateful. I feel it is time for a new approach aimed at delivering a Stanley Cup to the deserving fans of the State of Hockey. I wish Chuck and his family the very best going forward."

The search for a new General Manager will begin immediately. Until a replacement is found, Brent Flahr, Senior Vice President of Hockey Operations will serve as acting general manager.
added 4:50pm, Watch Craig Leipold meet with the media below...
Filed in: NHL Teams, Minnesota Wild, | KK Hockey | Permalink
Tags: chuck+fletcher
by Paul on 04/23/18 at 08:03 AM ET
Comments (0)
from Dave Isaac of the Courier Post,
Sean Couturier played two games with a torn medial collateral ligament in his right knee and was still, by far, the Flyers' best player.

He notched the winner in Game 5 and followed it up with a hat trick and two assists in the Flyers' 8-5 loss to the Pittsburgh Penguins, his first career five-point game and second playoff hat trick. Had the injury occurred in the regular season, he surmised, he would have missed four weeks. He'll have plenty of time to recover because the Flyers' season is over at the hands of the two-time defending champions who aim for a three-peat.

"There's probably different reasons," why the Flyers lost the series, Couturier said. "Early in the series we didn't play our best. Today we let a two-goal lead slip. It shouldn't happen in the playoffs. We'll learn from it and become a stronger team next year.

"They're the type of team where you make one mistake and they'll make you (pay). It's that simple. I don't think they outplayed us. They just…they got their chances and capitalized right on them. It hurt us today."
If you missed the highlights and handshakes, watch them here.
Filed in: NHL Teams, Philadelphia Flyers, Pittsburgh Penguins, | KK Hockey | Permalink

by Paul on 04/23/18 at 07:31 AM ET
Comments (0)
from Joe Rexrode of The Tennessean,
Nashville, your professional hockey team might be all right after all.

Denver, yours has a future and deserved the ovation it got Sunday at Pepsi Center after a postseason that wasn't supposed to happen went longer than anyone not affiliated with the Colorado Avalanche would have guessed.

Winnipeg, you said you wanted Nashville, and Nashville you shall get.

Maybe this will hurt the Predators in that pending, monster series against the Winnipeg Jets, and maybe it will help. Extra work and travel on one hand, affirmation of this team's resolve on the other. We'll find out in the next couple of weeks. But on Sunday the Predators earned the right to bask for a few moments in a 5-0 throttling of the Avs to take the first-round series 4-2, because every series victory in the Stanley Cup playoffs is something.
Watch the game highlights below.
Filed in: NHL Teams, Colorado Avalanche, Nashville Predators, | KK Hockey | Permalink

by Paul on 04/23/18 at 07:17 AM ET
Comments (0)
Just south of 3 1/2 minutes long.
Filed in: NHL Teams, | KK Hockey | Permalink

by Paul on 04/23/18 at 07:10 AM ET
Comments (0)
SUNDAY'S RESULTS
The Penguins and Predators, who met in the 2017 Stanley Cup Final, both advanced to the Second Round of the 2018 Stanley Cup Playoffs.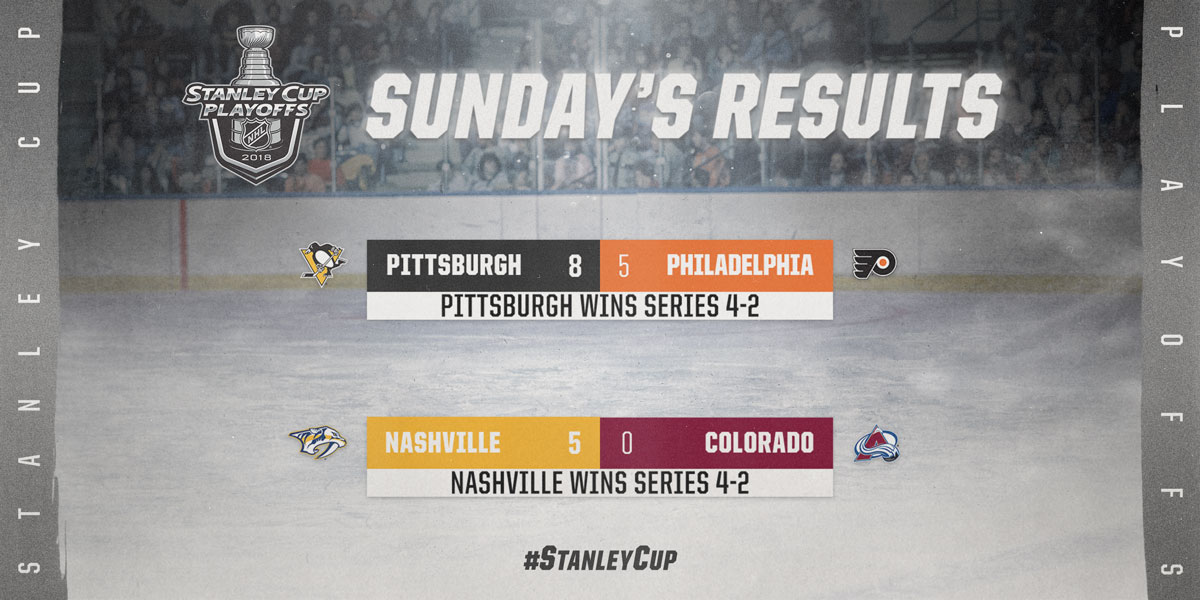 Filed in: NHL Teams, | KK Hockey | Permalink

« Previous < 1 2 3 4 > Last › Next »
About Kukla's Korner Hockey
Paul Kukla founded Kukla's Korner in 2005 and the site has since become the must-read site on the 'net for all the latest happenings around the NHL.
From breaking news to in-depth stories around the league, KK Hockey is updated with fresh stories all day long and will bring you the latest news as quickly as possible.
Email Paul anytime at pk@kuklaskorner.com
Tweets by @kuklaskorner
Most Recent Blog Posts