Kukla's Korner Hockey
Category: Non-NHL-Hockey
by Alanah McGinley on 07/28/11 at 05:56 PM ET
Comments (4)
Courtesy of Nick Kypreos, a pointer to Mike Danton's Twitter:
Just signed my first pro contract in 8 years. I'm off to Sweden for the 2011-2012 season. Thanks to everyone for their support.
Filed in: Non-NHL Hockey, European Hockey, | KK Hockey | Permalink
Tags: mike+danton
by Paul on 07/28/11 at 01:55 PM ET
Comments (2)
from Kevin McGran of the Toronto Star,
Former Team Canada coach Mike Keenan is on the short list of candidates to take over as head coach of Latvia's hockey program.

Keenan, who won the Stanley Cup in 1994 with the New York Rangers, is one of two candidates Latvian Ice Hockey Federation president Kirov Lipman told the newspaper Diena (Day).

Latvia remains in the top group, having avoided relegation in the world championships in Slovakia in spring.
Filed in: Non-NHL Hockey, International Hockey, | KK Hockey | Permalink
Tags: latvia, mike+keenan
by Alanah McGinley on 07/27/11 at 04:24 PM ET
Comments (19)
We're very pleased to introduce you to Risto Pakarinen, who has graciously agreed to contribute a regular column to KK this coming season, a weekly feature covering European players, both outside and inside the NHL.
Many of you are probably already familiar with Risto's work, but for those who aren't, we asked him to tell readers a few quick things about himself…
I'm a Finnish freelance writer, based in Stockholm, Sweden. That's right, I'm deep behind the enemy lines.

I'm also a regular contributor to IIHF.com, NHL.com, The Hockey News, and several publications in Finland and Sweden. I've also covered four World Championships and the 2010 Vancouver Olympics for the IIHF.

And since I foolishly hoisted the Stanley Cup in my twenties, I wake up every morning knowing I will never be able to win it.
Risto's posts will start in September.
Welcome!
—Alanah
Filed in: KK Website Business, Non-NHL Hockey, European Hockey, | KK Hockey | Permalink
Tags: european+hockey, risto+pakarinen
by Doug Miller on 07/27/11 at 02:34 PM ET
Comments (4)

Without a doubt, one of my greatest challenges with this blog, aside from the sure volume of minor-league news I have to filter through, and then pick what to write about, is the fact that covering the Quebec Major Junior Hockey League (QMJHL or simply "the Q") will be a unique task in and of itself. This comes from the fact that the majority of the news on the Q, is written and reported on in French, due to fact that the majority of their market is French-Canadian.
I don't understand French, and nor will I expect you, the English speaking readers to do so either. Thankfully wonderful websites such as Babel Fish have existed, and continue to do so, all around the internets, and allow me to translate entire web pages, and thus, entire news reports, back into English, so I can then make some attempt to make sense of it all, and report back to you.
Filed in: Non-NHL Hockey, Doug Miller, | KK Hockey | Permalink
Tags: quebec+major+junior+hockey+league
by Paul on 07/27/11 at 01:12 PM ET
Comments (0)
from Hockey Canada,
Hockey Canada, in partnership with the Ontario Hockey Federation, announced Wednesday that Windsor, Ont., will host the 2012 World Under-17 Hockey Challenge from December 29, 2011 to January 4, 2012. This will mark the sixth time in the 26-year history of the tournament that it will be held in Ontario.

The 2012 World Under-17 Hockey Challenge will follow the same format as previous years – five Canadian entries (Atlantic, Ontario, Pacific, Quebec, West) will be joined by five international teams, with two groups of five teams. The top two teams from each group will advance to the semifinals, while the remaining three teams from each group will cross over for placement games.
Filed in: Non-NHL Hockey, International Hockey, | KK Hockey | Permalink

by Paul on 07/25/11 at 09:52 PM ET
Comments (5)
from David Drew of the Kalamazoo Gazette,
If Western Michigan University was looking for a big name hockey coach to fill the giant shoes left by Jeff Blashill, it's done so, hiring a coach it never could have lured a year ago.

WMU has hired longtime NHL head coach Andy Murray to lead its hockey program, according to multiple sources.
Filed in: Non-NHL Hockey, College Hockey, | KK Hockey | Permalink
Tags: andy+murray
by Paul on 07/24/11 at 09:08 PM ET
Comments (17)
Just in case you have been busy doing outdoor activities and haven't been around KK for a few days, we recently started previewing some of the new bloggers who will appear on KK for the upcoming season.
This is not by any means a complete list, instead just a list of the new bloggers who have made at least their first post on KK.
All bloggers will have their own blog area by the end of August, until then their posts will appear in the KK Hockey section.
Please review the list below and feel free to welcome them if you have not done so already.
Filed in: KK Website Business, NHL Teams, Non-NHL Hockey, | KK Hockey | Permalink

by Paul on 07/24/11 at 05:08 PM ET
Comments (0)
from Tony Khing of Hockey 411 at Sharks.com,
However on this day, Berenson isn't wearing a suit. He's not standing in the corridors of the Yost Ice Arena. He's in a T-shirt and shorts, has a baseball cap on his head and is talking outside Locker Room No. 2 at Snoopy's Home Ice in Santa Rosa. Berenson is about to play in a late morning game for the University of Michigan 65s at the 36th annual Snoopy Senior World Hockey Tournament.

The man known as "The Red Baron" may be 71 and playing just for fun, but he still has that competitive fire.

One would think you'd like to take a break from hockey. After all, the NCAA season and all you do as a head coach is quite stressful
.
This is a break for me. It's a lot more fun playing hockey than coaching hockey. It really is a break. I really enjoy it a lot and it's the only time I really play hockey.

When your players learn about your summertime hockey fix, what's their reaction?

They like that. They know I'm a fitness person. They know I'm concerned about conditioning. But it sets a good example. They know I'm still serious about the game. I've had some players drive up from San Francisco to see us play.
Filed in: Non-NHL Hockey, College Hockey, | KK Hockey | Permalink
Tags: red+berenson, university+of+michigan
by Paul on 07/23/11 at 04:12 PM ET
Comments (3)
from Michael Burgess of nzherald,
It wasn't the NHL - but last night's hockey spectacular between US and Canadian selections is as close as we will see in New Zealand.

Ice Hockey purists may disagree but the exhibition match delivered a quality spectacle in front of a noisy crowd of 10,000 fans in Vector Arena.

There were some brilliant goals as well as outstanding goaltending from both custodians and some collisions worthy of the sport at the highest level.

The match ended 3-3 in normal time, with Canada eventually prevailing in a lengthy penalty shootout.

One particular body check by US captain Aaron Miller was bone crunching, while in the second half three players smashed head on into the Canadian goal, slamming the goal clean off its foundations as the players flew into the wall.

Canada dominated the first period to lead 2-0, but seemed to tire later in the match and the US scored three unanswered goals, on the back of some outstanding work in the net by US custodian John Grahame. Grahame, a former Stanley Cup winner, was one of the game's dominant figures along with Canadian captain Derek Armstrong.
Filed in: Hockey Related Stories, Non-NHL Hockey, | KK Hockey | Permalink

by Doug Miller on 07/23/11 at 03:23 PM ET
Comments (5)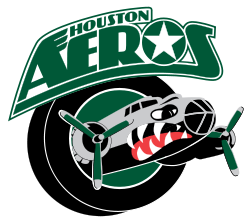 Better known to most NHL fans simply as "Minnesota's Farm Team". The Aeros actually have a rather deep and rich history in the hockey world. They were originally founded in 1994 as an expansion team in the now defunct International Hockey League (IHL). However, some could argue that this franchise has really existed since 1972, when they were one of the World Hockey Association's (WHA) original teams, after the "Dayton Aeros" franchise folded, before they ever played a single game (due to lack of an arena and little interest from the community) and moved to Houston.
Filed in: Non-NHL Hockey, Minor League, Doug Miller, | KK Hockey | Permalink
Tags: houston+aeros
« Previous ‹ First < 169 170 171 172 173 > Last › Next »
About Kukla's Korner Hockey
Paul Kukla founded Kukla's Korner in 2005 and the site has since become the must-read site on the 'net for all the latest happenings around the NHL.
From breaking news to in-depth stories around the league, KK Hockey is updated with fresh stories all day long and will bring you the latest news as quickly as possible.
Email Paul anytime at pk@kuklaskorner.com
Tweets by @kuklaskorner
Most Recent Blog Posts