Kukla's Korner Hockey
Category: NHL-Teams
by Paul on 05/18/18 at 11:36 AM ET
Comments (7)
from Kevin Allen of USA TODAY,
The Winnipeg Jets are Canada's team with a distinct American flavor.

Depending upon how you define an American player, there are either 10 or 11 Americans out of the 24 Jets who have played in these playoffs. USA TODAY Sports would call it 10 Americans, meaning that 41.7% of the roster is American.

"I would only say that comes out when there are international tournaments," said Jets forward Andrew Copp, a Michigan native who played at the University of Michigan. "Nobody worries about how many Americans we have, it's just there is a larger American side during the tournaments (for rooting purposes)."
Filed in: NHL Teams, Winnipeg Jets, | KK Hockey | Permalink

by Paul on 05/18/18 at 07:54 AM ET
Comments (1)
from Donna Spencer of the CP at CBC,
After Winnipeg's 4-2 loss to the Vegas Golden Knights in Game 3 of the NHL's Western Conference final, Connor Hellebuyck said he liked his game better than Knights counterpart Marc-Andre Fleury's.

"He's obviously a big part of that team and playing very well," the Jets goalie said. "But I like my game. I like it a lot more."

The expansion Golden Knights lead the best-of-seven series 2-1 with Game 4 back at T-Mobile Arena on Friday and Game 5 in Winnipeg on Sunday....

When told of Hellebuyck's comment Thursday, Maurice replied "Sweet."
added 8:34am, from Ken Wiebe of the Winnipeg Sun,
Connor Hellebuyck, it's time for your close-up.

The Winnipeg Jets are down 2-1 in the Western Conference final to the Vegas Golden Knights heading into Friday's pivotal Game 4 at T-Mobile Arena and this is the type of moment goalies dream about, having the opportunity to shine when the spotlight is brightest.

It's not like Hellebuyck is playing poorly in the series, but Golden Knights goalie Marc-Andre Fleury has the upper hand through three games in every statistical category.
Filed in: NHL Teams, Winnipeg Jets, | KK Hockey | Permalink
Tags: connor+hellebuyck
by Paul on 05/18/18 at 07:42 AM ET
Comments (0)
from Kristina Rutherford of Sportsnet,
As Alex Killorn cheered and skated past his Lightning teammates on the bench and got a quick succession of side-fives, the saddest organ music played in a dejected Capital One Arena where, between depressing organ notes, you could've heard a pin drop.

Capitals goalie Braden Holtby took his helmet off and skated over to Washington's bench and looked up at the big screen for the replay, and he watched Killorn stuff the eventual game-winner through his legs.

For more than 21 minutes in Game 4 of this Eastern Conference Final, the Capitals held the Lightning without a shot. They registered 38 shots to Tampa Bay's 20. Washington had chance after chance, four power-plays and they controlled play for much of this game. And still, the Capitals lost and the Lightning won and now this series is tied 2-2 and headed back to Tampa Bay for a best-of-three.

"Of course it's a missed opportunity," Capitals captain Alex Ovechkin said, just a couple minutes after he broke his stick over the crossbar, just after that buzzer sounded, just after Anthony Cirrelli potted the empty-netter with two seconds to go to make it 4-2, Lightning.

"It is what it is," Ovechkin said. "Nothing we can do."
from the CP at TSN,
Filed in: NHL Teams, Tampa Bay Lightning, Washington Capitals, | KK Hockey | Permalink

by Paul on 05/18/18 at 07:19 AM ET
Comments (0)
from Barry Svrluga of the Washington Post,
On the road, the Capitals are 7-1.

On home ice, the Capitals are now 3-5.

Maybe they can issue Steven Stamkos T-shirts before Game 6?

"We're comfortable going on the road," Capitals Coach Barry Trotz said late Thursday. "We would have loved to have gotten this one tonight. We didn't. We're going to go to Tampa. Our intention is to go win a game in Tampa. We've already done that twice."

For now, that's what has to amount to swagger. The reality is they came home with an opportunity, and they squandered it. I don't want to hear how they played their game, how the puck simply didn't find the back of the net, how they had 38 shots to just 20 for Tampa Bay.

All that's true, but whatever. Those are the things old Washington teams used to say. And old Washington teams haven't won the Cup.

Still, there has to be some dissection of what's going on here.
Below are the game highlights of Tampa's 4-2 win over Washington.
Filed in: NHL Teams, Tampa Bay Lightning, Washington Capitals, | KK Hockey | Permalink

by Paul on 05/18/18 at 07:12 AM ET
Comments (0)
THURSDAY'S RESULT
The Lightning, who lost the first two games of the series at home, scored the tiebreaking goal midway through the third period to even the Eastern Conference Final at 2-2. This marks the 26th time in Stanley Cup Playoffs history that the road team has won each of the first four games of a best-of-seven series.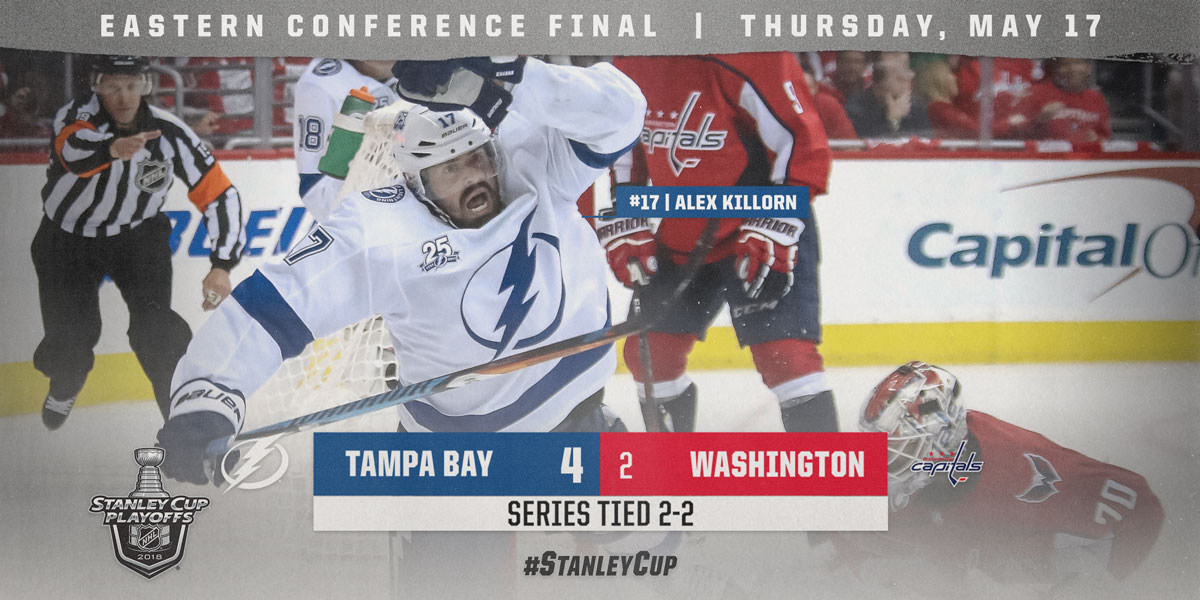 Filed in: NHL Teams, | KK Hockey | Permalink

by Paul on 05/17/18 at 07:25 PM ET
Comments (2)
Puck drop just after 8:00pm ET in Washington as the Tampa Bay Lightning try to even the series at 2-2 against the Washington Capitals.
Watch on NBCSN, CBC, SN or TVAS.
Comment section belongs to you.
Filed in: NHL Teams, Tampa Bay Lightning, Washington Capitals, | KK Hockey | Permalink

by Paul on 05/17/18 at 03:38 PM ET
Comments (0)
Sportsnet style, 2 1/2 minutes long.
Filed in: NHL Teams, | KK Hockey | Permalink

by Paul on 05/17/18 at 07:11 AM ET
Comments (2)
from Iain MacIntyre of Sportsnet,
He has played like a comic-book super hero all season and on Wednesday Marc-Andre Fleury looked like one, too.

At the biggest moment in the Vegas Golden Knights' amazing first season, the goaltender robbed the National Hockey League playoffs' hottest man, Winnipeg Jets' sniper Mark Scheifele, with a pair of amazing saves halfway through the third period as his team won 4-2 Wednesday to move within two victories of the Stanley Cup Final.

With Winnipeg pressing for a tying goal, Fleury stretched with his right leg to somehow get a toe on Scheifele's one-timer from the slot. Then, after the puck squirted back to the Jets' star for a second point-blank chance and a lot of net open, Fleury got airborne and dived across his goalmouth to block the second shot with his body.

They were the saves of the series, maybe the saves of the season as the Knights took a 2-1 lead in the best-of-seven Western Conference Final.
Watch some of those save below.
Filed in: NHL Teams, Winnipeg Jets, | KK Hockey | Permalink
Tags: marc-andre+fleury, vegas+golden+knights
by Paul on 05/17/18 at 06:50 AM ET
Comments (1)
from Mark Spector of Sportsnet,
There are mistakes you can make in the regular season, and survive. Or perhaps even in Round 1.

But three blatant miscues by three separate Jets players led to all three Vegas goals in a 4-2, empty-net goal loss here in Game 3. We are just too far along, the opponent too opportunistic, to reap any reward from a game in which the mistakes are this costly.

"Yes, I think that's fair," began head coach Paul Maurice, when asked about neutral zone turnovers by Mark Scheifele and Kyle Connor that turned into goals, and the freebie Connor Hellebuyck coughed up just 12 seconds after the Jets had tied the game at 1-1.

"Those weren't the only ones … and each one of those guys has been game winners for us, and played great. So in the body of their work, it's not part of their game," he said. "But they have some good sticks (Vegas). Knocked some stuff down."

This is your reward for still suiting up on May 16, the prize for being a Final Four team. Every single mistake could turn into a crippling miscue, the same way every bit of fortune could label you a hero.
Below, watch the game highlights and Marc-Andre Fleury post-game with Scott Oake.
Filed in: NHL Teams, Winnipeg Jets, | KK Hockey | Permalink
Tags: vegas+golden+knights
by Paul on 05/17/18 at 06:43 AM ET
Comments (1)
I haven't been feeling too well the last few days so let's play catch up on a few items I normally deliver a bit quicker.
Hopefully I will be back to full strength soon.
Coach's Corner last night
via Sportsnet's YouTube page,
Don Cherry can't help but wonder why the Florida Panthers left Golden Knights' forward Jonathan Marchessault up for grabs, and talks about the smarts of defencemen like Anton Stralman.
Below, your GM Finalists of the year
Filed in: NHL Teams, | KK Hockey | Permalink

« Previous ‹ First < 5 6 7 8 9 > Last › Next »
About Kukla's Korner Hockey
Paul Kukla founded Kukla's Korner in 2005 and the site has since become the must-read site on the 'net for all the latest happenings around the NHL.
From breaking news to in-depth stories around the league, KK Hockey is updated with fresh stories all day long and will bring you the latest news as quickly as possible.
Email Paul anytime at pk@kuklaskorner.com
Tweets by @kuklaskorner
Most Recent Blog Posts