Kukla's Korner Hockey
Category: NHL-Teams
by Paul on 03/13/18 at 03:09 PM ET
Comments (0)
"I wanted to be here [in the NHL] so bad and I worked so hard to try to put myself in position to be here back when I was younger and it just kind of like, you just have to learn. Like anybody in this room, you can just sense how much they care and how hard they work, but they have that demeanor where it's not life or death. It's like they take it so serious, but at the end of the day you have to be able to look at life for what it is and, for me, it took me a long time to learn how to do that and that's kind of where I was at back then."
-Jack Campbell, goaltender for the Los Angeles Kings. Josh Cooper of LAKings.com has more on Campbell.
Filed in: NHL Teams, Los Angeles Kings, | KK Hockey | Permalink
Tags: jack+campbell
by Paul on 03/13/18 at 12:35 PM ET
Comments (0)
from Tim Campbell of NHL.com,
It's been a tough season in Edmonton, going from 103 points and two rounds in the playoffs last season to having little chance to qualify this season. You said recently that expectations for the Oilers ran really high after last season and that you had a difficult time getting that under control. How did that affect the organization and the team?

"Expectations certainly were extremely high and rightly so. This organization hadn't been in the playoffs for many, many years and we got into the playoffs and played very well, one goal, one game away from going to the conference final. So that expectation came and it came not just from within the city of Edmonton, it came worldwide about where the Edmonton Oilers were. We talked a lot about it but it's very difficult to get your hands around that and maneuver that expectation when it's coming at you in so many ways. We absorbed that and you've got to talk to the players about how it really affected them. Here, we're worried about it and there wasn't any way to get right in front of that and control all of that. It (began) in Vegas (at the NHL Awards and NHL Expansion Draft last June) about where this team was supposed to be."
Filed in: NHL Teams, Edmonton Oilers, | KK Hockey | Permalink
Tags: bob+nicholson
by Paul on 03/13/18 at 11:53 AM ET
Comments (0)
from David Satriano of NHL.com,
LIKELY
Patrick Marleau, Toronto Maple Leafs

Goals to 600: 71

Average goals per season: 26

Marleau is 38 but has two seasons remaining on his contract. He's been remarkably consistent, with 20 goals for the 15th time in 20 seasons. Marleau also hasn't missed a game in the past nine seasons. If he can score 20-25 goals each of the next two seasons he'll have a shot at 600, assuming he doesn't retire when his contract ends.

Sidney Crosby, Pittsburgh Penguins

Goals to 600: 195

Average goals per season: 31

Crosby's scoring talent is undeniable, even if he has more assists (698) than goals (405). He led the League with 44 goals last season, and with 23 goals in 70 games this season he's on pace to score 30 for the ninth time in 13 seasons. The 30-year old has plenty of hockey left and could reach 600 in his mid-to-late 30s if he stays healthy.
Filed in: NHL Teams, | KK Hockey | Permalink

by Paul on 03/13/18 at 09:10 AM ET
Comments (0)
from Ken Warren of the Ottawa Sun,
Now, teams may have thought they were close to making a deal with the Senators, but only GM Pierre Dorion knows for sure. Either way, there's no doubt conversations will pick up again after the season. The Senators will surely entertain trade talks for Karlsson at the draft, and in order to get the captain, they'll ask that Ryan is included in the package.

The Senators will try and move the former 30-goal scorer, not because he's a bad player or bad person — the opposite is true in both cases, actually — but because he's not worth the $7.25-million cap hit they have him at for four more seasons.

Ryan gets it. Both he and wife Danielle like Ottawa and want to stay. But he also sees the writing on the wall....

"I understand with my contract and the obligations, that I haven't performed up to a $7-million player," he said. "But that's something that happens. That's the business side of things. I try to separate it when I get to the rink. I don't worry about what's going on over there, in the other hallway, I just worry about what's in front of me. That's all you can do."
Filed in: NHL Teams, Ottawa Senators, | KK Hockey | Permalink
Tags: bobby+ryan
by Paul on 03/13/18 at 09:00 AM ET
Comments (5)
from Michael Traikos of the National Post,
It's not because of something nefarious. But in the minds of potential voters, his season is tainted. Call it guilt by association.

McDavid is ranked third in the Art Ross Trophy race with 84 points in 68 games. Since the All-Star break, he is tied for first in goals (18) and second in points (30). He's having as good an offensive year as he did in 2017-18 when he finished with 100 points and won the Hart Trophy and Ted Lindsay Award.

The problem is that while McDavid is having another MVP season, his team is having a forgettable one.

The Edmonton Oilers are not a playoff team. As of Monday, they weren't even close. For this reason — and pretty much this reason alone — McDavid won't come close to winning an award that by definition is awarded annually to the "player judged most valuable to his team."
Filed in: NHL Teams, Edmonton Oilers, | KK Hockey | Permalink
Tags: connor+mcdavid
by Paul on 03/13/18 at 08:49 AM ET
Comments (0)
Five minutes to watch.
Filed in: NHL Teams, | KK Hockey | Permalink

by Paul on 03/13/18 at 08:33 AM ET
Comments (3)
The end of the regular season is near and it is time to talk the Stanley Cup Playoffs, specifically the two teams who will come out of the conference finals to play for the Stanley Cup.
I imagine if you were betting on the Stanley Cup, these teams would surely be mentioned: Pittsburgh Penguins, Tampa Bay Lightning, Nashville Predators and possibly a few other teams.
Others may mention the Boston Bruins and Winnipeg Jets and how about the Vegas Golden Knights?
Filed in: NHL Teams, | KK Hockey | Permalink

by Paul on 03/13/18 at 08:24 AM ET
Comments (0)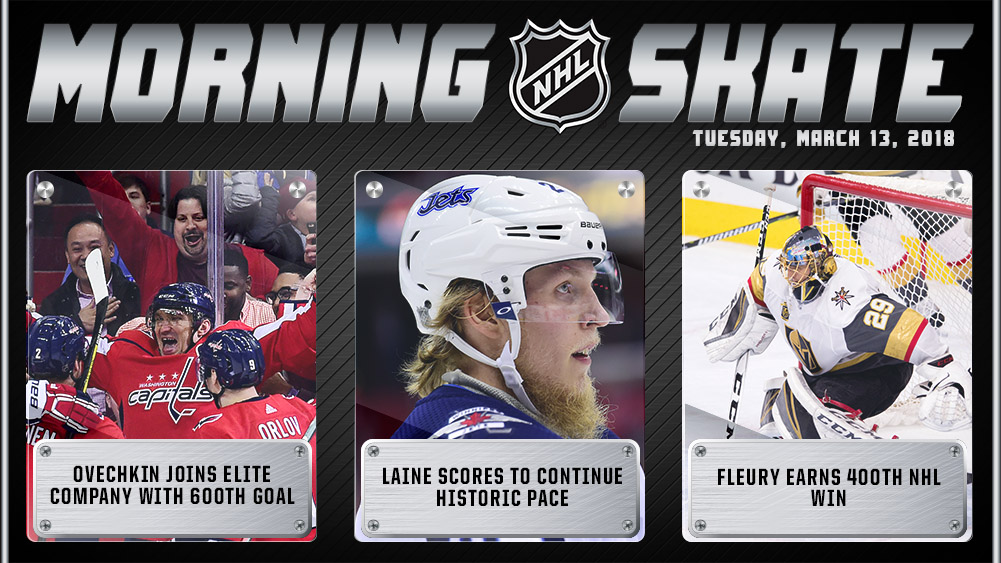 MONDAY'S RESULTS
Home Team in Caps
NY RANGERS 6, Carolina 3
Vegas 3, PHILADELPHIA 2
WASHINGTON 3, Winnipeg 2 (OT)
COLUMBUS 5, Montreal 2
Ottawa 5, FLORIDA 3
St. Louis 4, ANAHEIM 2
LOS ANGELES 3, Vancouver 0
SAN JOSE 5, Detroit 3
Filed in: NHL Teams, | KK Hockey | Permalink

by Paul on 03/12/18 at 11:06 PM ET
Comments (0)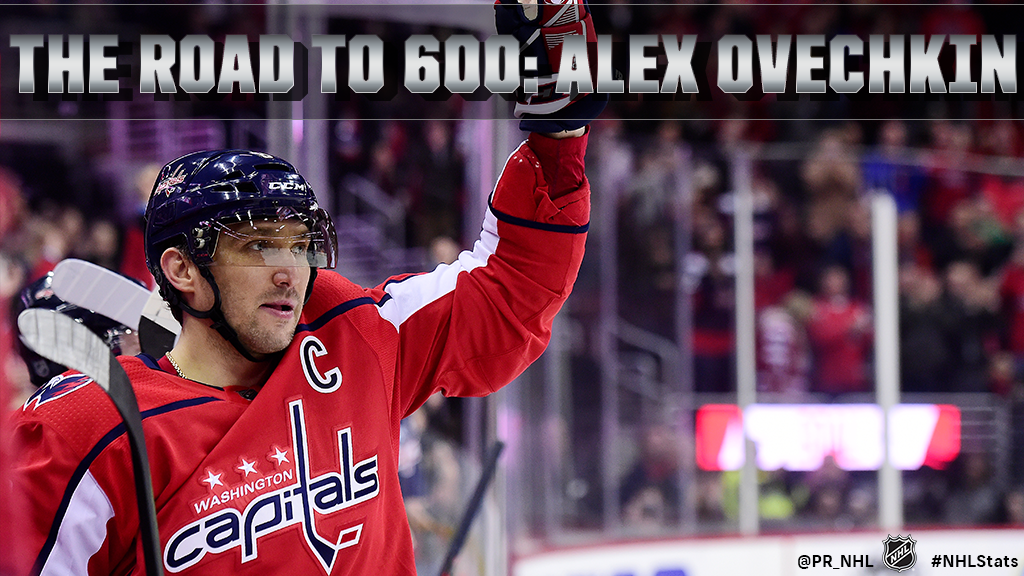 OVECHKIN BECOMES 20TH PLAYER TO SCORE 600 CAREER NHL GOALS
Alex Ovechkin became the 20th player in NHL history to reach the 600-goal milestone, doing so in his 990th career game (600-509—1,109). Only three players achieved the feat in fewer contests: Wayne Gretzky (718), Mario Lemieux (719) and Brett Hull (900).
Filed in: NHL Teams, Washington Capitals, | KK Hockey | Permalink
Tags: alex+ovechkin
by Paul on 03/12/18 at 10:49 PM ET
Comments (0)
from the CP at TSN,
Marc-Andre Fleury made 38 saves to become the 13th goalie in NHL history with 400 career wins, and Ryan Carpenter scored the winning goal with 2:40 left to lead the Vegas Golden Knights over the Philadelphia Flyers 3-2 on Monday night.

Erik Haula and William Karlsson also scored for the Pacific Division leaders, who won their third straight and completed a 4-1 road trip.

Fleury, who earned his first NHL win on Oct. 18, 2003, became the third active goalie to reach the milestone, joining Roberto Luongo and Henrik Lundqvist.
continue for more on the game...
Below, watch Fleury post-game.
Filed in: NHL Teams, | KK Hockey | Permalink
Tags: marc-andre+fleury, vegas+golden+knights
« Previous ‹ First < 5 6 7 8 9 > Last › Next »
About Kukla's Korner Hockey
Paul Kukla founded Kukla's Korner in 2005 and the site has since become the must-read site on the 'net for all the latest happenings around the NHL.
From breaking news to in-depth stories around the league, KK Hockey is updated with fresh stories all day long and will bring you the latest news as quickly as possible.
Email Paul anytime at pk@kuklaskorner.com
Recommended Sportsbook
MyBookie.ag
Tweets by @kuklaskorner
Most Recent Blog Posts