Kukla's Korner Hockey
Category: NHL-Teams
by Paul on 04/18/18 at 03:42 PM ET
Comments (0)
If you're the Kings and in transition, are you going to pay Doughty, say, $100 million for eight more seasons? Or are you going to speed the transformation of your roster by getting a bundle of assets in return for the best defenceman in the game?

Doughty is a dynamic, world-class player. He is not the problem in Los Angeles. But there don't appear to be many solutions available to Blake.
-Iain MacIntyre of Sportsnet where you can read more on the LA Kings.
Filed in: NHL Teams, Los Angeles Kings, | KK Hockey | Permalink

by Paul on 04/18/18 at 08:21 AM ET
Comments (3)
from Mark Whicker of the LA Daily News,
This will not involve Golf Channel broadcasters or Golf Channel style: "Couture is looking closely at this 20-foot wrister … I don't think it's going to do too much until it gets to the net, where it might break a little right …"...

David Duval will not say that the Sharks' 8-1 win on Monday night was just a matter of a bounce or two and that the media, as usual, are being too negative.

No, it's because NBC owns the Golf Channel and, in order to get all the games televised, it needs the platform.

However, some theorize that the network is perversely punishing NHL commissioner Gary Bettman for depriving the network of real Olympic hockey.

In any event, the Ducks are one game away from fairways and greens. They looked range-ready on Monday. They are on the verge of their most wretched playoff performance in their history.

They have not been swept since Detroit in 1999. That was pre-salary cap, and a spending mismatch between Mike Illitch and Disney. The Ducks had done well to even make the playoffs. This is alarmingly different. The Ducks finished ahead of San Jose in the standings. They have crudely validated General Manager Bob Murray's belief that playoff slotting means nothing. They have scored three goals in three games, two by Hampus Lindholm and Rakell on two of the very few passes that have been directed to the heart of the stick and not the skates.
Filed in: NHL Teams, Anaheim Ducks, San Jose Sharks, | KK Hockey | Permalink

by Paul on 04/18/18 at 07:39 AM ET
Comments (4)
from Sarah McLellan of the Star Tribune,
This first-round series between the Wild and Jets was expected to be physical, and the action so far has lived up to that billing.

But the tension on the ice escalated to a new level Tuesday, with center Eric Staal absorbing a cross-check to the neck from Jets defenseman Josh Morrissey – a sequence that went unpenalized, a tough break for the Wild that ended up as a crucial turning point in an eventual 2-0 loss that pushes the team to the edge of elimination with the Jets ahead in the best-of-seven tilt 3-1.

"It cost us the game," coach Bruce Boudreau said.

During a Wild power play in the first period, Staal was cross-checked by Morrissey in the middle of the slot. He fell to the ice and struggled to get up before heading for the bench.

There was no penalty called.

"He apologized," Staal said of the official. "I'm not looking for an apology. I'm in the middle of the game. Why would I want an apology? It's frustrating. It is what it is. Tough. I'm all for playing hard. I love it. It's part of the game, but that wasn't a good play. We have to find a way anyway. I had enough looks to get a goal and to get it tied up. It didn't happen so it's not a good feeling."
If you missed the cross-check, watch it below along with the game highlights.
Filed in: NHL Teams, Minnesota Wild, Winnipeg Jets, | KK Hockey | Permalink

by Paul on 04/18/18 at 07:30 AM ET
Comments (4)
from Nicholas J. Cotsonika of NHL.com,
The Vegas Golden Knights celebrated around goaltender Marc-Andre Fleury. They shook hands with the Los Angeles Kings. They high-fived in the locker room and laughed at a couple of dance moves by forward Jonathan Marchessault.

And then?

After a 1-0 win at Staples Center on Tuesday? After a sweep in the Western Conference First Round? After becoming the first team to advance in the 2018 Stanley Cup Playoffs? After becoming the first team to sweep a series in its inaugural season?

Fleury, who allowed three goals in four games plus two overtimes, said it was "another win" and "another series." Forward James Neal said it was a "great start." Forward Erik Haula said they had to "forget about this." Marchessault said they had to look ahead to Game 1 of the Western Conference Second Round against the Anaheim Ducks or San Jose Sharks.
Below, John Stevens quotes, videos of the highlights and handshake line...
Filed in: NHL Teams, Los Angeles Kings, | KK Hockey | Permalink
Tags: vegas+golden+knights
by Paul on 04/18/18 at 07:16 AM ET
Comments (0)
3 minutes to watch.
Filed in: NHL Teams, | KK Hockey | Permalink

by Paul on 04/18/18 at 07:07 AM ET
Comments (0)
UESDAY'S RESULTS
The Golden Knights swept the Kings for a historic series victory, while the Jets moved within one victory of making their first-ever appearance in the Second Round. The Capitals, meanwhile, earned a crucial double-overtime win in a rare third-straight overtime contest.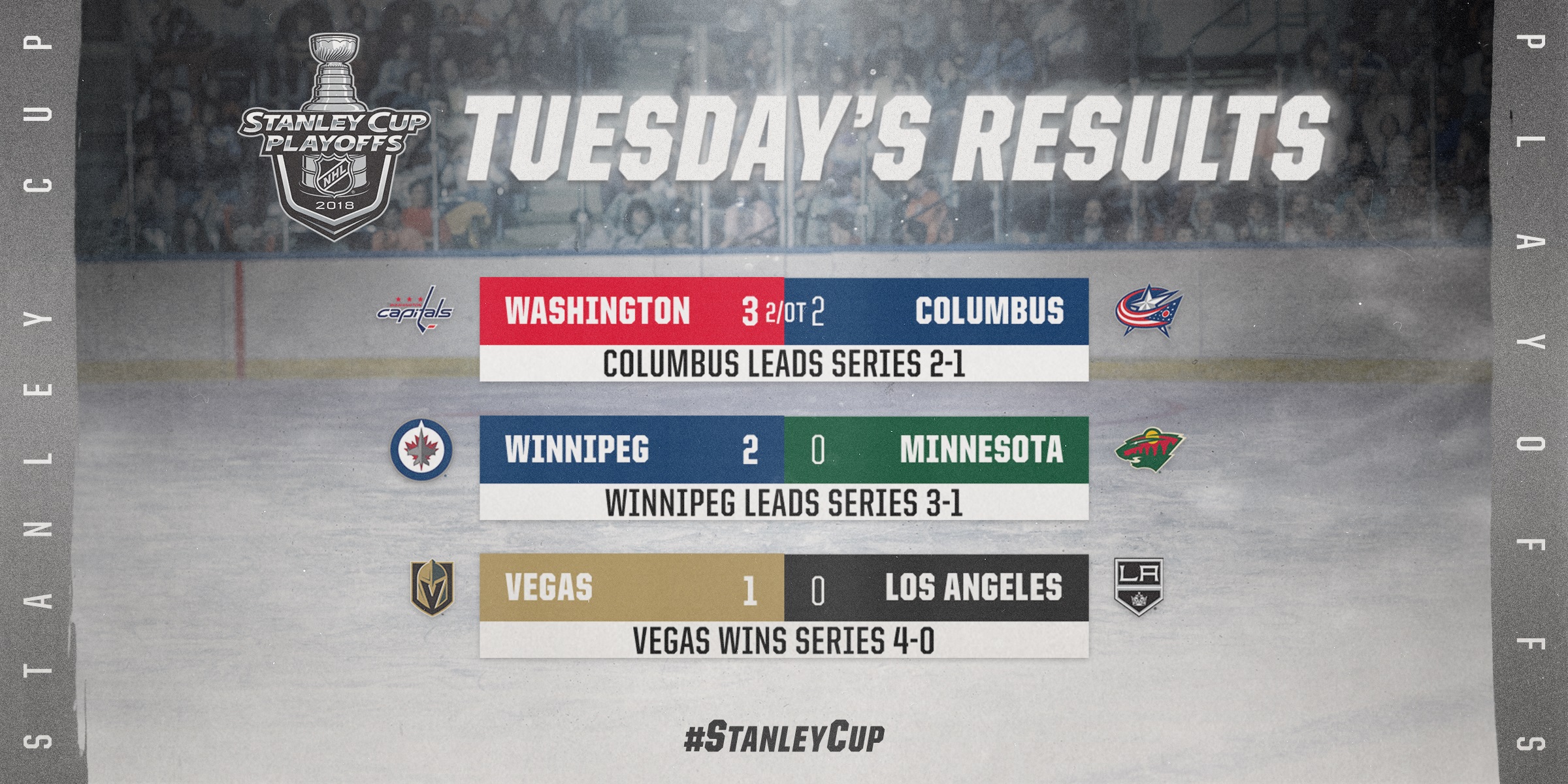 Filed in: NHL Teams, | KK Hockey | Permalink

by Paul on 04/17/18 at 09:00 PM ET
Comments (2)
No penalty call on Josh Morrissey.
added 10:17pm, Watch HNIC version below.
Filed in: NHL Teams, Minnesota Wild, Winnipeg Jets, | KK Hockey | Permalink
Tags: eric+staal
by Paul on 04/17/18 at 07:05 PM ET
Comments (1)
Question of the night, will the Vegas Golden Knights sweep the Los Angeles Kings?
Feel free to comment on tonight's games.
Filed in: NHL Teams, | KK Hockey | Permalink

by Paul on 04/17/18 at 07:04 PM ET
Comments (0)
NEW YORK (April 17, 2018) – Connor Hellebuyck of the Winnipeg Jets, Pekka Rinne of the Nashville Predators and Andrei Vasilevskiy of the Tampa Bay Lightning are the three finalists for the 2017-18 Vezina Trophy, awarded "to the goalkeeper adjudged to be the best at his position," the National Hockey League announced today.
The general managers of the NHL's 31 clubs submitted ballots for the Vezina Trophy at the conclusion of the regular season, with the top three vote-getters designated as finalists. The winner will be announced Wednesday, June 20, during the 2018 NHL Awards™ presented by Hulu at the Hard Rock Hotel & Casino in Las Vegas.
Following are the finalists for the Vezina Trophy, in alphabetical order:
Filed in: NHL Teams, | KK Hockey | Permalink

by Paul on 04/17/18 at 04:08 PM ET
Comments (2)
Calgary, AB – The Calgary Flames have announced today that they have relieved Head Coach Glen Gulutzan and Assistant Coaches Dave Cameron and Paul Jerrard of their coaching duties.
Filed in: NHL Teams, Calgary Flames, | KK Hockey | Permalink
Tags: glen+gulutzan
« Previous ‹ First < 2 3 4 5 6 > Last › Next »
About Kukla's Korner Hockey
Paul Kukla founded Kukla's Korner in 2005 and the site has since become the must-read site on the 'net for all the latest happenings around the NHL.
From breaking news to in-depth stories around the league, KK Hockey is updated with fresh stories all day long and will bring you the latest news as quickly as possible.
Email Paul anytime at pk@kuklaskorner.com
Tweets by @kuklaskorner
Most Recent Blog Posts