Kukla's Korner Hockey
Category: NHL-Teams
by Paul on 12/09/17 at 07:25 AM ET
Comments (1)
First off Adrian Dater with a night he will probably never forget.
It started out good...
Getting bad...
Tme to get nervous...
Finally, and there are more tweets within his timeline...
Below, let's turn our attention to VGN tweets and media in Nashville...
Filed in: NHL Teams, Nashville Predators, | KK Hockey | Permalink
Tags: vegas+golden+knights
by Paul on 12/09/17 at 07:03 AM ET
Comments (0)
FRIDAY'S RESULTS
Home Team in Caps
Columbus 5, NEW JERSEY 3
WASHINGTON 4, NY Rangers 2
Vegas 4, NASHVILLE 3 (SO)
CHICAGO 3, Buffalo 2 (OT)
Minnesota 3, ANAHEIM 2 (OT)
Filed in: NHL Teams, | KK Hockey | Permalink

by Paul on 12/08/17 at 02:44 PM ET
Comments (0)
from Frank Seravalli of TSN,
The cap is projected to rise to somewhere between $78 and $82 million for next season, up from $75 million this season.

After growing a combined $3.6 million over the last two seasons, the cap will climb at least $3 million next season thanks to a healthy 8 per cent increase in league revenue.

"We're having an extraordinarily healthy growth in revenues," commissioner Gary Bettman said. "The league has never been healthier. The game has never been healthier. Our franchises have never been healthier."

Bettman projected the NHL to hit a record $4.54 billion (U.S.) in league-wide hockey-related revenue. That figure does not include the $500 million expansion fee paid by the Vegas Golden Knights to join the league, but their addition as a 31st club was definitely a factor for the increase.

The NHL still lags well behind the other three major sports in North America in revenue. For perspective, in 2016 the NFL generated approximately $14 billion, MLB surpassed $10 billion for the first time and the NBA is north of $6 billion.
Filed in: NHL Teams, NHL Talk, | KK Hockey | Permalink

by Paul on 12/08/17 at 10:25 AM ET
Comments (2)
Todd Dewey Las Vegas Review-Journal,
If the Knights can keep their magical run going and reach the postseason, they would deliver a cross-check to bookmakers.

"We get killed if they make the playoffs, and we close if they win the Stanley Cup," William Hill sports book director Nick Bogdanovich said....

Bettors at the Westgate sports book put their money on the Knights to win their division. While the most tickets bet on any other team to win their division was 11 on the Blackhawks, there were 67 tickets wagered on the Golden Knights at odds ranging from as high as 200-1 before the season to 8-1 when the Westgate closed the division odds in mid-November.

"For them to win the division, we'd lose, for hockey, a huge amount," Westgate sports book manager Ed Salmons said. "It's funny. I expected to see a big loss if they made the playoffs, but we actually win money on that. Before the season started, nobody had any confidence in them, and then when they started the way they did, everyone got on board."...

The action on Knights' games is at least twice as much as any other game on each night's NHL card. The Golden Knights-Blackhawks game on a Tuesday night in October generated a larger betting handle at Station Casinos than the Jets-Dolphins game played the previous NFL Sunday.

"The handle on the Golden Knights games has far exceeded expectations," Sunset Station sports book director Chuck Esposito said. "Now they're so good at home, it doesn't matter what the price is. As strange as it sounds, we can't make it high enough. Bettors continue to place wagers on them at home."
Filed in: NHL Teams, | KK Hockey | Permalink
Tags: vegas+golden+knights
by Paul on 12/08/17 at 10:17 AM ET
Comments (1)
from Luke DeCock of the News & Observer,
Let's make this most important point first: Peter Karmanos should have and deserves the fervent and genuine appreciation of Carolina Hurricanes fans for bringing the team here and keeping it here. None of this, the good times and the bad, would have happened without him....

All that said, this is a glorious day. He finally has an agreement in place to sell the team, even if there are still more hurdles to clear, and he'll still be a minority partner. And to someone who isn't Quebecor. Pardon, Quebec.

Dallas businessman Thomas Dundon, who made his money in subprime auto loans, has pledged to keep the team here, although such promises are always fungible. Karmanos himself promised when he bought the Hartford Whalers in 1994 to keep the team in Connecticut for four years. He moved them here after three.

The indecision and uncertainty surrounding Karmanos' increasingly tenuous personal finances held this franchise hostage for far too long. His absentee ownership – for almost 20 years, he promised to move himself or his business to Raleigh in some capacity and never did – kept the Hurricanes from making the inroads in the community they should have long ago. And the force of his personality and penchant for pile-driving his foot into his mouth always made for interesting times for those who had to work for him and deal with him on a daily basis.
Filed in: NHL Teams, Carolina Hurricanes, | KK Hockey | Permalink

by Paul on 12/08/17 at 10:12 AM ET
Comments (0)
from Stu Cowan of the Montreal Gazette,
There's a belief in hockey circles that the first coach to introduce the morning skate was either Fred Shero with the Philadelphia Flyers or Scotty Bowman with the Canadiens.

Bowman says it wasn't him or Shero.

"The first person that ever started the morning skates was around 1960 or '61 and it was Rudy Pilous," Bowman said over the phone Thursday afternoon from his home in Sarasota, Fla. "He was the coach of the Blackhawks when they won the Cup in '61. All the teams used to have their meetings at 11 o'clock on the day of a game, but they never went on the ice."

Bowman said Pilous changed that and it was only so his players could test their skates.

"I remember the Blackhawks players going on the ice and they just wore their skates with their (dress) pants and shirt … they didn't even put a sweater on," recalled Bowman, the winningest coach in NHL history with nine Stanley Cups. "(Stan) Mikita and those guys would just make a couple of little turns to see if the skates were OK. It's not like today … if the skates weren't right back then, they had to put them in a machine (to be sharpened ) … now it's all automated.
Filed in: NHL Teams, | KK Hockey | Permalink

by Paul on 12/08/17 at 10:02 AM ET
Comments (0)
from Sam Carchidi of Philly.com,
General manager Ron Hextall seemed to be overdosing on hyperbole last week, saying he thought the Flyers were a playoff team even though they were in the midst of a 10-game losing streak.

But after they completed a three-game sweep on their Western Canada trip Thursday night with a 4-1 win in Vancouver, the losing skid seems like a distant memory.

Oh, and Hextall's playoff talk may not be as far-fetched as many believed.

The Flyers left their losing ways at home.
Below, watch the game highlights...
Filed in: NHL Teams, Philadelphia Flyers, Vancouver Canucks, | KK Hockey | Permalink

by Paul on 12/08/17 at 09:47 AM ET
Comments (1)
from Bruce Garrioch of the Ottawa Sun,
The frustration continued for the Senators as Drew Doughty scored the winner to extend Ottawa's losing streak to three straight games with a disappointing 4-3 overtime loss to the Los Angeles Kings Thursday night at the Staples Center.

Only moments after Ryan Dzingel tied it up with 8.5 seconds left to send it to OT and at least book the club a point, Doughty fired it home 31 seconds into the three-on-three....

Coach Guy Boucher felt Dzingel was hooked by Anze Kopitar and was upset at the officials after the game.

"It was a hook (Dzingel) on the winning goal. It happens. I don't want to look at referees or anything reason for us winning or losing," said Boucher. "I'd rather look at what we've done 5-on-5 during the game and that's what most important for me."
Game highlights are below, if you want to see the possible hook from Kopitar, scroll to the 7:50 mark.
Filed in: NHL Teams, Los Angeles Kings, Ottawa Senators, | KK Hockey | Permalink

by Paul on 12/08/17 at 08:31 AM ET
Comments (0)
The best from last night in the NHL will take 6 minutes to watch...
Filed in: NHL Teams, | KK Hockey | Permalink

by Paul on 12/08/17 at 08:24 AM ET
Comments (1)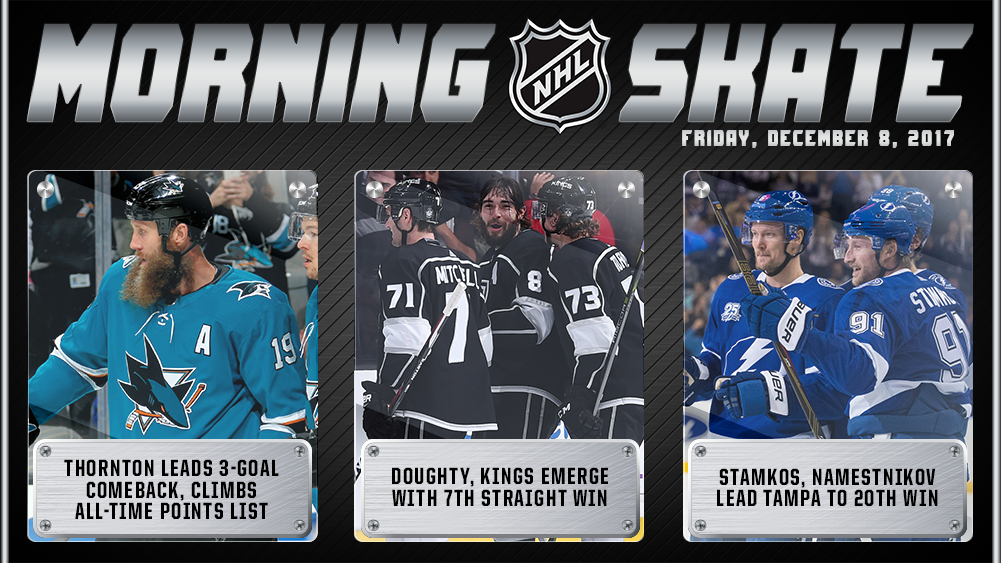 THURSDAY'S RESULTS
Home Team in Caps
BOSTON 6, Arizona 1
PITTSBURGH 4, NY Islanders 3 (OT)
Calgary 3, MONTREAL 2 (OT)
TAMPA BAY 5, Colorado 2
FLORIDA 6, Winnipeg 4
ST. LOUIS 3, Dallas 0
Philadelphia 4, VANCOUVER 1
LOS ANGELES 4, Ottawa 3 (OT)
SAN JOSE 5, Carolina 4 (OT)
Filed in: NHL Teams, | KK Hockey | Permalink

« Previous < 1 2 3 4 5 > Last › Next »
About Kukla's Korner Hockey
Paul Kukla founded Kukla's Korner in 2005 and the site has since become the must-read site on the 'net for all the latest happenings around the NHL.
From breaking news to in-depth stories around the league, KK Hockey is updated with fresh stories all day long and will bring you the latest news as quickly as possible.
Email Paul anytime at pk@kuklaskorner.com
Recommended Sportsbook
MyBookie.ag
Tweets by @kuklaskorner
Most Recent Blog Posts