Kukla's Korner Hockey
Category: NHL-Teams
by Paul on 02/17/19 at 09:30 AM ET
Comments (0)
from Ron Cook of the Pittsburgh Post-Gazette,
We're 58 games into their season and they have nearly lost as many as they have won. I have no idea what to think about them or expect from them. I think they are good enough to win the Stanley Cup, but I'm not sure they're good enough to make the playoffs. At this point, I won't be surprised if either happens.

It was more of the same Saturday afternoon Uptown at PPG Paints Arena.

After beating the Philadelphia Flyers and Edmonton Oilers fairly easily earlier in the week for a modest two-game winning streak that led us to believe more wins would be ahead, the Penguins stepped up in class and were outclassed for much of the day by the loaded Calgary Flames in a 5-4 loss.

A 5-2 deficit after two periods produced a too-little, too-late finish.

So much for that winning streak.

The Penguins' inconsistency is maddening.
Filed in: NHL Teams, Pittsburgh Penguins, | KK Hockey | Permalink

by Paul on 02/17/19 at 06:16 AM ET
Comments (0)
SATURDAY'S RESULTS
Home Team in Caps
PHILADELPHIA 6, Detroit 5 (OT)
Calgary 5, PITTSBURGH 4
St. Louis 3, COLORADO 0
TAMPA BAY 3, Montreal 0
NY ISLANDERS 5, Edmonton 2
Ottawa 4, WINNIPEG 3 (OT)
ARIZONA 2, Toronto 0
CAROLINA 3, Dallas 0
Columbus 5, CHICAGO 2
VEGAS 5, Nashville 1
SAN JOSE 3, Vancouver 2
Boston 4, LOS ANGELES 2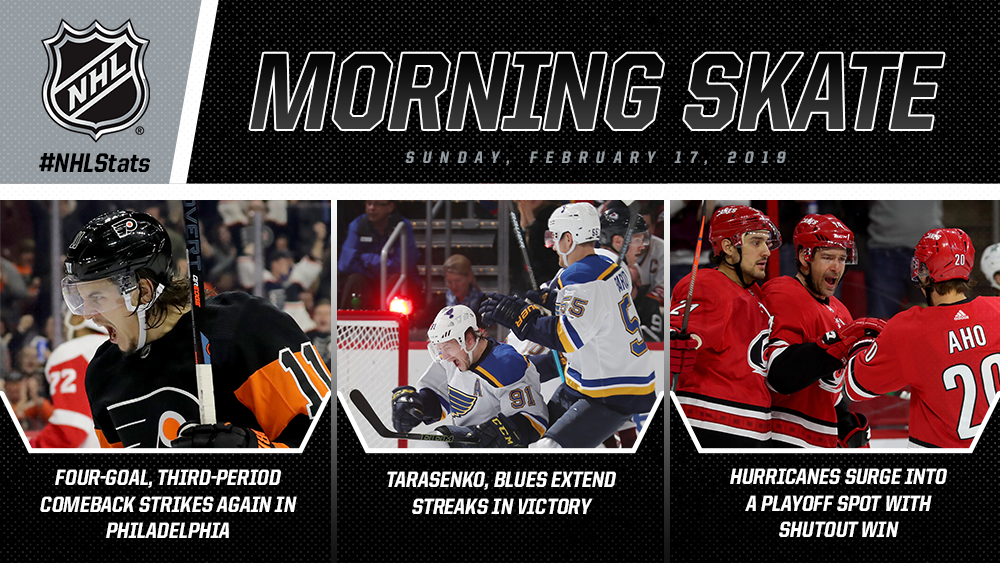 Filed in: NHL Teams, | KK Hockey | Permalink

by Paul on 02/16/19 at 10:51 PM ET
Comments (0)
They are now in a wild card spot and they celebrate with the limbo.
Filed in: NHL Teams, Carolina Hurricanes, | KK Hockey | Permalink

by Paul on 02/16/19 at 09:08 PM ET
Comments (0)
The Saturday Headlines crew talked about... Senators trying to sign Mark Stone and shopping Matt Duchene, the Leafs will be talking to Kasperi Kapanen's agent soon, James Neal may be out longer than expected and more Flames talk and the future of Jesse Puljujarvi in Edmonton along with Ken Hitchcock.
Also, Gustav Nyquist drawing interest but undecided if he will waive NTC.
via Sportsnet,
Filed in: NHL Teams, | KK Hockey | Permalink

by Paul on 02/16/19 at 08:23 PM ET
Comments (1)
Discussed topics by Don Cherry and Ron MacLean include... Well-dressed men, two short-handed goals from the Jets tonight, Joe Thornton, goalie get the winning goal in double OT and the play of Jordan Binnington in St. Louis.
Plus a no-look pass from Elias Pettersson, the Carolina Hurricanes celebrations is a "joke, a bunch of jerks", Brayden Point's play and the passing of Gerry Cheevers' wife.
via Sportsnet,
added 8:25pm, YouTube version is below.
Filed in: NHL Teams, NHL Media, Hockey Broadcasting, CBC HNIC, | KK Hockey | Permalink
Tags: don+cherry, ron+maclean
by Paul on 02/16/19 at 08:16 PM ET
Comments (1)
from Larry Brooks of the New York Post,
- This just in: After consultation with Senator Kamala Harris' office, the Kings have decided to trade Ilya Kovalchuk.

What on earth to make of that statement regarding playoff scheduling the Islanders released in a late Friday afternoon news dump, presumably in coordination with the NHL?

What league voluntarily calls attention to the fact the arena in which one of its franchises is playing 20 home games this year and could play all 41 for the next couple of seasons during the Belmont construction process, "does not qualify as an NHL major league facility?"...

- Would be no surprise if the Islanders, with a bushel-full of futures run by a man who always believes in the present (oh my, I am almost beginning to sound like Lou Lamoriello), are in on Artemi Panarin, Mark Stone and perhaps even Mike Hoffman.

Wonder if Lamoriello is up for a reunion with Kovalchuk, who has two years at $6.25 million remaining on the free agent contract he signed with the Kings last summer when management operated under the delusion the team would be a contender....

- If one needed greater evidence why the NHL should never expand in any way to allow four additional teams into the playoffs (or the play-ins), then the Sabres are The People's Exhibit A.

Because if 10 teams from each conference made the playoffs, the Sabres, who have not won consecutive games in more than two months, would currently be a postseason team despite winning fewer than half their games (28 of 57) following Friday night's embarrassing performance in losing to the Rangers....
more on each of the above topics plus a few more...
Filed in: NHL Teams, Buffalo Sabres, New York Islanders, NHL Talk, | KK Hockey | Permalink

by Paul on 02/16/19 at 05:09 PM ET
Comments (0)
Filed in: NHL Teams, d, Toronto Maple Leafs, | KK Hockey | Permalink
Tags: auston+matthews, rick+tocchet
by Paul on 02/16/19 at 05:01 PM ET
Comments (0)
from Steve Simmons of the Toronto Sun,
- Nikita Kucherov, Patrick Kane and Connor McDavid are 1-2-3 in NHL scoring and probably that way in the Hart Trophy race. If Kane's Blackhawks or McDavid's Oilers make the playoffs, they might slide in ahead of Kucherov. Hard to overlook Kucherov as the best player on the NHL's best team in Tampa. My other MVP candidates with 30% of the season still to play: Sidney Crosby, Johnny Gaudreau, Sebastian Aho.

- The boy genius GM John Chayka, still looking for his first playoff game in Arizona, traded 21-year-old centre Dylan Strome to Chicago and all Strome has done is score 31 points in 34 games. The Blackhawks were 8-1 in their last nine games heading into Saturday night. Strome has 15 points in those nine games. Meanwhile, the Coyotes, out of the playoffs, are still looking for a big No. 1 centre.

- Why Barry Trotz should romp in coach of the year voting: Last year, the Islanders were worst in the NHL in goals against. This year, they're best. And five of his regular defencemen have returned from last year's team. Incredible.
Filed in: NHL Teams, | KK Hockey | Permalink

by Paul on 02/16/19 at 01:58 PM ET
Comments (0)
from Kevin Paul Dupont of the Boston Globe,
- ... A year ago, the lead trade suspect around the NHL was Rick Nash, and Sweeney outbid all suitors with a package that included a first-round draft pick, defensive prospect Ryan Lindgren, along with Matt Beleskey and Ryan Spooner. A year later, from Boston's perspective, the art of the deal was offloading Spooner and Beleskey, a pair of wingers once thought to be essential offensive elements (they combined for 59 goals while wearing the Spoked-B). Today they are Exhibit A: addition by subtraction.

Nash was the real deal and, by market standards in recent years, worth the goods that Sweeney yielded. For about two weeks. Until Nash was dealt yet another concussion, this one ultimately proving to be his express pass to retirement. So it goes in the caveat emptor world of deadline deals. Right deal, wrong outcome, reminiscent of the 1994 deadline swap that had then-GM Harry Sinden plucking Al Iafrate from Washington for Joe Juneau....

- ... What happened? By Murray's eye "lack of emotion" has been the culprit. By an outsider's eye, the Ducks' Big Three look like toast.

Corey Perry, Ryan Getzlaf, and Ryan Kesler are all age 33-plus, each closing in on 1,000 games, and each with high-priced, no-move deals for at least two more years (three for Kesler). To be fair, Perry has just returned, post-surgery, after tearing up a knee in the preseason. If he can get back in gear, Perry can move the needle.

But overall, the Ducks are hurting for speed and also lack the talented youth corps that virtually every team now tries to have in on-the-job training. Without the developing ride-a-long component — witness Boston last season with Jake DeBrusk and Danton Heinen, and this season with Matt Grzelcyk — aging, heavy rosters such as Anaheim's are destined for a slow roll to nowhere. The Ducks look like they're getting nowhere even faster.
more on each of the above plus other hockey topics...
Filed in: NHL Teams, Anaheim Ducks, | KK Hockey | Permalink

by Paul on 02/16/19 at 12:21 PM ET
Comments (3)
from Wayne Fish of the Courier Times,
Now for all the naysayers who cry the game is already too long, we have the solution: Go to commercial break for the 30 seconds (or longer) it would take to sort out the mess (and cut in to the total amount of commercials that slow the flow of the game anyway).

That way, no time is added on to the total amount of time for a game and everyone can still get out of the building by 9:35 and rush home to pay the babysitter.

"Good idea,″ says Flyers TV studio analyst and former player Chris Therien. "There's nothing gray about it — it's black and white. We have the luxury of having multiple video angles of just about everything in life these days, not to mention a hockey rink.

"So from that standpoint, when something like that happened, well, it should not have happened. From a human eye standpoint, all Toronto had to say was, 'Hagg's stick never touched the Minnesota player. We have to call down.' ″

Right now, there is no system in place for the NHL officials in Toronto to overrule penalty calls.
Filed in: NHL Teams, NHL Talk, NHL Officiating, | KK Hockey | Permalink

« Previous < 1 2 3 4 5 > Last › Next »
About Kukla's Korner Hockey
Paul Kukla founded Kukla's Korner in 2005 and the site has since become the must-read site on the 'net for all the latest happenings around the NHL.
From breaking news to in-depth stories around the league, KK Hockey is updated with fresh stories all day long and will bring you the latest news as quickly as possible.
Email Paul anytime at pk@kuklaskorner.com
Tweets by @kuklaskorner
Most Recent Blog Posts