Kukla's Korner Hockey
Category: NHL-Teams
by Paul on 10/18/18 at 07:57 AM ET
Comments (0)
WEDNESDAY'S RESULTS
Home Team in Caps
MONTREAL 3, St. Louis 2
WASHINGTON 4, NY Rangers 3 (OT)
CALGARY 5, Boston 2
ANAHEIM 4, NY Islanders 1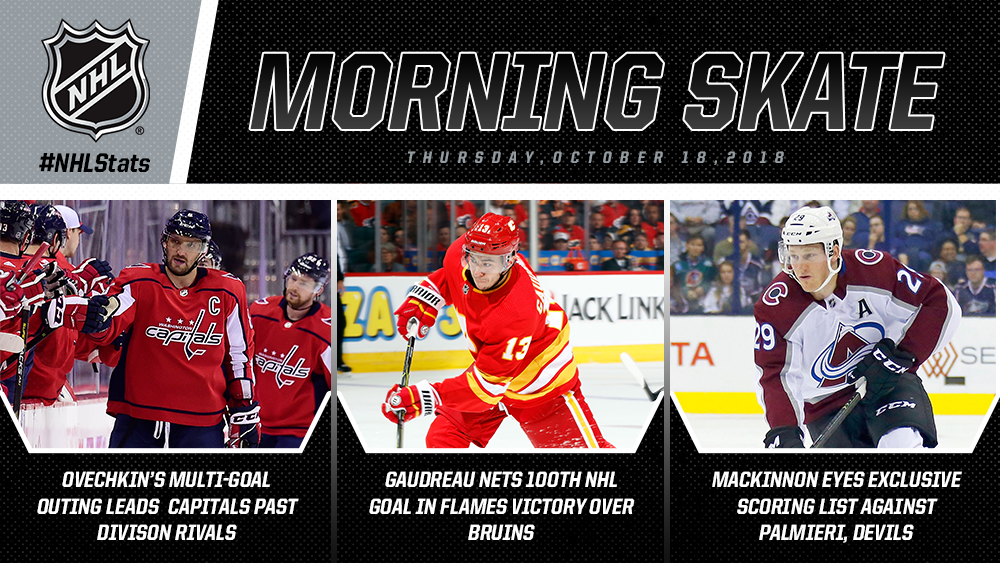 Filed in: NHL Teams, | KK Hockey | Permalink

by Paul on 10/17/18 at 09:12 PM ET
Comments (0)
Tonight on NBCSN, Bob McKenzie discussed the latest on William Nylander's contract situation, will Pekke Rinne get an extension in Nashville and a few more topics.
James O'Brien of NBC Sports has all the topics covered.
Filed in: NHL Teams, | KK Hockey | Permalink

by Paul on 10/17/18 at 06:17 PM ET
Comments (0)
from Mike Zeisberger of NHL.com,
Sidney Crosby considers Connor McDavid to be the top player in the National Hockey League.

"I think McDavid has set himself apart just based on the awards and the accolades he's gotten and the consistency he's had," the Pittsburgh Penguins captain told NHL.com on Wednesday. "I think it's fair to say it's an easy pick just because of that."...

Crosby, 31, said the influx of young talent in the League has produced highlight-reel moments from young skilled players like centers Auston Matthews (21) of the Toronto Maple Leafs and Nathan MacKinnon (23) of the Colorado Avalanche. But it's McDavid's resume in his first three-plus seasons in the NHL that has allowed the Oilers forward to separate himself from the pack.

"There are so many different guys," Crosby said. "Matthews has emerged this year and it really looks like he's taken even another step. I think there's a lot of guys in the conversation. But it's hard to argue (McDavid). He's been really consistent. He's won scoring titles, MVPs. So yeah, that's an easy one to pick."
Filed in: NHL Teams, Edmonton Oilers, Pittsburgh Penguins, | KK Hockey | Permalink
Tags: connor+mcdavid, sidney+crosby
by Paul on 10/17/18 at 11:33 AM ET
Comments (2)
from Elliotte Friedman of Sportsnet,
- A few years ago, Detroit GM Ken Holland suggested reading Legacy: What the All Blacks Can Teach Us About the Business of Life. There's a chapter called "Authenticity," described as the opposite of bad faith. "Bad faith," French philosopher Jean-Paul Sartre writes, "occurs when peer pressure and social forces combine to have us disown our own values. It is an accommodation we make with society to fit in, a psychological 'selling out' in which we forsake our own freedom and self-expression for the conformity of the crowd." There's a lot of speculation about coach Jeff Blashill's future, but, for over a year now, Holland's delivered a consistent message. He strongly believes Blashill should not be made a scapegoat, that this is a good coach put in a rough situation. The infirmary-laden blue line doesn't make things easier. Not sure Holland re-read that chapter, but do feel its contents form his guiding principle.

- Senators' GM Pierre Dorion took heat for the delay before his "We're a team" answer to a David Amber question on Kraft Hockeyville, but it is clear there's a different feeling in the nation's capital this year. Everything last season was tense, especially as things went off the rails. One visit to the dressing room was enough to see things are more relaxed. The players were determined to change the attitude, and three things have helped. First, they are playing more aggressively, which makes things more fun. Second, they see the talent in Thomas Chabot and Brady Tkachuk. Third, and most importantly, winning covers almost every ill.

- Carolina's a good early story, and they'll be interesting to watch for another reason: They've got unusual roster construction. The Hurricanes dress four right-shot defenders — Justin Faulk, Dougie Hamilton, Brett Pesce and Trevor van Riemsdyk. That type of player is always in demand and they're all good enough to play. Scott Darling is due back soon, and, unless they want to carry three goalies, one of him, Curtis McElhinney or Petr Mrazek will need waivers. Assuming it's not Darling, the others might be a Toronto target.
Filed in: NHL Teams, | KK Hockey | Permalink

by Paul on 10/17/18 at 08:43 AM ET
Comments (0)
from Jim Matheson of the Edmonton Journal,
Maybe Connor McDavid will get a point on every Edmonton Oilers goal this season.

OK, that's not going to happen because his housemate Darnell Nurse scored the 5-4 OT winner with McDavid cheering from the bench Tuesday but the Oilers captain shattered Adam Oates's NHL record by figuring in the first nine goals for his team.

He brought the Oilers back from a 4-1 40-minute hole, rolling past Oates' points in the first seven Detroit Red Wings' goals from 20 years ago. He had his third and fourth goals in the team's fourth game and assisted on Ty Rattie's first of the year and Jesse Puljujarvi's tying marker in the third.

"What do you want me to say? He's the best player on earth," said Oilers' coach Todd McLellan, after his club levelled their road start at 2-2 with the next four at Rogers Place.

Adam Lowry had two goals on his first four shifts in the opening frame with defensive D-man Ben Chiarot and Mark Scheifele getting the others on Cam Talbot, who should have been sued for non-support payments in the first 20.
Watch the game highlights below.
Filed in: NHL Teams, Edmonton Oilers, Winnipeg Jets, | KK Hockey | Permalink

by Paul on 10/17/18 at 08:26 AM ET
Comments (0)
TUESDAY'S RESULTS
Home Team in Caps
NEW JERSEY 3, Dallas 0
NY RANGERS 3, Colorado 2, (SO)
PHILADELPHIA 6, Florida 5, (SO)
Vancouver 3, PITTSBURGH 2 (OT)
TAMPA BAY 4, Carolina 2
MINNESOTA 2, Arizona 1
Edmonton 5, WINNIPEG 4 (OT)
VEGAS 4, Buffalo 1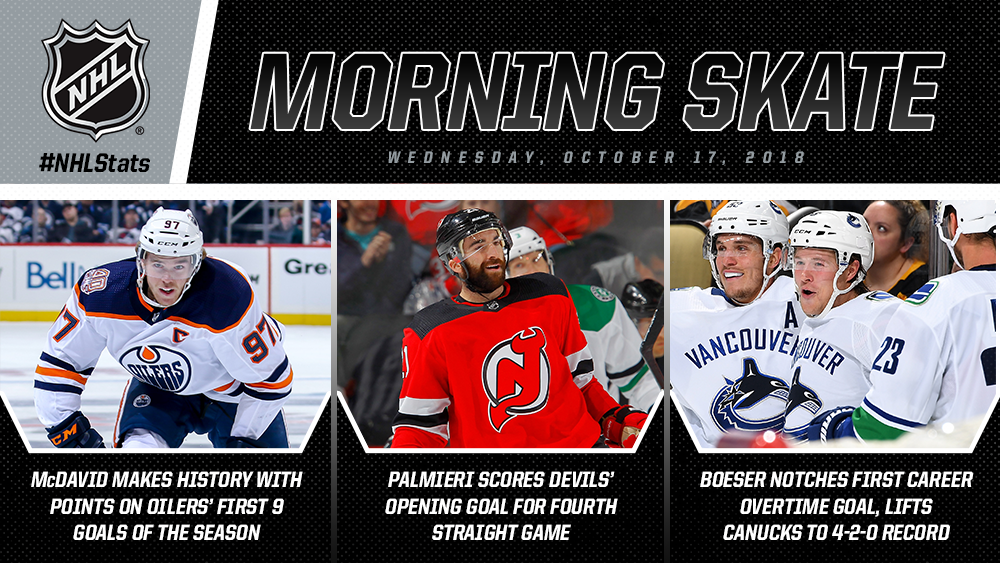 Filed in: NHL Teams, | KK Hockey | Permalink

by Paul on 10/16/18 at 06:32 PM ET
Comments (0)
Is the Nick Ritchie and Ducks impasse about to end? Could cap concerns force a William Nylander or Kasperi Kapanen trade out of Toronto? What teams are keeping track of the Nylander situation? Are the Bruins in the market for a forward? The TSN Hockey Insiders discuss this and more in Insider Trading.
Filed in: NHL Teams, | KK Hockey | Permalink

by Paul on 10/16/18 at 06:02 PM ET
Comments (0)
from Emily Kaplan of ESPN,
ESPN: Do you think there needs to be more than one network provider?

Wirtz: I don't know. That's certainly something for the league to decide and look at. But I think they'll certainly look at all options and what can be provided and what cannot. And like I said, technology is moving so quickly, we haven't even gotten to 4K [for NHL broadcasts], and we're already talking about the next iteration on top of that. I think we're going to get down, you're going to be like you're sitting right on the ice for these games. I'll tell you what: If you think you know today, by tomorrow it's going to be completely different.

ESPN: I think a lot of fans are concerned about the potential for a work stoppage in the NHL, especially as things seem to be pretty good right now from a growth and revenue front. Is there anything you can say to calm those fears, an owner?

Wirtz: No, I mean I think it's a fair system. The players get the same get as the owners get. You see the success of Las Vegas and certainly what might be going on in Seattle going forward -- certainly the fans out there are excited about it. Just like the fans, I hope there's not a work stoppage. I would hate to see that. So we'll just keep our fingers crossed not to see it because the game has grown so much, and the excitement -- it's gotten so fast and so young, I think it would be a shame for any kind of work stoppage that would happen.
Filed in: NHL Teams, Chicago Blackhawks, | KK Hockey | Permalink
Tags: rocky+wirtz
by Paul on 10/16/18 at 12:47 PM ET
Comments (0)
1:56 of your time.
Filed in: NHL Teams, | KK Hockey | Permalink

by Paul on 10/16/18 at 12:43 PM ET
Comments (0)
Filed in: NHL Teams, Carolina Hurricanes, | KK Hockey | Permalink
Tags: rod+brind'amour
« Previous < 1 2 3 4 5 > Last › Next »
About Kukla's Korner Hockey
Paul Kukla founded Kukla's Korner in 2005 and the site has since become the must-read site on the 'net for all the latest happenings around the NHL.
From breaking news to in-depth stories around the league, KK Hockey is updated with fresh stories all day long and will bring you the latest news as quickly as possible.
Email Paul anytime at pk@kuklaskorner.com
Tweets by @kuklaskorner
Most Recent Blog Posts