Kukla's Korner Hockey
Category: NHL-Teams
by Paul on 11/16/18 at 06:33 PM ET
Comments (0)
Illegal check to the head.
Filed in: NHL Teams, d, | KK Hockey | Permalink
Tags: josh+archibald
by Paul on 11/16/18 at 05:44 PM ET
Comments (0)
As of Friday, we are 285 games into a 1,271-game NHL season, but it is odd to see Pittsburgh and Los Angeles flailing away at the bottom of the Eastern and Western Conference standings respectively. The Kings and Penguins have a lot in common, beginning with the fact that since 2012, each franchise has won the Stanley Cup twice. In theory, that should count for something within their respective fan bases, but it never really seems to anymore. "What have you done for me lately?" was always a popular catch phrase in pro sports, but nowadays it seems more profoundly ingrained.
-Eric Duhatschek of The Athletic($$$) where you can read more on this plus othe topics.
Filed in: NHL Teams, Los Angeles Kings, Pittsburgh Penguins, | KK Hockey | Permalink

by Paul on 11/16/18 at 03:31 PM ET
Comments (0)
NEW YORK, November 16, 2018 – New York Rangers General Manager Jeff Gorton announced today that the team has acquired Ryan Strome from the Edmonton Oilers in exchange for Ryan Spooner.
Strome, 25, has skated in 358 career NHL games over parts of six seasons (2013-14 – 2018-19) with the NY Islanders and Edmonton, registering 59 goals and 103 assists for 162 points, along with 170 penalty minutes. He established several career-highs during his first full season in the NHL in 2014-15, including goals (17), assists (33), points (50), and plus/minus rating (plus-23) in 81 games with the Islanders while helping the team advance to the Stanley Cup Playoffs. Strome played in 18 games with the Oilers this season, registering one goal and one assist for two points. Strome has also skated in 15 career Stanley Cup Playoff games, registering three goals and five assists for eight points, along with a plus-two rating and four penalty minutes.
The 6-1, 194-pounder has earned several awards throughout his hockey career. Strome was selected to the AHL's All-Rookie Team and played in the AHL All-Star Game in 2013-14, as he registered 49 points (13 goals, 36 assists) in 37 games with the Bridgeport Sound Tigers during the season. He recorded 295 points (105 goals, 190 assists) in 225 games during a four-year junior career in the Ontario Hockey League (OHL) with the Barrie Colts and Niagara IceDogs. Strome was selected to the OHL's Second All-Star Team and participated in the CHL Top Prospects Game in 2010-11, as he tallied 106 points (33 goals, 73 assists) in 65 games with Niagara. Internationally, the Mississauga, Ontario native has represented Canada in several tournaments, and he helped Canada earn a bronze medal at the 2012 IIHF World Junior Championship.
Strome was originally selected by the Islanders in the first round, fifth overall, of the 2011 NHL Entry Draft.
Spooner skated in 36 games with the Rangers over parts of two seasons (2017-18 and 2018-19), registering five goals and 13 assists for 18 points. He was acquired by the Blueshirts in a trade with Boston on Feb. 25, 2018.
Filed in: NHL Teams, Edmonton Oilers, New York Rangers, | KK Hockey | Permalink
Tags: ryan+spooner, ryan+strome
by Paul on 11/16/18 at 02:55 PM ET
Comments (0)
via the Tampa Bay Lightning,
The Tampa Bay Lightning learned officially what had been feared for a couple days: Andrei Vasilevskiy will miss a sizable portion of the season. The team announced today Vasilevskiy will be sidelined four to six weeks with a fractured left foot.
The injury occurred during a practice session Wednesday in Pittsburgh prior to the Bolts' 4-3 win Thursday in the Steel City. Vasilevskiy did not play against the Penguins, instead returning to Tampa to be re-evaluated by team medical staff, where the extent of his injury was learned.
At the time of his injury, Vasilevskiy was tied for the NHL lead for wins this season (9). In 13 starts in 2018-19, Vasilevskiy is 9-3-1 with a 2.30 goals-against average and a .927 save percentage. He's allowed two or less goals in nine of his 13 starts.
A four to six week timeline could see Vasilevskiy return as early as December 13 when the Lightning host the Toronto Maple Leafs or as late as December 27 when the Philadelphia Flyers come to Tampa.
Filed in: NHL Teams, Tampa Bay Lightning, | KK Hockey | Permalink
Tags: andrei+vasilevskiy
by Paul on 11/16/18 at 02:03 PM ET
Comments (1)
NEW YORK (Nov. 16, 2018) – Pittsburgh Penguins forward Matt Cullen has been fined $1,000 for a dangerous trip against Tampa Bay Lightning forward J.T. Miller during NHL Game No. 279 in Pittsburgh on Thursday, Nov. 15, the National Hockey League's Department of Player Safety announced today.
The incident occurred at 19:47 of the first period. Cullen was assessed a minor penalty for tripping.
The money goes to the Players' Emergency Assistance Fund.
Filed in: NHL Teams, Pittsburgh Penguins, | KK Hockey | Permalink
Tags: matt+cullen
by Paul on 11/16/18 at 10:46 AM ET
Comments (0)
Best of all time, Sportsnet style.
Filed in: NHL Teams, | KK Hockey | Permalink

by Paul on 11/16/18 at 10:40 AM ET
Comments (4)
Filed in: NHL Teams, d, | KK Hockey | Permalink
Tags: josh+archibald
by Paul on 11/16/18 at 09:11 AM ET
Comments (0)
from Eric Francis of Sportsnet,
Well, at least the Calgary Flames know who their starting goalie will be Saturday.

Not Mike Smith.

At the tail end of a visit from the Montreal Canadiens that the Flames were dominating, the veteran netminder let in yet another goal that rhymes with Smitty.

This time it was a weak Artturi Lehkonen wrister from above the faceoff dot that somehow slid under the pads of Smith for the game-winner with under eight minutes remaining.

The Flames were outshooting the Habs 39-22 at the time and couldn't solve Carey Price for the equalizer, despite a late push.
Watch the goal below in the game highlights package below. The Canadiens won 3-2.
Filed in: NHL Teams, Calgary Flames, | KK Hockey | Permalink
Tags: mike+smith
by Paul on 11/16/18 at 09:04 AM ET
Comments (0)
from Michael Traikos of the National Post,
When the Sharks traded for Karlsson in September and gave up practically nothing off their roster in return, the fantasy experts started drooling. If you thought Karlsson had been dangerous in Ottawa, where the top scorer managed just 23 goals last season, just wait until he was passing the puck up to Joe Thornton and Joe Pavelski — or Logan Couture and Evander Kane, or Tomas Hertl and Timo Meier....

Forget 82 points. The thinking was Karlsson, who is also in the final year of his contract, might be the first defenceman since Brian Leetch to crack the 100-point mark....

Heading into Thursday night's game against the Toronto Maple Leafs, Karlsson had no goals and eight assists (had 2 assists last night) in his first 19 games. At this point last year, he had 17 points....

In nine seasons with the Senators, Karlsson led the team in scoring four times and finished second in three others. There was a reason for that. If he didn't, no one else would.

In San Jose, his job description has changed. On a team that has so many offensive options, Karlsson is no longer the No. 1 offensive weapon. With Brent Burns leading the Sharks with 21 points, he might not even be the team's No. 1 offensive defenceman.
Filed in: NHL Teams, San Jose Sharks, | KK Hockey | Permalink
Tags: erik+karlsson
by Paul on 11/16/18 at 04:34 AM ET
Comments (0)
THURSDAY'S RESULTS
Home Team in Caps
NY ISLANDERS 7, NY Rangers 5
New Jersey 3, PHILADELPHIA 0
Tampa Bay 4, PITTSBURGH 3
COLUMBUS 7, Florida 3
OTTAWA 2, Detroit 1
MINNESOTA 6, Vancouver 2
Montreal 3, CALGARY 2
ARIZONA 2, Nashville 1
Toronto 5, SAN JOSE 3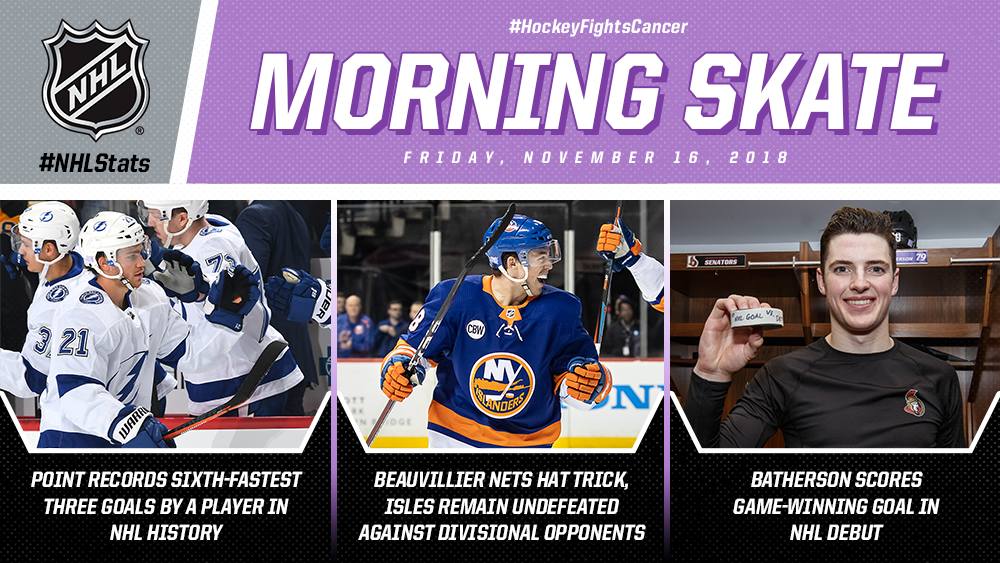 Filed in: NHL Teams, | KK Hockey | Permalink

« Previous < 1 2 3 4 > Last › Next »
About Kukla's Korner Hockey
Paul Kukla founded Kukla's Korner in 2005 and the site has since become the must-read site on the 'net for all the latest happenings around the NHL.
From breaking news to in-depth stories around the league, KK Hockey is updated with fresh stories all day long and will bring you the latest news as quickly as possible.
Email Paul anytime at pk@kuklaskorner.com
Tweets by @kuklaskorner
Most Recent Blog Posts