Kukla's Korner Hockey
Category: NHL-Teams
by Paul on 02/21/18 at 06:59 PM ET
Comments (1)
GLENDALE, ARIZONA - Arizona Coyotes President of Hockey Operations and General Manager John Chayka announced today that the Coyotes have acquired goaltender Darcy Kuemper from the Los Angeles Kings in exchange for forward Tobias Rieder and goaltender Scott Wedgewood.
The 27-year-old Kuemper has posted a 10-1-3 record with a 2.10 goals against average (GAA), .932 save percentage (SV%) and three shutouts in 19 games for the Kings this season. The 6-foot-5, 215-pound native of Saskatoon, SK has a career record of 51-35-17 with a 2.52 GAA, .913 SV% and 10 shutouts in 104 games with the Kings and Minnesota Wild.
"Darcy is a big, talented goaltender who is having an excellent year," said Chayka. "You need great goaltending in this league in order to be successful and with Antti and Darcy, we are confident that we have an excellent tandem for the future."
Filed in: NHL Teams, d, Los Angeles Kings, | KK Hockey | Permalink
Tags: darcy+kuemper, scott+wedgewood, tobias+rieder
by Paul on 02/21/18 at 04:49 PM ET
Comments (8)
We should simply state what we now believe to be patently obvious: The Ottawa Senators are open to the idea of trading Erik Karlsson by Monday.

Let's not get into the semantics of whether they're "shopping" Karlsson or just "listening." We kind of went down that forked road with P.K. Subban and the Montreal Canadiens, didn't we?

The reality is Ottawa Senators' general manager Pierre Dorion has been, and still is, engaged in some level of trade dialogue for Karlsson with multiple NHL teams, certainly more than a half-dozen.
- Bob McKenzie of TSN where you can read more on this topic.
Filed in: NHL Teams, Ottawa Senators, | KK Hockey | Permalink
Tags: erik+karlsson
by Paul on 02/21/18 at 11:16 AM ET
Comments (0)
from Sen McIndoe at Sportsnet,
Occasionally, a GM will offer up some real insight into their deadline approach, hinting at a broad strategy and process without giving too much away. But most of the time, we just get clichés and filler, and sometimes stuff that doesn't even make sense. If you're a fan hoping for actual insight, that can be annoying.

So today, let's count down the 10 most annoying things a GM might say in the days leading up to the trade deadline. Feel free to print a copy and check them off as your team's GM makes the media rounds.

No. 10: "We're open for business."

You hear this one fairly often this time of year, although it's one of those points that's often fed through the media rather than offered up directly. Either way, it's always a strange one. When it comes to making trades, NHL front offices are supposed to be open for business. At this time of year, that's kind of their whole job.
Filed in: NHL Teams, | KK Hockey | Permalink

by Paul on 02/21/18 at 10:29 AM ET
Comments (1)
from Rory Boylen of Sportsnet,
We're days away from the 2018 NHL trade deadline, which we hope brings more significant moves than what we saw at this time last year. There are many impactful players potentially available, from Max Pacioretty to Mike Hoffman to, gasp, maybe even Erik Karlsson — each of whom would be huge factors for any acquiring team this season and ones to come.

But we're going to focus on the top rental players who could be available. We're setting our sights on guys who are on expiring contracts and due to become UFAs on July 1.

This is not a ranking of players — we'll leave that up to you — but we look at what each guy is doing this season and what he may be able to add to a contender.

Evander Kane, Buffalo Sabres

At 26, Kane still has a chance to hit 30 goals for just the second time in his career, but he'll need to heat up to hit that mark. Despite a strong start to the season, Kane has slowed with just three goals in his past 20 games and now has 19 in 60 games overall. The good thing is he generates all kinds of chances and is fifth in the league with 224 shots on goal. A whopping 60.2 per cent of his even strength starts come in the offensive zone, so if he's moved on to a line with a different team that brings that number down, it could hurt his performance.
Filed in: NHL Teams, | KK Hockey | Permalink

by Paul on 02/21/18 at 07:27 AM ET
Comments (0)
from Mike Chambers of the Denver Post,
It was a wild, wild game to begin a three-game western Canadian road trip for the Avalanche.

All-star center Nathan MacKinnon, in his second game back from a eight-game injury absence, scored Colorado's fifth power-play goal of the game in overtime for a 5-4 come-from-behind victory against the Vancouver Canucks at Rogers Arena. MacKinnon finished with a four-point game, adding three assists....

Colorado finished a remarkable 5-of-6 on the power play; and seven of the game's eight goals in regulation were scored in the second period....

The Avs climbed to three points within Minnesota for the last Western Conference playoff spot.
Game highlights are below...
Filed in: NHL Teams, Colorado Avalanche, Vancouver Canucks, | KK Hockey | Permalink

by Paul on 02/21/18 at 06:47 AM ET
Comments (0)
5 1/2 minutes of your time will get you up to date.
Filed in: NHL Teams, | KK Hockey | Permalink

by Paul on 02/21/18 at 06:29 AM ET
Comments (0)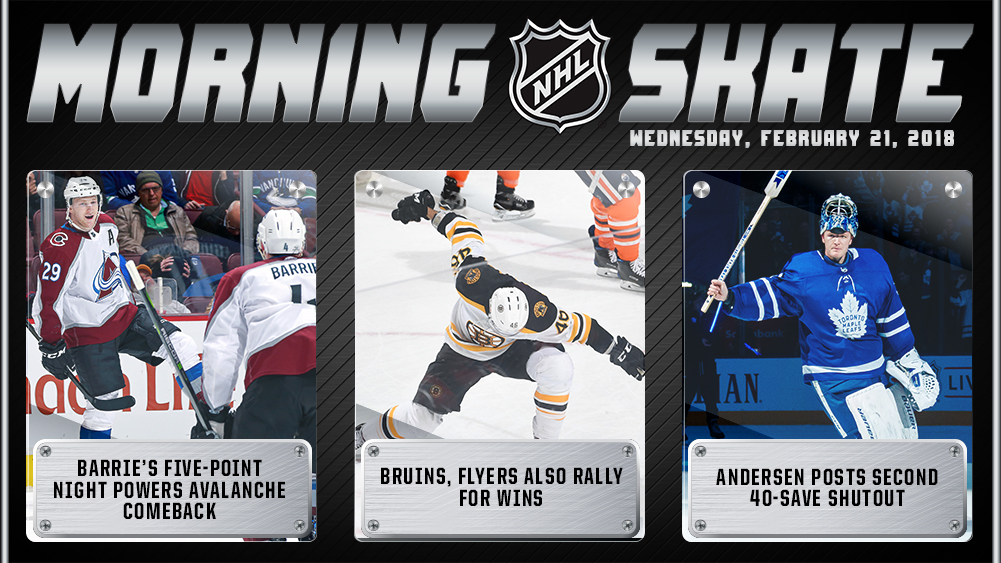 TUESDAY'S RESULTS
Home Team in Caps
TORONTO 1, Florida 0
Columbus 2, NEW JERSEY 1
PHILADELPHIA 3, Montreal 2 (OT)
Tampa Bay 4, WASHINGTON 2
Nashville 3, DETROIT 2
San Jose 3, ST. LOUIS 2
Los Angeles 4, WINNIPEG 3
Boston 3, EDMONTON 2
Colorado 5, VANCOUVER 4 (OT)
Filed in: NHL Teams, | KK Hockey | Permalink

by Paul on 02/20/18 at 08:48 PM ET
Comments (0)
from Elliotte Friedman of Sportsnet,
- I had an interesting conversation with an agent last weekend.

Thinking about all of the players being discussed in trade rumours around the league, he asked, "How many untouchable players do you think there really are? I mean players who absolutely would not be traded?" I said 20.

His reply: "I don't think there are that many."

He might be right. That's why I don't think it's impossible Erik Karlsson gets traded. Maybe no one wants to pay Ottawa's price, but that doesn't mean it isn't discussed. Ottawa's front office will consider every option, as it should.

- At times, the Red Wings have shown an inclination to move Gustav Nyquist or Tomas Tatar, but not both.

We'll see where it goes, but while Nashville has shown interest in Tatar, there may be others who like Nyqvist better because he's got one year remaining as opposed to Tatar's two.

Nyquist controls more of his future at this time with a no-trade, while Tatar's doesn't kick in until July 1.

- Some of the scouts/reporters who were watching Los Angeles at Buffalo last weekend said they haven't seen a general manager all year as upset as Jason Botterill was during that game.
Filed in: NHL Teams, | KK Hockey | Permalink

by Paul on 02/20/18 at 06:23 PM ET
Comments (0)
The TSN Hockey Insiders discuss the chances of the Sens actually trading Erik Karlsson, why any deal for the captain has to be massive and might need to include Bobby Ryan's contract, the interest Rick Nash continues to receive, how the market is heating up again for Evander Kane, and much more.
watch at TSN...
Filed in: NHL Teams, | KK Hockey | Permalink

by Paul on 02/20/18 at 05:20 PM ET
Comments (0)
SAN JOSE, CA - San Jose Sharks (@SanJoseSharks) General Manager Doug Wilson announced today that the club has acquired Forward Eric Fehr (FAIR) (@EricFehr) from the Toronto Maple Leafs in exchange for a 2020 seventh-round draft selection.
Fehr, 32, has recorded 28 points (17 goals, 11 assists), a plus-6 rating and 33 penalty minutes in 34 games this season with San Diego of the American Hockey League (AHL), leading the team in goals and ranking tied for fourth in points. He has added two penalty minutes in four NHL games with Toronto in 2017-18.
In 566 career NHL games with Washington, Winnipeg, Pittsburgh and Toronto, Fehr has compiled 202 points (103 goals, 99 assists), a plus-50 rating and 187 penalty minutes. He has posted 129 career points (67 goals, 62 assists) and 170 penalty minutes in 155 AHL games between San Diego and Hershey.
Filed in: NHL Teams, San Jose Sharks, | KK Hockey | Permalink
Tags: eric+fehr
About Kukla's Korner Hockey
Paul Kukla founded Kukla's Korner in 2005 and the site has since become the must-read site on the 'net for all the latest happenings around the NHL.
From breaking news to in-depth stories around the league, KK Hockey is updated with fresh stories all day long and will bring you the latest news as quickly as possible.
Email Paul anytime at pk@kuklaskorner.com
Recommended Sportsbook
MyBookie.ag
Tweets by @kuklaskorner
Most Recent Blog Posts