Kukla's Korner Hockey
Category: NHL-Teams
by Paul on 11/20/19 at 11:44 AM ET
Comments (0)
from Elliotte Friedman of Sportsnet,
- I'd be astonished if Calgary traded Johnny Gaudreau at this time. For one thing, the Flames are aware that this historically 12.5 per cent shooter is at 7.8 in 2019–20. There is concern about how he's playing, as Gaudreau's confidence and puck wizardry in the offensive zone are missing. A huge part of their offence was Gaudreau getting in close, where Sean Monahan could bury it. That's missing. But there's no desire to make a rash move.

- Some other rumblings: This isn't news, but the Sabres face a roster crunch. They are sitting NHL-calibre defenders every night (Colin Miller, Marco Scandella). It's tough to make a good deal when everyone else sees the situation, and GM Jason Botterill wisely is trying to use every second he can. Zach Bogosian is close to a return, which adds cap chaos to the equation. Almost everyone else is capped out, too. It's a delicate dance. They want a top-six forward that can help them.

- Minnesota GM Bill Guerin is doing a lot of legwork on the value of his players.

- Tuesday was an unusual night, with just one of 13 games going to overtime — making it 88 of 330 for the season. That's 26.7 per cent, on-pace for the highest total ever. Previous mark was 25.6, in 2003–04. That was right before the season-long lockout, where the game was changed.
more Thoughts...
Filed in: NHL Teams, | KK Hockey | Permalink

by Paul on 11/20/19 at 10:04 AM ET
Comments (0)
NEW YORK/TORONTO (Nov. 20, 2019) – The National Hockey League Players' Association (NHLPA) and the National Hockey League (NHL) announced today that forward Bobby Ryan of the Ottawa Senators will be away from the team while taking part in the NHL/NHLPA player assistance program.
There will be no further comment.
Filed in: NHL Teams, Ottawa Senators, | KK Hockey | Permalink
Tags: bobby+ryan
by Paul on 11/20/19 at 09:55 AM ET
Comments (0)
from Kristen Anderson of the Calgary Sun,
The drought may be over.

But the slump continues for the Calgary Flames after they dropped a 3-2 decision Tuesday to the visiting Colorado Avalanche. It was their fifth consecutive loss and fourth in regulation, on the heels of back-to-back shut-outs over the weekend against Arizona and Vegas.

To make matters worse, it was against the Avalanche — of COURSE it was against the Avalanche — which only poured more salt in a wound that has been open since the team's springtime playoff exit when they lost in five games to the eighth-seeded upstart Avs after the Flames had claimed 107 points and 50 wins during the regular season....

Perhaps the signs are there, looking at the way the Flames out-shot the Avalanche 33-26 in the end and — at times — looked like they had some jump.

But the makeshift top line of Johnny Gaudreau, Mikael Backlund and Elias Lindholm were all minus-two and were held off the scoresheet. The team's best players are still vastly underperforming (Monahan had an assist and was a plus-one) but their biggest problem remains obvious: playing from behind.

It was the seventh consecutive game in which the Flames have allowed the first goal while their record when trailing after two periods dropped to 3-10-2.
Filed in: NHL Teams, Calgary Flames, | KK Hockey | Permalink

by Paul on 11/20/19 at 09:49 AM ET
Comments (0)
from Andrew Gross of Newsday.
The Islanders now have a comeback streak to go along with matching the franchise record for gaining at least a point in 15 consecutive games.

This time, the Islanders twice battled back from two-goal deficits and scored twice in the final 4:19 of regulation to beat the Penguins, 5-4, in overtime on Tuesday night at PPG Paints Arena.

The Islanders (15-3-1) somewhat improbably improved their points streak to 14-0-1 after they also opened this two-game road trip by having to rally from three goals down in the third period for a 4-3 shootout win at Philadelphia on Saturday night.
Catch the game highligths below.
Filed in: NHL Teams, New York Islanders, | KK Hockey | Permalink

by Paul on 11/20/19 at 07:17 AM ET
Comments (2)
from Chris Johnston of Sportsnet,
At this stage you have to wonder if we were the ones who miscalculated.

Those of us who looked at the Toronto Maple Leafs heading into the season and believed they were worthy of the Stanley Cup expectations that got placed on them.

In dropping a sixth straight game here Tuesday, there were things to like about their play. They tightened up considerably after the debacle in Pittsburgh and didn't roll over after falling behind to the Vegas Golden KnightsAnd yet … well, they didn't generate very much offensively until they got chasing the game in the third period. They've now gone more than 427 consecutive minutes (and counting) since playing with a lead.

A dire situation grew just a little more desperate with Tuesday's 4-2 loss.
Below, watch a fantastic save by Marc-Andre Fleury and the game highlights.
Filed in: NHL Teams, Toronto Maple Leafs, | KK Hockey | Permalink

by Paul on 11/20/19 at 06:48 AM ET
Comments (0)
THREE HARD LAPS
* The Islanders rallied again to extend their point streak to 15 games, matching a franchise record last achieved over 36 years ago.
* Marc-Andre Fleury made an early save of the year candidate en route to earning a milestone win.
* Cale Makar continued his career-opening point-per-game pace and joined a rare list of rookie defensemen.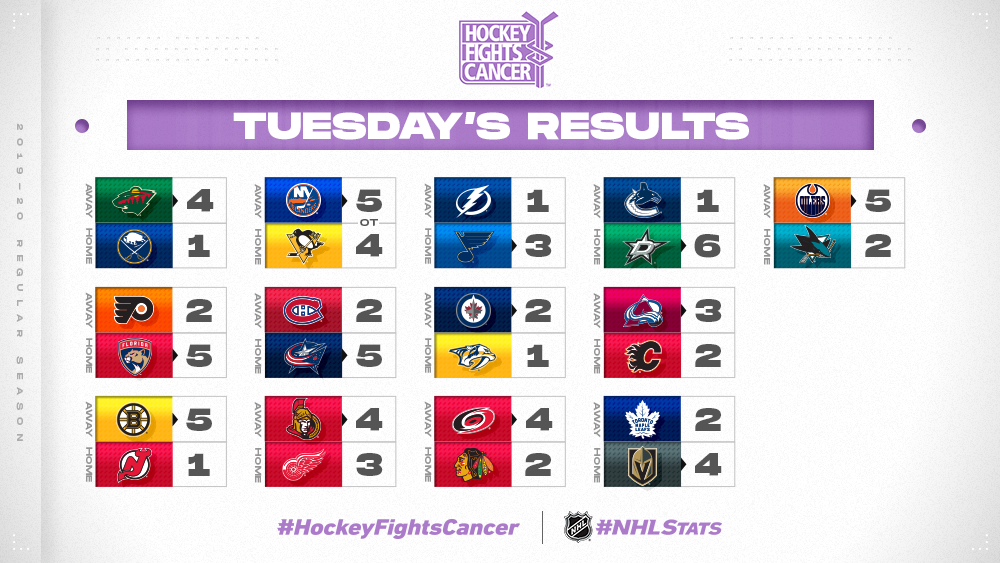 Filed in: NHL Teams, | KK Hockey | Permalink

by Paul on 11/19/19 at 06:41 PM ET
Comments (0)
Both at the top of the NHL's standings just a year ago, the Flames and Leafs have struggled mightily in the first quarter of this season, falling well short of expectations. The TSN Hockey Insiders discuss whether Bill Peters or Mike Babcock are on the hot seat, Travis Hamonic's future in Calgary, and more in Insider Trading.
Filed in: NHL Teams, | KK Hockey | Permalink

by Paul on 11/19/19 at 06:28 PM ET
Comments (0)
Just south of five minutes long.
Filed in: NHL Teams, | KK Hockey | Permalink

by Paul on 11/19/19 at 04:10 PM ET
Comments (0)
via the NHL,
Garnet Hathaway will have a hearing with the NHL Department of Hockey Operations on Wednesday.
The Washington Capitals forward is facing discipline for spitting on Anaheim Ducks defenseman Erik Gudbranson with 34 seconds left in the second period of Washington's 5-2 win at Capital One Arena on Monday.
Hathaway received a match penalty. Gudbranson received a roughing minor and a 10-minute misconduct penalty.
Following the incident, the following penalties also were assessed: Hathaway and Anaheim forward Derek Grant each received a fighting major; Capitals forward Brendan Leipsic and Ducks defenseman Brendan Guhle each received a double minor for roughing; and Anaheim forward Nick Ritchie received a game misconduct for being the third man into the fight between Hathaway and Grant.
If you missed it last night, you can watch it here.
Filed in: NHL Teams, Anaheim Ducks, Washington Capitals, | KK Hockey | Permalink
Tags: garnet+hathaway
by Paul on 11/19/19 at 11:34 AM ET
Comments (0)
from Emily Sadler of Sportsnet,
Here's a look at the top UFAs-to-be of 2020, which we'll be updating over the course of 2019-20 as the season — and all the rumours and reports that come with it — continues.

1. Taylor Hall, LW, New Jersey Devils
Age: 28
2019-20 cap hit: $6 million

Can the Devils dust themselves off and make a run with Hall or should they trade him now and continue the rebuild? Will the playoff-starved Hall have to endure another year outside of the playoffs? And where does Hall actually want to play?

It might be a while before we get any of those answers, but Sportsnet's Elliotte Friedman did bring a little clarity to one possibility:

"I think the Devils now know it's unlikely they are going to be able to get a contract done during the year," Friedman during the Headlines segment on Hockey Night in Canada on Saturday.
Filed in: NHL Teams, | KK Hockey | Permalink

About Kukla's Korner Hockey
Paul Kukla founded Kukla's Korner in 2005 and the site has since become the must-read site on the 'net for all the latest happenings around the NHL.
From breaking news to in-depth stories around the league, KK Hockey is updated with fresh stories all day long and will bring you the latest news as quickly as possible.
Email Paul anytime at pk@kuklaskorner.com
Tweets by @kuklaskorner
Most Recent Blog Posts