Kukla's Korner Hockey
Category: NHL-Teams
by Paul on 11/16/18 at 04:34 AM ET
Comments (0)
THURSDAY'S RESULTS
Home Team in Caps
NY ISLANDERS 7, NY Rangers 5
New Jersey 3, PHILADELPHIA 0
Tampa Bay 4, PITTSBURGH 3
COLUMBUS 7, Florida 3
OTTAWA 2, Detroit 1
MINNESOTA 6, Vancouver 2
Montreal 3, CALGARY 2
ARIZONA 2, Nashville 1
Toronto 5, SAN JOSE 3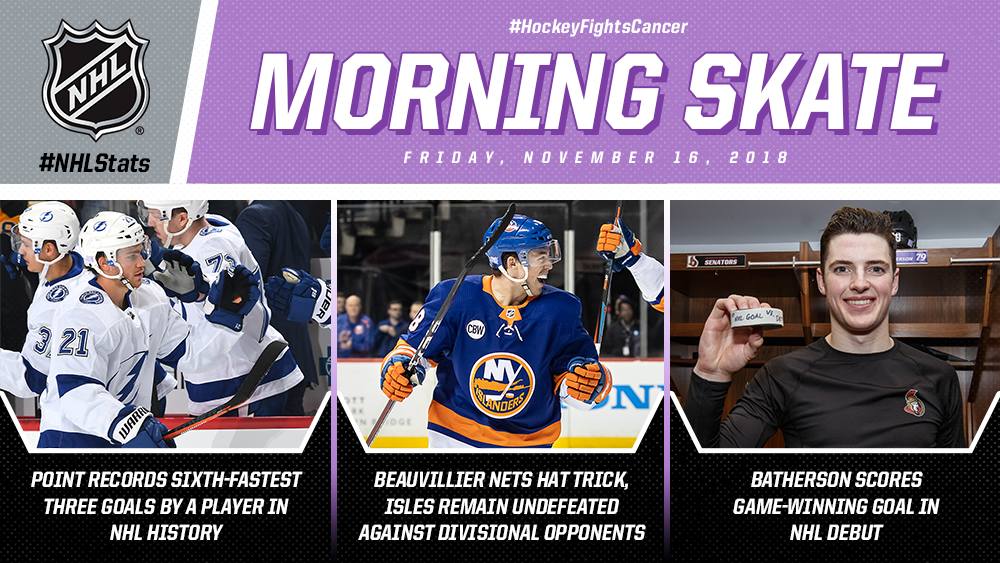 Filed in: NHL Teams, | KK Hockey | Permalink

by Paul on 11/15/18 at 07:07 PM ET
Comments (0)
With Auston Matthews making significant progress in his recovery from a shoulder injury, has the timeline on his return changed? William Nylander is also missing from Toronto's high powered offence, what is the most likely outcome of this ongoing saga? Did the Oilers' win over Montreal cool the speculation surrounding Todd McLellan's job security? The TSN Hockey Insiders discuss this and more in Insider Trading.
Watch at TSN, no geo-blocking.
Filed in: NHL Teams, | KK Hockey | Permalink

by Paul on 11/15/18 at 12:19 PM ET
Comments (0)
via the YouTube channel of the NHL,
NHL Network counts down the top 25 lines of all-time including the Triple Crown Line, the Crash Line, the Legion of Doom and more!
Filed in: NHL Teams, | KK Hockey | Permalink

by Paul on 11/15/18 at 11:46 AM ET
Comments (5)
If you missed the incident, watch it here.
added 5:08pm,
Filed in: NHL Teams, Winnipeg Jets, | KK Hockey | Permalink
Tags: josh+morrissey
by Paul on 11/15/18 at 11:26 AM ET
Comments (0)
from TSN,
Carolina Hurricanes general manager Don Waddell confirmed Thursday that he is interested in acquiring William Nylander, but said he believes the Toronto Maple Leafs still hope to re-sign the restricted free agent.

"I think the Toronto Maple Leafs are trying to sign the player, which, if I was the team, I would be doing the same thing because he's a very good player and it's hard to make those trades," Waddell told First Up on TSN Radio 1050 Toronto. "I've been in those spots before, trading Dany Heatley, Marian Hossa, Ilya Kovalchuk... They're never easy to make a trade and feel like you got full value. So as a team trying to keep your good players, that's your first priority."

Waddell said the Hurricanes are among the teams that have reached out to Leafs general manager Kyle Dubas regarding Nylander, though he said part of the talks have simply focused on gaining insight for their own RFA negotiations.
Filed in: NHL Teams, Carolina Hurricanes, Toronto Maple Leafs, | KK Hockey | Permalink
Tags: william+nylander
by Paul on 11/15/18 at 11:19 AM ET
Comments (1)
The Pens called it an upper-body injury yesterday.
Filed in: NHL Teams, Pittsburgh Penguins, | KK Hockey | Permalink
Tags: sidney+crosby
by Paul on 11/15/18 at 08:39 AM ET
Comments (0)
from Tom Timmermann of the St. Louis Post-Dispatch,
The Blues' season has become a juggling act, and keeping even two balls in the air at once is becoming a challenge.

Just when the Blues seem to have sorted out their defensive issues, now it's their offense that has let them down. So if the good news was that they held Chicago to one goal Wednesday night at United Center, the bad news was that they themselves managed none. The Blues were shut out for the first time this season, falling to the Blackhawks 1-0.

The Blues have scored two goals or fewer in three of their past five games and have lost three of them. You can add to their troubles this season a really bad sense of timing.
Catch the highlghts below.
Filed in: NHL Teams, Chicago Blackhawks, St. Louis Blues, | KK Hockey | Permalink

by Paul on 11/15/18 at 08:35 AM ET
Comments (0)
from Joe Starkey of the Pittsburgh Post-Gazette,
Jim Rutherford looks around and sees a team in a slump. I look around and see Jim Rutherford in a slump.

If indeed team chemistry is whacked, as Rutherford suggested Wednesday, then I have to look at the master chemist first. If it's simply a bad assemblage, I have to look at the guy who bought the parts.

It's Rutherford's team, and if he were a goal scorer, he's finding the net about as often as his bottom six these days — although history tells us his touch could return at any moment. One of his great strengths as Penguins general manager has been the ability to identify his mistakes and correct them, often to astonishing results. Exhibit A: replacing Mike Johnston with Mike Sullivan....

This is a fragile situation, and in Rutherford's words "a fragile team."...

What is their identity now?

These Penguins are among the oldest teams in the league, and any team with Johnson and Olli Maatta representing a third of its defense is not going to win many sprinting contests.
Filed in: NHL Teams, Pittsburgh Penguins, | KK Hockey | Permalink

by Paul on 11/15/18 at 08:29 AM ET
Comments (0)
...the next message will be loud and clear and it will involve trades of core players and a full rebuild. Desjardins said he thinks the Kings "still have it in them" to be the commanding team they were during their Cup years. If that's true, now is the time to prove it. They've been warned. Twice.
-Helene Elliott of the LA Times where you can read more on the Kings.
Filed in: NHL Teams, Los Angeles Kings, | KK Hockey | Permalink

by Paul on 11/15/18 at 08:23 AM ET
Comments (0)
from Matt Porter of the Boston Globe,
No Zdeno Chara.

And no points.

That's how the Bruins left here. After losing their captain for the final two periods on Wednesday, they squandered a two-goal lead and opened their four-game, nine-day road swing with a 6-3 defeat to the Avalanche....

But Chara, key to Boston's strategy of of defending the opposing No. 1 line of Gabriel Landeskog, Nathan MacKinnon and Mikko Rantanen, departed after nine shifts and 5:24 with an apparent left knee issue. The defenseman's leg buckled as he hit former teammate Carl Soderberg with 1:07 left in the first period. He finished his shift, appearing to favor his leg for 27 seconds until DeBrusk took a Colorado turnover in for a goal that made it 2-1.

The Bruins called it a lower-body injury. A team spokesman said they would issue an update Thursday on Chara if appropriate. A scheduled practice and media availability in Dallas was canceled.

Coach Bruce Cassidy was unsure whether Chara. who walked out of the Pepsi Center with a slight limp, would be assessed before the Bruins' date with the Stars on Friday, or be sent back home to Boston.
Game highlights below.
Filed in: NHL Teams, Boston Bruins, Colorado Avalanche, | KK Hockey | Permalink
Tags: zdeno+chara
About Kukla's Korner Hockey
Paul Kukla founded Kukla's Korner in 2005 and the site has since become the must-read site on the 'net for all the latest happenings around the NHL.
From breaking news to in-depth stories around the league, KK Hockey is updated with fresh stories all day long and will bring you the latest news as quickly as possible.
Email Paul anytime at pk@kuklaskorner.com
Tweets by @kuklaskorner
Most Recent Blog Posts